Spider-Man: No Way Home Trailer Dropped - The Loop
Play Sound
"

Uh, Alexandra, you may not know this, but Pop's started off selling one thing: chocolate milkshakes. Hence the name Pop's Chock'lit Shoppe. That was back when this was the first and only Black-owned business in town. It was open 24/7. A safe place for people like us when those were few and far between. So no, it's not "just a milkshake," and this isn't "just a business." It's a legacy. And I can't give that up for a bottom line.

"
Tabitha Tate is a main character on The CW's Riverdale. She is portrayed by Erinn Westbrook.[1]
Tabitha is Pop Tate's granddaughter who arrived in Riverdale after leaving behind a six figure job in Chicago to take over Pop's Chock'lit Shoppe hoping to franchise the iconic diner. She has since made a number of changes and implemented various rules. Tabitha also grew closer with Jughead as they investigated the alleged Mothmen sightings, which ultimately turned out to a hoax, but connected them to an illegitimate clan of inbred Blossoms living in the woods that were abducting and murdering women off the Lonely Highway. After stopping them, Tabitha and Jughead enter a romantic relationship and work with the rest of the town to exile Hiram Lodge from Riverdale after he hired the Ghoulies to fire bomb Pop's.
Character Description
The ambitious, entrepreneurial granddaughter of Pop Tate, who has come to Riverdale to take over Pop's Chock'lit Shoppe in the hopes of franchising the iconic diner, even as the town around it struggles to survive.[1]
Throughout Riverdale
Physical Appearance
Tabitha is a young woman with brown skin, with brown eyes, and dark brown hair.
Personality
Tabitha is fairly stern. Unlike her grandfather, Pop Tate, she has stricter rules in regards to the diner, such as no running tabs. However, she is also compassionate. When Jughead initially approached her for a job at the diner, she turned him down, but after seeing that he was in need of money after being hunted down by debt collectors, she offered him a job.
Relationships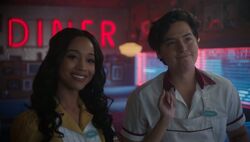 Tabitha arrived in Riverdale with the intentions of franchising Pop's Chock'lit Shoppe following Pop Tate's retirement. There, she met Jughead, who she employed as a busboy out of pity, as he was in desperate need of cash and was being harassed by loan sharks. The two would become fast friends as they began to investigate the alleged Mothmen sightings dating as far back as at least the 1970s. While the Mothmen tale ultimately turned out to be a hoax, Tabitha and Jughead bonded throughout the investigation, and their friendship eventually developed into a romance despite both of them having their own issues to deal with.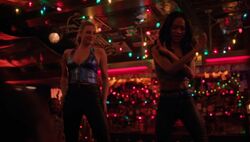 Tabitha's friendship with Betty initially developed when the two were forced to join forces in order to find Jughead, who disappeared from the bunker during a shroom-induced trip to unblock his mind. They spent many of hours searching Jughead's bedroom, classroom, and other frequented locations, even reading his manuscript in hopes of discovering clues. Fortunately, they were able to call the search off once Jughead left Tabitha a voice message, revealing that he was fine. The investigative duo would resume their partnership in order to stop the Highway Killer or killers, going as far as arranging a Coyote Ugly performance at the Whyte Wrym to lure the killer in, which they did successfully, ultimately leading to the capture of Martin Tucker.
Appearances
Trivia
Tabitha is not a character from the Archie Comics. She's an original character, created specifically for the series.
Gallery
See also: Category:Images of Tabitha Tate
| | |
| --- | --- |
| | Tabitha Tate's Gallery Can Be Found Here. The Gallery May Consist of Promotional Images, Screencaps, and Video Clips Released By Network Officials |
References