"
As Mayor, I have seen us through a triumphant Jubilee and the terrors of the Black Hood killer. But my friends, it has taken a personal toll. I have decided to step down as Mayor, to spend more time with my family and to return to my own legal career right here in Riverdale.
"
— Sierra resigning as Mayor[src]
Sierra McCoy (née Samuels) is a recurring character on The CW's Riverdale. She is portrayed by Robin Givens.
Sierra is the mother of Josie McCoy and was the mayor of Riverdale.
Character Description
McCoy is not only the powerful and fabulous Mayor of Riverdale, but also the mother of soon-to-be-world-famous Josie, of Josie & The Pussycats fame. Chic and driven, Mayor McCoy is struggling to guide Riverdale through the crisis precipitated by the mysterious death of Jason Blossom, all while making sure the town's upcoming 75th Jubilee Celebration goes off without a hitch.[1]
Early Life
Sierra McCoy grew up in the small and close-minded town of Riverdale. She attended Riverdale High School, and later proceeded to raise a family with Myles McCoy. The two of them have a daughter together, named Josie. Some time after this, Sierra became Mayor of Riverdale, and while some people are opening up, everyone in town was not so welcoming of a mayor of color.
Throughout Riverdale
Throughout Katy Keene
Physical Appearance
Sierra is a beautiful middle-aged woman with a slim figure. She has dark skin, brown hair, and deep brown eyes. She often wears a lot of makeup; lipstick, eyeshadow, etc. As for her clothing choices, Sierra typically has on long, dark-colored dresses.
Personality
Sierra is a proud and confident woman of color, often encouraging her daughter, Josie, to embrace the same qualities within herself. Having been elected as Mayor in such a small-minded and secluded town, Sierra was subject to hate, which presumably took a lot of heart and bravery to withstand. More than just a Mayor, Sierra is also a caring mother, being there for Josie in her time of hurt and motivating her to achieve her dream of becoming a famous singer.
Relationships
Main article: Josie and Sierra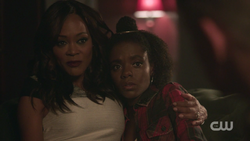 The relationship between Josie and Sierra McCoy is tight and close-knit. They care deeply for each other, as a mother and daughter would. Even though Sierra may be strict toward her daughter, it is only for her daughter's benefit. She pushes her to achieve her goals and is proud of her for her accomplishments such as the band, Josie and the Pussycats, unlike her husband Myles McCoy, who only sees it as child's play. 
---
At some point, Myles and Sierra met and later went on to marry and have a daughter together, Josie. Due to Myles's career as a professional jazz player, he is often absent, causing the relationship between him and Sierra being quite distant with each other. It also appears that they often have disagreements with each other, as Myles is quite strict on their daughter Josie when it comes to her band, Josie and the Pussycats, looking at it as nothing more than child's play, whereas Sierra is more calm with Josie, and proud of what she's accomplished, pushing Josie to achieve her goals.
---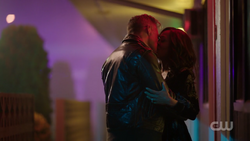 Initially, the relationship between Tom and Sierra appeared to be strictly business. With him being the town's Sheriff and Sierra being the Mayor, it was perfectly normal to see the two together, however, due to them spending a lot of time with each other, at an unknown point, it seems that the two had reunited feelings for each other, and began having an affair. It is unknown as to how long they've been together, but with Sierra's distant relationship with her husband, Myles McCoy, and Sheriff Keller's absentee wife, it is possible the two had rekindled their high school fling, thus leading to their current relationship.
---
Appearances
Riverdale

Season 1

Season 2

Season 3
Season 4
Katy Keene
Season 1
Gallery
See also: Category:Images of Sierra McCoy
References
Community content is available under
CC-BY-SA
unless otherwise noted.