"
I hope that you're not referring to your father, Archie. This man who broke rocks when he was in high school, to support his family when his dad was sick. A man who saw what had to be done and did it. And built a business out of nothing. One that pays for this house and the food you eat every day. And for your information, your father had and has a vision for Riverdale. One that doesn't, thank God, end up with everyone working in a penal colony. Now, you don't have to side with your dad, okay? You can side with Hiram Lodge, even though he's a crook, and has no intention of letting your father out of that contract, by the way. You can do that. That is your right. But I'll be damned if I'm gonna sit here and listen to you disrespect him!
"
— Mary to Archie[src]
Mary Andrews (née Maiden)[1] is a recurring character on The CW's Riverdale. She is portrayed by Molly Ringwald.
Mary is the mother of Archie Andrews and was the wife of the late Fred Andrews. They separated, and Mary moved to Chicago, but the divorce never carried through as Fred unexpectedly passed away. She returned to Riverdale upon Fred's passing and assumed legal guardianship of Archie.
Character Description
Having left Riverdale two years ago to follow her dreams, Mary returns to town in her family's hour of need. She not only reconnects with Archie and her husband, Fred, but also her former high school gal-pals Hermione and Alice, just in time for a homecoming dance. [2]
Early Life
Mary was raised in Riverdale and attended the local high school where she was friends with Hermione Lodge and Alice Cooper. She later went on to marry Fred Andrews and they welcomed their first and only child, Archie Andrews. Two years prior to the start of the series, she and Fred separated and began divorce proceedings. Mary moved to Chicago in that time, and while she wanted her son to go with her, he chose to stay in Riverdale with his father.
Throughout Riverdale
Physical Appearance
Mary is an attractive middle-aged woman with pale skin, dark brown eyes, short red hair, and a beautiful smile. She is of slightly above the height of the average woman, around 5′ 8″ with a slim figure. Mary's wardrobe is very neat, and well put-together. She often wears casual and non-revealing clothing such as turtle-necks and long sleeve shirts in varying colors.
Personality
Mary is a kind and loving mother. She cares deeply for Archie, only wanting for him to aspire to be his best self. With the rise in dangerous activity throughout Riverdale, Mary only sought to protect Archie by getting him out of town. However, against her best wishes, he decided to stay. While she was accepting of his decision, she did not agree with it. Mary's compassionate nature has also been shown to extend to Archie's friends as well. Upon FP Jones's arrest, Mary posed as his lawyer in an effort to gather information, which she would then relay to Archie and Jughead. More than just compassion and love, Mary is also quite intelligent, possessing the necessary skills and intellect to become an established lawyer. It was these skills that allowed her to pass as FP's attorney as well as explain the legitimacy of Archie and Veronica's find after illegally entering FP's trailer.
Relationships
Main article: Archie and Mary
"
I want you with me. I don't think that this town is safe anymore. I feel like Riverdale is getting ready to slide off of a mountainside and I don't want you anywhere around when that happens.
"
— Mary to Archie[src]
The relationship between Mary and her son, Archie is close, but not nearly as close as he is with his father, whom he lives with. Mary hadn't seen her son up until she returned to Riverdale after leaving, and moving to Chicago two years prior. She and Archie spent quite a bit of time together while she was in town, and before she left for Chicago again, Archie promised that he would come spend some time with her over the next summer break since he chose to remain in Riverdale with his father after Mary offered him the chance to move to Chicago with her.

---
Main article: Fred and Mary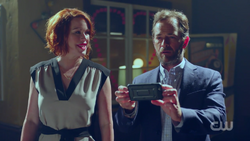 Fred and Mary's relationship dates back to their childhood, with both of them growing up in Riverdale and attending school together. They later went on to marry and welcome their first and only child, Archie.
Two years prior to the start of the series, Fred and Mary decided to separate and began divorce proceedings. Mary moved to Chicago at that time, and while she wanted her son to join her, he chose to stay in Riverdale with his father. Fred and Mary's separation was not an amicable one as, according to Archie, they cannot even talk without a mediator present. Despite this, they have been shown to enjoy each other's company, so much so that Archie and Jughead began to speculate if they were going to rekindle their relationship.

---
"
You have been playing the same game since junior high, and it was tiring back then.
"
— Mary to Alice[src]
Not much is known about Mary and Alice's past history, though they did meet before the start of the series. Their relationship dates back at least to their adolescent years. Mary left Riverdale some years later, after she and Fred decided to separate. Two years after Mary departure from Riverdale, she returned, where she had a run in with Alice at the Homecoming dance, which she had attended to see her son perform given his new interest in music. She came face-to-face with Alice in the woman's restroom, where Alice couldn't help but notice that Mary attended the dance with Fred and Hermione, even after their secret affair. Even though Mary had left, nothing much had changed, she saw straight through Alice's juvenile tactics, the same ones she had been using since Junior High. Furthermore, she and Fred were no longer together, so he was free to do as he pleased.

---
Mary Andrews and Hermione Lodge were friends in high school. The history between the two of them is unknown at the moment, but the fact that Mary invited Hermione to accompany her with Fred at the Homecoming dance shows that she doesn't have a problem with her at all.

Appearances
| | | | |
| --- | --- | --- | --- |
| | Season 1 | Season 2 | Season 3 |
Season 4
Gallery
See also: Category:Images of Mary Andrews
References
Community content is available under
CC-BY-SA
unless otherwise noted.