"
You act like we've got the same set of options. You live in this pale pink world of milkshakes and first kisses, and "Am I going to date Archie or Jughead?" Except for when you're exploring your BDSM sexuality, which again you're allowed to do. But I'm not, because why? This is what I've got, Betty. Me, these woods, so please don't come here and tell me it's disgusting. If you can't accept what I do, whatever I do then we're just not really friends.
"
— Kevin to Betty[src]
Kevin Keller was initially a recurring character on the first season of The CW's Riverdale. He has since been promoted to a series regular for the second season onward.[1] He is portrayed by Casey Cott.
Kevin is a junior at Riverdale High School and the best friend of Betty Cooper. Along with that, he has become Veronica's G.B.F. (gay best friend). Kevin also struggles with his sexuality, as he doesn't have the same options as his friends do. Because of this, it often causes Kevin to act recklessly at times. He has dated Joaquin, as well as had some interaction with Moose Mason, but Joaquin left Riverdale, forcing their break-up and Moose is unwilling to be "out" like Kevin, forcing him to resort to other means in order to feel something. But lately, Kevin has revealed strong feelings towards Moose, that were either rejected or unnoticed.
Early Life
Presumably, Kevin grew up in Riverdale alongside Betty Cooper, his closest friend. Nothing is known about his home life beyond the fact that his father is the sheriff of Riverdale and his mother is overseas.
Throughout Riverdale
Physical Appearance
Kevin is an incredibly handsome, young teenage guy with an athletic build, approximately standing somewhere around 6'0. He has short, dark brown 'slicked back' hair and light green eyes.
Personality
Kevin is a nice, loyal, very outgoing and charismatic student who knows the social scene of Riverdale very well. Being an openly gay teenager, Kevin freely talks about other guys in public and has shown to have an interest in fashion as well. He has a tendency to make very blunt and honest statements about the people and events in the series. However, with the fact that Kevin has admitted that he struggles with his sexuality, it often results in him being often reckless at times.
Relationships
---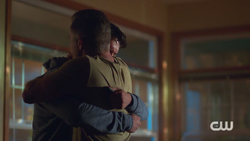 The relationship between Kevin and his father, Tom, is undeveloped, but loving. They share a close bond, so close that his father is both aware and accepting of his sexual orientation. Due to the threats constantly facing their town, they have a lack of interaction, but they undoubtedly care for one another. This is proven after Tom received word from Betty in regards to Kevin's recent activities, which included late night cruising of Fox Forest. Upon learning this, his father became worried for his son's safety, admitting that there were certain things that they never fully talked about, such as Kevin's sexuality. However, given all that was occurring, Tom was willing to start trying to be more involved in Kevin's life, as a concerned parent should be.
---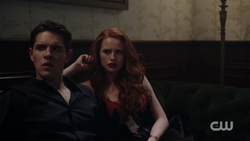 The relationship between Kevin and Cheryl is currently under-developed given the lack of interaction between the two of them. However, they have been shown to be seated next to each other during multiple occasions, proving that at the very least, they are capable of being cordial with one another. Despite the drastic differences between the two, Cheryl is fairly understanding of the daily struggles he faces with his need for validation, even at the cost of his own life.

---
"
Josie. You're not here to tell me more bad news, are you? 'Cause I don't think I can take that right now.
"
— Kevin to Josie[src]
The friendship between Kevin and Josie has seemingly grown closer since the two of them discovered that their parents were having an affair due to Kevin's mother being overseas and Josie's father constantly being on the road. With nearly identical household drama, the two of them started to spend more time together both in and out of school. They've been seen sitting together at lunch and going to the movies together. However, before recently, Kevin and Josie had very little interaction though they always appeared to be friendly towards one another given that they run within the same circle of friends.
---
"
I don't think I can date someone named "Fangs"
"
— Kevin on dating Fangs[src]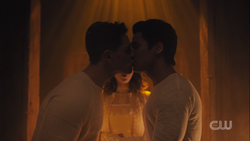 After a brief interaction in the students's lounge and Fangs being the assistant director to Kevin in the musical, Carrie, Kevin and Fangs eventually share a kiss during a farm ceremony headed by Evelyn Evernever.

Appearances
| | | | |
| --- | --- | --- | --- |
| | Season 1 | Season 2 | Season 3 |
Season 4
Trivia
Notes
 Gallery
See also: Category:Images of Kevin Keller


Kevin Keller's Gallery Can Be Found Here. The Gallery May Consist of Promotional Images, Screencaps, and Video Clips Released By Network Officials
References
Community content is available under
CC-BY-SA
unless otherwise noted.