"
I'm not too late, am I? To sign up for, uh I don't know, I was thinking, maybe an arts reporter? [..] I'm also here because I've been doing a lot of work on myself, ever since I was left behind by the Farm, and it's helped me to realize that I don't I don't need the Farm to make me feel whole, but I I do need my friends. Especially my former best friend. I am so sorry for the way I treated you while I was under Edgar's spell.
"
— Kevin to Betty[src]
Kevin Keller was initially a recurring character on the first season of The CW's Riverdale. He has since been promoted to a series regular for the second season onward.[1] He is portrayed by Casey Cott.
Kevin is senior at Riverdale High School and the best friend of Betty Cooper. Along with that, he has become Veronica's G.B.F. (gay best friend). Kevin also struggles with his sexuality, as he doesn't have the same options as his friends do. Because of this, it often causes Kevin to act recklessly at times. He has dated Joaquin, as well as Moose Mason, but Joaquin left Riverdale, forcing their break-up and Moose is unwilling to be "out" like Kevin, forcing him to resort to other means in order to feel something.
Early Life
Presumably, Kevin grew up in Riverdale alongside Betty Cooper, his closest friend. Nothing is known about his home life beyond the fact that his father is the sheriff of Riverdale and his mother is oversea in the navy. Despite his parents being in different countries, they were still married up until when Tom started having an affair with Sierra McCoy.
Throughout Riverdale
Physical Appearance
Kevin is an incredibly handsome, young teenage guy with an athletic build, approximately standing somewhere around 6'0. He has short, dark brown 'slicked back' hair and light green eyes. He often wears button up and polo shirts.
Personality
Kevin is a nice, loyal, very outgoing and charismatic student who knows the social scene of Riverdale very well. Being an openly gay teenager, Kevin freely talks about other guys in public and has shown to have an interest in fashion as well. He has a tendency to make very blunt and honest statements about the people and events in the series. However, with the fact that Kevin has admitted that he struggles with his sexuality, it often results in him being often reckless at times.
Relationships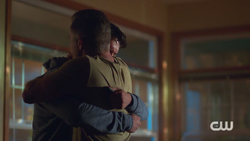 The relationship between Kevin and his father, Tom, is undeveloped, but loving. They share a close bond, so close that his father is both aware and accepting of his sexual orientation. Due to the threats constantly facing their town, they have a lack of interaction, but they undoubtedly care for one another. This is proven after Tom received word from Betty in regards to Kevin's recent activities, which included late night cruising of Fox Forest. Upon learning this, his father became worried for his son's safety, admitting that there were certain things that they never fully talked about, such as Kevin's sexuality. However, given all that was occurring, Tom was willing to start trying to be more involved in Kevin's life, as a concerned parent should be.
---
"
Listen Moose, you're hot. Yes. My type? Definitely. But you've got more demons than The Exorcist. We're all on the spectrum, but my gay-o-meter says you should stick with what you know best... Girls.
"
— Kevin to Moose regarding their fling[src]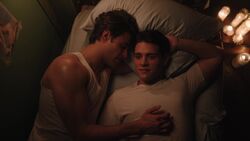 The complicated relationship between Kevin and Moose has had ups and downs. They secretly hooked up when Moose was still in the closet and was figuring out his sexual orientation, but Kevin immediately made it clear that he wasn't going to be a secret lover or someone's experiment. When Moose started dating Midge, initially to fight his feelings for boys but then realizing that he was bisexual, Kevin wasn't very keen on the idea that he had lost the chance to have a relationship with Moose. After Midge's death, Kevin and Moose started dating again, also helped by Cheryl who prompted Moose to come out. After a brief but close relationship, the two broke up due to problems that led Moose to leave town.
---
"
If you can't accept what I do, whatever I do then we're just not really friends.
"
— Kevin to Betty[src]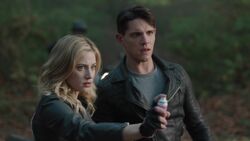 The friendly relationship between Kevin and Betty is recovering, having recently come to terms with betrayed trust. They were best friends who shared all their secrets and time together. In the recent years, however, they have gown themselves apart. Kevin felt misunderstood and jealous of Betty, who could experience and play with her sexuality without problems while he as struggling with being the only openly gay guy at school. He also felt sidelined when Betty became involved with solving the town mysteries without him, who by then was just a on-off informant for The Blue and Gold. On the other hand, Betty felt betrayed when Kevin joined the Farm and conspired to hurt her. Recently, Kevin and Betty are trying to overcome their past disagreements and rediscover the old confidence they had in each other, starting by helping to take down the Farm.
---
The romantic relationship between Kevin and Joaquin began as a way to get information about investigations on Jason Blossom's death, since Kevin's dad was the Sheriff in charge. Kevin, on the other hand, seemed thrilled at the idea of dating a bad boy from the Southside. Over time, Joaquin actually became emotionally involved with Kevin but their love was destined to end due to the constant fights between rival gangs in town, and Joaquin's criminal activities coming to get him. Joaquin's death caused by the Gargoyle King has completely canceled any possible development of their love story.
---
The relationship between Kevin and Veronica began when she moved to Riverdale from New York. Veronica immediately said that Kevin would be her G.B.F. (gay best friend), initially putting their friendship in a stereotypical pigeonhole of mean girl and gay best friend. Over time they became close friends, sharing a passion for cinema, theater and art in general. They also bonded over their interest in boys, though not as Kevin and Betty were during sophomore years. Both Kevin and Veronica have little tolerance for bullying and prejudice, such as when they teamed up with Toni to save her girlfriend Cheryl from conversion therapy at the Sisters of Quiet Mercy.
---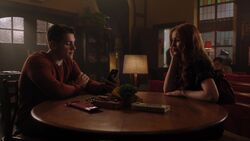 The relationship between Kevin and Cheryl is currently under-developed given the lack of interaction between the two of them. However, they have been shown to be seated next to each other during multiple occasions. Despite the drastic differences between the two, Cheryl is fairly understanding of the daily struggles he faces with his need for validation, even at the cost of his own life. They have shown to care about each other on multiple occasions, such as when Cheryl and Toni broke up and when Cheryl helped comforted Kevin during his relationship with Moose.

---
"
Josie. You're not here to tell me more bad news, are you? 'Cause I don't think I can take that right now.
"
— Kevin to Josie[src]
The friendship between Kevin and Josie has seemingly grown closer since the two of them discovered that their parents were having an affair due to Kevin's mother being overseas and Josie's father constantly being on the road. With nearly identical household drama, the two of them started to spend more time together both in and out of school. They've been seen sitting together at lunch and going to the movies together. However, before recently, Kevin and Josie had very little interaction though they always appeared to be friendly towards one another given that they run within the same circle of friends.
---
"
I don't think I can date someone named "Fangs"
"
— Kevin on dating Fangs[src]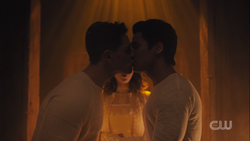 After a brief interaction in the students's lounge and Fangs being the assistant director to Kevin in the musical, Carrie, Kevin and Fangs eventually share a kiss during a farm ceremony headed by Evelyn Evernever. Afterwards, Kevin and Fangs started to hang out more and kept in touch when Fangs left with the farm despite Kevin being upset about being left behind. After the Farm went into hiding, Fangs secretly met up with Kevin as Edgar and the rest of the Farm no longer trusted him.
---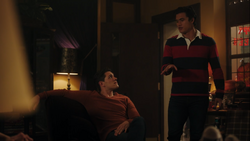 The relationship between Kevin and Reggie is undeveloped but friendly. Despite the common idea that jocks and gay students are natural enemies at school, Kevin and Reggie seem to get along quite well and often spend time together, whether it's going to watch a Drag Race, defending town from thugs from the Southside as vigilantes or just having a party, usually at La Bonne Nuit. Reggie and Kevin started spending more time together after starting to play G&G together and investigating their parents' past as The Midnight Club. Their friendship, however, can cause some trouble with school authorities when they decide to do some pranks.

Appearances
| | | | |
| --- | --- | --- | --- |
| | Season 1 | Season 2 | Season 3 |
Season 4
Trivia
In Season 1, Kevin was the only recurring character to appear in multiple promotional images, including one for himself.
According to Kevin, until Joaquin, he had never had a proper boyfriend as he usually hooked up with closeted guys.
Kevin implies he is the only openly gay student at Riverdale High School.
According to Cheryl, Kevin used to be a "lonely, awkward, fat boy with acne.".[17]
Like many of the characters, Kevin can sing, as seen in Chapter Twenty-Two: Silent Night, Deadly Night.
Notes
In the Archie Comics, he had blonde hair with blue eyes.
Kevin came from a military family and aspired to be in the military in the comics.
Cheryl's description of Kevin previously being a "lonely, awkward, fat boy with acne" is relatively close to how his comic book incarnation was shown to look as a child/pre-teen; The only difference being that he was never shown to be overweight.
 Gallery


Kevin Keller's Gallery Can Be Found Here. The Gallery May Consist of Promotional Images, Screencaps, and Video Clips Released By Network Officials
References
Community content is available under
CC-BY-SA
unless otherwise noted.