"
You act like we've got the same set of options. You live in this pale pink world of milkshakes and first kisses, and "Am I going to date Archie or Jughead?" Except for when you're exploring your BDSM sexuality, which again you're allowed to do. But I'm not, because why? This is what I've got, Betty. Me, these woods, so please don't come here and tell me it's disgusting. If you can't accept what I do, whatever I do then we're just not really friends.
"
— Kevin to Betty[src]
Kevin Keller was initially a recurring character on the first season of The CW's Riverdale. He has since been promoted to a series regular for the second season onward.[1] He is portrayed by Casey Cott.
Kevin is a junior at Riverdale High School and the best friend of Betty Cooper. Along with that, he has become Veronica's G.B.F. (gay best friend). Kevin also struggles with his sexuality, as he doesn't have the same options as his friends do. Because of this, it often causes Kevin to act recklessly at times. He has dated Joaquin, as well as had some interaction with Moose Mason, but Joaquin left Riverdale, forcing their break-up and Moose is unwilling to be "out" like Kevin, forcing him to resort to other means in order to feel something. But lately, Kevin has revealed strong feelings towards Moose, that were either rejected or unnoticed.
Early Life
Presumably, Kevin grew up in Riverdale alongside Betty Cooper, his closest friend. Nothing is known about his home life beyond the fact that his father is the sheriff of Riverdale and his mother is overseas.
Throughout Riverdale
Closeted Romance

Kevin assisted Betty, while she prepared for her outing with Archie, in which she would finally reveal her true feelings towards him. He reminded Betty that whiles nerves are acceptable, she must follow through. Just as Kevin looked out Betty's window, he made a shocking discovery, "Archie got hot", he proclaimed.

The next day, at school, he was introduced to Veronica Lodge. It was then that he informed her on the social scene of Riverdale. After being propositioned in the bathroom by Moose Mason at the Semi-formal, Kevin immediately alerted Betty. As the two of them arrived on scene of Sweetwater River, Moose made it known that he was not gay. They decided on skinny-dipping first and moving on from there, however, they never even made it to the water as Kevin stumbled upon the body of Jason Blossom, who had a bullet hole in his head.[2]

Now that Archie had turned down Betty, and the possibility of them being a power couple is no longer an option, Kevin wanted to revisit his theory of Archie being gay, since no straight man had that a body like Archie's. The conversation shifted to the topic of another body, Jason's. Kevin was fine, if anything, he was more traumatized from having to explain to his father why he and Moose were out at the river. Kevin joined Betty in the front office, where a beautiful bouquet of flowers awaited her. An apology was written on the card by "V". He wondered who this was, soon realizing that it was short for Veronica, who sought Betty's forgiveness and friendship. And while Betty was quick to forgive and forget, Kevin wasn't.

Kevin and Betty entered the classroom, where their teacher was assigning partners for a project. Moose volunteered to pair up with Kevin, as they needed to talk, though Kevin didn't seem too pleased. Moose was hoping that the two of them could arrange another get-together. Kevin declined his offer, but not before acknowledging how attractive Moose was, yet they cannot be together, as Moose had too many demons. Kevin told him it's better if Moose stick with what he knows best, which is girls.

During lunch, Veronica wonders what it was that Moose wanted during class when he volunteered to partner with Kevin, though she already knew the answer. Kevin states that he doesn't even think Moose knows what's going on with himself. Although sexuality is fluid, and he was admittedly handsome in a classic, pre-accident Montgomery Clift kind of way, Kevin questioned if someone named Moose could actually be that fluid. Regardless, Veronica "shipped it". Of course, she did, she was a big city girl with loose morals, Kevin said, though he instantly regretted saying it afterward. What Kevin really meant is that Moose had a girlfriend named Midge. Despite how awful it may sound. Part of him wished that Moose would just stay in the closet. The three of them then joined Archie at the lunch table, where they urged him to play a song for him. However, Betty stormed off in tears soon thereafter, with Archie chasing after her.

The next day in the student lounge, he and Moose were confronted by Reggie, who was outraged that he was being considered a suspect in Jason's death despite Kevin and Moose finding the body. Reggie wondered what they were doing down by the river, and if being the Sheriff's son gave him a free pass. However, Betty advised Kevin to ignore Reggie.

After attending the Pep Rally the prior night, Kevin watched as his father and Mr. Weatherbee entered the classroom for Cheryl, who claimed that she was guilty, though they had no idea of what she was guilty of.[3]

After discovering that Archie was at Sweetwater River on July 4th, Veronica wondered if he was being considered a suspect. According to Kevin, all of them are suspects in the murder of Jason Blossom, even him, at least that's what he was told by his father. All the talk about death led to his next suggestion, of binge-watching "Making a Murderer" on "Netflix". Unfortunately, Betty has to work on the paper, and Veronica has a date. He was shocked to discover that she was going out with Chuck Clayton. He's one of the hottest students in school, and the varsity football coach's son. In Riverdale, that's the equivalent of dating a Kennedy.

Following Veronica's date, Kevin could hardly withstand asking her how it went. In passing, Tina Patel and Ginger Lopez asked Veronica about the "Sticky Maple" Chuck gave her during their date. While she was clueless as to what this meant, Kevin and Betty were very much aware of the meaning. A notification then hit his phone. It was a post of Veronica and Chuck, with maple syrup edited onto the photo. Chuck claimed to have given her a Sticky Maple, which is a slut-shaming thing in Riverdale, Kevin explained.

Late in the night, with the help of Trev Brown, who pointed them in the right direction, Kevin, Veronica, Betty, and Ethel managed to sneak into the school after hours in order to find the team's "Playbook". They were surprisingly joined by Cheryl, who was wearing amazing thigh high boots, Kevin remarked. Just as Trev said, the found the Playbook in one of the lockers, which included Veronica, Ethel, and Betty's sister, Polly [4]

The Sheriff's Son and a Serpent

At the diner, Kevin, Betty and Veronica sat quietly as Jughead ranted and raved about the demolition of the Twilight Drive-In. It seemed Jughead could go on for hours, so Kevin stopped him, demanding that he desists with the Quentin Tarantino references. He then pointed out the oddity of Archie, Fred Andrews, and Ms. Grundy as they entered the diner together.

The following day, in the student lounge, Kevin was notably depressed as he didn't have a date for the drive-in, making out with your boy or girlfriend at the movies is in some way, a right of passage. He accepted Veronica's offer for to two of them to go together, but he wasn't too thrilled.

Back at his house, Kevin asked his father if he could use the truck for the night. Before handing him the keys, Kevin's father instructed him to stay in the truck due to all the dangers associated with that side of town.

At the drive-in, Kevin and Veronica sat in the back of the pick-up, cuddled up together as the movie played. To their surprise Cheryl arrived shortly after and she joined them in the truck. Kevin then ran into a Southside Serpents as he left the snack stand; the same serpent that he had previously made eye contact with. It wasn't long before he and Joaquin were making out in the back alley. Kevin gave him his number, however, Joaquin was startled to learn that he was the Sheriff's son. But the two of them agreed to keep it a secret.

Kevin returned home, with his father, to discover that the house had been broken into and all the details of Jason Blossom's murder had been destroyed.[5]

Murder Board

Kevin, Betty, and Jughead reconstructed Sheriff Keller's murder board, returning it to the state it was in prior to the stealing of the files, background checks, and all the video and audio tapes of police interviews. Unfortunately, there weren't any fingerprints left behind, so the police have no idea who the culprit is. Kevin then questioned and mocked Betty over her date with Trev Brown, wondering if mama Cooper was aware, and what it was that she was really hoping to accomplish. Betty states that her mother was out of town. She then admitted that it wasn't actually a date, rather an intelligence-gathering mission. They needed to focus on the one thing they had access to that Kevin's father didn't, that being the students at Riverdale high.

Several days later, Kevin, Betty, Jughead, Archie, Veronica and Valerie attended Jason Blossom's Memorial after receiving an invitation from Cheryl. At the memorial, Kevin witnessed an awkward moment between Penelope Blossom and Archie, as she touched his hair and caressed his face. He was then thrilled to see Cheryl enter the memorial in the same white outfit that she wore when taking Jason out to Sweetwater River, as he knew that drama was sure to ensue. [6]

Every fall, Riverdale High School puts on a Variety Show to showcase the talent of its students, this year, Kevin was selected as the host. Each student had to audition for a spot in the show, he started with Archie, who failed miserably, the stage fright got the better of him, as Archie rushed off stage. Even though it compromised Kevin's artistic integrity, after a few choice words with Veronica, who reminded him that he had heard Archie sing on numerous occasions, Kevin left a slot open for Archie if he still wanted it. The night of the 75th annual Variety Show had finally arrived, as host, Kevin welcomed everyone in attendance.[7]

Kevin learned from Betty that her sister, Polly had escaped from the Sisters of Quiet Mercy group home. The Coopers had yet to report the incident as they didn't want anyone to know about her pregnancy or that she ran away. Kevin agreed with Archie on getting the police involved despite her parents' hesitance, he suggested that they go to his dad, who would be discreet, but Jughead disagreed as his father would have to answer to the Blossoms. It wasn't long before the news of Polly's escaped spread, thanks to Cheryl, which Kevin alerted Betty and Veronica of.

In an effort to find Polly before the Blossoms did, Kevin joined in on the search party throughout Eversgreen Forest, where he split off with Veronica. The two talked about her on-going feud with her mother. Veronica hated fighting with her mom, but she crossed the line with forging Veronica's signature in order to further her affair with Fred Andrews. He wonders what follows if Hermione doesn't break. Veronica explained that during similar situations in New York, she'd go on a partying bender with her favorite celebrity gal-pal, her best gay friend, and dimwitted arm candy, which would come to include Josie, Kevin, Reggie. He wonders if they should invite Betty as well, as she could probably use a distraction, though with the Blossoms joining the search, Veronica remarked that Betty would likely have her hands full.

The four of them spent the night out at a club called the Roving Eye, in which they danced the night away. After finding a booth to cool down in, Kevin asked if the partying was helping with her current dilemma. Veronica explained that everything was taken from them when her father was arrested, but her mother sat her down, and told her there was one thing that no one could ever take from her, which was her name, yet that's exactly what her mother did, as if it meant nothing.[8]

Serpents Attack SoDale

During a conversation being had by Kevin, Betty, Jughead, Veronica, Cheryl, Valerie, and Archie, in which they discussed Polly's current dilemma, Kevin referred to Cheryl's family as the "child snatching Blossom monsters".

The next day, after learning that Fred Andrews' crew quit on him the day of the SoDale project, Kevin, Archie, Jughead and Moose volunteered to help with construction and keep things on schedule until Fred could find a new crew. As they were about to start construction, Kevin pointed out to Hermione how much he loved her shoes. Unexpectedly, Kevin proved to be quite useful on the construction site, so much so that they suggested that he join the Riverdale Bulldogs, but Kevin preferred his contacts sports to be one-on-one. As the day came to an end, so did the construction, the boys returned to the trailer, but Moose forgot his phone on the project site, where he was attacked by two thugs, who warned him to stop construction.

Kevin, Archie, and Moose suspected that the attack could've been the work of the Southside Serpents, as they had lost their territory due to the construction. With the help of Joaquin, they infiltrated a Serpent hang out known as the Whyte Wyrm, where their plan consisted of them calling Kevin's father if they saw Moose's attackers. Once inside, Kevin was visibly terrified, though he managed to keep his composure, even as he lost a game of pool to Joaquin. Although the original plan was to call Kevin's dad, Archie decided to confront the Serpent that Moose pointed out as being his potential attacker, which didn't end well as they were vastly outnumbered. However, they were released by FP Jones, Jughead's father, and the leader of the Serpents.[9]

Kevin became increasingly disturbed as Ethel Muggs read an extremely dark poem in front of the class. This led Veronica to wonder if she was okay, to which Ethel explained that her household was under distress due to her mother and father's constant fighting. Hoping to cheer Ethel up, Veronica invited her to have lunch with her at The Pembrooke, Kevin would be there she said, much to Kevin's surprise as this was the first he had heard of it. After their chat with Ethel in the lounge, Kevin approached Veronica, wondering what was driving her sudden urge to help. Veronica realized that Ethel's poem was a cry for help, the likes of which she vowed she'd never ignore anymore, especially not after an incident that happened at her old school in New York, last year, where a girl named Paige transferred schools after Veronica and her best friend tormented her.

As planned, the next day, Kevin, Veronica, Ethel, Betty, and Hermione ate lunch together, however, Ethel wasn't hungry as her home life hadn't gotten any better. A couple days later, Kevin informed Betty and Veronica that Ethel's father nearly committed suicide after swallowing an entire bottle of pills.[10]

Inner-Circle

Having learned that Jughead never had a birthday party, Betty suggested that they throw him one, which Archie insisted was a bad idea because Jughead hates his birthday. Kevin remarked that everyone says that but no one means it. However, according to Archie, Jughead did mean it, he was a lone wolf. Just after Veronica announced that Jughead's 16th Birthday Party would be inner-circle only, Kevin spotted Chuck Clayton enter the cafeteria, fresh off his suspension, headed towards Ethel. Kevin commented that Chuck's lats may have gotten bigger, but not that he would really care considering that Chuck is evil incarnate.

The following night, as everyone awaited Jughead and Betty's return from the double-feature at the Bijou, Kevin briefly chatted with Veronica, who questioned why Joaquin was invited despite their previous agreement of inner-circle only. Kevin explained that since Joaquin was his boyfriend, that made him inner-circle. Veronica then mentioned that she had just returned from a meeting with her father's lawyer, between his upcoming hearing and his possible involvement in Jason Blossom's death, she was in a foul mood.

As Jughead returned to Archie's house, Kevin greeted him with a hug and then introduced him to Joaquin, quickly followed by Betty bringing out a cake, and everyone celebrating as Jughead blew out the candles. Their quiet little gathering swiftly turned into a full blow house party as Cheryl and Chuck crashed the event, accompanied by a few dozen classmates, which led Kevin to wonder why they were doing it, Veronica surmised it was payback.

Jughead reveals to Betty that he does not consider Kevin a friend, and is thus as indifferent towards celebrating with him (and Joaquin) as he is with the party-crashers. Meanwhile, as Kevin and Joaquin made out in the kitchen, they were interrupted by FP, Jughead's dad, who Kevin was quite familiar with, having been kicked out of the Whyte Wyrm by him. FP then asked Joaquin to show him to the bathroom, leaving Kevin alone in the kitchen, until he ran into Veronica, who was unaware that FP was Jughead's father.

The high point of the night started when Cheryl and Chuck introduced a game they called "Secrets & Sins", a game in which they would reveal all their secrets, which Kevin watched suspenseful from the sidelines, that is until the situation turned violent between Jughead and Chuck, resulting in FP ending the party.[11]

Kevin attended the annual Homecoming dance with Joaquin as his date. The two of them watched as Archie and Veronica performed "Kids in America" on stage. Afterward, He and Joaquin slow danced, leading Kevin to reveal that he had never brought a boyfriend to such an event, in fact, it was the first time he actually had a boyfriend. His past relationships consisted of brief hook ups with closeted guys. Just then, their dance was interrupted. After previously being asked by Betty were Archie and Veronica were, Kevin was asked by Jughead where Betty was. Before telling him that she headed out to the hallway with Archie and Veronica, Kevin joked about them needed tracking devices. He then spotted his father from across the room, talking to Mayor McCoy, to whom he revealed that Jughead's father had just been arrested for the murder of Jason Blossom.[12]

Breaking Up with Joaquin

At school the subsequent day, after the shocking revelation that FP Jones killed Jason Blossom, Kevin asked Archie, Betty, and Veronica how Jughead was holding up because to him, the entire situation felt surreal. Jughead wasn't doing well, he was at the Sheriff Station being grilled by Kevin's dad, Veronica said. Kevin stated that his father was simply doing his job, of course, he would ask Jughead questions, but Betty was furious that he was even being interrogated because FP was clearly innocent. Kevin reminded Betty that he had confessed, but she believed he could've been coerced, or he was possibly protecting someone, like Joaquin, who Alice saw talking to FP during Jughead's party. Kevin stopped her right there, refusing to allow them to drag his boyfriend into the mess.

After learning from Archie's mother that FP used his one phone call from jail to contact Joaquin, Kevin called him over to Archie's house, where they asked him about his call from FP. Joaquin claimed he was simply given a warning to lay low, but they weren't buying it, so Kevin asked him again if he knew anything, but this time as the sheriff's son, instead of his boyfriend. Joaquin admitted that he had always assumed that FP killed Jason. Joaquin didn't see FP pull the trigger, but on July 11th, FP called him in the middle of the night for a cleanup job at the Whyte Wyrm. He met with FP in the basement, and that's when he saw Jason Blossom's body laying on the floor, they stashed the body in the freezer and cleaned up the mess. Veronica then asked Joaquin if her father had anything to do with the murder, but he wasn't sure, all he knew for sure is that he overheard a conversation pertaining to a rich guy between FP and Mustang, the same Serpent that Archie got into a fight with at the bar. They demanded that Joaquin take them to Mustang's place, and if he didn't, Kevin would tell his father about the cleanup job.

At the City Centre Motor Hotel, Kevin, Joaquin, Archie and Veronica discovered Mustang's dead body inside the bathtub. However, Joaquin couldn't stick around for when the police came, so he and Kevin quickly left the scene of the crime.

With the heat coming down, Joaquin thought it best if he left town, so Kevin accompanied him to the bus station. Before boarding a bus headed for San Junipero, he and Joaquin shared one last kiss. Joaquin then told him about a contingency plan he and FP thought up.

That night, Kevin, Betty, and Jughead headed out to the highway off route 40, where Jason's car was torched, and under the old beat down Blossom Maple Farms sign was a duffel bag containing Jason's Varsity Jacket. Joaquin didn't know if it would help FP or hurt him, but whatever the case, when FP called him from jail, it was to tell him to forget about the plan as it was too dangerous. Back at Archie's house, they debated over the importance of the jacket, and why FP chose to keep it. If anything, it seemed like more incriminating evidence. Betty refused to accept defeat, so she began checking the pockets, and inside the lining of the jacket, she found a USB flashdrive, and so Kevin named her as Nancy Drew. On the flashdrive was surveillance video from the night Jason was murdered. Despite FP confessing to the murder, the video revealed that Jason's killer was his very own father, Cliff Blossom.[13]

Following the suicide of Clifford Blossom, and the revelations that he was not only responsible for the death of his own son, Jason Blossom, but that he was also involved in heavy drug trafficking, Kevin informed his friends that his father told him that more and more drugs were hitting the streets of Riverdale. Kevin's father and Mayor McCoy believed this to be the workings of the Southside Serpents. In exchange for FP Jones' cooperation, they'd show him some leniency. However, Jughead insisted that the Serpents weren't responsible as his father was sure of it.

The next day at school, Kevin approached Jughead, and Veronica at the lunch table as they chatted with Cheryl, telling them that they needed to see something bad. Kevin directed them to Betty's locker, which had been written on in pig's blood, which read "Go To Hell Serpent Slut!".

The following night, Kevin attended the 75th Anniversary Jubilee, where he sat in the crowd as Betty gave a speech about the impending turmoil that the town was facing, and how that if they didn't fix it, Jason's death certainly wouldn't be the last. Afterward, he gave her a standing ovation, along with the rest of the crowd.[14]
Kevin briefly appeared alongside his father in his graduation cap and gown, during Fred Andrews' hallucinatory vision, brought on by the gun shot he earlier sustained.

Meanwhile, in reality, Kevin arrived at Riverdale General Hospital after learning that Archie's father was shot at the diner by an unknown assailant wearing a black hood. He joined Betty in the lobby, where he asked about her relationship with Jughead, and if they had sex after the Jubilee. Betty informed Kevin that while she and Jughead didn't have sex, he did say that he loved her, and Betty reciprocated these feelings. Unfortunately, the night when downhill from there as Betty was concerned with Jughead possibly joining the Southside Serpents, which Kevin immediately warned her against. He advised her to review his past relationship with Joaquin, who was also a Serpent. Betty stated that Joaquin was nice, but only when he wasn't dumping bodies in Sweetwater River or mopping up buckets of blood, Kevin retorted.

After an awkward exchange of looks between the two, Kevin and Betty noticed Cheryl heading down the hall with someone on a gurney. From Cheryl, they learned that there was a terrible fire at Thornhill the prior night and that her mother was on the gurney. However, they did not learn the full truth, that Cheryl started the fire an in attempt to start over, as she created a cover story: After her ordeal at Sweetwater, where she attempted to kill herself, Cheryl was at home, asleep when the fire started. They believe the start of the fire was from a breeze knocking over a lit candle, which caught the curtains. Mrs. Blossom returned to Thornhill and rushed headlong into the blaze, risking her life to save Cheryl's (the real reason she went in was to save the family portrait), which unfortunately resulted in her suffering third-degree burns as well as acute smoke inhalation.

Kevin appeared in yet another one of Fred's dreams, this time at Archie and Veronica's Scottish themed wedding. He sat next to his father in the crowd as Veronica came down the aisle.[15]

Kevin and Veronica sat in the Blue and Gold offices as Betty told them that they needed to host an event at Pop's diner that reminded the town of simpler times, like a throwback to when the shoppe first opened its doors. However, Veronica couldn't help but wonder why Betty was fighting so hard for the shoppe's survival, to which she explained that with everyone losing so much recently, she was hoping that at the very least she could save Pop's for everyone. It's where she first met several of her friends, Kevin included.

After learning from Mr. Weatherbee that Riverdale High's former music teacher, Ms. Grundy, was murdered in her Greendale home, Kevin, Veronica, and the entire River Vixen squad came together at Betty's behest to clean up Pop's vandalized diner in preparation for Retro Night. Afterward, as Retro Night commenced, Kevin assisted the staff of Betty, Veronica, Jughead, and the Vixens, in service.[16]

Cruising Fox Forest

In the late hours of the night, Kevin passed over a bridge, going deeper into Fox Forest, where he met a young man of his liking. They were up against a tree, kissing and groping, when the sound of several gun shots echoed throughout the forest. Kevin's companion took off while he decided to further investigate. Upon his arrival at Lover's Lane, he found Midge, climbing out the passengers side of Moose's car, screaming for help as she ran into his arms. Kevin would then learn that they were attacked a man wearing a black hood. Fortunately for Midge, Moose's heroic actions in using his own body to shield her from the gun fire, left her unharmed.

The next day at school, Kevin met with his friends in the student lounge to discuss his finding of Moose and Midge at Lover's Lane the night prior. After hearing Midge's Banshee-like scream, he compared her appearance of being covered in Moose's blood to the 1976 American supernatural horror film, Carrie. Concerned with Kevin's well being, considering that he could've been shot as well, Archie questioned what Kevin was doing in the woods to begin with. Despite entering Fox Forest for a late night hook up, Kevin lied, telling his friends that he was on a late night jog. Archie now hoped that they could all agree that there was a killer on the loose, though everyone wasn't convinced. Veronica then interrupted to invite them all over to her place to officially meet her father.

With her knowledge and friendship with Kevin being greater than most, Betty was not convinced with his fabricated late night jogging story. He initially claimed that he was trying to get in shape for wrestling, but after realizing that Betty knew him too well to continue with his lie, Kevin confessed that he went cruising in Fox Forest. However, his claim to join the wrestling team still held true. In order to get out the house, just as he lied to his friends, Kevin told his father that he was jogging. Betty understood that he was lonely ever since Joaquin left town, but she hated cruising. Why couldn't he just use Grind'em, Betty asked, to which Kevin replied that no one is ever who they say they are online. At least there's no surprises when cruising. Betty reminded him that Moose and Midge were shot three hundred yards from Fox Forest, and the person who did it was still out there. After listening to Betty's concern, Kevin promised that he would refrain from going back to the woods.

After failing to show up at Veronica's home to meet her father, Kevin was confronted by Betty the subsequent day. He claimed that something came up. Something in the woods, Betty asked. Alluding to another cruising in Fox Forest. Kevin hoped that Betty wouldn't take what he was about to say the wrong way, but he asked how her how many years did he listen to her talk on and on about Archie, and now she's doing the same with Jughead. She didn't ask his permission to date them, but she did so regardless because she didn't need Kevin's permission nor did he need hers. Before leaving, he told Betty that what he's doing in the woods was none of her business.

The next day, Kevin visited Moose in the hospital. Like many others before him, Moose wondered what Kevin was doing in the woods, though Kevin didn't respond to the question, instead, turning the question back on Moose, asking what he was doing in the woods with Midge, other than drugs, which everyone had already been made aware of. Moose claimed that the Jingle Jangle was Midge's idea. While Moose liked Midge, he wasn't always sure that they were the greatest match. He then look to Kevin, who had a troubled look on his face. Kevin told Moose that he hadn't been making great decisions lately. He'd been lying to his father and going into the woods despite knowing the dangers he faces while doing so, almost as if he didn't even care. Moose explained that guys like them, in a town like Riverdale, didn't have many options. So, even if they risk certain danger, they go for it because of the slightest chance that they won't be alone for the smallest amount of time. Growing uncomfortable with the discussion, Kevin prepared to leave, while doing so, Moose told him that he could come back whenever he felt like hanging out or talking.

That night, Kevin stopped by Pop's Chock'lit Shoppe before heading into Fox Forest on his so-called late night jog, unaware that Cheryl was watching him from her booth.

Kevin sat on a bench near the bridge as two men passed him. He politely smiled, then following them across the bridge, where he was startled by Betty and Cheryl. Betty was disappointed that he broke his promise. She wanted him to have more respect for himself. While they had been friends for a long time, Betty had no idea of the difficulties Kevin faced as being a homosexual male in such a small town. Betty acted as if they had the same set of options, when in reality, this couldn't be further from the truth. Kevin went on to say that she lived in a pale-pink world of milk shakes and first kisses, where her biggest romantic obstacle is whether she is going to date Archie or Jughead, except for when she exploring her BDSM sexuality, which again, she's allowed to do, but he's not. Fox Forest was all he had. So, he didn't need Betty telling him how disgusting she thought it to be. If she couldn't accept what he did, then they weren't truly friends.

The following night, Kevin went on another cruise of Fox Forest, during which time he approached a parked car with an unfamiliar man inside. Kevin asked how the driver was doing, then telling him that he was waiting for someone one. The driver offered him a ride, and so Kevin willingly entered the car. However, he was stabbed in the abdomen with a knife by the driver soon thereafter. Fortunately, this turned out to be a momentary vision of one possible outcome had he gotten in the vehicle. Still, on the outside of the car, Kevin denied to driver's offer for a ride. The driver asked if he was playing hard to get, then raising his voice and demanding that Kevin get in the car, which frightened him, so much so that he ran off.

After a close call in the woods, Kevin returned home, only to be confronted in the kitchen by his father, who had learned all about his cruising of Fox Forest from Betty, who Kevin initially attempted to use as an excuse for why he returned home so late. With everything that was going on, Kevin's father needed to know that he was safe. He knew that there were some things they didn't talk about, but maybe it was time they start trying. The two of them then shared a long hug.

Kevin arrived at school the next day, heading straight towards his locker. He looked to Betty, who was just a few feet away, then turning away in the opposite direction as she attempted to speak to him. It became fairly apparent that Kevin was upset with Betty for going behind his back, to his father.[17]

Kevin joined Betty in the Blue and Gold offices to tell her that while he was still upset about her telling his father, who then told his mother about cruising Fox Forest, he had re-upped his online membership to redstatemeat.com, so there would be no cruising in the foreseeable future. It was only after he stopped talking that he noticed something was severely wrong with Betty as she sat at her desk, emotionless. Betty explained that she found a letter from the Black Hood, addressed to her. In that letter, he explained that Betty's speech at the 75th Anniversary Jubilee inspired him. The town's sinners must show their contrition. If not, more suffering and bloodshed would surely continue. Enclosed in the letter was a cipher, which detailed where he will punish his next victim. It was a test that only Betty could solve. Kevin suggested that they turn everything over to his father, however, Betty was only willing to give up the cipher. The letter, she wanted to keep for herself, as it was meant for her, though Kevin didn't wan her involved in the case. He reminded Betty that she was dealing with a psychopath, and that she was merely a high school student.

The following night, Kevin, Betty, Jughead and Toni gathered at FP's trailer, where they joined forces in trying to decode the Black Hood's cipher. The symbols looked oddly familiar to Betty, but she couldn't quite place them, and struggled with this throughout the night. Toni remarked that maybe she should loosen her ponytail. As the trailer filled with awkward silence, Kevin informed Toni that Betty's ponytail was iconic and beyond reproach, though Betty was fine with the suggestion as she was willing to try anything. Jughead suggested that they look at the cipher from a more basic perspective, asking why the Black Hood chose to begin his killing spree now, which Kevin and Betty both had the answer to, but refrained from answering. From what little they knew of the Black Hood, he was obsessed with cleansing the town of sinners and hypocrites, seemingly attacking only Northsiders, which Toni referred to as fake news. An argument then erupted between Betty and Toni. Uncomfortable with the current environment he was in, Kevin decided to leave. Toni agreed that it would be best if she left as well.

The next day at school, Kevin sat alongside Cheryl as Mr. Weatherbee and his father entered the classroom to pull Archie out into the hallway for questioning.[18]

In the student lounge, Kevin learned from Veronica that an old friend of hers, Nick St. Clair, was coming up from New York for her parents' open house. They were the "will they or won't they?" of their jet-set, Veronica stated. She went on to describe her friend as being an outrageous flirt, who she'd go on madcap adventures with, though they never dated.

A couple days later, Kevin got the chance to officially meet Nick in the music room at school, where he invited everyone to attend the party he was hosting in his hotel room at the Five Seasons.

Later that night, Kevin attended the party in Nick's hotel room, along with Veronica, Archie, Betty, Cheryl, Josie, Reggie, Valerie, and Melody, where after having a few drinks, Nick recommended they kick up the party with some Jingle Jangle that he scored from Reggie. Every other night it's burgers and milkshakes at Pop's Chock'lit Shoppe, Veronica sought to cut loose and pretend for one night that they were normal. Cheryl agreed to partake, then looking to Kevin, hoping that he would join, as he does. High off the Jingle Jangle, Kevin and Cheryl danced on the couch together, though their drug-fueled dance off was short lived due to an argument taking place between Betty and Veronica, during which time, Betty accused Veronica of being a bad person and a friend of circumstances.[19]

After Mrs. Cooper had learned of the use of Jingle Jangle at Nick St. Clair's party at the Five Seasons, she arranged a meeting, calling over all those who attended, as well as their parents. At the Cooper house, Kevin learned from Archie that Betty had broken up with Jughead. "#Bughead is no more, and Betty didn't tell me?". Mrs. Lodge then interrupted all ongoing discussion to inquire about the Jingle Jangle. Reggie admitted fault, then revealing that he acquired it from a teen on the Southside, who he suspected of being a Serpent and a student at Southside High. While they admittedly shouldn't have taken the Jingle Jangle, Nick should be the only one under interrogation, given that he asked Reggie for the drugs, and later pressured everyone into taking it. Furthermore, he roofied and tried to rape Cheryl. Unfortunately, Kevin's father explained that prosecuting Nick would be difficult given that all the witnesses were high, as Jingle Jangle remained in the user's system for up to three days. After Mayor McCoy learned that Josie participated in the drug taking experience, she declared that her number one priority from that moment forward was taking over the Southside, even if it meant arresting every Serpent in sight.

At school, Kevin learned from Veronica that Nick tried to assault her after the Penthouse party, but she put a stop to it. "I hope Nick St. Clair chokes on a silver spoon", Kevin remarked. He instructed Veronica to either tell her father or his father about the incident, but Veronica refused. If her father ever found out about what Nick did, he'd put Nick's head in Mr. and Mrs. St Clair's bed, Godfather style. Veronica didn't want Nick's blood on her or her father's hands, so she had decided to keep quiet about the incident. As they rounded the corner, they ran into Betty, though neither of them was interested in what she had to say, with Kevin referring to her as "Benedict Betty".

As consequence of his drug use at Nick's party, Kevin was sentenced to community service at Pickens Park, as were his friends. The park was filled with such filth that he told Veronica that he wouldn't even go cruising there.

Kevin later attended the drag race being held near Herk Harvey bridge between Archie and Jughead and two members of a Southside gang called the Ghoulies. As Kevin sat alongside Reggie, Cheryl, Betty, and Veronica, he commented that while he wasn't at the kind of drag race he ever imagined himself going to, the guys were at least attractive. Believing that she was born for the moment, Cheryl took to the center of the road as flag girl, asking both drivers if they were ready before waving her flag, signaling the start of the race, which was later intercepted by Sheriff Keller and the police department. The race ended with the arrest of the Ghoulies and everyone else scattering.[20]

While walking the school halls that morning, Kevin shared his concerns for his father with Betty and Veronica. The town was turning on him. Despite his father's best efforts to catch the killer, the Black Hood was too elusive. What was he doing to deal with it, Betty and Veronica simultaneously asked. Kevin replied that he wasn't sleeping or eating. Kevin would also hear his father rummaging around the house at odd hours, when he would talk to himself. Not to mention that he had been leaving the house in the middle of the night, however, Kevin didn't know where he would leave to. What he did know was that his father's recent behavior was making him seem like a different person.

Hoping to cheer him up, Veronica suggested that they have a sleepover. Kevin mistook this to be an invitation to stay at the Pembrooke, however, Veronica corrected him by saying that she had never seen his house.

That night, Veronica stayed the night at Kevin's house, as planned. During which time, Kevin explained the rules of a fantasy tabletop role-playing game. Veronica then excused herself from the room as her phone began to ring, asking Kevin if he wanted anything while she was out. A glass of milk would be great, he replied.

Having grown tired of waiting for Veronica's return, Kevin headed downstairs to retrieve his own glass of milk. After doing so, he found Veronica in the basement, talking to his father. Afterward, he and Veronica returned to his room, where they spent the rest of the night. As Kevin slept, Veronica watched from the window as his father left the house in the late hours of the night[21]

In the days leading up to Christmas, Kevin had arranged a Secret Santa gift exchange between him and his friends. On the day of the Secret Santa, Kevin, Archie, Betty, Reggie, Cheryl, Veronica, Jughead, Josie and himself gathered in the student lounge at school, where the exchange took place. He announced that it was Veronica's turn. She opened her gift from Josie, which awkwardly enough was a gift certificate for a couples massage. Hoping to lessen the awkward tension, Josie suggested that Veronica use the certificate to take someone other than Archie, given that they were no longer together, such as Betty or her mother. Thankfully, Betty was the last exchange of the evening, as the sudden awkwardness was too much to withstand. Based on the wrapping of her present, Betty immediately knew that it was Archie that picked her name. Betty unwrapped the gift to find and old read-a-long record that she and Archie used to listen to when they were younger, entitled "The Swiss Family Robinson". Archie informed her that he and his father found it while they were cleaning out the garage. Kevin was then pleasantly surprised when Moose and Midge entered the lounge to join them for the Holiday event.

On Christmas morning, Kevin and Josie sang "God Rest Ye Merry Gentlemen" outside of Pop's Chock'lit Shoppe.[22]

As Kevin sat in the student lounge with Archie, Veronica and Betty, Mr. Weatherbee announced over the intercom that effective immediately, Southside High was shutting down and that the students who attend would be transferring to other school's in the district, including Riverdale. When Archie asked what this meant for them, Betty replied that Jughead was coming back, leading Kevin to question if Betty was ready to see him given that they had recently broken up. Betty insisted that she and Jughead were fine and perfectly capable of being in each other's presence. Veronica suspected that the reason behind the sudden closure of Southside High was due to some kind of bizarre, Byzantine town ordinance that they couldn't possibly understand.

The next day, Kevin joined Archie, Veronica and Josie in welcoming back Jughead, as well as the new Southside transfers (Toni Topaz, Sweet Pea and Fangs Fogarty). As Veronica encouraged the newcomers to drink deeply from the cup that is "fair Riverdale", Cheryl and Reggie interrupted. With the River Vixens and Riverdale Bulldogs backing them, Cheryl approached the registration desk to hurl insults at the Serpents, calling them "Southside scum" and "raggamuffins". Cheryl announced that she would not allow Riverdale High's above average GPA to drop because of overcrowded classrooms with underachievers such as themselves. Cheryl instructed them to find another school to deface. Archie stepped in the middle just as things were getting out of hand, as he sought to put their differences aside so that they could start over. Fortunately, Mr. Weatherbee arrived just as Reggie declined that offer to send them off to class before the altercation could escalate.

In the student lounge, Kevin, Josie, and Veronica became acquainted with Toni, Sweet Pea and Fangs. It was during introductions that Kevin learned that Fangs was an old friend of fellow Serpent, Joaquin. They were then called out into the hallway by Mr. Weatherbee, who was searching for the culprit responsible for defacing the school's seal with a spray-painted on Serpent. Next to Weatherbee stood Reggie, who they suspected of being the actual vandal. The Serpents were innocent, though Weatherbee believed otherwise, especially with Reggie in his ear, claiming that the Serpents were doing what they are known for, tagging their turf. Having fallen victim to Reggie's lies, effective immediately, Weatherbee outlawed gang behavior of any kind. As of that moment, Serpent jackets would no longer be tolerated and tattoos were expected to be covered. Possession of any gang paraphernalia would lead to immediate suspension.[23]

In preparation for upcoming tryouts for the wrestling team, Kevin, Chuck and several other students went on a run through Pickens Park.

Kevin, Jughead and Veronica gathered around Betty in the student lounge to talk about her long-lost brother, Chic, who was staying with her after she had found him in a Centerville Hostel. While Kevin agreed with Veronica that Chic was indeed a "hottie", he couldn't help but feel as if he had seen Chic before. Jughead questioned if he could have possibly ran into him while cruising Fox Forest, though Kevin was unsure. And with Chic still acclimating and Betty attempting to gain his trust, it was unlikely that they would be meeting him anytime soon. Hearing this, Veronica suggested that she bring Chic to Pickens Day, which Jughead claimed he would not be attending because the Serpents weren't extended an invitation. When Veronica insisted that they were specifically invited, Jughead retorted that they were hired as security. The damage, as they say, had already been done in that.

While sitting in a booth at Pop's that night, Kevin called Betty to tell her that he finally remembered where he recognized Chic from. As Kevin put it, Chic was a "video gigolo, a webcam boy, a cyber-trick."

On the first day of wrestling team tryouts, Kevin, Chuck, Archie and the rest of the team gathered around Coach Kleats as he blew the whistle. He asked that they all give Veronica's father, otherwise known as Hiram "the Ram" Lodge a round of applause for not only showing a lot of support for the team but he also wrestling for Coach Kleats during his first year of coaching. Not everyone would make the team and there'd be cuts every day. So Coach Kleats advised them to make each match count. Kevin then paired off with Archie for "up and downs". During which time, Kevin told Archie that wrestling was nothing like basketball or football. Archie was aware of this, insisting that he was fine since he had previously gone up against Moose in the Oklahoma Drill. Unfortunately for Archie, when it came time to perform, Kevin bested him twice.

Immediately following tryouts, Kevin headed down to the Blue and Gold, where he told Betty of his match up with Archie and how he failed to demonstrate any form of wrestling skills. While Archie may have had the "physique of a 1970s porn star", that didn't mean he could wrestle. Ironically, their discussion of porn stars reminded Betty of what Kevin had told her about Chic and his online activities. Kevin playfully asked if she had gotten lost down a "webcam rabbit hole". Admittedly, Betty was fascinated by this discovery of Chic being a webcam-boy. She brought Chic home to help her mom without knowing who he was, and now to find out he's actually multiple people, performing online. Betty wasn't sure how to broach him or if she should even broach that with him. Before Kevin could respond, Jughead entered the room to run a story of his past Betty. He volunteered to come back at another time if he was interrupting their conversation, but Kevin left instead, allowing them to talk.

On the second day of tryouts, they were focusing on fundamentals, starting with the fireman's carry. And since it was his signature move back in the day, Coach Kleats had asked Hiram to demonstrate. He called on Archie to be his volunteer. Kevin and the team watched as Hiram encouraged Archie to come at him before taking him down with one swift fireman's carry. With Archie tackled to the mat, Hiram explained the simplicity of the move. While it is fairly simple to execute, it's also an effective move when your opponent gets cocky by dominating your rival. Demoralizing him is the key if you want to win.

In the locker room, after tryouts, Kevin encouraged Archie to keep up the good work as he was undoubtedly improving, to which Archie thanked him for his assistance. While Kevin was happy to help, he was curious about Archie's sudden interest in the sport, asking if Archie was trying to impress Mr. Lodge. Archie explained that it didn't start with trying to impress him. But that changed because it was like there was nothing Archie could do to earn Mr. Lodge's respect. And the more he looked down on Archie, the more Archie wanted to show him that he's wrong.

Kevin attended Pickens Day with his dad. They joined Archie and his father in the crowd as Veronica and the Pussycats performed on stage. However, their performance was interrupted by the Serpents, who while covering their mouths with duct-tape, held signs that read 'honor this land' and 'sacred land'. Toni, who seemingly lead the charge, stood in front of the stage with Sweet Pea and Fangs to announce that they represented the dead and the silenced. Pickens Day was a lie. General Pickens slaughtered the Uktena tribe, Toni's grandfather's family. And the land in which they were standing on, would soon give way to a new Southside, which was stolen from them. While the Serpents couldn't bring them back, they could at the very least honor them. Hoping to ease tensions, Mr. Lodge got on stage to applaud the Serpents for standing up for justice, as well as the honor and legacy of the Uktena, who contribute to the rich tapestry that is Riverdale, that is the Southside and that will be SoDale.[24]

In the student lounge, after already inviting Archie, Veronica invited Kevin, Jughead and Betty to her confirmation ceremony. Usually, those kinds of events were family only, but since they were her chosen family, she managed to pull a few strings and reserve them a pew. They were expected to adhere to a specific dress code, Catholic chic. Dresses for the girls, veils optional. And coats and ties for the boys.

The day of Veronica's confirmation ceremony had arrived, and Kevin was in attendance. He sat alongside Jughead, Betty and Archie as Veronica walked down the aisle, sang with Josie and was confirmed. [25]

Kevin joined Archie, Betty, Veronica and Jughead in the student lounge at school to tell them about the police finding another dead body that morning. There was blood everywhere. While the investigation was ongoing, it was supposedly a gruesome, gangland-style execution at the motel. Archie cut him off just as he was diving into the gory details of blood and brain being splattered across the room.[26]

Kevin approached Moose at his locker to see if he wanted to accompany him to the Bijou for the 2018 American romantic comedy-drama film Love, Simon. It was a coming of age film that Kevin was looking forward to. Unfortunately, Moose had already planned to go with Midge though he did invite Kevin to tag along, claiming that Midge was open-minded and knew all about them. Supposedly, she was cool with it, but Kevin passed on the offer nonetheless as it was a little to Big Love for him.

The next day, Kevin met up with Josie at Pop's Chock'lit Shoppe to discuss the upcoming musical that he was directing which he wanted to be a star vehicle for Josie. Unfortunately, Josie had called him down there to reveal that his father and her mother were having an affair. Kevin immediately headed down to the Sheriff Station to confront his father. When his father revealed that it was true, Kevin expressed his disappointment and anger. He was in disbelief that while his mother was overseas, risking her life every day, his father was running around with his former boss.

Later that night, Kevin was approached by Moose and Midge while eating alone at Pop's. Midge invited him to join her and Moose in their booth. She assumed that Kevin would be meeting someone at the Bijou, but sadly, he wasn't. Which Midge thought to be unacceptable. She offered to help him find a date, suggesting one of the new Southside Serpents that had recently transferred to Riverdale High following the closing of Southside High. She had heard that at least one of them was gay, Fangs Fogarty. However, Kevin explained that he didn't think he could date someone named "Fangs". Moose interjected that Kevin should at least give Fangs a chance since he was attractive though Midge disregarded his comment. She then asked how Kevin and Moose became friends. Though Kevin and Moose came to know one another through pre-planned sexual encounters, Kevin told her that they were Biology partners.

Kevin ran into Josie at the Bijou where she apologized for telling him about the affair as it wasn't her place. While she should've left that up to his father, she was just hurting and upset at her mother. Kevin accepted her apology, and like Josie, he too was at the theater without a date. So the two of them saw the film together.

After the movie, Kevin and Josie called their parents and told them to meet them at Pop's. They assured their parents that it wasn't a trap, but when Kevin and Josie were talking after the movie, they realized that the conversation was bigger than all of them and that it was probably going to be a long one. So they believed it was best if they started talking about it.[27]

Kevin met with Betty at the Blue and Gold offices after school hours to assist her in her investigation of her brother, Chic. However, Kevin was reluctant given the odd circumstances. But Betty explained that every time she tried asking him questions about himself, he got defensive or started to cry as a diversion. So she proposed that they Catfish him since it's the only way she could think of to get him to open up. In agreement to help Betty, Kevin got on video chat with Chic while Betty instructed him on what to say. He asked if Chic liked to party and play. Chic claimed that he didn't. Given that this was their third time talking to each other, Kevin wanted to know more about Chic.

A few days later, Kevin and Betty regrouped in the Blue and Gold for a follow up webcam session with Chic as Betty had only grown more suspicious of him, especially with Chic turning down the money he would rightfully inherit if he would just agree to the Blossoms' DNA test. Betty wanted to know what he was hiding. So she had a plan that was admittedly insane. Just as before, Kevin was instructed by Betty on what to say to Chic over video chat. Betty told Kevin to tell Chic that he had gotten tested for the first time and the test came back negative. Kevin asked if Chic got tested. Which he did. He used to go every week. He had a terrifying scare once, one that he didn't feel like sharing. But he did tell Kevin that he was living with a rougher crew back then. Kevin then shut the laptop close as Chic realized that someone else was in the room with Kevin. Kevin began to feel guilty about catfishing Chic, and so he decided that he would do it no longer.

The next day, outside Town Hall, Kevin recorded with his phone as the Lodges held a press conference to announce that Hermione Lodge was running for Mayor.[28]

Kevin was invited by Veronica to sit in on her mother's first interview since announcing her candidacy for mayor. Hermione wished to strengthen Riverdale from its deficit. Which is why Lodge Industries had secured a bid for a maximum security prison on the Southside. That meant jobs, economic growth and stability. It'll give Riverdale its future back. As for Veronica, who was asked if she would be following in her mother's footsteps by running for student body president, Maybe, she replied. Assuming she didn't have her hands full from helping with her mother's campaign. She was excited to show Riverdale that her mother was more than just a housewife. Andy Cohen, a family friend of the Lodges, came to Riverdale to give his endorsement of Hermione. Afterward, Kevin took several pictures with him.

Kevin and Josie watched as Ethel approached Veronica in the cafeteria at school and poured a milkshake from Pop's onto Veronica in retaliation for her parents' misdeeds.

A couple days later, Kevin stopped by the Cooper house to hang out with Chic. Apparently, they had continued their online chats. Eventually, Kevin revealed to Chic that he had only initially began talking to him because of Betty's catfishing scheme. Upset with Kevin's betrayal, Betty asked that he leave. He couldn't believe that he was being kicked out, but Kevin left as asked of him.

The next day, Kevin attended Veronica's rally for her campaign as student body president. He recorded the entire event. From Josie endorsing Veronica to Ethel entering the lounge and exposing Veronica for her family's corruptness and for all the lies she had told.

The following day, Kevin and Betty headed down to Southside High in support of Jughead's protest to save the school. He and his fellow Serpents had chained themselves to the school. However, the peaceful protest was interrupted by the wrestling team, who were led by Archie with bolt cutters. Although the Serpents had no intentions of fighting, all around them were residents of Riverdale with their phones out, recording the display. While it may have taken a couple days, people now knew what Hiram Lodge was doing. So no matter what happened, they would continue to fight. With that being said, Kevin continued to record the entire incident as Archie and the wrestling team cut the Serpents' chains off of them one-by-one, and escorted them of the premises.[29]

Editor's Note: While actors Casey Cott, Cody Kearsley and Moses Thiessen do appear in the following scene, they do not portray the characters whom they are credited for i.e. Kevin Keller, Moose Mason and Ben. Instead, they portray two young men who eschew from socializing with women to spend time together.

During movie night at the Sisters of Quiet Mercy, the patients were forced to watch a film about homosexual deviance that outwardly starred Kevin and Moose. These two seemingly all-American boys chose to abstain from going to the diner with their friends to have chocolate phosphates with the girls, and instead headed down to the river, where they undressed and went for a swim without clothes.

Kevin met with Betty and Jughead at Pop's Chock'lit Shoppe to discuss the car that the authorities had found submerged in the swamp. When Kevin asked why they cared about the car, they claimed that they were writing an article on how people used Swedlow Swamp as a dumping ground. The car was part of a larger story. According to Kevin's dad, the car was claimed by its owner earlier that morning and the police were trying to figure out who stole it in the first place.

Kevin was approached by Veronica and Toni in the student lounge following Cheryl's supposed disappearance. They had grown concerned and had learned from Nana Rose that Cheryl had not been sent abroad to a mental institute as her mother had claimed, but instead, she was nearby. "The Sisters" was all Toni could get from Nana Rose before their conversation was cut off. Kevin and Veronica deduced that she was referring to the Sisters of Quiet Mercy which was known for its "conversion therapy". Off the books of course, it was one of the few institutes in the country that still used it. During prohibition, the Sisters ran a distillery in the basement. They used to smuggle alcohol out to Sweetwater River via a tunnel that still exists today. Gay boys in the program used to use the tunnels to hookup in Fox Forest. A tunnel that they could potentially use to get to Cheryl. Kevin agreed to lead them to the secret, gay, hookup tunnel, but insisted that they go after dark.

Later that night, Kevin reconvened with Toni and Veronica in Fox Forest. According to his intel, the tunnel that led from the main residence came out right where they were standing. Veronica told Kevin to wait for them on the outside while they went to save Cheryl and that if they weren't back in 15 minutes that he should call his dad. Fortunately, Toni and Veronica were back within 15 minutes, with Cheryl. They just barely managed to escape the Sisters.

The following day at school, Kevin was approached by Cheryl who was back just in time for "Carrie: The Musical". Which he was directing. She told to cancel auditions for the lead role because she was so clearly Riverdale High's Carrie White "And this school's gonna burn", she added.[30]

Kevin requested that Jughead meet him before school so that he could ask him to be the videographer for the behind the scenes documentary that will follow their production of "Carrie: The Musical".

Kevin and Ethel sing "In" throughout the halls before running into the auditorium with Archie, Veronica, Betty, Cheryl, Toni, Josie, Midge and Moose. They got on stage, where they continued to sing and dance before being joined by Fangs, the assistant director. The cast then began introductions, starting with Archie who portrayed "Tommy Ross", the boy next door. Betty played "Sue Snell", the good girl. Veronica portrayed "Chris Hargensen", the mean girl. And Cheryl would be playing the iconic role of "Carrie White". As for who would be portraying, "Margaret White", Carrie's mom, that role went to Alice Cooper, which came as a surprise to almost everyone. Kevin explained that while her casting was untraditional, to him, there's nothing more amateur than age-inappropriate casting. Alice was both looking forward to playing Margaret and spending more time with Betty. Chuck Clayton joined them late after mistaking that rehearsal was in the music room.

Cheryl interrupted the rehearsal after hearing whisperings that some of them, mainly Ethel and Josie, didn't think she was fit to play the role of Carrie White. So to settle the matter, she began to sing "Carrie" to prove them wrong. Kevin initially didn't believe that this was necessary, but after hearing Cheryl's performance, all doubts surrounding her casting were no more. Ethel Josie, Veronica, Betty, Alice, Toni, Midge, Moose, Archie, Jughead, Kevin, Fangs, Chuck gave Cheryl a round of applause. As Cheryl headed back to her seat, a heavy sand bag falls from above and nearly crushes her.

Kevin made a dark confession with Jughead for the behind the scenes documentary. After Cheryl's brush with death that morning, he found a letter in his locker from someone claiming to be the Black Hood. Kevin wrote it off as a prank. He couldn't fathom why the Black Hood, who was shot dead by the Sheriff, would be demanding that the role of Carrie be recasted. Jughead agreed that it seemed pretty small in comparison to the Black Hood's past priorities and demands. Still, Kevin told Jughead that he can't tell anyone about the letter. As the official documentarian, he's sworn to secrecy. Also, the show, as they say, must go on.

In the auditorium, Kevin explained to Cheryl and Josie that this scene Mrs. Gardner is being a friend when Carrie has none, out of kindness. Josie remarked that she'll fake it as best as she can as she was still upset at Cheryl for threatening her and sending her a pig's heart. Josie began to sing though Cheryl yelled out for her stop during the middle of the scene to apologize to Josie and ask for her forgiveness. Josie accepted Cheryl's apology, and together, the two of them sang "Unsuspecting Hearts".

Veronica, Betty, Toni, Ethel, and Chuck rehearsed in the auditorium, where they sang and performed "The World According to Chris". Kevin was highly impressed with the routine. Kevin, in fact, was obsessed with Veronica's performance, which Betty credited to Veronica being the literal embodiment of Chris, the character she's portraying. Never has a role been so perfectly type-cast, Betty remarks. Not long after, Kevin called Archie and Betty on stage to run Tommy and Sue's ballad.

Kevin approached Jughead after he received another letter. While the sand bag falling and the initial letter may have seemed like an accident and a prank, this second letter told a different story. This letter acted as a final warning to replace Cheryl. The Black Hood claimed that the sand bag won't miss next time.

With it now being a matter of her safety, Kevin told Cheryl that he has to recast her role as he had been getting letters from someone claiming to be the Black Hood. However, Cheryl refused to succumb to thespian terrorism and allow herself to be ousted from the production. After the fires she's walked through, the world needed to see her up on stage. A Dark Phoenix reborn in the spotlight, so to speak. Unfortunately for Cheryl, that wouldn't happen, not if her mother had anything to say about it. Penelope informed Cheryl that students require parental approval to participate in extracurricular activities, as she reminded Mr. Weatherbee when she told him that Cheryl didn't have her permission to do the musical. When Kevin tried to leave as he wanted no parts of the argument, Cheryl sat him back down. Cheryl asked why her mother was doing this to her. Penelope replied that Cheryl's desire to play Carrie, a murderous telekinetic teen who kills her mother, was nothing more than a matricidal revenge fantasy.

Due to some unforeseen circumstances, Kevin informed Veronica, Betty, Archie, Jughead, Fangs, Toni, Ethel, Alice, Moose, Midge, Chuck and Josie that Cheryl will no longer be playing Carrie. When they asked why, Kevin simply replied that Penelope Blossom wasn't much of a stage mom. In the meantime, Cheryl's understudy would assume the role, that being Midge, who Kevin appointed after the sand bag incident.

Kevin later returned with the programs, telling them all to be sure to get them signed on opening night. On the back of the playbill is Hermione Lodge's campaign.

Opening night, in the dressing room, Kevin, Archie, Betty, Veronica, Midge, Moose, Alice, Chuck, Toni, and Ethel sang "A Night We'll Never Forget". Afterward, Kevin looked backstage for Fangs. He found him in the dressing room with Midge. Fangs claimed that he was giving her last-minute notes.

The crowd was packed when the play began, and Alice started to sing "Evening Prayers". Kevin sat in the crowd alongside Cheryl and Jughead. When Alice cued Midge, the curtains raised only to reveal that Midge had been murdered by the Black Hood. She had been stabbed with knives and scissors and pinned to the wall. On the wall, written in blood was a message. "I Am Back From The Dead. All Those Who Escaped Me Before Will Die... B.H" When Alice screamed in fear, the crowd realized that this was not part of the play and the auditorium erupted in panic and chaos.[31]

The town gathers for Midge's funeral to pay respect. Cheryl sings a song in Midge's honor. She and the rest of the River Vixens are dressed in an all-black cheerleader uniform. Midge's death has seemingly taken a great toll on Riverdale, Mrs. Klump and Moose especially. Kevin stands alongside his dad as the service commences.

As the service ends, Cheryl consoles Mrs. Klump and sees her off to her car. When Sheriff Keller approaches to offer his condolences, Mrs. Klump slaps him as he was supposed to be protecting them all from danger. Before walking off, Cheryl tells the Sheriff that his days of failing the town are numbered. Kevin runs then over to check on his father.

Later that week, Kevin confronts Cheryl at River Vixens practice and demands a retraction following her published piece at the Register with Hermione Lodge that is smearing his father. Cheryl explains that Kevin's father has been incompetent for a long time and now that more bodies are dropping, he needs to step down. Lady justice will be served. Cheryl and the Vixens will see to it.

At the Keller house, Kevin tells his dad that he can't take Cheryl's article attacking him to heart. As the Sheriff, Tom begs to differ. He shot Svenson on the bridge. He wanted them done with the Black Hood as much as anyone. So maybe he cut a few corners. Maybe he didn't have enough evidence to close the case. Just outside the house, a loud crash can be heard. When Kevin and Tom go out to investigate, they see that the front window of the Sheriff's vehicle has been smashed and that "Sheriff Killer" has been spray-painted onto the car.

Kevin enters his father's home office to learn that he is in jeopardy of losing his job. The deputy mayor asked that Tom step down as Sheriff and turn in his badge. And if Fred Andrews gets elected mayor, he lives to fight another day. But if Hermione Lodge is elected then he's out of a job. Kevin plans to campaign for Fred Andrews. But in the meantime, his dad can't desert his post in the middle of a crisis. Tom explains that if he resigns, they'll likely bring in somebody from outside, somebody who can hopefully catch the Black Hood.[32]

If what happened to Midge taught them anything, it's that no one is safe and that the town needs the Dark Circle. So Archie rallies the guys in hope that they will join him. This time around, they'll even have the Sheriff's support. Kevin is there as well, but only to help catch the guy that took his father's job. Moose has a confession to make. The night of the musical, he and Midge got into an argument because she admitted that she was seeing someone else, a Southside Serpent is all he could get out of her. Reggie is outraged. Reggie knew the Serpents would do something the second they stepped foot into the school. When Kevin asks why Moose didn't say anything before, he explains that he didn't want to become a suspect. Archie wants to go to the authorities with this information, but Reggie would rather find out on his own who the Serpent is that was hooking up with Midge.

Kevin, Reggie, Archie, Moose and the rest of the Bulldogs interrupt the Serpents' Swords & Serpents meeting. They've come for answers to who was hooking up with Midge. Reggie immediately points his finger at Sweet Pea, who does not take the allegation lightly. He claims that while he didn't know Midge, he completely understands why she wouldn't want flees from the mangy Bulldogs. Reggie is angered by Sweet Pea's insult and pushes him. This nearly leads to a fight. Thankfully, Archie and Jughead are there to keep their respective sides at bay.

Leaked behind the scenes documentary footage of Fangs in Midge's dressing room on the night of the Musical surfaces. With this, Kevin, Reggie, Moose and the rest of the Dark Circle begin their search for Fangs as they are certain that he is Midge's killer. It doesn't take them long to find him. On one end of the hallway stands the Dark Circle, on the other ends stands Sheriff Minetta and his deputies. Fangs insists that he didn't do anything, but when he tries to run, Sheriff Minetta wrestles him to a wall as he resists arrest. In doing so, a switchblade falls out of Fangs' pocket. Seeing this, Sheriff Minetta slams Fangs onto the ground before cuffing him.

Halfway across town, Reggie leads Kevin, Moose and the Dark Circle as they set a dumpster on fire and slash all the tires just outside the Whyte Wyrm.

A meeting of the Dark Circle is called after Archie heard about what they did on the Southside by setting dumpsters on fire and slashing tires. Reggie claims they were celebrating Fangs' arrest. Archie counters that his wrongful arrest isn't something to celebrate. However, Kevin argues that Fangs had a knife on him, making him look very guilty. Archie refuses to argue with them anymore. With that being said, he announces that the Dark Circle is officially disbanded. However, Reggie, Moose, and Kevin have no intention of stopping. It's not Archie's decision to make as Hiram is the one paying them. He even suggested that they go out and have a little fun. While Archie may have started the Dark Circle, Hiram stated that it is now Reggie's.

Kevin, Moose, and Reggie later attend the Mayoral debate at Town Hall between Fred Andrews and Hermione Lodge until the Black Hood arrives and begins shooting[33]

Kevin, Archie, Moose and the Bulldogs meet in an alleyway. None of them seem to know of Reggie's whereabouts. He and Archie got separated when the fight broke out. Archie explains that Reggie had a gun, but Archie tackled him before he could shoot Fangs. When Kevin asks why Reggie would have a gun, Archie suspects that Hiram Lodge put him up to it. Nonetheless, they have to find Reggie as some of the Southside Serpents saw him with a gun. Kevin, Archie, and Moose head to Reggie's house while the rest of the Bulldogs fan out to find him before the Serpents do.

While Kevin, Archie and Moose search for Reggie, Archie calls Jughead to inform him that the Serpents are trashing the town. Jughead is well aware. He surmises this is due to Reggie shooting Fangs. However, as Archie explains, Reggie didn't shoot Fangs. So Jughead needs to call off the Serpents. They just came from Reggie's house, but he wasn't there. Kevin, Archie and Moose are now headed to Riverdale High School as that's where Reggie's mother said he was going. Jughead arranges to meet them.

Kevin, Archie and Moose enter Riverdale High through a classroom window. Just outside the classroom, the Southsiders demolish the school in retaliation for Fangs' shooting. Archie reminds Kevin and Moose that they're out manned and unarmed. However, Kevin and Moose refuse to hide while the Serpents destroy the school. Archie agrees to join them, but only if they're organized in they're attack.

Kevin, Archie and Moose demand that Sweet Pea and the Serpents stop vandalizing the school. As the Serpents approach, Archie swears to him that Reggie didn't shoot Fangs. He says it was Mrs. Klump, but Sweet Pea isn't buying it considering that he saw Reggie with a gun outside the station. However, as Archie points out, Sweet Pea also saw Archie tackle Reggie before he could pull the trigger. Nonetheless, whether it was Reggie or Midge's mom who shot Fangs, a Northsider put him in the hospital, where he is hanging on for dear life. Northsiders took his friend and his land. And they'll take everything if the Souhtsiders give them the chance. So now, Kevin, Archie and Moose get to watch as the Serpents burn the school to the ground. Sweet Pea then throws a trashcan into the display case, shattering the glass. Armed with nothing more than bats and sticks, Kevin, Archie and Moose prepare to fight off the Serpents. Fortunately for them, Mr. Weatherbee arrives with backup and a baseball bat of his own to see to the end of the confrontation. Afterward, they meet with Jughead and tell him the Serpents are gone.

Kevin, Archie and Moose convene with Reggie at Pop's. Reggie didn't know where else to go after Hiram hung him out to dry. Just as Archie questions if Hiram put Reggie up to shooting Fangs outside the station, Southsiders supposedly pull up outside of Pop's. Archie calls Jughead to ask where he and the Serpents are at. Jughead informs him that he just brought them back to the Whyte Wyrm and Mrs. Klump's house is secure. Given that the Serpents are at the Wyrm, they begin to wonder who has just pulled up outside. At a closer look, they discover that Malachai and the Ghoulies have returned. Kevin and Moose block off the door as Archie calls the sheriff station. Unfortunately, no one answers.

When the Ghoulies bust the front window, Archie runs behind the front counter with Pop to ask if he has a gun. Unfortunately, he doesn't. Pop Tate had his fill of gun fights during the war. But Pop Tate does however know a trick that he learned during the riots in 1979. He has Hiram's leftover over liquor from the poker. He suggests that Archie use it to fend off the Ghoulies. Archie does just that by going onto the roof and fending the Ghoulies off with Molotov cocktails until Kevin's father arrives with a shot gun and Archie and Jughead's dad. While his father had resigned, he didn't turn in the cruiser yet. Regarding how they knew the Ghoulies were attacking the shoppe, Jughead called FP, who then called Fred. Kevin pulls out his phone and says "hot Riverdale dads to the recuse" as he takes a photo.[34]

Kevin finds Moose in the bathroom crying. Moose wipes away his tears before revealing that all of Midge's belongings are gone. Midge's locker was trashed during the riots. All her books, stuffed animals and the notes that their classmates left her are gone. Kevin hugs Moose, hoping to console him as he reminds Moose that these are all material things and that he'll be alright. Moose then kisses Kevin, who is taken by surprise by this display of affection. Though hesitant, Kevin kisses Moose back and they proceed to make out in the restroom.

The next day, Kevin interrupts Archie and Fred's conversation with attorney McCoy to inform them that Sheriff Minetta is on the line. He says it's urgent and asks them to come down to the station.

The next day, after Archie, Jughead and Cheryl saved the Serpents from a raid at the Whyte Wrym, Kevin joins them and the rest of their classmates. The school comes together in a show support of the Southside students who are being wrongly transferred. Kevin, Archie, Jughead, Josie, Veronica, Reggie, Cheryl, Toni, Sweet Pea, Moose and many other students put on Serpent jackets and confront principal Weatherbee. Archie explains that everyone is ready to walk out. Mr. Weatherbee threatens to expel any student that does, though Archie calls his bluff. He knows that Weatherbee is a good man who doesn't discriminate, and if he isn't, Archie tells Weatherbee to expel him as he doesn't wish to be apart of that. With that being said, Weatherbee tells everyone to get to class.

Kevin, Archie, Jughead, Veronica, Sweet Pea, Toni, Cheryl, Reggie, and Moose are in the student lounge when Mr. Weatherbee announces that the student council election votes are in. The new student body president of Riverdale High is Archie Andrews. The entire student body applauds his election. In unrelated news, Weatherbee also announces that for the foreseeable future, all former Southside High students will remain at Riverdale High. The entire student body applauds once more in celebration.

A party is hosted at the Andrews house as they wait for the votes to come in for the mayoral election. Kevin, Archie, Sierra, Veronica, Moose, Reggie, and Josie all attend. Unfortunately, Fred loses the mayoral race to Hermione. Not long after this news breaks, Hermione stops by to tell Fred that he ran a great campaign. It was close. It came down to less than 200 votes. As a show of good sportsmanship, Hermione and Fred shake hands.[35]
Three months have passed since that fateful evening in the school gymnasium where Archie was framed by Hiram Lodge and arrested for the murder of Cassidy Bullock. Archie's trial is now in session. Kevin sits alongside Moose. Archie is being prosecuted by District Attorney, Ms. Wright. She attempts to paint Archie as a bad person in her closing argument as Mary, Archie's counsel, attempts to shed light on all the good deeds Archie has done, such as helping solve the murder of Jason Blossom, providing the Southside Serpents with refuge as they hid from the police, and punching through a layer of ice in order to save Cheryl from drowning. With that in mind, Mary takes the opportunity to remind the jury that there were no witnesses, murder weapon or motive to the killing of Cassidy Bullock. After hearing from both the prosecution and the defense, the jury begins to deliberate.

While the jury deliberates, Kevin and Josie inquire with their parents about Archie's chances of being found not guilty. Sierra replies that it's 50/50. Kevin then finds Archie, Betty, Veronica and Jughead to inform them that it's time to return to the courtroom.

The Judge reveals that the jury is still deliberating, but he's also dismissed them for the evening. They're sequestered and he's instructed them not to read anything about this case, nor to discuss it with anyone. They'll reconvene all Tuesday morning after Labor Day. With that being said, the Judge advises Archie to spend the weekend with his family and loved ones.

The following day, Kevin attends Cheryl's End-of-Summer pool party at Thornhill with Moose. Kevin stops his reading to make a pact with Moose, which requires them to lose their virginity before Halloween. Moose seems uncomfortable and unsure, but shakes his head in agreement anyways.

Labor Day weekend is over and Archie's trial is now in session. Kevin and his father, as well as the rest of Archie's friends and family are in attendance. However, the jury could not reach a verdict. They're deadlocked. Six-to-six. With that, the jury is dismissed. In lieu of another trial, the State is prepared to offer a deal for a lesser sentence. Instead of prison, time served plus two years in juvenile detention, if Archie will plead guilty to the crime of manslaughter. Despite his mother's counsel, Archie takes the deal, much to the court's surprise. Archie explains that he can't put all the people he cares about through this again. The court accepts Archie's guilty plea and he is taken directly from the courthouse to the Leopold and Loeb Juvenile Detention Center, where he will serve out his sentence beginning immediately.[36]

Kevin surprises Moose in the hallway with a kiss, hoping to sneak off to the boiler room with him, but Moose pulls away as his father is right across the hall with Mr. Weatherbee. Moose's father is the new RROTC instructor and he's making Moose sign up. So, if he's going to be around school, Moose and Kevin have to take it easy.

Kevin greets Moose as he enters the diner with his RROTC buddies. Moose cuts Kevin off as he was about to call him handsome in public, leaving Kevin to suspect that Moose is ashamed of him. Moose claims this is not that case and that he'll see Kevin later.

Much to Moose's surprise, Kevin joins the RROTC at the last minute. Major Mason recognizes Kevin as Tom's son, who he ran the RROTC with years ago. Major Mason welcomes Kevin and he take a seat next to Moose.[37]

Kevin and Josie arrive a Pop's. When they do, Pop Tate leads them to a back room and tells them to pick up the phone and dial 642. Kevin does just that. Reggie answers, asking for a password before allowing them into Veronica's speakeasy, which is located under the diner. Veronica explains to Kevin and Josie that she hired some of the Serpents from the Whyte Wyrm to sell drinks, cocktails only. Veronica then asks Josie to be her resident chanteuse. Josie graciously accepts as she has been working nonstop to find her new sound as a solo act and is in need of a place to try it out. As for Kevin, Veronica asks him to be her emcee. He accepts only under the condition that he occasionally gets to sing.

The night of Veronica's grand opening for the speakeasy has arrived. Kevin greets Cheryl and Toni as they enter. He then takes to the stage, and on behalf of Veronica, he thanks everyone for coming to the grand opening of La Bonne Nuit. He then welcomes Josie to the stage to perform "Anything Goes".[38]

Given the growing dangers that the teens of Riverdale are facing, the town Mayor, Hermione Lodge, decides to personally visit Riverdale High to provide clarity on the dangers they face. Kevin, Betty, Cheryl, Jughead, Veronica, Reggie, and Josie are all in attendance. Hermione explains that Dilton Doiley and Ben Button have already taken their lives, and Ethel Muggs attempted to. All three victims are linked through playing Gryphons and Gargoyles. From what little they do know about it, the game seems to be targeted at impressionable developing minds. Hermione elaborates that the game's quests and role-playing scenarios are specifically designed to foster delusions, paranoia, and violence. As mayor, Hermione officially bans Gryphons and Gargoyles. On top of that, Mrs. Burble is going to be holding extended office hours and Hermione has set up a 24-hour crisis hotline overseen by Kevin.[39]

Kevin, Josie and Reggie are called into the Blue and Gold offices by Betty, who informs them of the Midnight Club and their parents' past involvement with Gryphons and Gargoyles. Josie is in disbelief that her mother was a rule-breaking, anti-apartheid activist in high school. And Kevin questions how his father and her mother were together even back then. Much like Josie, Reggie is also skeptical. He doesn't believe that his father did live action role-play with as he put it "a group of lame ass nerds". Regardless of what they would like to believe, Betty needs them to subtly ask their parents about Gryphons and Gargoyles, as her suspicion is that whoever was running the game back then is also running it now. Kevin, Josie and Reggie seem aggravated at the insinuation that one of their parents could be responsible for what happened to Ben and Dilton, but they agree nonetheless.

Following Betty's instructions, Kevin and Josie devise a plan to get their parents to reveal what they know about G&G. They do this by inviting them to Pop's for a lunch date. When Josie asks how they met, Sierra says that they attended Riverdale High at the same time, but they were more so acquaintances than friends. They claim that they never ran in the same circles. Sierra was in Model UN and Volunteers of America. Tom was in RROTC and on the boxing team. Kevin then asks if they ever played Gryphons and Gargoyles. Sierra and Tom claim that they didn't and that they only knew of people who did. Seeing as that they're all together, Sierra and Tom take this opportunity to reveal to Kevin and Josie that they're engaged.

Kevin, Josie and Reggie reconvene with Betty in the Blue and Gold to discuss their efforts to gain more information from their parents. Kevin and Josie came up with nothing as their parents did not admit to anything. All they did was lie and pretend as if they knew nothing of G&G. In other news, Josie reveals that her mother and Kevin's father announced their engagement. As bad as that was, Reggie's dad's reaction to Reggie's questioning in regards to G&G was much worse, as Reggie was left with a black eye. Reggie wonders why their parents are acting so secretive about something that happened 25 years ago and what Betty is keeping from them. Before Betty can answer, Veronica enters. She tells them how Archie is caught up in some diabolical teen fight club and that she intends to break him out of juvie with all of their help.

Kevin, Josie, Veronica, Betty, and Reggie reconvene at La Bonne Nuit. Archie's stuck behind bars and his life is in danger. As much as possible, they must follow the plan. The slightest deviation and Archie could end up dead. They will need a distraction if they're going to disorient the guards and save Archie. Something they can sneak into the location easily, that won't arouse suspicion, something they'll have to make themselves, so Kevin, Josie and Reggie sneak into the chemistry class to make smoke grenades, masqueraded as beverages. As for the getaway route, Veronica already has a position picked out for Betty. So long as she sticks to the woods, their cars shouldn't be able to follow her. Just in case, Betty suggest adding another precaution to the plan.

Dressed in a delivery service uniform, Kevin approaches the back door of the recreation center with a crate of refreshments, the same ones he, Josie and Reggie created to later provide a distraction.

Kevin arrives at the other end of a sewer pipe, the one that leads up to the fighting ring, but it is locked. He then spots Joaquin running through the woods. When Kevin reveals that he's there to help break Archie out, Joaquin tells him that it's too late for Archie. Kevin asks where Joaquin is going. For one, he isn't going back to the Serpents. Joaquin has joined a different gang, one that he does not disclose to Kevin. But, he does warn Kevin to leave the area before running off himself.

Betty joins Kevin over by the sewer tunnel. He informs her of the lock they weren't aware of. Kevin then reveals that Joaquin just passed and that he has to go after him. As Kevin goes looking for his past love, Betty picks at the lock with a bobby-pin. Kevin eventually doubles back and switches places with Archie to act as a decoy to lure Warden Norton and his men away. Betty and Kevin ride past on Jughead's motorcycle. Warden Norton orders his men to go after them. Much like Betty, they too are on motorcycles. Betty speeds throughout the woods, with the guards on her and Kevin's tail. As they go further into the woods, they are cut off, forcing Betty and who they believed to be Archie to a stop. However, the passenger on the motorcycle is Kevin, who removes his helmet, asking how can he help them. This allows Josie, Reggie and Veronica can escape with Archie. Warden Norton grabs Kevin by his jacket, demanding to know the whereabouts of the Red Paladin i.e. Archie. After Kevin says that he doesn't know, Betty pulls out a can of mace and threatens to spray the Warden. The Warden lets Kevin go and calls his men off, ordering them to fall back to the center.

After Kevin, Josie, Reggie, Betty and Veronica arrive at Dilton's bunker to regroup with the others, Toni patches Archie up and tells him not to make any sudden movements. Archie reveals that it was Joaquin who stabbed him though Archie thinks the Warden made him do it. He then asks where are they, to which Betty explains Dilton's bunker. The only people who know about it are in the room and it is the safest place in Riverdale. Veronica then notices the branding on Archie's side, courtesy of Warden Norton. Veronica then calls for everyone's attention. Since her father saw her, she has to do some damage control on the home front. But, someone needs to stay with Archie at all times. Betty and Jughead volunteer to take the first shift. Equally important, Veronica announces that everyone in the room, herself, Kevin, Josie, Reggie, Betty, Jughead, Cheryl, Toni, Sweet Pea and Fangs, are all part of a pact. From this moment on, no one is to know where the bunker is. No one was involved with the breakout and no one knows where Archie is. They are all expected to take this to the grave.

In a booth at Pop's, Kevin tells Josie and Reggie how he searched the woods for Joaquin but couldn't find him as he had to eventually double-back to act as the decoy. They quickly stop the discussion as Pop Tate approaches with their orders. Once he leaves, they resume talking. Joaquin is out there, is Kevin's last words on the matter. Reggie, however, can't believe they pulled off the escape. He then looks to Josie and Kevin, asking if they're going to play Gryphons and Gargoyles to find out what their parents and Betty won't tell them. Over the radio, an important news bulletin is made, announcing Archie's escape.[40]

Kevin, Betty, Veronica, Jughead, Cheryl, Josie, Reggie, Sweet Pea, Fangs, and Evelyn sit as Sheriff Minetta confronts them with his suspicion that Archie had help in escaping Leopold and Loeb Juvenile Detention Center. Sheriff Minetta informs them that hiding a convict and information from the law is a felony offense. So, whoever aided and abetted Archie is just as much a criminal as he is. A few students in particular catches the sheriff's attention. When he asks where Josie was during the time of the breakout, she struggles to come up with an alibi, eventually settling with her being alone in the music room. Sheriff Minetta will be looking into all their alibis. As he continues to antagonize Josie, she suddenly has a seizure. Cheryl rushes to her aid, catching Josie and telling the sheriff to back off.

As Kevin watches over Archie, Archie informs him that his wound is getting worse. As it turns out, Archie's stab wound is infected. So, Kevin turns to Betty, who directs him to the local coroner, Dr. Curdle Jr. She insist that he bring small bills. At the coroner's office, Dr. Curdle Jr. tends to Archie's wounds, telling him to keep it clean and dry. As for the infection, he has some antibiotics, which he retrieved for Archie after Kevin paid him in small bills as requested. Kevin wants to get back to the bunker, but Archie plans on finding the Shadow Lake boys, who he believes are hiding out in the abandoned mines. Kevin questions just how far Archie will get on his own. When Archie asks for his help, Kevin reluctantly agrees.

As they're leaving the coroner's office, Kevin gets a call from Veronica, who asks where he and Archie are. She then demands to speak with Archie, who takes full responsibility. He tells Veronica that he's headed for Shadow mines to clear his name.

As Kevin and Archie move throughout Shadow Woods, Kevin wonders what exactly Archie plans to do if they even find the boys. Archie does not respond, as the two are forced to take cover at the sight of Sheriff Minetta, who is also headed towards the mines.

Kevin and Archie arrive at the mines, where they find runic symbols related to G&G scribbled on the cave walls. Also drawn on the walls is the Gargoyle King. Kevin and Archie proceed further into the mines, only to find that the Shadow Lake boys have already been murdered by Sheriff Minetta. However, one of the three boys is just barely still alive. So, Kevin and Archie tend to him.

As he is still a wanted man, Archie hides in a corner at Shadow Lake hospital. Kevin joins him only to inform him that the Shadow Lake boy they rescued didn't make it. Archie blames himself, stating that death follows him wherever he goes. However, Kevin reminds Archie that the Shadow Lake boys were criminals and that they were part of the reason Archie was in juvie to begin with. Nonetheless, they didn't deserve to die for it. Hiram Lodge has done everything in his power to destroy Archie. And he won't stop until Archie's dead. Even if by some miracle, Archie's innocence is proven, he doesn't think he can ever return to Riverdale.

Kevin greets his father as he arrives at the hospital with Fred. Kevin, who after giving his dad a hug, passes Fred a note from Archie, who has already taken off.

Kevin assists Veronica with setting up a welcome home party at the speakeasy for Archie. However, he does inform her that Archie is gone. Archie then calls Veronica from a pay phone to break up with her as he is leaving Riverdale in an attempt to escape Hiram Lodge. Kevin comes to comfort Veronica as she cries hysterically.[41]

It was a day like any other as Kevin and Moose sneak away into an empty classroom, where they make out, during which time Moose suggest they take another hit of Fizzle Rocks. However, Kevin would rather continue kissing. While making out, Kevin and Moose hear Cheryl's scream from the hallway. They exit the classroom to find all the Vixens, with the exception of Cheryl, seizing on the floor. Kevin tends to Veronica and Cheryl tends to Toni, calling out for help. Later that day, Kevin, Moose and the rest of the RROTC come barging into the Pop's giggling hysterically, high off Fizzle Rocks.

While at Pop's, Kevin, Moose and the other RROTC cadets are appraoched by Cheryl and Veronica. Veronica informs them that their meals are on the house and that she needs them as back up. When Kevin asks what this is about, Cheryl dramatically stomps on the table and tells the cadets that they're going to war.

Kevin, Moose, Cheryl, Veronica, and the other RROTC cadets barge into the mayor's office. They know the endgame and so Veronica attempts to relieve her mother of her mayoral duties. Veronica tells her to step away from the phone before she makes the biggest mistake of her life. Hermione informs Veronica that she can't depose her as she's an elected official. Furthermore, Veronica's too late. The order went out ten minutes ago. She was just about to call and tell Veronica. All their phones receive a message simultaneously as a siren begins to sound throughout town. That night, Kevin, Moose, Veronica, Pop Tate and the cadets stand around the diner in sorrow as the sirens continue to sound off.[42]

While the quarantine has since been lifted from over Riverdale, five weeks later, the town has yet to regain its pep. As Cheryl and Toni walk through the halls of Riverdale High holding hands, they are instructed to separate by Moose, acting under RROTC command. Kevin informs Cheryl that one of the school's new rules is to keep physical contact to a minimum. Toni questions this new rule as there hasn't been any seizures for weeks and everything tested has come back negative. With that being said, Cheryl and Toni completely ignore Kevin and Moose's order, referring to them as crypto-fascist before proceeding on their way.[43]

Kevin attends Archie's welcome home party at La Bonne Nuit. Archie, Betty, and Jughead take a seat as Veronica sings on stage for Archie. Not far away, Reggie sits visibly annoyed, though this goes unnoticed by all. As Veronica continues to sing, Archie seems to become overwhelmed by all his grief and suffering, taking off right in the middle of Veronica's performance.

Saturday has finally arrived and the gang must now take their SATs, this includes Archie, Jughead, Betty, Veronica, Reggie, and Kevin. Archie immediately begins to struggle with his test, so much so that he ups and leaves class without so much as a word. Veronica attempts to go check on him, but if she does, it's an automatic zero. Archie rushes into the bathroom, hoping to regain a sense of reality. However, the more he thinks about all Hiram put him through, the angrier he becomes, to the point where Archie shatters the bathroom mirror with a single punch.[44]

Kevin and Josie have sit in a booth at Pop's with their father and mother respectively. Sierra and Tom reveal that they don't want a big wedding, both having just finalized their respective divorces. Not to mention the Gargoyle King's constant lingering presence. They would prefer to keep it simple and get marred at Town Hall. While Kevin and Josie fully disagree, they respect their parents' decision. However, at the very least, Kevin and Josie would like to throw them an after-party at La Bonne Nuit. Tom and Sierra reluctantly agree to a small party. As Moose enters the diner with his father, Major Marcus Mason, Sierra and Tom take the opportunity to invite them to the wedding, though Marcos doesn't appear to be too enthusiastic, almost brushing off the invite. Tom explains to Josie and Kevin that he and Marcus used to be good friends, as they both were in RROTC together. But, they grew apart. Sierra surmises that this was due to Marcus being jealous of her and Tom's relationship as he had a crush on Sierra.

Kevin and Moose find time to make out in an empty classroom. Kevin stop to ask Moose if he'll be his date to his dad's wedding. Kevin's aware that this is a public event and that Moose hasn't yet come out to his father, but he thinks it might be time as the two of them have been together since the start of summer. While Kevin enjoys their clandestine meetings, he can't help but think of all the things they're missing out on, such as spending the night together. Moose would like to but he's too scared. Their time together comes to an end as Major Mason and the other cadets enter the room. He informs them that the meeting with the Navel Academy recruitment officer is about to start.

Cheryl finds Kevin in the student lounge eating his sorrows away. She tells him to put down the candy and share with her his tale of woe. Kevin explains that he and Moose have been having problems. The "Koose" ship has been trouble from the start , Cheryl believes. She suggests that Kevin move on, to which he replies that he can't go back to Fox Forest. Cheryl wasn't referring to cruising. She's talking about Bumble. A dating app. There, Cheryl's sure Kevin can find someone more his speed. Kevin admits that would be nice, but he likes Moose. Kevin just wishes Moose would be honest with his dad so they could openly date, but Major Mason's not a big fan on their persuasion. This upsets Cheryl, as she can't believe there are still people who believe that being gay is anything less than rapturous. Kevin starts to think that Moose doesn't like him enough to come out, but Cheryl assures him that this is due to no fault of his own. Moreover, she thinks Moose may be in need of a subtle nudge.

Persistent in helping Kevin further his relationship with Moose, Cheryl takes it upon herself to make an announcement. As Riverdale High's first openly lesbian Student Body President, she announces that the launch of a new club, an LGBTQIA alliance, with the mission to find and support their fellow queer and questioning students. Kevin and Moose listen from class and Toni from the hallway as Cheryl continues. This weeks blind item will be on theme. Cheryl exposes that an all-American RROTC cadet is afraid to come out of the the closet. This concerns both Kevin and Moose, as well as Toni. Moose pulls Kevin into the hallway to ask if he put Cheryl up to that, which Kevin denies having down anything of the sorts. He's opposed to publicly outing people. Moose worries that people will start to guess it's him that Cheryl was referring to. Putting aside what Cheryl did, they've been together for a while, Kevin can't keep this relationship going if Moose refuses to come out the closet. And so, Kevin gives Moose an ultimatum. Either he comes out to his dad or he and Kevin have to break up.

Moose surprises Kevin with a kiss as the school day begins. He proceeds to reveal to Kevin that he came out to his dad. He was quiet and weird at first, but then seemed to come to terms with it. They then went to Pop's and had a meal. This means that Moose can now be Kevin's date to the wedding, and more importantly, they can spend the night together.

Kevin fills the bunker with candles in preparation for is night with Moose. Moose arrives with candles of his own and the two begin to kiss.

Kevin and Moose lay up next to each other in the bunker. Part of Kevin thought that it was never going to happen, but he's glad it did. The bunker door then opens. Kevin initially believes it to be Betty, and so he tells her that he's reserved the bunker. However, he and Moose get out of bed to discover that it's not Betty, but in fact the Gargoyle gang. They shine red lights in Kevin and Moose's faces before attacking them.

Kevin and Moose are taken to a clearing, where they Gargoyle King awaits their arrival. Before them sits two chalices. The Gargoyle King wants them to flip for their fate. When Moose refuses to play along, the Gargoyles pull out knives as incentive. Should they refuse to play, they'll be killed. With no other choice, Kevin decides to go first. He flips the coin and just as he prepares to sip from the chalice, the Gargoyle King is shot by an arrow, fired by Cheryl, who along with Toni, Tom, FP and his deputies, bring an end to the ritual. They unmask the Gargoyles and much to Kevin and Moose's surprise, they're the RROTC cadets. They were being lead by Marcus Mason, who is disguised as the Gargoyle King.

Moose finds Kevin at school only to tell him goodbye. He can no longer stay with his father in Riverdale. So, he's moving to Glendale to stay with his aunt. Kevin is saddened by this decision, telling Moose that all his friends are in Riverdale and that he can stay with them. However, Moose can't stay in Riverdale, at least not for a little while. He and Kevin share one last kiss before parting ways.[45]

Kevin is approached by Betty in the student lounge to ask for his help. The Farm is a cult and no one else but Betty seems to be worried about it. The only way to get dirt on a cult is to find an escapee. While researching online, Betty found dozens of articles of stories of people who have escaped the Farm. Betty has in her possession a list of over thirty people who have escaped. Betty needs Kevin's help in calling them, but he refuses. After Moose left town, Evelyn began helping Kevin and said that she would introduce him to some cute gay Farmies. Betty can't believe that Kevin is considering joining the Farm, and so he tells Betty to stop seeing the worst in people.[46]

Kevin, Evelyn, and the rest of the young Farmies enter their reserved classroom for the Farm meeting only to find Kurtz and the other Gargoyles turned Serpents occupying the classroom while playing Gryphons and Gargoyles. Just as Evelyn informs them that they have rights to the class every Wednesday, Cheryl, Peaches 'N Cream and the rest of the Pretty Poisons interject to lay their claim to the room. Cheryl explains that the third Wednesday of every month is reserved for monthly student council/LGBTQIA meetings. Evelyn questions the validity of Cheryl's claims, to which Cheryl replies that she would have Evelyn beheaded in another century. It's only when Kurtz refers to the ladies as "bitches" that the altercation turns violent, forcing Jughead and Toni to intervene.

Kevin is approached at his locker by Betty after he ignored her while passing through the student lounge. She confronts him on joining the Farm. She doesn't want to see him disappear like her mother did. Kevin tells Betty to back off as she is a detractor. Kevin later attends the Farm meeting, during which time he burn himself by holding his hand over Bunsen burners.

Unbeknownst to Kevin, Betty follows Kevin from his house to the woods, where he has met up with Evelyn and the rest of the Farmies. Betty watches from afar, cloaked in the bushes as a ritual is about to commence. It would seem that Kevin has to cross a bed of hot coal without shoes. Evelyn tells Kevin that once he crosses the threshold, he can't stop. He must believe that he'll be protected and forged. Only through the fire can they be cleansed and leave their past behind. Conquer their fears, expiate their sins, and exorcise their demons. Betty jumps out the bushes telling Kevin not to go through with the ritual, but he does so regardless, seemingly without any pain or injury.

Kevin and Evelyn find Betty while she's writing her Blue and Gold article detailing her encounter last night in the woods. Evelyn tells Betty that she shouldn't have ran off afterwards. Betty asks if they're there to go on record about what she saw. Kevin tells Betty that last night was scary, fun, and euphoric. It felt like nothing he's ever felt. Evelyn and Kevin then tell Betty that she won't be publishing that article because they will tell everyone about the shady man that her mother killed in the kitchen, how Betty and Jughead dumped his car in Swedlow Swamp, and how FP dissolved the body with lye in the woods. Thanks to Betty's mom, everyone at the Farm knows her secrets.[47]

Kevin gets message from Cheryl, who tells him to meet her at Thistlehouse. He's sorry to hear of her breakup with Toni, though Cheryl isn't too concerned, quoting the phrase "Que sera, sera", which means "whatever will be, will be." This phrase is also heavily featured in the iconic high school black comedy Heathers. Cheryl then informs Kevin that there's a musical version of it. However, Kevin knows where she is going with this, explaining that The Farm is co-sponsoring the musical this year, and it's going to be Godspell. Cheryl needs to focus her rage, therefore this year's musical is Heathers as far as she's concerned. Kevin's directing and she's playing HBIC Heather Chandler.[48]

As mayor, Hermione goes straight to Principal Weatherbee after discovering that this year's musical is Heathers, which focuses on teen violence and suicide. Hermione explains that this is a terrible idea given the tragedy of last year'smusical. Kevin and Evelyn are there to maintain their stance and see to it that the play goes on. While Heathers deals with teen alienation and desperation, it's characters however long for simpler and more innocent times. Its ultimate message is a rejection to nihilism. Kevin and Evelyn then proceed to sing the lyrics of the first song in hopes of convincing Hermione that the musical is in every one's best interest.

Kevin reveals to Hermione and Weatherbee just how clueless they are in regards to what the students are dealing with. In the classroom sits Josie, Archie, Reggie, Sweet Pea, Fangs, and Evelyn, who all proceeds to break out in song and dance, leading Hermione to questions if they're all truly this miserable. Kevin explains that there's also Cheryl, who's floating above it all as Heather Chandler. Aside Cheryl stands Betty and Veronica, who join her in song. Cheryl was distraught after her break up with Toni, but then she gave herself the role of HBIC. Veronica and Betty are playing the other Heathers, Heather McNamara and Heather Duke. Cheryl, Veronica, and Betty resume their act, that is until Toni, Peaches 'N Cream, and the Pretty Poisons arrive at school. Reggie, Sweet Pea, Fangs, Archie, Josie, Peaches, and Evelyn then come down the hall to join in and make their way to the auditorium. Kevin, Cheryl, Veronica, Betty, Reggie, Sweet Pea, Fangs, Archie, Josie, Peaches, and Evelyn get on stage, where they conclude their performance.

Afterward, Kevin announces that there's been a slight change to their creative team. While Evelyn has been helping him produce the musical, he's recently asked her to step up and be his co-director, much to Betty's disdain, as she points out that Kevin has always directed the musical alone. Which Kevin reveals has always been incredibly stressful, especially after last year's incident, with Midge being killed by the Black Hood, which Fangs would prefer they not speak of. Kevin then asks for a rundown of everybody's role. Josie's playing Veronica Sawyer, outcast turned Heather turned outcast again. Sweet Pea plays JD, Veronica Sawyer's bad boy love interest. Reggie's playing Ram Sweeney while Archie plays Kurt Kelly. Just two straight dudes doing some theater, Reggie says. Given how much dancing there is in Heathers, Kevin and Evelyn figured they should bring in a choreographer, that being Toni, which comes as an unwelcome surprise to Cheryl.

Kevin interrupts Evelyn's warm-up sermons and exercising trauma to inform Cheryl, Veronica, and Betty that "Candy Store" set and costumes are ready. Once in the auditorium, Kevin explains to Cheryl, Veronica, and Betty that this number is about the Heathers undeniable power that each of them can get at any given time. Toni, Peaches, and the Poisons are also on stage. Toni, as choreographer, wants to start with some simple steps, but Cheryl, still upset over their breakup, doesn't want to hear it, telling both Toni and Kevin that she, Betty, and Veronica have already worked out their own choreography. Toni's attempt at being professional is undermined by Cheryl, who along with Betty and Veronica, begin their musical number. Toni, Peaches, and the Poisons join in on the number, which upsets Cheryl, leading to a showdown between the two, who go back and forth on stage.

The cast meets up at the Sisters of Quiet Mercy compound as planned. Kevin, Reggie, Sweet Pea, Fangs, Evelyn, Cheryl, Veronica, Josie, and Archie then start to sing and dance. With the exception of Betty, who watches from afar, everyone comes back together to finish the musical number. Evelyn then offers Kevin an organic mushroom with farm-grown maple mushrooms baked in. She claims they're transformative. Shortly after eating the brownie, Kevin starts to hallucinate. Just down the hall, he sees Midge pinned to the walls with knives and a message written in blood that says "All Your Fault. You Killed Me, Kevin".

Kevin, Archie, Jughead, Betty, Veronica, Cheryl, Toni, Josie, Sweet Pea, Fangs, Reggie, Peaches, and Evelyn meet back up in the auditorium the following day. They're each going to share something they've never told anyone before. Kevin reveals that he's being haunted by Midge's ghost. He's been thinking about her all the time since rehearsal started as he feels guilty. Fangs has been seeing her as well, but in his nightmares. Evelyn sees this as a beautiful experience. Through revealing their truth, they've found an unexpected connection.

Kevin, Evelyn, and Fangs attend a closed rehearsal for select cast members in the Gargoyle Chamber. Unbeknownst to them, Betty sneaks into the compound. She peaks through the doors of the chamber to the sight of Evelyn standing before Kevin and Fangs, who are down on their knees singing. Betty takes photos of the rehearsal as Kevin and Fangs rise to their feet and kiss, and Evelyn leads the rehearsal.

The following day, they've now reached the emotional climax of the musical. "Seventeen" captures the longing all the characters feel for what they've lost, their teen innocence, Kevin tells Sweet Pea and Josie. Later, it's time for Veronica's solo in the auditorium. Kevin was going to talk about the devastating loneliness that Veronica's character feels at this moment, but it seems like Veronica's already there. Veronica then starts to sing on stage.

Backstage, just ten minutes out, Kevin and Evelyn get everything in order in preparation for the musical to begin. Betty and Jughead arrive with dirt all on their face, just short of opening. Kevin and Evelyn instructs them to get to make up and to make sure that Jughead knows his line and choreography for the finale. The musical ends with Kevin, Betty, Jughead, Archie, Sweet Pea, Toni, Reggie, Josie, Veronica, Cheryl, Evelyn, and Fangs on stage singing "Seventeen". As the musical concludes, Edgar Evernever rises from the audience, clapping slowly and very dramatic-like. He is joined by over a dozen members of the Farm, who are all wearing white and join in on the slow clap. From the stage, Evelyn states that she knew her dad would like it. Weatherbee and Mrs. Klump appear to be one with the Farm as they too are wearing white and applaud the performance.[49]

Kevin works as the tour guide for the Farm's open house. At the Farm, they like to nurture everyone's unique talents. Betty makes a snide remark in regards to the Gargoyle chamber before asking about a particular room labeled 317, to which Kevin claims is just the janitor's closet. Kevin then takes the group to the garden.[50]

Kevin, Cheryl, Evelyn, and Fangs advocate for the Farm, spreading the word around school. "Where the one become many and the many become one". Toni watches very concerned as Evelyn, Cheryl, Fangs, and Kevin pass through the school hallway. Later, after Toni joins the Farm, she, Kevin, Cheryl, Evelyn, and Fangs walk down the school halls dressed in all white.[51]

Kevin joins Cheryl, Toni, Edgar, Alice, Polly, Evelyn, Weatherbee and the other Farmies in setting a trap for Betty, who they seek to recruit into the Farm. Betty reveals that Edgar is already married to Evelyn, but everyone is well aware. There are no secrets at the Farm. They've all come together to get Betty to join them. Edgar explains that everyone Betty cares about is in the room, her mother, sister, best friend, cousin and sister. In unison, the Farmies recite "Join us." If only for a second, it seems that Betty begins to consider the offer, but she declines it nonetheless and takes off running, with Kevin, Cheryl, Toni, Evelyn, and the other Farmies just behind her. Betty just barely makes it to her car and pulls off.[52]

Prom has finally arrived. Kevin and Fangs take photos. Kevin, Fangs, Jughead, Archie, Veronica, Evelyn, Cheryl, Toni, and Peaches stand in the crowd as Betty is announced as the Prom Queen, though no one seems to know where she is. Jughead asks Archie and Veronica, but they are unaware.[53]

Kevin, Fangs, Toni, and Cheryl welcome Betty to their table. Fangs in noticeably in pain. He reveals that he had a minor procedure done, which left him soar. Betty inquires further about the procedure. Cheryl states that it's a purging of the pain that's crushing them. She further elaborate that this is part of Edgar's methods. He transforms their emotional pain into physical pain so that it's easier to treat and banish. Toni is next in line for the procedure, followed by Cheryl. Kevin has already gotten his. The tenderness in his back lasted for a few days, but he thinks it was worth it. Betty lifts up Kevin's shirt to see a large scar going up the left side of his rib cage. Betty notes that the scar looks far more major than Kevin is leading on. He is upset with Betty, telling her not to ever do it again, before leaving, with Fangs not far behind. While Cheryl and Toni remain at the table, they simply turn their backs to Betty.

Kevin, Fangs, Toni, and Cheryl are called together by Betty to share with them what she's found, that Edgar is hypnotizing them. Cheryl doesn't care, reasoning that hypnotherapy is a standard practice that most people have to pay good money for. Kevin and Fangs add that whatever Edgar is doing works as he's taken their pain away. Toni can't wait for her procedure so that Edgar can take her pain away. Betty suspects that Edgar is purposefully inflicting pain on them during hypnosis. She believes he's doing it so that he has more power over them. However, Cheryl, Toni, Kevin, and Fangs are faithful followers of the Farm and refuse to believe that Edgar has done anything wrong without proof, which Betty does not have.

Betty tells Kevin and Fangs that Edgar is harvesting their organs and that they're all in danger, though they are too far gone. They believe that Edgar is simply removing the parts that are diseased. They suggests going to see Edgar to clear everything up. With Kevin and Fangs too deep under Edgar's control, Betty attempts to leave, but they block her. Betty knees Kevin and punches Fangs, but they still manage to subdue her, dragging Betty by her feet and apprehending her with the help of a couple orderlies.[54]

Cheryl attempts to convince Kevin and Fangs to join her in her escape, though they remain loyal followers of the Farm. They point out that Cheryl is supposed to be confined to her room for helping Toni escape. However, Cheryl explains that Betty was right about everything and that they need to leave as Edgar is harvesting organs. Cheryl takes them to the storage locker to prove that she's telling the truth, but when she does, she finds that it has been emptied. Cheryl then runs off to find proof elsewhere while Fangs and Kevin stay behind to prepare for ascension.

Archie, Betty, Veronica, Jughead, Toni, and Cheryl arrive at the Farm, where they find Kevin in the fetal position, crying in the chamber. He says they left him because someone had to stay behind to explain what happened. The worthy ascended. Betty asks about her mom and Polly. Kevin claims that they're gone, along with everyone else from the Farm, and they'll never be seen again.[55]
Physical Appearance
Kevin is an incredibly handsome, young teenage guy with an athletic build, approximately standing somewhere around 6'0. He has short, dark brown 'slicked back' hair and light green eyes.
Personality
Kevin is a nice, loyal, very outgoing and charismatic student who knows the social scene of Riverdale very well. Being an openly gay teenager, Kevin freely talks about other guys in public and has shown to have an interest in fashion as well. He has a tendency to make very blunt and honest statements about the people and events in the series. However, with the fact that Kevin has admitted that he struggles with his sexuality, it often results in him being often reckless at times.
Relationships
---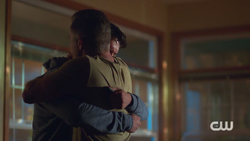 The relationship between Kevin and his father, Tom, is undeveloped, but loving. They share a close bond, so close that his father is both aware and accepting of his sexual orientation. Due to the threats constantly facing their town, they have a lack of interaction, but they undoubtedly care for one another. This is proven after Tom received word from Betty in regards to Kevin's recent activities, which included late night cruising of Fox Forest. Upon learning this, his father became worried for his son's safety, admitting that there were certain things that they never fully talked about, such as Kevin's sexuality. However, given all that was occurring, Tom was willing to start trying to be more involved in Kevin's life, as a concerned parent should be.
---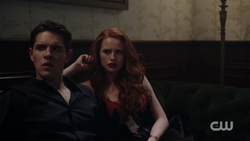 The relationship between Kevin and Cheryl is currently under-developed given the lack of interaction between the two of them. However, they have been shown to be seated next to each other during multiple occasions, proving that at the very least, they are capable of being cordial with one another. Despite the drastic differences between the two, Cheryl is fairly understanding of the daily struggles he faces with his need for validation, even at the cost of his own life.

---
"
Josie. You're not here to tell me more bad news, are you? 'Cause I don't think I can take that right now.
"
— Kevin to Josie[src]
The friendship between Kevin and Josie has seemingly grown closer since the two of them discovered that their parents were having an affair due to Kevin's mother being overseas and Josie's father constantly being on the road. With nearly identical household drama, the two of them started to spend more time together both in and out of school. They've been seen sitting together at lunch and going to the movies together. However, before recently, Kevin and Josie had very little interaction though they always appeared to be friendly towards one another given that they run within the same circle of friends.
---
"
I don't think I can date someone named "Fangs"
"
— Kevin on dating Fangs[src]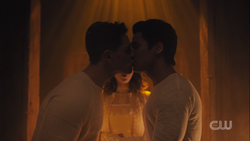 After a brief interaction in the students's lounge and Fangs being the assistant director to Kevin in the musical, Carrie, Kevin and Fangs eventually share a kiss during a farm ceremony headed by Evelyn Evernever.

Appearances
| | | | |
| --- | --- | --- | --- |
| | Season 1 | Season 2 | Season 3 |
Trivia
In Season 1, Kevin was the only recurring character to appear in multiple promotional images, including one for himself.
According to Kevin, until Joaquin, he had never had a proper boyfriend as he usually hooked up with closeted guys.
Kevin implies he is the only openly gay student at Riverdale High School.
According to Cheryl, Kevin used to be a "lonely, awkward, fat boy with acne.".[17]
Like many of the characters, Kevin can sing, as seen in Chapter Twenty-Two: Silent Night, Deadly Night.
Notes
In the Archie Comics, he had blonde hair with blue eyes.
Kevin came from a military family and aspired to be in the military in the comics.
Cheryl's description of Kevin previously being a "lonely, awkward, fat boy with acne" is relatively close to how his comic book incarnation was shown to look as a child/pre-teen; The only difference being that he was never shown to be overweight.
 Gallery
See also: Category:Images of Kevin Keller


Kevin Keller's Gallery Can Be Found Here. The Gallery May Consist of Promotional Images, Screencaps, and Video Clips Released By Network Officials
References
Community content is available under
CC-BY-SA
unless otherwise noted.