This article is about the aspiring fashion designer. You may be looking for the TV series of the same name.
"
My mom was Katherine Keene. She was a seamstress. I was named after her. She always used to say you don't have to be rich to be stylish. We would get inspired by our favorite designers and make our own.
"

— Katy
Katherine "Katy" Keene is a main character on The CW's Katy Keene. She is portrayed by Lucy Hale.
Katy is an aspiring fashion designer in New York. She was friends with Veronica Lodge until the latter moved from to Riverdale. Despite her departure, the two have remained in contact. Katy has aspirations of becoming a world renowned fashion designer and works at Lacy's as a shop girl in hopes of propelling her career. She was promoted to co-interim department head until Gloria returned to fill the position.
Character Description
Bold, big hearted and independent, Katy Keene is a twenty-something New Yorker who aspires to be a fashion designer. When she's not working as a personal shopper at a luxury department store, she's navigating friendship and dating in the big city.[1]
Early Life
Katy grew up on the lower east side. Her mother was a seamstress, and every weekend they would go to Lacy's Department Store and stare at the windows for hours since they couldn't afford anything. They would get inspired by their favorite designers and make their own clothes. In the third grade, she met her best friend Jorge Lopez, and for a period of time, he even stayed with her after being thrown out by his parents. At 16, she started dating KO Kelly and later became friends with Pepper Smith. She also befriended Veronica Lodge after she and her mother designed her dress for her Quinceañera.
Throughout Riverdale
Katy Keene meets with her old friend Veronica Lodge in New York City and goes on a shopping spree, trying on various outfits. Afterward, Katy asks Veronica if she likes drag as she and her friend Jorge Lopez often sneak into a dive bar called Molly's Crisis.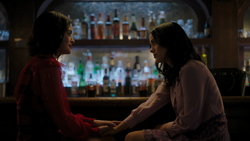 Katy and Veronica grab a drink at Molly's Crisis. Assuming Veronica gets into Barnard, Katy asks if Archie will be moving with Veronica to New York. Veronica explains that's still very much up in the air. She doesn't think Riverdale could survive without him, which is why she's been considering long distance. Veronica then asks about Ko, a boxer whom Katy is officially in a relationship with. Veronica remembers the first time Katy held hands with him. It was at Veronica's quinceanera at the Plaza. And Katy told Veronica his palms were sweaty because he was so nervous. All Katy remembers of that is the Jonas Brothers and how stunning Veronica looked in the dress made by Katy's mom. Veronica then asks Katy about her mom and her shop. Katy reveals that her mother is sick. She's getting treatments, but they caught it late. Veronica embraces Katy and reminds her that she's loved.[2]
Katy calls Veronica and reveals that Chad has just entered Lacy's cafe with the heiress to Spiffany's fortune. Veronica suspects that Chad is looking to make her jealous, so Katy offers to pour hot coffee into his lap.[3]
Throughout Katy Keene
Pursing the Personal Shopper Position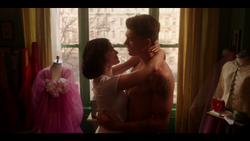 Katy Keene a young woman born and raised in New York City by her mother, Katherine Keene. She wanted the clothes she made to be sold in a fancy department store on 5th Avenue. She used the same sewing machine her mother had. And now, many years later, Katy uses it. Her boyfriend, KO Kelly, asks if she stayed up all night sewing, which she did. He tells her to start charging for her services, but Katy sews because she loves her craft, not for financial gain. KO tells Katy to call in sick so that they can spend the day together, but she's meeting her new roommate today. Katy then gets a call from her boss Gloria Grandbilt, who calls her into work for a fashion emergency. Katy kisses KO goodbye and tells him that she loves him.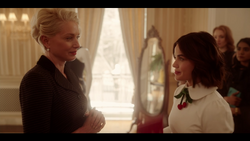 Katy arrives at her place of employment; Lacy's luxury department store. She greets Francois through the front window as he dresses the mannequin. Katy heads inside, and Gloria arrives soon thereafter to explain that Alexandra Cabot, heiress to the Cabot Entertainment empire is moments from arriving, and she'd like one of them to assist her. Katy steps forward and takes the initiative, offering to get started on the Chanel flap bag, new Zivon chigons, Alia blouses, Celine sunglasses and every Yves piece in the store. She also offers to chill the Dom Perignon and get three Earl Grey macaron plated, as well as lots of shoes. Gloria then tells Amanda to stay out of her and Katy's way.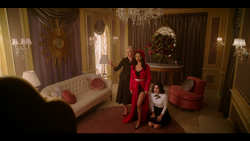 Alexandra arrives and greets Gloria, who just met with her mother a week prior. Katy rushes in with dresses and shoes. By the looks of it, Alexandra has dropped a dress size. Katy offers to pull out the bathing suits, as Alexandra vacations twice a month. Alexandra asks if Gloria has the palazzo pumps, to which Gloria replies of course. Katy rushes down into the stock room in search of the size 7 palazzo pumps but can't find them. She asks Francois if he took them for his window, which he did. Katy takes the shoes and promises to make it up to him. Katy arrives just in time to bring Alexandra her palazzo pumps.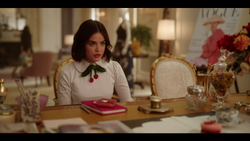 After successfully getting Alexandra Cabot fitted and out the door, Katy asks Gloria about the personal shopper position. Katy's been assisting Gloria for three years and feels as if she's ready to be Lacy's new personal shopper. Katy has the highest sales record, and she knows every single item in the store. Gloria's learned from some of the girls that Katy wants to be a designer. That she actually makes clothes. Gloria tells Katy that being a personal shopper at Lacy's isn't a side hustle or stepping stone, it's a career. She's not interested in promoting someone whose focus is split. Katy admits that she makes clothes, but that it's just for her. Given Katy's commitment and knowledge, Gloria is tasking her with a special assignment. Prince Errol Swoon is coming to the store tomorrow to shop for the Met Gala. It's a crucial opportunity for them to make their numbers this year. If Katy proves that she's the creme de la creme of Gloria's girls, then the personal shopper position is hers. Katy then gets a message from her new roommate.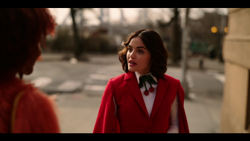 Later, Katy meets Josie McCoy around the corner from Lopez Bodega. They hug, though they've never met in person before. However, a friend of Veronica Lodge's is a friend of Katy's. She helps Josie with her bags up their four story walk-up. Katy introduces Josie to her other roommate Jorge Lopez. He'd offer to give Josie a grand tour, but he's working at the bar tonight, and he has to get ready for his audition for a Broadway musical based on the film the Mannequin. After Jorge leaves, Katy explains the living situation. She has the bedroom to the right. Jorge has the big bedroom because his parents own the building and the bodega. And Josie's getting the main room.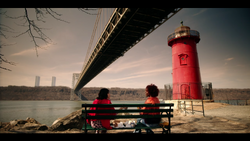 Katy and Josie grab a bite to eat and sit on a park bench, where Katy asks to know more about Josie, who Veronica describes as the next Diana Ross. Josie's been thinking about moving to New York for awhile. She finally got the nerve to pack up and just take the risk. And now she's there to record an album, get signed by a record label and make all of her "crazy wish-upon-a-star, kiss-my-Whitney-poster-goodnight dreams come true." She then asks about Katy, who reveals that she made all the clothes in the apartment on her mom's sewing machine. However, Katy denies being a legit designer, writing it off as a pipe dream. She chose a slightly more sensible career path; assisting Gloria Grandbilt, world class personal shopper to the rich, fabulous and entitled. Josie needs to start canvassing the town with her resume for a job. Which she can start on tomorrow because Katy has plans to take Josie out to meet the gang.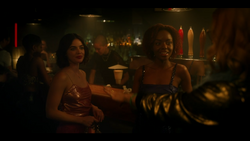 Katy and Josie party at a local nightclub, Molly's Crisis, where Katy runs into Pepper Smith, a friend of hers. Josie compliments Pepper's bag, which she reveals was made by Katy. Pepper just got back from Art Basel with Childish Gambino, lining up investors for her top secret project that she can't breathe a word of until her financing is in place. Josie asks what it is that she does. Pepper just gave a TED talk on the feminist power of SnapChat. She wrote this week's Modern Love column in the Times. And earlier this year, she shot an Indie with Lupita Nyong'o and Kristen Stewart. In other words, Pepper is the most connected person in New York, and she will introduce Josie to everyone that's anyone, Katy adds. KO arrives, kisses Katy and is introduced to Josie. KO works as a bouncer at the club. He asks if Gloria gave her the job. Katy tells him not yet. Gloria is making her sweat for it.
Katy, Josie, and Pepper hit the dance floor. Jorge, under the stage name of Ginger Lopez, performs on stage in the dress Katy designed for him.
Next day, nearly oversleeps. She jumps out of bed and scrambles to get ready for work, as does Jorge. Josie awakens from the commotion, and Katy wishes her luck on the job search.
Katy prepares for Prince Errol's arrival at Lacy's. He loves Tom Ford, Ferragamo, and Prada. Since they will have him in the store, and they know he's often spotted riding, Katy proposes showing him their Hèrmes equestrian gear, as well as Brunello Cucinelli's fall collection. Katy recalls Gloria's golden rule: "Always introduce a customer to something new." Amanda tells Katy that it should be her helping the prince tonight, not Katy, who's never even been to Europe. Amanda then informs Katy that the Prince will be coming alone, allowing them to focus all their energy on him.
Katy, Gloria, and Amanda welcome Prince Errol Swoon as he arrives at Lacy's. Much to Katy and Gloria's surprise, Prince Errol brought a date. A woman named Patricia Kline. Amanda reveals that she's a commoner with under a thousand followers on Instagram. Amanda offers to run interference. Gloria blames Katy for not knowing about Patricia. Katy offers to fix this, but she's already let Gloria down.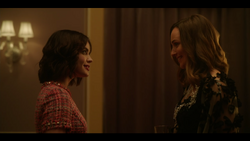 Katy greets Patricia and offers her assistance. Patricia asks for help untying her dress, which she is visibly uncomfortable in. The dress is worth $35,000, more than she makes in a year. She questions why she's even there, dating a prince no less, trapped in some princess diaries nightmare. Katy insists that this is no nightmare. She is at Lacy's department store with a nice, handsome chap, who just happens to be royalty. Patricia doesn't feel like she belongs. But Katy tells her that if a girl who grew up on the lower east side the way Katy did belongs there, then so does Patricia, who as it turns out, also grew up on the lower east side, on Delancey Street. Patricia asks where Katy shops at, as she's fond of the dress she has on. Katy reveals that she made the dress. She offers to allow Patricia to try it on as well as bring out some clothes that she might like. Clothes she would choose if a prince ever took her on a shopping spree. Katy then asks how they met.
Katy and Patricia emerge from the back. Patricia is pleased with the clothes Katy provided for her, much to Amanda's dismay. As for Errol, he'll take the Dior suits and the Tom Ford, the equestrian gear, as well as a few Hermes baubles, as Katy presumed he would. Before leaving, they ask to browse the jewelry department and that Katy be the one to show them around. Katy introduces herself to the prince, who Patricia informs makes her own dresses.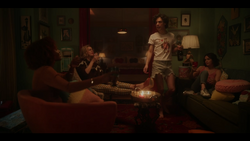 Katy, Josie, Jorge, and Pepper pour drinks and celebrate Katy's win at work with Prince Errol Swoon. Pepper spent last Easter with him on his yacht in Mykonos. They're certain she'll get the personal shopper job now, but she doesn't want to jinx it, so Katy changes the subject to Josie, asking if she found a job. She didn't, but she met Alexander Cabot, who works for a record label and wants to meet tomorrow after Josie sends him one of her songs. Josie met him at Washington Square Park, where he heard her singing with a busker. Pepper explains that the Cabots are in the same mentions as the Astors and Rockefellers. They own everything. Katy doesn't want Josie going alone in fear for her safety and offers to accompany her. Josie insists that she'll be fine; "I am from Riverdale. It is the murder capital of the world." Still, Katy wishes to join her as her manager if nothing else. She even makes Josie a dress.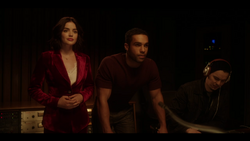 As planned, Katy and Josie meet with Alexander at the studio, and she gets in the booth and sings, much to Katy and Alexander's amazement. Alexander wants to introduce Josie to the Cabot board and play them the song. Then, once they approve, Alexander wants to sign her to record a full album and launch her career as an international pop star. Alexander then asks if anyone else is hungry. Katy excuses herself, claiming to have other clients to attend to, allowing Josie and Alexander to spend some time together.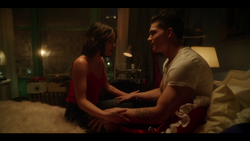 Katy tells KO how she won over the prince by charming his girlfriend, which led to Lacy's single biggest sale of the year. KO got some news today. Joe Frazier's gym in Philadelphia called him after his name had been on a waiting list for some new fighters, and they're interested. KO suggests moving to Philadelphia, but Katy doesn't want to leave Lacy or New York. He tells her that they don't have to make any decisions until after they find out if she got the personal shopper promotion.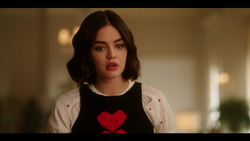 Katy confronts Gloria after not being appointed as Lacy's newest personal shopper. It was Gloria's understanding that Patricia, Prince Errol's girlfriend, tried on a dress they don't sell at the store. One of Katy's designs. Katy reasons that Errol was about to walk out of the store, so she improvised. However, in doing so, she violated store policy as well as one of Gloria's golden rules. Gloria accuses Katy of making it about herself, though Katy accuses her of doing the same. Which is why effective immediately, Gloria tells Katy that she no longer reports to her department.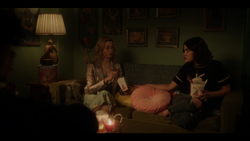 Katy returns home, where she tells Josie, Jorge, and Pepper that not only did she not get the promotion, Gloria has exiled her to the stockroom. Jorge tells her to quit, but Katy needs the job. Besides, she's wanted to work at Lacy's since she was a little girl. Her mom always dreamt of having her dresses sold there. Josie points out that there lies Katy's problem. Her real dream is to have her clothes sold at Lacy's. Jorge recalls Katy admitting that when they first met, that she wanted to be a designer. While this is true, Katy informs them about KO's offer. He wants to move to Philadelphia, so he can train at a world famous gym. Pepper can't believe she would move away in pursuit of KO's dream, at the expense of her own. Jorge announcers his decision to give up Broadway. He's tired of being rejected all because he doesn't fit into their little box. Katy suggests that he do the exact opposite, and show them a side that they have never seen before, that being Ginger Lopez. She even makes him an outfit for the second call.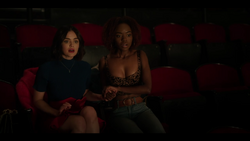 Katy and Josie watch from the crowd as Jorge auditions for Mannequin. The casting director calls him out specifically. He recognizes Jorge from before and tells him that this is Broadway, not some drag contest in the village and dismisses him. Jorge has heard it all before: "too soft, too fem, too gay, too skinny." But he doesn't care because he knows that he's good enough. And, for the record, he tells the casting director that those queens in the village have more talent than most of the people in the theater. If they can't see talent when it's right in front of them, then they don't deserve to have someone like Jorge/Ginger in their chorus. Katy and Josie cheer him on as he exits.
Amanda approaches Katy in the stock room and tells her to steam and organize the garments alphabetically by designer. Katy confronts Amanda for sabotaging her and boasting about her new promotion. Being from the upper east side, Amanda believes she deserves the position. While Katy might not look like it, Amanda calls her a gutter girl from the lower east side undeserving of her position at Lacy's.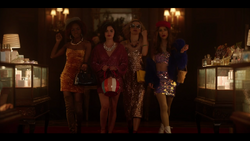 Katy, Jose, Jorge, and Pepper pre-game at the apartment. Katy had an epiphany earlier today. She no longer wants to work at Lacy's, so tomorrow she's quitting. Josie encourages Katy do what's best for her, but tells her not to move to Philly. As for tonight, they're going out, but first they stop by Lacy's, where they try on shoes and various perfumes. However, Katy is caught by Francois as she attempts to sneak away. She claims that she left her wallet behind. She notices that he's upset and asks what's wrong. Francois reveals that the client, Comme des Filles, threw out his concept for the window. Now, he has until sunrise to figure out a new way to display three evening gowns.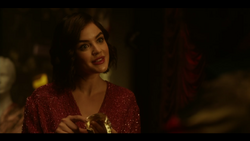 Katy lends a hand and offers her expertise, bringing Francois a box of various items that'll hopefully spark something. Inside the box are a set of bejeweled cuffs that remind Katy of her mother, who wore a pair everywhere. She often said "You don't have to be rich, to be stylish." Every weekend, they would go down to Lacy's and stair at the window for hours. While they couldn't afford anything, they would get inspired by their favorite designers, and then they would go home and make their own. Katy suddenly comes up with an idea for Francois' window.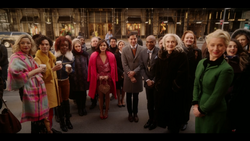 The following morning, Katy, Jose, Jorge, Pepper, Francois, Gloria, and Mrs. Lacy convene outside Lacy's, where a crowd has gathered for the annual unveiling of their new store windows. They pull up the curtain and reveal the window, filled with Katy's designs. The crowd applauds, and Mrs. Lacy is speechless. Francois informs everyone that it was Katy's idea, and for her hard work, he'd like to offer her a job in his department. It's low pay and long hours, but she'll be rewarded for her talents. The job comes with one condition. He's not letting her work for him forever. She has nine months with him before he wants her out in the world designing.
Afterward, a bouquet of flowers arrives from Prince Errol Swoon for Katy, thanking her for all her work. However, it is Amanda and Gloria who receive it.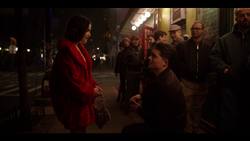 Later that night, Josie performs at Molly's Crisis, as Katy, Pepper, and Ginger cheer her on from the crowd. KO arrives and he takes Katy to get a bite to eat, during which time he asks if they're moving to Philly. Even though she didn't get the promotion, Katy wants to stay in New York to pursue designing as a career. Meeting Josie and watching her pursue her dreams made Katy want to do the same. And she wants KO to follow their lead, suggesting that he go to Philly without her, and they try long distance, but KO has no intentions of leaving Katy behind. So, since they're staying in New York, KO figured he make it official, and he proposes to Katy.[4]
Engagement to KO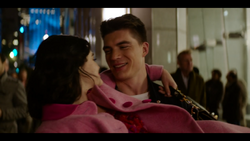 Katy recalls the time that the A train broke down and she was stuck walking home for 50 blocks in heels. Luckily, that day, KO came to her rescue; he picked her up off her feet and walked her home. Ever since they started dating, KO has always been there for Katy, such as when he installed an AC unit in her bedroom on the hottest day of the summer and comforted Katy when her mom was sick. And after Katy's mom passed away, KO's family became her family. She can't imagine her life without him.
Present day, KO proposes to Katy, down on one knee, waiting to hear her answer. However, before she can, a thief snatches the ring out of KO's hands and runs off, with KO chasing after him.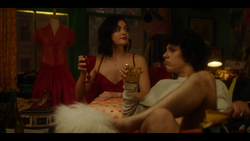 Katy reveals to Josie, Pepper, and Jorge how KO's proposal was interrupted by who some are calling the Alphabet City Bandit. Pepper asks to write about it in her weekly column at the Daily Hail. Jorge wonders if Katy was going to say yes to KO's proposal. Katy isn't sure what her answer would've been. She couldn't bring herself to say yes. Josie asks if Katy loves KO, which she replies that she and KO have been together since high school, neglecting to answer the question asked. Jorge advises Katy to lock KO down while she has the chance, but Josie sees the ring getting stolen as fate. It buys Katy some time to do some soul searching to determine if KO is the one.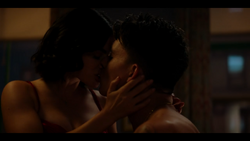 KO returns after failing to apprehend the Alphabet City Bandit. He chased him for 12 blocks and lost him in Chinatown. Katy worries that he could've been hurt, but KO insists that he's fine. He then assures Katy that he's going to make this right. She wraps her arms around KO and begs him to spend the night, leading to them having sex.
The following morning, Katy goes to the Little Red Lighthouse to think. It's where she and her mom used to go every Sunday. Now, it's where Katy goes to escape the city and have some time to herself. She calls out to her mom, asking for a sign on whether she should marry KO. Katy then gets a call from Gloria, who requests that Katy return to Lacy's despite firing her.
Katy arrives at Lacy's to learn from the doorman Mick that thanks to Pepper's column, she's the talk of the town and now everyone wants to know what she's going to say to KO s proposal.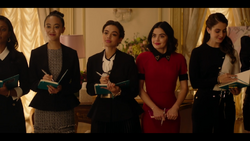 Gloria welcomes Katy back, much to Amanda's dismay. She questions why Katy has returned. Gloria explains that Prince Errol Swoon is returning to Lacy's and has personally requested Katy. However, Katy has a morning meeting with Francois to attend, not that Gloria is concerned. Despite Amanda wishing to send Katy on her way, Gloria demands that she stay to tend to the prince. Gloria informs Katy that Prince Errol is coming back to buy an engagement ring for Patricia. This is Lacy's chance to take part in a royal engagement.
Katy apologizes to Francois for missing the morning meeting. She offers to make it up in whatever way possible. He needs her to pull some options for him for their bridal window. Francois will let it slide for today, but eventually Katy will have to decide between him and Gloria.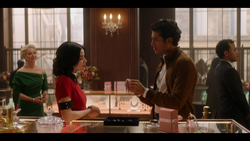 Katy and Gloria show Prince Errol Swoon engagement rings, though he's having trouble deciding on one. Katy mistakenly asks what if Patricia says no, immediately apologizing for her outburst. The prince is hoping the perfect ring will seal the deal. He then picks a ring out the bunch and asks Katy to try it on. He places the ring on Katy's hand to see how it looks, however, he's not convinced it's the right one. He asks about their custom rings and insists that Katy design it. Gloria agrees to make arrangements with the goldsmith.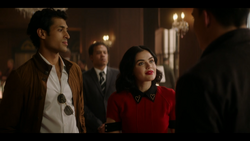 Katy helps Prince Errol Swoon with his custom ring. He wants something to honor both his family and Patricia's. KO arrives to see if Katy wanted to grab something to eat while she was on break, though he is stopped at the door by the prince's men. He sees the ring on her finger and asks why she's wearing it. Katy explains that she was simply helping the prince pick a ring out for his girlfriend. Errol approaches and apologizes for his men. Katy introduces KO to Prince Errol, though she fumbles on the introduction, unsure what to refer to KO as.
Katy and KO grab something to eat and discuss the ring that Prince Errol asked her to wear. KO then gets a message from his mom, who wanted to throw them an engagement dinner. KO explains that his mother assumed Katy said yes, though Katy hasn't, and he didn't correct her when she made the assumption. Still, Katy wants to go to dinner and assures KO it won't be awkward.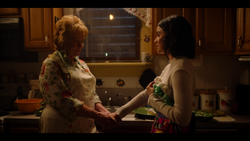 Katy and KO arrive at his mom's as planned. They're celebrating the engagement despite Katy not saying yes to his proposal. KO's mom, June, asks when they're going shopping for wedding dresses. Katy replies soon. Inside, June tells Katy that if it was up to her, she would have thrown them a proper engagement party. June informs Katy about a house down the block that's going on the market. She hopes that Katy and KO will look into it, adding that it's an excellent neighborhood to raise kids. June then realizes that something is wrong with Katy and presumes that Katy simply misses her mom and wishes she was there to see them get married. June then presents Katy with a gold engagement ring. It originally belonged to June's mother. She tired to offer it to KO, but he refused, wanting to buy a ring himself. While June could never take the place of Katy's mom, Katy's always been like a daughter to June, and she was hoping the day would come when she could offer it to her. However, Katy can't accept the ring, and so June agrees to hold onto it until Katy is ready.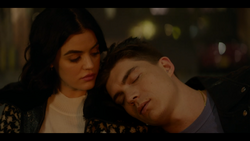 That night, while waiting for the bus as KO sleeps next to her, Katy feels the truth of her heart. She loves KO, which only makes her decision harder.
The following morning, Katy reconvenes with Gloria and Prince Errol Swoon to discuss his custom ring. Katy explains her design, pulling from both Errol and Patricia's family for inspiration. He loves it and asks it to be made, kissing Katy's hand as he thanks her.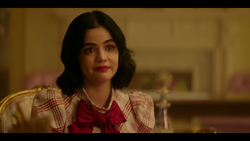 In watching Katy work with the prince, Gloria admits that Katy has a certain quality that can't be taught, which is why Gloria welcomes Katy back to her department as one of her girls. While Katy is flattered, she works for Francois now and refuses to just leave him. Gloria offers to talk to Francois and work out an arrangement, so that Katy can split her time between the two departments. Katy sighs. Not in response to Gloria, but more so with KO. While her expertise is fashion, Gloria offers to hear our Katy's dilemma. Katy reveals that she's yet to answer his proposal. And she's been searching her soul for the answer, and last night, she finally found it. While she loves KO, she doesn't want to marry him or lose him. Gloria advises Katy to tells KO the truth regardless of the outcome. She then hands Katy a napkin and tells her to clean herself up.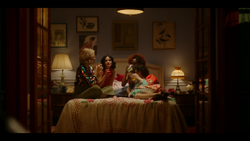 Pepper celebrates with Katy, Josie, and Jorge after finally finding a space for the "Pepper Plant". A place where creatives like themselves can congregate to make magic. Josie then tells them how Chubby's Record Shop is closing next week. She hopes Alex may be able to save it. Jorge then reveals that he's leaving New York. He booked the role for Jefferson. Perhaps after a year or two, it could lead to a role in the Broadway production. And the bus leaves tomorrow. Pepper takes this opportunity to ask if she can sublet his room while he's gone, claiming that a pipe burst in her room at The Palace. Jorge gives her the room and invites them to attend Ginger's farewell performance at Molly's Crisis.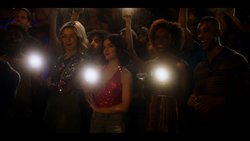 Pepper, Katy, Josie, and Alexander watch as Ginger performs on the stage. Ginger becomes overwhelmed with emotion and runs backstage. Katy, Josie, and Pepper follow him into the dressing room. He explains that while performing, he looked out into the crowd at Katy and became undone. Josie surmises this is about Broadway. Jorge explains that he wanted to be on Broadway since he was a kid. If he's going to give up his life in New York, it has to be worth it. He feels as if he's running away and taking the easy way out, which isn't him nor Ginger. So, Jorge decides to stay. He recalls giving Pepper his room, but she tells him not to worry about it. She'll simply check into her room at the Waldorf. KO arrives and tells Katy that they caught the Alphabet City Bandit. He plans to go to the station to see if they found the ring. However, KO will have to go alone as Katy promised Francois she would work the overnight shift and help him finish the window.
At Lacy's, Francois wonders what Katy is going to say to KO if he gets the ring back. Katy intends to follow Gloria's advice and be honest with KO about not wanting to marry him. Maybe one day she will, but not right now. Francisco advises Katy that if she's uncertain about something in life, she should run towards it. Yes and no aren't the only answers. He suggests exploring a middle ground.
Katy meets with KO to discuss his proposal. While she loves him, she's not ready to get married. She also feels like they missed a step in their relationship. An important step they should take together before they go all in. So, Katy asks KO to move in with her. KO joyfully agrees, secretly tucking the engagement ring back in his pocket as he and Katy kiss under the George Washington Bridge.[5]
Breaking up with KO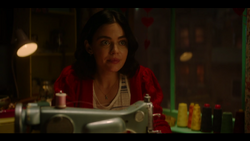 Katy stays up the entire night sewing. Valentine's Day is approaching, and for as long as Katy and KO have been together, they've never spent it apart. KO awakens from his sleep at 5:00 AM to find Katy working on a costume for Jorge/Ginger's big Valentine's Day show. Instead of going back to sleep, he's goes for a run, kissing Katy goodbye. Friday is Valentine's Day, and Katy is determined to make it their best one yet.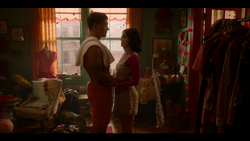 Jorge is forced to shave his legs in the kitchen sink after KO beat him to the bathroom and proceeded to take a shower. Josie then asks if anyone has seen her Punkin's visor. Katy finds it under KO's gym bag and hands it to her. Josie then leaves. KO finishes his shower and him and Katy discuss his upcoming fight, which happens to land on Valentine's Day. Katy insists that she'll be there, as she's never missed one of his matches. However, she'll have to run this by Gloria and Francois.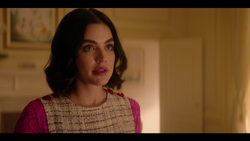 Gloria informs Katy, Amanda, and the girls that with Friday being Valentine's Day, it is Lacy's most lucrative time of the year, outside of Christmas. She encourages the girls to sell as much as they can. Also, Lacy's Night of a Hundred Hearts is Friday. They'll be hosting VIPs for shopping, cocktails, and caviar. Katy asks Gloria if she can skip the party for KO's big match. However, Gloria refuses to excuse her of her duties at the event. After she leaves, Amanda tells Katy how the last time she tried to take the morning off because she was hung over, Gloria showed up at her apartment. Katy exclaims that just because Gloria has no one to go home to, doesn't mean she should take it out on her. Unbeknownst to Katy, Gloria is standing right behind her. Gloria explains that she's already home, surrounded by the loves of her life, such as designer handbags. Katy tries to apologize for her crude remark, but Gloria simply excuses her from the event. However, she inform Katy that she'll be missing out on the opportunity to meet the list of Vanity Flair's designers to watch.
While selling items to a customer, Katy is approached by Alexander, who compliments Katy on her ability to sell as well as being a talent manager, or so she claimed when she introduced herself to Alexander initially. Katy explains that she was merely looking out for Josie, which Alexander respects. Moving on, the reason he's at Lacy's is to buy a gift for someone special, possibly a robe.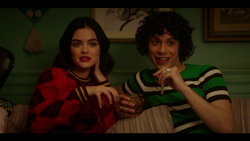 Katy returns home, where she informs Jorge, Josie, and Pepper that Alexander came by Lacy's and purchased a sexy robe for someone special. Josie insists that the gift isn't for her, as she and Alex are keeping it casual. Unbeknownst to Josie, Friday is Valentines Day, the same day that Alexander proposed that she come over. Jorge surmises that Alexander wants to get serious with Josie, which she is not looking for. Josie fears that Alexander may distract her from the reason she came to New York, to write the next great American song. Josie explains that she wants to play something fresh for Alex on Friday night, but she's screwed. Jorge asks Pepper what she has planned for Valentine's Day, to which she replies that "I don't do romance." But, she did have sex on Saturday. Speaking of which, Katy questions Jorge about Buzz Brown, who they still haven't met. He's been seeing Buzz for the past year. What started out as a Grindm hookup, has turned into a long term relationship, that Katy remarks has never left the bedroom. Pepper adds that he should be showing Jorge off, noting hiding him. Josie proposes that Jorge invite Buzz to see him perform at Molly's Crisis. However, as Jorge explains, they can't be out in public until he's out at his job. KO interrupts with a yellow top, asking who it belongs to. Josie claims the shirt and takes it.
Katy then offers to help KO with the laundry. Katy tells him that he doesn't have to hide away in the room, but he doesn't want to be in the way, however, Katy insists that it's fine. Josie, Pepper, and Jorge then notice that the kitchen is full of smoke. KO is preheating the oven to make them lasagnas. Unfortunately, Jorge's clothes are in the oven. He tries to pull them out and burns his hand in the process.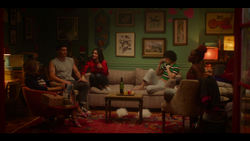 Afterward, Katy, Josie, Jorge, and Pepper reconvene in the living room, where they discuss the fireman that Jorge was flirting with. This incident made Jorge realize that life is short, and so, he's decided to ask Buzz out on a real date. As KO attempts to fix the mess he's made in the kitchen, Katy catches a glimpse of Josie and Jorge rolling their eyes. Jorge explains that while he loves KO, Katy didn't even bother asking if he could move in. And now Jorge's parents, also their landlords, are on his back about it. Katy then tells KO to join them, as they continue their conversation about the fireman. KO tells them how one of the firemen tells his daughter how much he loves her everyday in case he never sees her again.
Katy tells Gloria that she can work the event at Lacy's, however, Gloria claims to have already filled her position. Katy asks if Gloria wants her to beg, to which Gloria replies that she enjoys a good grovel, and Katy does just that. Gloria cuts Katy off and agrees to allow her to attend the event.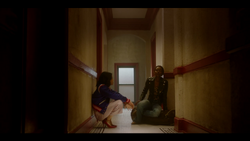 Katy and Josie drag a punching bag for KO up four flights of steps to their apartment. Katy asks Josie if this gift would make up for her missing his fight. Despite initially planning to ask for the night off, Katy can't pass up the chance to possibly meet her favorite designer at the Lacy's event. Josie proposes that Katy tell KO the truth. However, Katy would feel bad given everything that's occurred between her turning down his proposal and him setting the kitchen on fire. She doesn't want to add ditching him on Valentine's Day to the list. She fears that she'll he disappointing him. Josie points out that Katy's working so hard to make KO happy that she's denying herself any pleasures. While Josie doesn't know Katy and KO's history, she does advise Katy to have an honest conversation with him.
Katy surprises KO with the punching bag that she had installed in their room. He loves it. Katy lies to KO and tells him that some really big designers are going to be at the Lacy's event, and Gloria won't allow for her to take the night off. KO understands and continues to punch the bag.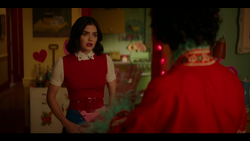 Katy and Jorge both scurry throughout the apartment in search of missing items. Katy says that KO cleaned up before leaving for his match. Jorge explains that he has disturbed a fragile ecosystem. Katy reminds him that KO staying with them is only temporary, just until she figures out what's next for them. Unfortunately, the apartment is too small for all of them and Katy's relationship problems. Katy promises to make it up to Jorge, starting with an outfit she made for Jorge.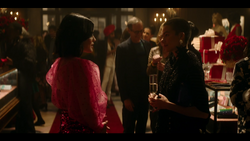 Katy attends the Lacy's event and introduces herself to her favorite designer, Sumi Yamato. Katy compliments her designs. Sumi then asks if Katy's a designer as well. Katy explains that she hopes to be, but in the meantime she works at Lacy's. However, she's up all night sewing her own designs. In hearing Katy's answer to her question, Sumi concludes that Katy is in fact a designer and tells her to start by saying yes when asked the question. Katy tells Sumi how she sketches all day and dresses herself and her friends. However, she doesn't know how to take that next step. Sumi's time at Parsons was invaluable. Katy always dreamed of going there. She started to apply a long time ago, but she couldn't afford it. KO arrives at the event after winning the fight in three rounds. Katy introduces KO to Sumi. He extends his hand, but she doesn't shake it, informing KO that he is bleeding. KO then pulls his hand away, unintentionally wiping his blood on an expensive white blouse. Gloria and Amanda watch as the incident unfolds. Gloria brings KO a cup and tells him to spit on it. She needs the saliva of the person whose blood it is to pull a stain from silk. Gloria then gives the cup to Katy and tells her how to get rid of the stain.
KO confronts Katy about lying to him about having to work and thus missing his fight. Having learned the truth from Amanda, Katy has no choice but to admit that she lied as she wanted to meet the designers. KO questions why Katy didn't just tell him the truth. He would never force her to do anything she didn't want to. Katy didn't want to hurt KO. However, if she didn't want to be with him tonight, KO wishes she would've just told him that. The same goes for her not wanting to marry him. He didn't realize that moving in with her was just a consolation prize. Katy insists that it's not. She's just trying to make them work. KO reminds Katy that he gave up Philly for her, but she reminds him that she never asked him to do that.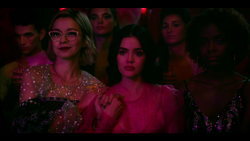 Katy, Josie, Jorge, and Pepper meet at Molly's Crisis. Katy reveals that she and KO got into a huge fight and he isn't answering his phone. Jorge/Ginger tells Katy to be grateful that KO showed up at all for her, as Buzz didn't come for him. The girls each take a shot, and Josie reveals that Alex got the robe for his sister. Josie tells them how she hasn't hand chemistry with someone like this since Archie Andrews. Katy asks which would Josie rather have: a boyfriend or a music career. Josie admits that having both would be messy, so she'll have to draw some boundaries. The girls take another drink. Katy then tells Jorge/Ginger how she's sure that Buzz will be there at any minute. As Jorge/Ginger performs on stage, Katy, Josie, and Pepper watch from the crowd. Katy and Pepper are going to kill Buzz for missing Jorge/Ginger's performance. Josie adds that she'll bury the body in Riverdale, where no one will find it. Katy then starts to cry as recalls all the joyous moments spent with KO.
Jorge joins Katy, Josie, and Pepper and informs them how he's single. They assure him that one day he'll find the guy right for him. Pepper encourages him to pursue the fireman from before. Josie then asks about KO, who Katy still hasn't heard from. This is the first time that Katy has ever felt like she might lose him. If she wants to keep him, Josie tells Katy to do something big and make room for each other.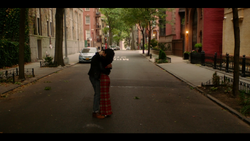 Katy meets up with KO for the first time since the event. He spent the night at his old place, with Rodge, as he needed some space. Katy called KO because she wanted to show him something. A Lacy's girl is subletting an apartment, and after talking to Jorge and Josie, Katy has decided to move out. If they're going to go the distance, Katy explains that they're going to need to make big changes, which is why she found a bigger space for them, where he has room for his gear, and she can sew. They can keep following their separate dreams together. Katy is trying to make this work to the best of her ability. KO questions if this truly what Katy wants, and she insists that it is. She thought that if she could keep them the same as they were, that they'd be okay, but they're not. Katy fears that they're growing apart. KO takes Katy's hands and tells her that he's still there. But he asks if he should be. Katy initially says yes, but then says no. KO professes his love for Katy, and Katy tells KO that he'll always be her first love. They kiss and hold each other close before partying ways, ending their Valentine's Day with a kiss, for the very last time.
While tearing down the Valentine's Day decorations, Katy reveals to Francois that she and KO broke up. She's seen him almost everyday since she was 16. And other than her friends, he's all the family that she has. And she's not sure she's ready for him to be gone. Francois is proud of Katy, and he gives her a hug. She tried, and that's the best things she could've done.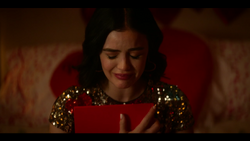 Katy, Josie, Jorge, and Pepper arrive at Engine 141. They've brought sandwiches for the firemen to show their appreciation for saving their apartment. Katy returns home, where she finds the present that KO left behind for her. It's a red book with her initial on the cover and a card that reads "To the best designer of all time. Love you forever, K.O." Katy sobs, as she presses the book against her chest.[6]
Recruiting Guy for Lacy's
Gloria arrives at Lacy's to find Katy sleeping in the front window. She knocks on the glass, waking Katy, who's wearing only a jacket and her underwear, from her sleep. Gloria demands an answer for Katy's inexcusable behavior.
Flashback to the day before. It had been a week since Katy and KO broke up, and Katy was feeling depressed, spending most of her time either in bed or on the couch eating ice cream and watching sad movies. Everywhere she looks, she sees KO. So, Katy decides to text him to see how he's doing. However, KO doesn't respond. Katy exits her room to find Josie, Jorge, and Pepper standing by her door. They're worried about her, and so they propose a girls night out. They even brought Katy a brand new pair of sparkly red heels. Still, Katy isn't up for a night out. Instead, she plans to throw herself into work.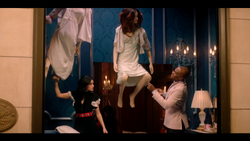 Katy and Francois dress the mannequins in the display window. Francois suggests that Katy take the day off after noticing that she put the mannequin's torso on backwards, however, Katy needs the work as a distraction from her break up with KO. Francois informs Katy that some say it takes half the length of one's relationship to fully heal. And twice as long for women. Amanda interrupts to inform Katy that she's been summoned by Gloria.
Gloria informs Katy that they're preparing for the arrival of Guy LaMontagne, creative director in Paris. Rumor has it that he's moved back to New York City indefinitely. Mrs. Lacy asked Gloria to convince him to sell at Lacy's exclusively. To begin, Gloria tells Katy to purge herself of her relationship problems, as they need to show Guy that they're the only team worthy of selling his line.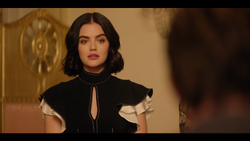 Gloria takes a seat across from Guy, who doesn't care for Lacy's nor does he wish to sell from them exclusively, referring to the store as a thing of the past. While he respects the legacy, Lacy's feels old fashioned. Guy questions if Gloria truly understands his work, and Katy assures him that no one knows his designs better than Gloria. Unfortunately, Katy mistakenly confuses Guy with another designer, which is all he needed to make his final decision to not sell from Lacy's. Katy apologizes for her mistake, not that Gloria accepts it. When Katy asks if they really need Guy's partnership, Mrs. Lacy informs her that they do. Lacy's is struggling. They'll shutter if they have another bad year. Katy promises to fix it. Mrs. Lacy is doubtful, but if Katy manages o do as she promises, Mrs. Lacy won't fire her.
Katy contemplates calling KO to vent about her bad day, but instead she calls Pepper to ask if she knows Guy LaMontagne, which she does. They were both on the same 30 Under 30 list. They indulged in edibles during the photoshoot. Katy asks Pepper to help her track Guy down. Pepper agrees to help and tells Raj that she has to leave and asks him to keep an eye on the loft.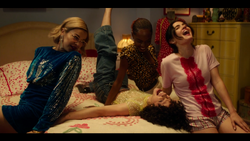 Katy, Jorge, and Pepper support Josie as she prepares to meet with Mr. Cabot. They're all very impressed with her outfit. Katy asks if Pepper has heard back from Guy, which she hasn't. Katy explains how her job is on the line. Should she fail to convince Guy to design a line for Lacy's, she'll be fired. Jorge then asks about his outfit, as he feels self conscious when he's around Bernardo. Whenever he's with Bernardo, he feels the same insecurities he used to feel when he was growing up with his brothers. Josie, Pepper, and Katy assures Jorge that he's perfect and encourages him to invite Bernardo out. Josie, Jorge, and Pepper try to convince Katy to find a new man, but she refuses to entertain the notion. She's more focused on her work. The four of them then start to sing and dance.
Josie calls Katy, Jorge, and Pepper to inform them that she learned from Alexandra that Guy LaMontagne will be at Studio 34. Luckily, Pepper can get them in. Pepper, Katy, Jorge, and Josie arrive outside of Studio 34, where Josie informs them of her discovery that Alexander and Alexandra were high school sweethearts. Josie tells Pepper that she signed an NDA, and therefore, she can't write about this in her column. They circle around the back of Studio 34, where hey're greeted at the backdoor by Claude.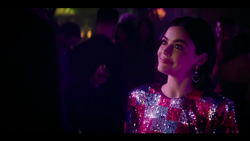 Once inside, Jorge spots Bernardo and goes to join him. Pepper, Katy, and Josie devise a plan to lure Alexandra away from Guy. Josie remarks that Alexandra can't resist a chance to insult her, so she passes by Guy and Alexandra, gaining the latter's attention. As Alexandra follows behind Josie, Pepper takes this opportunity to introduce Guy to Katy, who she begs to hear Katy our.
Katy attempts to persuade Guy into selling from Lacy's, explaining to him how their window displays have been captivating New Yorkers for over one hundred years. However, Guy is still reluctant and decides against selling with Lacy's. Alexandra returns and asks if Katy is bothering him, to which Guy replies that she was just leaving.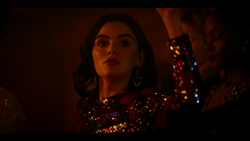 Katy drinks her sorrows away along with Josie, Pepper, and Jorge after failing to convince Guy to sell with Lacy's. Just as Josie suggests they go home, KO arrives and sees Katy from across the club. Pepper then gets a call from Raj, alerting her that a neighbor saw what they were filming through the window and called Pepper's landlady, who's threatening to shut them down. Pepper comes up with a plan, starting with instructing Raj to bring the wardrobe rack into the hall.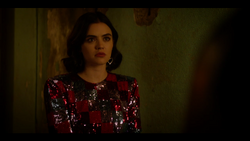 Just outside Studio 34, KO informs Katy that he's interviewing for the bouncer position. He quit Molly's Crisis as he figured that Katy would want it in the "divorce." But she accuses him of quitting his job to avoid her. Katy is clearly drunk, and KO offers to get her some water, but she insists that she's fine and asks KO to stop being so nice to her. She asks why he didn't respond to her text. He explains that he didn't know how to respond. He's miserable and Katy's responsible for him feeling that way. He tells Katy to take care of herself as he leaves. Josie joins Katy and hugs her tight.
Pepper and Jorge meet up with Josie and Katy at Brunetti's pizza shop. Josie gets a call from Mr. Cabot's office. He's requested to see her at his club tomorrow morning. Katy then reveals that KO quit Molly's Crisis for her. Even post-breakup, he's still the greatest guy in the world by Katy's account. Katy then spots Guy as he's walking to his car. She tells him that his work was overrated. Guy is impressed with her honesty and asks what else she really thinks. Katy explains that Lacy's is more than just a job. It's a home to her. Admittedly, Lacy's is a thing of the past, but that's what makes it magical. With that said, Guy asks Katy to give him a tour of Lacy's.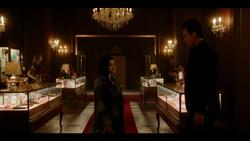 Katy takes Guy to Lacy's and gives him the grand tour, explaining that when you buy something from Lacy's, you're engaging with history and creating a memory that stays with you forever. Guy asks to know Katy's memory of Lacy. Katy recalls that when she was six, her mother brought her to Lacy's after school, and they found a candy apple red cashmere sweater with a hole in it. Katy remembers everything about it, down to how soft it felt. Her mother told her that it's imperfection is what made it so special. And that night, they repaired it. While Katy can no longer fit it, she keeps it close. Guy pulls a wallet out of his back pocket and tells Katy how he was 15 when his grandfather gave it to him. He's carried it with him ever since. Guy had one of the best jobs in fashion, but he decided to leave. Katy asks why. He was desperate to assert his own identity. But now, he's terrified. Karloff was stable and safe. While the future feels uncertain, Katy tells Guy to follow his heart. And she refuses to believe that Guy's heart is in Xandra Cabot's online shopping website. Guy admits this is true, but Lacy's is an even riskier choice. Katy offers Guy his own floor for his designs, which is a call she's not allowed to make. Katy then throws up.
Afterward, Katy calls Josie, Pepper, and Jorge to inform them how she threw up in her handbag, on her dress, and her coat. So, Guy gave her his coat. She ran to the bathroom to clean herself up and by the time she came back, he was gone. Josie tells Katy, who's laying down in the display window bed, to come home. Katy assures them that she'll be home shortly but ends up falling asleep.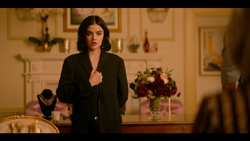 Katy is then awakened by Gloria the following morning, informing her that Mrs. Lacy has summoned her. Mrs. Lacy explains that never once in the history of Lacy's has a shopgirl behaved in such an atrocious manner. And then, Mrs. Lacy got a call from Guy, who has picked Lacy's as his exclusive retailer as long as they give him the entire 8th floor. Gloria suggests that they move their overstock storage to the basement. Having Guy set up shop could keep Lacy's relevant for years to come. Mrs. Lacy agrees to consider it.
When Katy got home that night, instead of watching another sad movie, she started to sketch and sew again. She finally started to let go of KO. She was scared as she didn't think she'd be any good without him, but now she's reminded of all the other things she enjoys doing. The following morning, as Katy is walking the crowded New York streets, she runs into Guy, who found her sparkly red shoe in his car. He returns it and then tells Katy that he has a meeting with Mrs. Lacy about his floor. He admits that Katy has more pull around Lacy's than he initially gave her credit for.[7]
Applying to Parsons
Since breaking up with KO, Katy has found herself with more time to perfect her portfolio for Parsons fashion school. With the application deadline looming, it is time to pick her three most heart-stopping outfits to submit. So, Katy, Josie, Jorge, and Pepper try on numerous outfits. It was Katy's mom's dying wish to study fashion design, but she had put that in the backseat until now.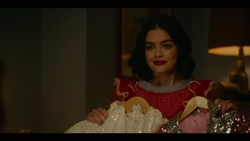 Even if Katy is accepted, the only way she could afford to go is through a full scholarship. The last recipient got a hand-written letter from Tom Ford. Pepper suggests that Katy get Gloria to write her a letter of recommendation, as she's the gatekeeper of the fashion business. An incoming polar vortex has New York City on standby for the next 24 hours. It threatens to shutter transport, close roads and businesses. Katy suggest they take this opportunity to stay in, huddle under the covers and watch TV. Jorge reminds Josie that she still owes him for the cable bill. Josie has been working double shifts at both her jobs, but she's still struggling. Not to mention, she's never even turned the TV on, so Josie asks why she should have to pay for the cable. Jorge remarks that was "very Marci of you." Josie asks who Marci is, but he doesn't reply. Josie assures Katy that her three outfits will fit right in at Lacy's.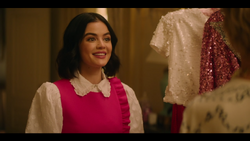 The following morning, Katy approaches Gloria with the her outfit submissions for Parsons in hopes that she'll agree to write a letter of recommendation. However, Gloria is unimpressed with Katy's designs. There's no cohesion or focus. With the Young Fellows Ball approaching, she tells Katy to make her a dress within 24 hours and if she likes it, she'll write the letter. Gloria writes down her body measurements and tells Katy to keep them to herself, otherwise she'll be burned along with last season's unsold collection.
Katy assists Francois in dressing the mannequins. She believes that Gloria is merely setting her up to fail. Just like she did for the personal shopper position. Francois advises Katy to trust herself. He then tells her to go home and work on her design. He'll finish bundling up the mannequins on his own.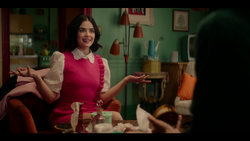 Katy returns to the apartment as the storm worsens. Jorge reveals how he left the house as Ginger and crossed paths with his mom. He ran out before she could say anything. Jorge wouldn't usually risk leaving broad day as Ginger, but the venue he was heading to didn't have a dressing room. Katy tells Jorge that Gloria agreed to write her the letter of recommendation only if she impresses her with a dress, which means that Katy has to put Jorge's Aida dress on hold. However, Jorge needs it for his act at Molly's Crisis tomorrow night. Katy retorts that Jorge has so many acts. Not to mention that she's already at a disadvantage as the fabric store was closed, so she has to use whatever they have in the apartment. Josie arrives and informs Katy and Jorge of her latest troubles. The Cabots suspect that she leaked the story about Alex and Xandra being a couple, but Josie believes it was Pepper. Pepper arrives soon thereafter. Josie accuses her of being the Daily Hail's source.
Katy watches Gloria's interview 83 queries with Gloria Grandbilt to hopefully gain some sort of inspiration. However, Katy doesn't come up with much initially.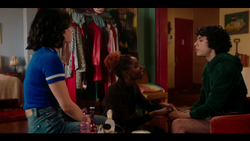 Pepper insists that she didn't leak the Kissing Cabots story, however, Josie only told the three of them, and Pepper is the only one on the Daily Hail's payroll. Josie fears the Cabots may sue her. Katy intervenes. She tells Josie that Pepper is the most fiercely loyal person she knows. Jorge then discovers that they have no food. Katy suggests heading down to the bodega, but all of Washington Heights got there first, according to Josie. Jorge then gets a call from his mother, who he fears recognized him as Ginger, so he ignores her call and asks Pepper to go downstairs for recon. Josie wonders what would happen if Jorge's parents found out the truth. Jorge explains that when he told his parents he was gay, they froze him out. They didn't talk for months, and they're still healing from that. Telling them that he's now doing drag could break them again. Jorge thanks Katy for her and her mom taking him in all those years ago. Katy says it was the best year of her life. They used to stay up all night and sing show tunes. Jorge then asks Katy once again if she could find the time to make his Aida gown, however, Katy's too preoccupied with Gloria's dress.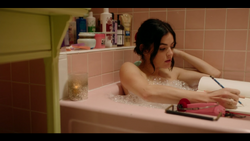 Katy continues to watch Gloria's interview, where she finally gains inspiration. She takes a bath and sketches her design, ignoring Jorge's distress calls.
Having grown impatient, Jorge tries to sew his gown himself, however, he breaks Katy's sewing machine in the process. Katy reminds Jorge of her one rule; never touch her sewing machine, which she got from her mother. She reminds Jorge, Josie, and Pepper that she's got less that 24 hours to impress Gloria with a dress. Her future depends on it. Katy grows upset and tells them all to get out her room.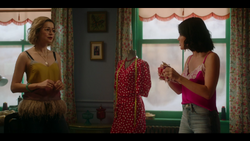 Katy is very upset with Jorge and his selfishness. If she doesn't finish the design in time then her dream will go away. Thanks to Jorge, she now has to sew the dress by hand. She then finds the perfect fabric for Gloria's dress in Jorge's Aida dress. Katy tears it apart despite Pepper's warning. Katy states that she's made Jorge dozens of dresses with fabric she bought, with money that she earned, so she only sees it as fair. Katy declares that not only will she make Gloria the best dress she's ever worn, she will hand sew Jorge a new Aida dress. Katy continues to watch Gloria's interview only to find out that Gloria despises the exact type of dress that Katy intended to design for her.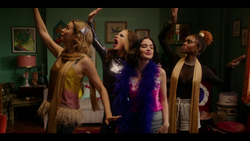 Josie, Jorge, and Pepper interrupt Katy as she sketches her design and perform a musical number from Aida. Katy joins in and the four of them sing and dance in the apartment. They are interrupted by a knock at the door. It's Jorge's mom. Luisa enters the apartment to bring the sauce for the empanadas that Pepper had brought up. She asks about Jorge, who Katy claims is at Bernardo's. In actuality, Jorge's locked himself in the closet. Inside, he notices Josie's bag and a check sticking out. Luisa notices that the apartment is getting increasingly hot and inquires about the radiator. She offers to have Luis to come down to take a look, but Katy assures him that they're fine and rushes Luisa out.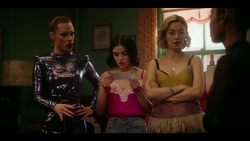 Jorge exits the closet. Josie rekindles her argument with Pepper. However, Pepper insists that she's not the source. This time, she refers to Josie as Marci. Pepper reveals that Marci was the last girl who slept on the couch before Josie, claiming that she's just a long line of girls sleeping on the couch for her first few months in New York. Josie questions if this is true., if this is really what the girls think of her as she thought they were friends. Katy assures her that they are. Jorge interrupts and reveals the check for $20,000 that he took from Josie's bag, which she got from Mr. Cabot. Josie explains that she hasn't decided if she's going to deposit it yet. She didn't tell them because every time she looks at it, it makes her feel like she's being used.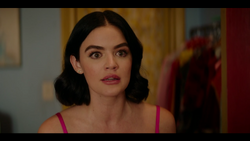 Jorge confronts Katy after discovering that she destroyed his Aida dress. Katy explains that it was a dress that she designed and sewed with fabric she paid for. Katy has sewed over one hundred outfits on her machine for Jorge free of charge, and the one time she tries to do something for herself, he ruined it. Katy calls Jorge selfish. He knew how much that machine meant to Katy and her mom. Every piece of clothing that Katy has ever made was on that machine. But Jorge doesn't get why it's so important because even though he's way too scared to, he can walk down the stairs and talk to his mom while Katy cannot. He broke the last part of her mom that Katy has left.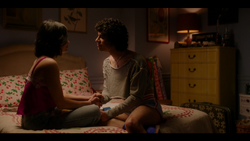 Jorge enters Katy's room and asks to approach her bed. He wonders how far she has come along with Gloria's dress. Unfortunately, Katy hasn't gotten far. One of the last things Katy's mom said to her was that she wants Katy to go to school so that she may have a better life. She thought that when she died that Katy could use the insurance money to pay for Parsons, but it barely covered the medical bills. And Katy's angry about that. It's not an emotion she likes to associate with her mom. Now, Katy feels all alone. Jorge reminds Katy that she isn't alone. She has him, Josie, and Pepper. He reminds Katy of just how much she's accomplished. And that when she's sitting on top of the world, it's going to feel so much sweeter because she worked for it. Katy and Jorge have been friends since they were kids. She recalls how coming out was rough for him, but his parents will find out about Ginger eventually. Katy advises Jorge to tells his mother the truth. She then apologizes to Jorge for blowing up on him. Everyday that goes by, she feels her mother fading away even more. And all she has left of her is a box with her belongings that Katy's afraid to open in fear of having an emotional breakdown. Katy's simply trying to find a way to hold onto her. And so, Jorge tells Katy its time to stop avoiding the box.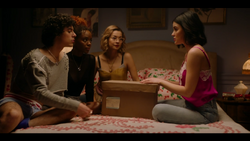 Katy grabs the box with her mother's belongings from the closet and goes through it with Josie, Jorge, and Pepper. Inside, they find photos and other sentimental items. Josie says that Katy's mom was a classic beauty, much like Katy herself. Katy recalls how men and women would always stare at her mom like she was a magical creature. Inside the box, Katy also finds fabric. Her mother planned to use it, but then she got sick. Josie suggests that Katy use it to make her garment for Gloria. Jorge tells Katy to make something that would make her happy and her mother proud. Pepper and Josie add that she should make her strongest suit with her style in mind. Without a sewing machine, Katy is forced to sew the dress by hand with help from Josie, Jorge, and Pepper.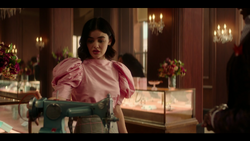 Katy brings her sewing machine to Lacy's to have Francois have a look at it. Unfortunately, it's too old for him to repair. He asks who gave it to her. Katy replies it was a gift from her mother. Francois informs Katy that the sewing machine model was manufactured exclusively for Lacy's staff. The seamstresses used them. Her mother either worked there or knew someone who did.
Gloria is impressed with the dress Katy designed for her. She sees focus and inspiration in it. However, she won't be wearing it to the gala as she initially planned because she just received an exquisite custom gown. She commends Katy on a job well down though and writes the letter of recommendation.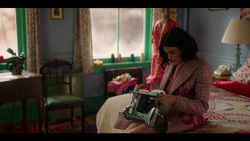 Katy returns to the apartment to find that Jorge has replaced her sewing machine. He couldn't afford to buy her a new one, however, he got the next best thing. An older sewing machine that belonged to his abuelita. Jorge apologizes and promises to never touch her sewing machine again. Katy then reveals to Jorge that she got the letter. Also, Francois told her that her mom's sewing machine was manufactured specifically for Lacy's staff. She wonders what else her mom hasn't told her. On the sewing machine gifted to Katy by her mother is an engraving that reads "For Katherine, Love L.L."[8]
An Affair with Prince Errol
Katy has finished her application for Parsons and drops it off at the mailbox on the same block as her childhood apartment. It was always Katy's mom's dream to see her at Parsons.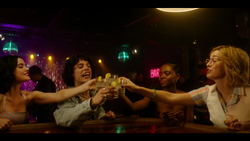 Katy celebrates her submission to Parsons at Molly's Crisis with Josie, Pepper, and Jorge. Katy always pictured sharing this milestone with her mom. She even imagined she was there at the mailbox with her. Katy also wanted to share this moment with KO, but she can't. Josie, Pepper, and Jorge encourage Katy to pursue other men. However, KO is the only man Katy has ever been with. Katy then asks about Josie's EP. There's a listening party that Alex planned at Chubby's, but Josie still hasn't told him that her contract stipulates that she babysit him. Rival drag queen Deveraux enters Molly's Crisis and alerts Jorge that the Miss Washington Heights Pageant has been moved to Molly's. Winner gets prime time. The most lucrative time at the bar.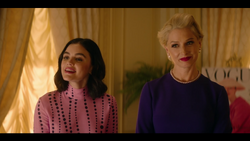 Lacy's hosts a royal engagement announcement photo shoot for Prince Errol and Patricia, who informs Gloria and Katy that Errol's grandmother is concerned that the photographer, Will Buckingham is "too green." However, Prince Errol disagrees. Katy adds that Will Buckingham was also just promised the September issue cover from Vogue, so if anyone is going to make Patrica look like a princess, it's him. While Patricia May trust Katy, she worries that Errol's family may not approve, though his family's approval is no concern of his. Patricia storms off with Prince Errol chasing after her. Gloria tasks Katy with ensuring that the photoshoot goes off without a hitch. Katy then asks Gloria if she could look into Lacy's employment history to see if her mother was ever an employee.
As Katy struggles to figure out how to amend Errol and Patricia's royal relationship, she notices KO with Alexandra Cabot right outside of Stella Tower. She presumes that the two are dating.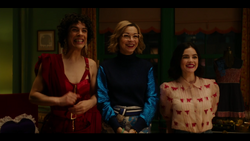 Katy shares her discovery with Pepper and Jorge. Pepper questions exactly where Xandra touched KO, and Jorge concludes that they must've met at Studio 34, as KO works there now. Katy can't believe that he's moved on so fast. Pepper points out that this is a sign that it's time for Katy to move on. Pepper proposes that Katy ask out Will Buckingham, the photographer for the royal photoshoot. Josie arrives and reminds them that her mom is on the way. Moments later, Sierra arrives and greets Josie with a hug. Josie then introduces her to Katy, Pepper, and Jorge. Sierra asks them to fill her in on everything that's going on.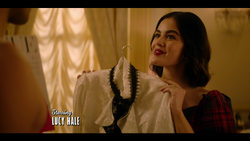 The following day, Katy prepares Prince Errol and Patricia for the photoshoot, though they seem to have different ideas in mind on what to wear. Errol wants to go causal, but Patrica prefers something more Victorian, as it would please his family. However, Errol has no desire to please his family, only Patricia. Katy comes up with an idea and asks Will for his help.
Will takes several photos of Prince Errol and Patricia together. He starts to take photos of only Patricia. He tells Katy that her idea to have them dress down will result in great photos. Prince Errol thanks Katy for all her help. He inquires about Katy's relationship, as the last time he saw her she was to be engaged. However, Katy informs him that it didn't work out. Prince Errol remarks that he must be a puddle after losing her.
As the photoshoot wraps, Will tells Katy that he enjoyed working with her and that he'll think of her next time he's in need of a Switzerland. Katy gives Will her number and asks him to accompany her to Josie's listening party. Unbeknownst to Katy, Gloria watches from the doorway.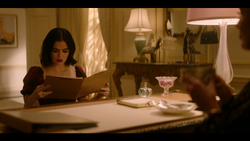 Gloria congratulates Katy on a job well down with the photoshoot. Gloria retrieved Katy's mother's file from Human Resources. Her file says that she was fired. From what Gloria could gather, the management doubted her commitment to the store. She was terminated around the same time Katy was born. Katy wonders why her mom went to such lengths to keep this from her. Gloria presumes that if Katy's mother was keeping something from her, then it was probably to protect her. She then tells Katy to go on to the listening party and have fun. As Katy leaves, Gloria puts a letter back into Katherine's file, signed "LL."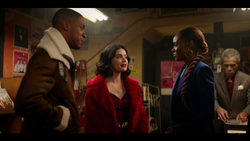 Katy arrives at the listening party, and she introduces Josie to Will as a future Grammy winner. Being out with Katy reminds Will of his early days in the city, running around with a camera on his shoulder, not knowing if he was going to make it. As much as Katy likes her day job, she would rather be getting paid to design. Will retorts that Katy's job can't be that bad if she has a prince pinning after her. Katy insists that Prince Errol wasn't looking at her though.
Josie asks to talk to a drunk Alex in private, but he gets unruly and confronts Josie about dating him just because his dad paid her to. Katy, Pepper, Jorge, Chubby, and Mr. Cabot watch as this unfolds. Katy stops Josie from chasing after Alex and reminds her that this is her night and not to let anyone ruin it. Chubby welcomes Josie to the stage. Josie and Chubby then proceed to sing in front of the entire party.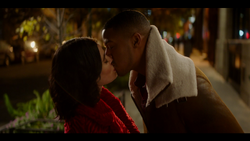 Will invites Katy back to his studio, but she turns him down. He agrees to call her and gives her a kiss goodbye. Katy returns home and tells Pepper and Jorge how her kiss with Will was the worst she'd ever had. Pepper recalls her date with Jared Leto, who only gives butterfly kisses. Jorge then inquires about Raj, who Pepper insists that she's not dating. Their relationship is strictly casual. Pepper then gets a call from Raj. Katy worries that she might not be cut out for the single life, but Jorge reminds her that she hasn't been single for long and that she'll have to kiss a few frogs if she wishes to find her prince. There's a knock at the door. Katy assumes it's Pepper, but it's Prince Errol.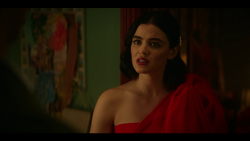 Errol informs Katy that he called off his engagement to Patricia. On their first date, he made plans to take Patrica to a Michelin-star restaurant in Macau, but she insisted that they stay in and order Chinese. Now, she's throwing temper tantrums because her tiara doesn't have enough canary yellow diamonds. Katy reminds Prince Errol that this is all new to Patrica, and he'll have to give her some time, but Errol is starting to think he's better off single. Katy thought the same when she broke up with KO. Errol then notices the photo of Katy with her mom sitting on the table. Katy tells him that she died a few years ago, but she's starting to think there's a lot of things she doesn't know about her mother. Errol's mother died too, and he's starting to find that the older he gets, the more he wishes she was there. She would know what to do about Patrica. She would probably say that Errol needs to learn how to be alone and that he was foolish to get engaged to his rebound. Errol admits that he may have rushed into the relationship to numb the pain he was feeling. Katy can relate. Sometimes, she thinks she stayed with KO because he was there for her when her mom died. And she knew that if they broke up, there would be residual pain to sort through. Jorge/Ginger interrupts to inform Katy that he's leaving. Katy invites Errol to the drag pageant. However, he's worried that he might cause a commotion. Jorge/Ginger hands Prince Errol a hat and tells him that "no one will be looking for a prince amongst all those queens."
The Washington Heights Pageant commences. Katy, Prince Errol, Pepper, Josie, Sierra, and Luisa watch from the crowd. Sierra tells Josie how she was in the East Village every weekend in her twenties. She's plenty familiar with drag. Francois/VeeVee Humble asks Deveraux the first question. She then asks Jorge/Ginger the same question, but Jorge/Ginger rushes off the stage.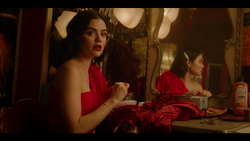 Katy and Prince Errol follow Jorge/Ginger into the dressing room, where Deveraux has sabotaged the dress that Katy designed for her. She wishes to quit the pageant, but Katy refuses to allow her to give up and immediately begins fixing the dress while Errol gives Jorge/Ginger a pep talk. His entire life, he's been expected to be a perfect prince. But the more he tried, the more miserable he was. The problem was that he didn't know how to be himself. He encourages Jorge/Ginger to be herself.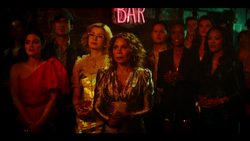 For the talent portion of the pageant, Francois/VeeVee Humble welcomes Jorge/Ginger back to the stage. Katy, Prince Errol, Pepper, Josie, Sierra, and Luisa cheer her on as she sings before the crowd. Deveraux tries to mess up her set, but Jorge/Ginger continues her performance, much to the crowd's amazement. However, despite her best effort, Francois/VeeVee Humble announces Deveraux as this year's Miss Washington Heights.
At the bar, Katy tells Prince Errol that it was very sweet how he talked Ginger off the ledge. He jokes that he's used to giving queen's advice. He asks if every night in the life of Katy Keene is this exciting. He can't remember the last time he's had this much fun. It's difficult to cut loose when you're in the public eye, he explains. Katy and Prince Errol then take to the dance floor with Pepper, Josie, Sierra, Jorge/Ginger, and Luisa.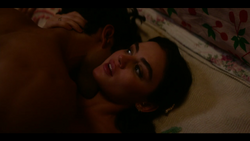 Katy and Prince Errol go back to her place where they proceed to have sex. Katy wakes up the following morning to find that Prince Errol is gone and that Josie and Jorge are waiting outside her room. They ask what happened to her prince and how was the "royal treatment." Katy admits that it was a mistake and that she got caught up in the moment. KO shows up unannounced at the apartment. He was in the area and figured he'd come by to pick up some of his stuff. Katy invites him in for some cereal.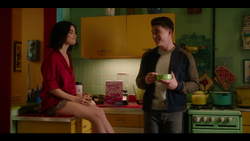 Katy reveals that she saw KO and Xandra together and that she's perfectly fine with them dating. KO explains that he met Xandra at Studio 34. She needed a bodyguard. He took the job, and so now he drives her around and teaches her how to box. He accuses Katy of being jealous and tells her that he can't imagine dating someone new right now. Katy then gets a call from Gloria, demanding her presence at Lacy's.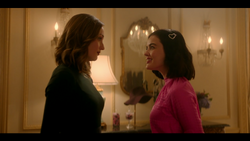 Katy arrives at Lacy's to find Gloria standing across from Prince Errol and Patrica. Patrica approaches Katy, as it was Katy who dressed her the first time she shopped at Lacy's. It was also Katy who designed her engagement ring and planned their photoshoot. She trusts Katy, which is why she's hoping Katy will agree to design her wedding dress. It would seem as though the wedding is back on.[9]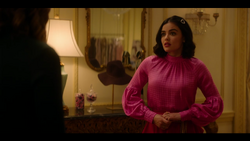 At Lacy's, Katy has yet to confirm nor deny to design Patricia's royal wedding dress. However, after hooking up with Prince Errol, Katy struggles with accepting the opportunity, and so she turns Patricia down, much to Gloria's dismay. Katy claims that she's inexperienced and suggests a more household name. Patricia refuses to accept no as an answer and gives Katy a day to think on it. Errol and Patrica then leave.
Gloria is suffering from a migraine after witnessing Katy turn down the opportunity of a lifetime by refusing to design Patricia's dress. Gloria demands that Katy explain herself. Before Katy can answer, Patrica appears as a manifestation of Katy's guilty conscience. Her very own personal Spider Woman. Katy lies and says that she's already committed to making costumes for Jorge's musical, claiming that it's a large production with 55 changes, and she can't do both. Gloria is in disbelief that Katy is choosing to do costumes for an off-off-Broadway show rather than a royal dress. Amanda arrives with Gloria's tea to hopefully cure her of her migraine.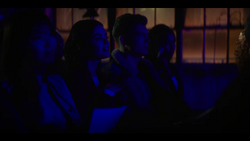 Katy arrives at the Pepper Plant and takes a seat next to KO and Xandra, who jokes that KO thought they were going to see "Spider-Man: Turn Off the Dark", a musical that Katy and KO once saw together. She notices that KO's wearing a new jacket. One that Xandra bought for him to show her appreciation for him working long hours. Katy tells KO that she got asked to design a wedding dress for Patrica, however, she still isn't sure if she will do it. KO questions why she wouldn't as she'll never receive another chance like this. He recalls seeing Katy at Lacy's trying on rings with Prince Errol and how he felt that Katy would start dating him. Pepper gets on stage and welcomes Katy, KO, Xandra, Josie, Alex, Francois, and Bernardo to the Pepper Plant. As planned, Jorge plays both Molina and the Spider Woman. It doesn't take long for the audience to grow unsatisfied with Jorge's performance and exit.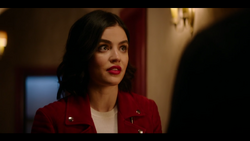 Katy returns to her apartment to find Prince Errol awaiting her arrival. He admits that he owes her an explanation. He truly did call off the engagement with Patricia, but then the engagement photos came out, and Errol's family said that it was too late to back out. It would ruin his family. Which is why he came to see Katy. He doesn't care if it's scandalous. He wants to be with her, and if she feels the same way, he'll call off the wedding. Katy insists that he see the wedding through, referring to their hookup as a huge mistake. And designing Patricia's wedding dress would be another mistake, as it is wrong on every level. She pleads with Errol to leave her alone and to not make this any harder than it is.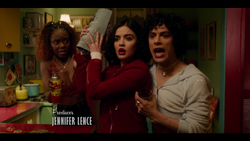 Katy enters the apartment to find Jorge and Josie in the kitchen. She relays to them her current dilemma of the prince wanting to be with her, and Patrica wanting her to design the royal wedding dress. She asks for their advice, as designing the dress would be horrible karma. Before they can offer any advice, Jorge and Josie warn Katy as a spider drops down from the ceiling onto her shoulder. Katy panics and almost kills the spider, but Jorge reminds her that it's a good omen.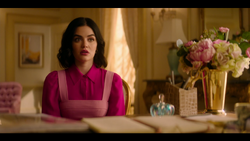 Gloria calls Katy into her office to further discuss her turning down the opportunity to design Patricia's dress. Gloria suspects that Katy's reluctance is related to how Prince Errol looks at her and clearly has feelings for her. Katy reveals that she slept with Errol but only because she thought he ended it with Patricia. Katy couldn't live with herself if her entire career was built around Patricia's dress. Gloria retorts that she wouldn't be able to live with herself if she turned down the biggest opportunity of her life because of a man. She insists that Katy design the dress.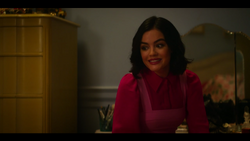 Jorge asks if Katy is going to design Patricia's wedding dress. Katy doesn't feel that she has much of a choice. She also worries that not designing the dress will send Errol the wrong message that she doesn't support his marriage. Jorge suggests that Katy designs a wedding dress that underwhelms Patricia. That way, she'll be the one to let Katy down easy. A masterpiece with a little crack to turn Patrica off. With Katy's crisis potentially solved, Jorge addresses his dilemma of Josie playing the Spider Woman. Katy reminds him that when they were kids, Molina was the entire reason he fell in love with the musical to begin with. Jorge saw himself in him. Also, for Halloween in 4th grade, Jorge wanted to dress up as him. But his dad made him dress as Danny Zuko instead.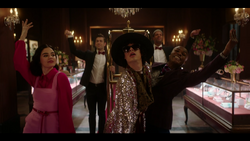 Katy takes Jorge to Lacy's, where Francois awaits them. Katy tells Jorge to consider this a refresher in the joys of being and playing a window dresser. Katy and Francois then proceed to sing and dance. Jorge agrees to share the stage with Josie. Katy encourages him to invite his dad to show him just how much of a star he truly is.
Katy shows Patrica a sketch of her wedding dress to-be. Patrica is unimpressed. While she likes the idea of it being timeless, her dress Katy designed lacks royal flair. Katy claims that she tried going bigger but nothing felt right. She thinks that she's bitten off more than she can chew and pushes Patrica to switch to a more established designer. Patricia insists that Katy is the right designer for the job and gives her another chance to get it right.
As Katy prepares to rework the royal dress, her Spider Woman appears but only momentarily. Katy is then startled by a courier. He delivers Katy a bouquet of flowers from Prince Errol.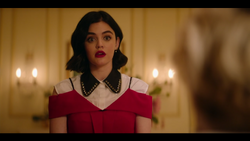 The following day, Katy tells Gloria about how she's seeing Patrica everywhere she looks, a clear manifestation of her guilt. When Errol and Katy got together, she wasn't betraying anyone because she thought that he had ended his relationship with Patricia, but they're back together now, and Katy can't help but feel that making Patrica's dress is a betrayal. Gloria, however, couldn't care less and demands that Katy design the dress.
While designing Patricia's dress, Katy becomes overwhelmed with guilt and starts cutting the dress to pieces with a pair of scissors. Francois enters the room and stops her. Katy reveals that she slept with Prince Errol, and if she was Patrica, she wouldn't want to walk down the aisle in a dress made by someone who her husband had feelings for. Katy knows it's crazy to give up such a huge opportunity, but she can't make the dress. Francois warns Katy against allowing her integrity to torpedo her career and makes a suggestion.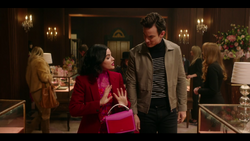 Katy takes Francois' advice and rushes down to Lacy's, where she finds Guy LaMontagne and asks for his help as he had designed eleven very high profile dresses. For the record, he insists that he never actually slept with any of the brides, however, Katy comments that she can't say the same, leading Guy to conclude that she hooked up with the prince. Katy then asks him to design Patricia's dress as a favor to her.
Katy presents Patrica with her wedding dress. Patrica adores it, however, Katy reveals that she didn't design it. It's a Guy LaMontagne original. One day, Katy will be ready. Until then, Patricia deserves someone who will do her justice. Patrica thanks Katy as she and Gloria proceed to help her out the dress.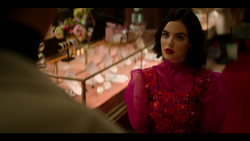 Afterward, Katy tells Guy that Patrica loved his dress. She thanks him for helping her during her time of need. Guy suggests that Katy take him out to dinner, but she is on her way to Jorge's musical, "Kiss of the Spider Woman." She asks Guy to accompany her. He agrees, if only to make fun of the show. Katy remarks that he almost seems like a nice person sometimes.
Backstage at Molly's Crisis, Jorge and Josie prepare for the show. Katy arrives with the costumes. As luck would have it, she has two dresses for the Spider Woman's final look and asks who she is fitting. Katy, Guy, Pepper, Didi, Alex, Xandra, Francois, Bernardo, Luis, and Luisa attend the show. Josie performs on stage briefly before being joined by Jorge, who is also playing Spider Woman. The two share the stage both as Spider Woman, concluding the show with a kiss. Afterward, they receive a standing ovation.
Guy informs Katy that with the start of his new collection, he'll be needing a new apprentice and offers the position to Katy, who accepts the offer.[10]
Jorge and Bernardo retreat to the apartment after being jumped, where they are comforted by Katy, Josie, Pepper, KO, Luis, Luisa, and their sons. Bernardo recalls three to four attackers. They reported the attack to the police, but there isn't much that can be done without any eyewitnesses. Jorge's brother, Mateo, knows some of the guys at the precinct and offers to give them a call. KO went to Molly's Crisis to ask if anyone saw anything. He tells Jorge that they'll always be family, before leaving.
Katy follows KO into the hallway and tells him that he doesn't have to leave, but KO feels that Jorge has enough people hovering over him. Katy wonders if it was a mistake to call KO over, but he insists that he wanted to be there for Jorge. Katy proposes that they try being friends and go out for lunch. Katy returns, and Jorge looks to Pepper and Josie for reassurance before revealing to his father that he's a drag performer. Luis is outraged, even more at the fact that the rest of his family already knew.
Katy, Jorge, Pepper, and Josie convene in the basement of Chubby's, where they assist Josie with sending out her EP to every local radio station, against Mr. Cabot's wishes. With Josie going rogue, Jorge suggests she drop a music video, and Pepper recommends Raj Patel as the director. Katy then tells them how she wants to be real friends with KO, but Jorge, Pepper, and Josie advise her against it. While Josie keeps in touch with Archie, she adds that he's all the way in Riverdale. Meanwhile, Jorge hasn't talked to Buzz since they broke up on Valentine's Day. As for Pepper, she never thinks it's worth the work unless there's benefits involved. Katy explains that she misses him and that seeing him at the apartment the night before reminded her that he too is a part of her family. Josie asks if Katy's apprenticeship means she's quitting Lacy's, but it doesn't as it's an unpaid apprenticeship, which doesn't bother Katy because after the dilemma with Patricia, she could use a mentor. Pepper remarks that Guy is amazing and that she is considering coming by the store to buy herself something in preparation for her birthday, though she isn't sure if she's having a party, especially after what happened to Jorge. Although, Jorge insists that he's fine and that Ginger is ready to party.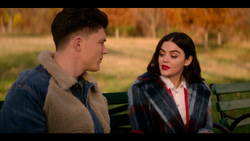 As planned, Katy and KO have lunch in the park. She notices that he's eating a salad. KO explains that he has a modeling photoshoot tomorrow. It's for Caboture. It was Xandra's idea, who he is now dating. Katy isn't surprised, as she noticed a vibe between him and Xandra. Katy claims that she's happy for KO. He then asks how her life is going and if she's still designing the dress for Patrica, which she isn't. The dress was designed by another designer, but on the plus side, Katy's going to be his apprentice. KO and Katy share a hug, and he tells her that he's proud of her.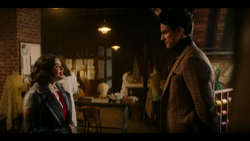 Katy arrives at Guy's office to find a long list of designers also aspiring to be his assistant. Guy asks Katy how she learned how to sew. Katy tells him that she learned from her mother. She then asks about the long line of designers in the hallway looking to be his assistant as well. While Katy doesn't have the most impressive resume, she's hoping to hear back from Parsons and no one will work harder than her. Guy notices that Katy is rattled and asks why. Katy reveals that KO is dating Xandra. Guy questions if it will be a problem for Katy to prioritize her job over whatever drama she may be experiencing in her life. Katy prides herself on keeping her work life and real life separate.
Guy tasks Katy with retrieving a dress from Xandra, which he loaned her when she was courting him for a business partnership. After the saga of Patrica's wedding dress, Guy wants to test Katy to see if she can execute her professional life no matter what is going on in her personal life.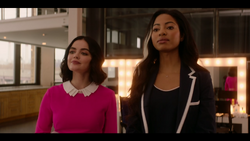 Katy tracks Xandra down and arrives just in time for KO's photoshoot. Katy tells Xandra that she knows that they're dating, and she's happy for them. Katy reveals the reason that she came is to retrieve the dress that Guy loaned Xandra, but she refuses, claiming it was a gift from Guy. KO joins them, and Katy invites the two of them to Pepper's party.
Katy reveals to Jorge and Josie that she invited Xandra and KO to Pepper's party. Despite all the bad that she's done, Katy is hoping that this will turn out to be good for all of them. Hopefully, she can get Xandra drunk and happy enough to hand over Guy's dress. Jorge's decided to go as himself rather than Ginger, which alarms Katy and Josie, but he claims that he simply didn't want to upstage Pepper.
Katy and Josie arrive at Molly's to celebrate Pepper's birthday. They are greeted by Pepper and Chad, who she introduces to Chad as tomorrow's leading designer and future Tony/Grammy award winner, respectively. KO and Xandra arrive soon thereafter in the very same dress that Katy was tasked with retrieving.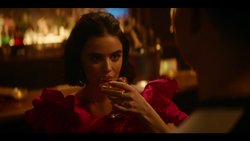 Katy spots KO at the snack table and tells him that it's okay to eat something now that his photoshoot is over. However, since he's been with Xandra, he's been watching what he eats. Although, he's always been in great shape for as long as Katy's known him. KO's not used to being objectified, referring to modeling in his underwear. Katy jokes that she used to always objectify him when they were together. She mistakenly adds that he looked hot, resulting in an uncomfortable silence.
Katy, Josie, Pepper, Didi, Xandra, KO, Alex, Raj, Bernardo, and Chad gather around the stage as Jorge proposes a toast in Pepper's honor, who has dedicated herself to building a safe haven for artists of all stripes.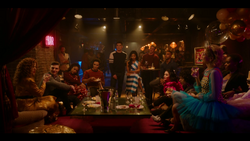 Katy, Jorge, Josie, Pepper, Didi, Xandra, KO, Alex, Raj, Bernardo, and Chad listen to Ms. Freesia tell stories of her past. Katy asks how they have never heard about her aunt before. Pepper replies that it is because Freesia isn't actually her aunt. However, she has known Pepper since she was a little girl. Ms. Freesia reveals that Pepper and her father lived in her building, but he was always away on business. Most days, Freesia would find Pepper all by herself, doing her homework in the lobby of the Georgia Hotel. And one day, Ms. Freesia invited her up for tea, and they've been like family ever since. Katy and Jorge recall Pepper telling them that she grew up in London. Pepper claims that she did live in London up until a certain age. She spent time in London and New York. Ms. Freesia then tells Chad about Jorge's musical that Pepper produced.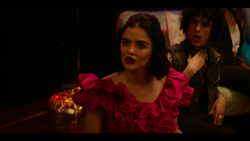 Xandra spills red wine all over her dress. Katy accuses her of doing it on purpose, but she insists that it was an accident. Katy worries that this will ruin her chance at the apprenticeship. KO takes Katy's side, telling Xandra that she had plenty of dresses to choose from. Xandra grows upset that KO is more concerned with Katy's dreams than he is her feelings. Katy interjects that while KO and Xandra have only been dating for ten minutes, she and KO were together for ten years. And they supported each other's dreams while Xandra is trying to change everything about him to suit herself. Xandra tells Katy to consider that she may no longer know what KO likes and doesn't like. If Katy fought for KO half as hard as she is fighting Xandra, they'd still be together. Xandra leaves, and on her way out, tells KO to find his own way home.
Katy finds Xandra as she is cleaning herself off in the bathroom and apologizes. Katy admits that she still feels something for KO and seeing him happy with someone else is difficult to comprehend. Xandra can relate as that's how she felt seeing Alex with Josie. Admittedly, she may have taken things too far with KO, but Xandra doesn't want him to be a different person. She simply thinks that he's capable of more. Xandra then accepts Katy's apology.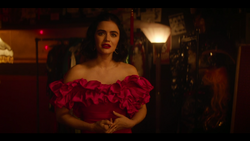 Katy tells Jorge that she thinks Xandra may be good for KO. Whe let her unresolved feelings for him screw up her apprenticeship. Katy then asks if Jorge is okay, as they haven't talked about him getting attacked. Jorge is angry that he can't walk down the streets without looking over his shoulder and angry that there's nothing he can do to find the thugs that attacked him. Worst of all, things are really bad with his father. Jorge isn't scared of being attacked. What bothers him is that he could lose the support of his family. Katy reminds Jorge that she's his family and that family isn't just his blood. It's who he chooses.
KO delivers Guy's dress to Katy. Xandra had it dry cleaned. It's wine-free. Katy apologizes for her behavior last night and admits that it's a lot harder than she thought it would be to see KO with someone else. KO regrets not standing up for Xandra. He's just so used to being on Katy's side. However, he does want to be friends with her and wishes her luck on getting her apprenticeship.
Katy delivers Xandra's dress to Guy, who's impressed with her ability to come through. Katy says that KO convinced Xandra to give it back and that sometimes your personal life can help your professional life. Katy admits that her life is messy, but she never lets her feelings get in the way of fashion. Guy then appoints Katy as his new apprentice.
Katy, Pepper, KO, and Josie meet up with Ginger and Bernardo at a gay pride rally. They're impressed with the turn out. Pepper promises to write about it in the Daily Hail so that the whole city will know. Ginger then gives a speech. She refuses to hide herself and insists that the city see them as they really are. Katy tells Ginger that she loves her and gives her a hug. Buzz arrives and reveals that he came out at work. Ginger then introduces Buzz to Bernardo. Katy, Ginger, Pepper, and Josie watch as a public transportation bus passes by with a Caboture promotional ad on the side with KO as the model.[11]
Apprenticeship with Guy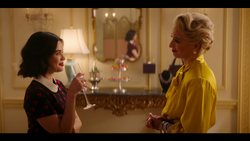 Katy prepares for her first day under her new apprenticeship with Guy LaMontagne. She arrives at Lacy's, where Amanda informs her that Gloria means to surprise her with champagne. Gloria celebrates Katy's accomplishment and raises a glass in her honor. Katy tells Amanda that her internship with Guy is unpaid, so she'll still be working with her and Gloria part-time. Before leaving, Gloria reminds Katy that she won't be there to clean up Katy's messes and that Guy is notorious for firing his apprentices. And the people he fires tend to disappear from the fashion world. Katy promises Gloria that this won't happen to her.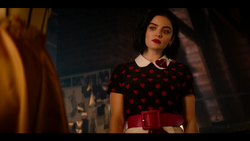 Katy arrives at her new place of work, an abandoned atelier on the eighth floor of Lacy's. Guy greets Katy and wishes her good luck. He is then approached by his sister, Gal. She informs him that they're contractually obligated to present Gloria with five executed garments. And if Guy can't deliver, then Lacy's will never believe he can deliver an entire collection. Guy notices Katy hovering over him as he attempts to work on one of the five dresses. He claims that the hearts on Katy's shirt are a distraction and tells her to go home and change.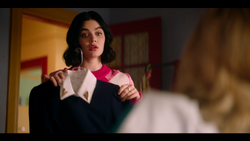 Katy tells Pepper just how terrible her first day was. She never imagined he could be such a control freak. Pepper claims that much like Guy, Katy is also a control freak. Katy sensed that he was a jerk during her first encounter with Guy but later interactions gave a different impression. Hoping for a better second day, Katy plans to tone it down, starting with her wardrobe. Pepper recalls that when she first met Guy, he had a meltdown after one of his apprentices failed to properly design a dress. Guy had a rage stroke. As for the aforementioned apprentice, Pepper last saw him working in a Jimmy Jazz in Harlem. Katy worries that she'll share a similar fate if she doesn't impress Guy. Pepper is receiving notifications on her phone. She explains that someone named Hannah Melvey started a hashtag on Twitter, badmouthing her. Katy advises Pepper to ignore it and then asks for her opinion on her outfit.
Katy arrives early at the workshop. She switches out the light bulbs, prepares tea, and sets up flowers on Guy's desk. Unfortunately, he's allergic. She also moved around his fabric, which disrupts his system. He tells her to simply wait and only do what he asks of her.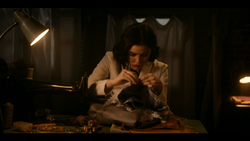 Katy introduces herself to Gal and asks if she can help her with something. While Gal doesn't need Katy's assistance, she does give her a bit of advice. She warns Katy that Guy is tough, so she'll have to be tougher. Katy then approaches Guy and offers her to help. He reluctantly provides Katy with the opportunity to prove herself. He needs someone with nimble fingers to sew on a lace applique using an overcast stitch. Katy struggles to get the stitch right, spending the entire day only to fail over and over again. She even pricks her finger with the needle in the process. Eventually, Guy grows tired of her inability to stitch and does it himself.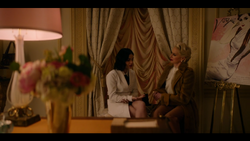 Katy retreats to Gloria's office and cries. Before long, Gloria arrives and cleans the wound on her finger. Gloria reminds Katy what happened to Sleeping Beauty when she pricked her finger on the spindle; she forgot herself and slept for twenty years. Katy insists that she isn't losing herself. Katy is simply struggling with the pressure. Whatever she chooses to do, Gloria advises her to never let Guy see her weak. He wants to know he can break her. She then tells Katy to wipe her eyes and go back upstairs.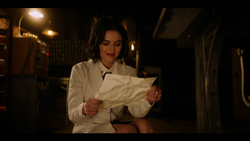 Guy tells Gal that they need to postpone the preview, but they can't. Gal explains that they need the fifth dress. Otherwise, they won't get funding for their production. Every time Guy tries to sketch the fifth dress, he becomes paralyzed. Gal reminds him of the designs that he started on but threw away. She tells him to sleep on it and finish the final look in the morning. Unbeknownst to the two of them, Katy stands quietly in the corner. She waits for them to leave before grabbing Guy's design from the trash.
Katy returns home and tells Pepper of her plan to bring Guy's trashed design to life. However, she worries that if it goes wrong, he'll blacklist her for the rest of her career. Pepper doesn't like seeing this side of Katy as she tends to be far more secure in her skills. She tells Katy to get a grip and stop doubting herself. Pepper even offers to help as a distraction from Twitter.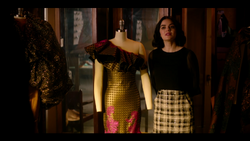 Guy arrives at the workshop to find that Katy has executed his design, but he is unimpressed and accuses Katy of stealing his design and fabric. Katy loves the dress and assures Guy that Gloria will too. Guy recalls first meeting Katy and how impressed he was with her tenacity. But now he's starting to see it as nothing more then a blatant disregard for anyone's opinion other than her own, which is a liability. Gal arrives and mistakes the dress that Katy designed as Guy's work. With very little time left before the preview, Guy has no choice but to go along with Katy's dress.
Katy, Guy, and Gal present Gloria with all five dresses. She is amazed with each dressed except for the one crafted by Katy. Amanda agrees, adding that it lacks sophistication. Guy takes the blame for the dress and agrees to do away with it. Gloria still needs to see one more garment before Mrs. Lacy can give him the green light, but Gloria can tell that he's on the right track.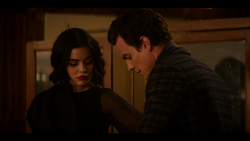 Katy returns to the workshop and begins packing her belongings under the assumption that Guy is going to fire her. She congratulates him on his collection and before leaving, she thanks him for taking her on. She also apologizes for going behind his back. Guy tells Katy to stay. He remarks that while the dress itself may have been a failure, her overcast stitch on the lace is impeccable. She's perfected a technique in her short time with him. More times than not, people will always reject what they make, but Guy agrees with Katy that it's always worth finishing. As he begins to design the fifth and final dress, he shares with Katy his knowledge of the fashion world.[12]
Katy has a sex dream about Guy until being awakened from her sleep by Josie, who introduces Katy to her stepbrother, Kevin Keller. Josie accuses Katy of having a sex dream, but she denies it before kicking them both out her room so that she can get dressed for work.
At Lacy's, Katy and Guy help Gloria prepare for her book launch. She's wearing one of Guy's designs before it even hits the runway. As she assists Gloria, Katy has flashes of her dream. Guy notices Katy's off behavior and pulls her to the side to address it, but Katy insists that she's fine. Gloria has always wanted to publish her own memoir and is all smiles now that the time has come. She expects that Katy will wear something nice, as she'll be representing her.
Katy arrives to find a package with her name on it. It's a dress from Guy. He hopes to see her in it at Gloria's book launch. Her friends question if she's having an affair with him, which she assures them she isn't. However, she does worry about the message it'll send if she wears the dress, especially after having a sex dream about him. Pepper informs Katy that sex dreams are manifestations of varying desires, not necessarily romantic. With that said, Katy is still unsure if she should wear the dress. Jorge then reveals that he had a threesome with Bernardo and Buzz. He thought it would make him feel powerful, but instead its done the opposite, leaving him vulnerable. Josie encourages Jorge to draw some boundaries to regain control.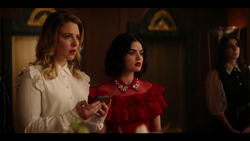 The following morning, Katy attends Gloria's book launch at Lacy's. She stands next to Amanda as Mrs. Lacy welcomes Gloria to the podium to read an excerpt from her book "Gloria's Golden Rules of Fashion." Guy is among those in the crowd. As she reads from the first chapter, the members of the audience suddenly receive notifications simultaneously; a piece from the Daily Hail that claims Gloria offers sexual favors to her A-list clients, using her sales girls as bait, including a worker who slept with a member for the royal family to secure Lacy's involvement in the royal wedding.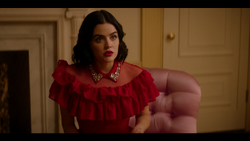 Katy and Gloria retreat to her office, where they question who could be responsible for leaking this information to the tabloids. She's worried that she'll never recover from this. Mrs. Lacy enters and asks to speak with Gloria privately.
Katy wonders why Amanda is smiling. She is merely happy that she was at the center of the entire debacle to see it unfold. As Gloria is escorted out, she reveals that it'll only be for a few days. Katy tries to stop her from leaving, but Gloria pleads with her to not make a scene. Gloria puts on her sunglasses and exits Lacy's, where she is bombarded by paparazzi.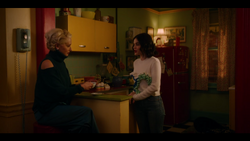 Katy informs Pepper how they "perp walked" Gloria out of Lacy's as if she'd stolen something. The article is filled with lies, and Katy is determined to find out who's behind it. In Pepper's experience, these types of articles are planted for a reason; someone wants to take Gloria down. Katy hears a knock at the door. It's Gloria, who asks that Katy write a letter explaining how Gloria has never coerced her girls into using sex as a tool in the workplace. Gloria has a close friend at the Times who has agreed to publish it. She'd do it herself but Lacy's lawyers have put a gag order on her. In the meantime, Katy assures Gloria that she'll suss out the leak.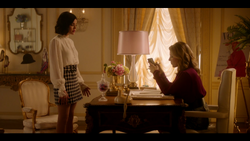 Katy enters Gloria's office to find Amanda at her desk. Gloria asked her to text her a to-do list. Katy asks Amanda if she knows who leaked the story to the Daily Hail, though Amanda doesn't seem too concerned with Gloria's fall from grace. As far as she's concerned, it was a much needed reality check. She's been running things in a backward, sexist way for years. However, Katy insists that Gloria isn't as bad as the article depicted. Amanda would beg to differ, reminding Katy how often Gloria pits women against each other, the two of them included. Gloria also only ever hires the prettiest women as personal shoppers. Lastly, Amanda reminds Katy of Allie, who Gloria kept assigning to a client who relentlessly pursued her. She felt uncomfortable, but Gloria only cared about making the sale, so Allie quit, which Katy was unaware of.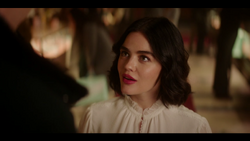 Guy asks what's been bothering Katy. She reveals that the girls are talking about how abusive Gloria is. While she's always been hard on them, she's never encouraged them to use sex to get ahead. Guy recalls the night at Studio 34, where Katy tracked him down in hopes of convincing him to join Lacy's. He wonders whose idea that was. Katy says it was her idea. Katy flirted with him. They even came close to kissing. Guy has friends on the Lacy's board, and they've told him that they down want "mad men" anymore. They want someone young, diverse, and inclusive. This article is their chance to push Gloria out.
The play reading at the Plant begins. Katy portrays Betty. Jorge portrays Veronica. Pepper portrays Cheryl. And Josie portrays herself.
Katy calls Gloria over and tells her that she couldn't write the letter. And instead, confronts Gloria as some of the claims in the article were true. She's not only pitted them against each other but has also criticized how they look. Some days, working for Gloria is beyond rewarding while other days, Katy feels disposable and unworthy. Katy reveals that not only does she feel this way but that it's the general consensus among the girls. Gloria loves Lacy's, and she loves the girls. She thinks of them as her daughters, and it's for that reason that she refuses to coddle them. She only wishes to see them succeed in a cut throat business. She's far from the biggest wolf they'll encounter on their path to become a designer. Katy explains that if Gloria wasn't so hard on people, they would have her back. Furthermore, she thinks Gloria is a good person.
Katy meets with Mrs. Lacy to discuss Gloria's position. Katy argues in her defense, but Mrs. Lacy's isn't interested in her input, stating that Gloria made a mistake by breaking her golden rule. She made it about herself instead of Lacy's and that's unforgivable. She refuses to allow Gloria to continue the propaganda that she is the rightful heir.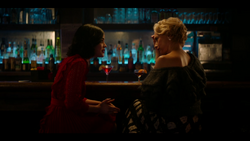 Katy meets with Gloria at Molly's Crisis and reports her suspicion of Mrs. Lacy. Katy suspects that she's the leak. She recalls how Guy told her that the board is looking to make an internal change so that the store could appeal to a new generation of customers. Mrs. Lacy is threatened by Gloria and wanted to remove her as a potential heir to her throne. It all adds up, except for the fact that Mrs. Lacy didn't know about Katy and Errol. Gloria admits that she told Mrs. Lacy in order to protect them all. She then reveals that she's already released a statement to the press; an apology as well as an official resignation. Katy wonders why Mrs. Lacy is so determined to see Gloria's downfall. Gloria shares with Katy what she describes as being a cautionary tale. Many years ago, she had an affair with one of her superiors. At the time, she thought she was in complete control. She had the man of her dreams as well as the job of her dream. However, Mrs. Lacy found out and it changed their relationship for the worse. With that, Gloria's affair came to an end. Even worse, every so often, she lies awake at night wondering if she's only so successful because of a man. And Gloria doesn't want the same for Katy, who assures Gloria that her relationship with Guy is strictly professional. When the time is right, Gloria promises Katy that she'll rise again. Until then, she asks Katy to collect her belongings from Lacy's.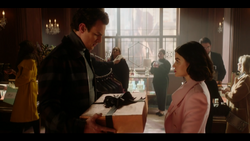 Katy returns Guy's dress. She admits that Guy was right about them almost kissing that night at Studio 34. And with everything going on with Gloria, she wants to keep their relationship professional. Guy is understanding of her terms and expects nothing less from his protege.
Amanda helps Katy pack up Gloria's belongings. While doing so, Katy finds a love letter addressed to Gloria from Leo Lacy, Mrs. Lacy's son. In that moment, Katy realizes it's the same L.L. that she found engraved on her mother's sewing machine.
Katy arrival at Molly's for Josie's performance. She approaches Jorge, who informs her that Bernardo broke up with him. Xandra steals Josie's spot on stage and performs her song with Xandra and the Kittycats. Katy, Pepper, Jorge, Kevin, and Alex watch in shock.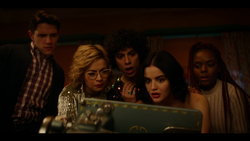 Katy, Josie, Pepper, Jorge, and Kevin return to the apartment. Katy offers to call KO and see if he knew anything about this, but Josie advises her against dragging him into this. Josie remarks that the good thing about cats is that they always land on their feet. Jorge also accuses Xandra of using auto tune. On another note, Kevin thanks Pepper for helping him expose Lester Darin. Kevin also asks about Bernardo. Jorge admits that he may have messed up the best relationship he's ever had. Kevin suggests that Jorge make a romantic gesture to show he cares. Josie recommends a simple letter. Katy then reveals that she plans to quit Lacy's and stand with Gloria. Lacy's doesn't feel the same that it once did. She then shares with them the love letter from Leo Lacy to Gloria. He said that he would always love her. The letter is signed L.L., just like Katy's sewing machine. She wonders if her mom and Gloria were dating the same person.
Just as Katy is about to give Mrs. Lacy's her letter of resignation, she appoints both Katy and Amanda as co-interim department heads.[13]
Meta Gala
Guy and Gal discuss his gown design for Casey Wilson to wear at the upcoming Meta Gala. Gal disapproves of the train, and Katy suggests trimming a foot off, to which Guy agrees.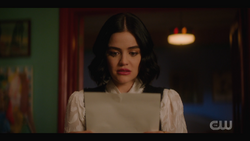 Katy returns home and shares with Pepper, Jorge, and Josie just how much she's enjoying her apprenticeship under Guy. It's been twelve days since Jorge and Bernardo broke up, and Jorge has yet to take off his FDNY sweatshirt. He asks Katy what helped her get over KO, however, Katy doesn't think she'll ever be over him. Katy then explains the reason she didn't quit Lacy's as planned is because Gloria asked her to stay after learning of her new position. Katy receives a letter from Parsons. Unfortunately, her application was denied. Tears run down Katy's face, but she insists that she's fine.
The following day, at Lacy's, Katy and Amanda help prepare for the Meta Gala. Amanda accuses Katy of shirking her responsibilities despite the fact that Mrs. Lacy left them both in charge. Katy gets a message from Guy, who is in need of her help with Casey Wilson's dress. Before leaving Amanda, Katy gives her a book titled "What Would Gloria Grandbilt Do?".
Casey tries on Guy's dress, however, she isn't impressed and asks if he can start over and make her a new dress. Katy suggest making alterations to the gown, but Gal assures Casey that Guy will come back with something new. Guy struggles to come up with a new design for Casey's Meta Gala gown. Rejection is the part of the job that Guy hates the most. Katy offers her assistance, which Guy appreciates, but he'd rather tend to the gown himself. Katy then gets a message from Amanda demanding her help.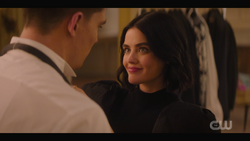 Pepper and Josie bring Katy something to eat while at work. Katy joins them and explains just how difficult work has been as they prepare for the Meta Gala. She takes her food and leaves. KO then unexpectedly shows up at Lacy's and asks if Katy can fit him for his suit for the Meta Gala. Amanda remarks that KO appears to be winning Katy's breakup before Katy kicks her out. He asks if she's heard back from Parsons yet, and Katy tells him that she didn't get in. Guy interrupts after Katy failed to answer his calls. He threatens to find someone who can replace her if she has better things to do. KO comes to her defense and encourages Guy to be more careful with his words. When he persists, KO gets upset. Upon realizing that KO is Katy's ex-boyfriend and suggesting that Katy is better without him, KO punches Guy in the face.
Katy calls Guy without answer. She hasn't seen him since yesterday when KO punched him. Gal calls as well, but he ignores her calls. Katy suggests that he may have already been spiraling when he got into with KO. Gal informs Katy that while KO may have punched Guy, the worst thing a person can do is bruise Guy's ego. His recent behavior is about his career and the Meta Gala. When he gets into a creative stump, he goes on an Irish pub crawl. Gal tasks Katy with stalling Casey until she find Guy.
Katy sits down with Casey, who questions Guy's whereabouts. She accuses Katy of giving her the run around, and with the Gala just over 24 hours away, Casey starts to contemplate whether she should look elsewhere for a gown. Katy convinces her to stay. She knows that the Meta Gala is important to Casey and that what she wears should be an expression of herself, so Katy asks Casey about herself. Casey's at the happiest point in her life. She spent so much of her life acting like everything was perfect, and she didn't want anyone to know if she was ever struggling. It was exhausting hiding those parts of herself that were broken, so one day, she stopped trying to pretend. Casey gives Guy 24 hours to present her with a new dress and tells Katy that she should never change who she is.
Katy calls every Irish pub in Manhattan but has no luck with finding Guy. The Meta Gala is tomorrow, and they don't have a dress for Casey Wilson. She asks Josie, Pepper, and Jorge for advice. They suggest she make Casey's dress, but Katy tried that before and it didn't end well, referring to herself as nothing more than a Parsons reject. Katy then asks herself what Gloria would do in this situation and storms out.
Katy meets with the seamstresses in the workshop and plans their alterations of Guy's dress. She wishes to expose the gown's imperfection. Francois arrives and after Jorge called and told him that Katy might be in need of assistance. When all is said and done, Guy's dress will appear totally new, and Francois wonders if Katy is sure this is what she wants.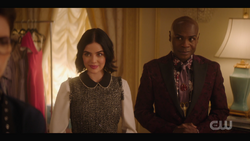 Katy and Francois presents Guy's altered dress to Gal. Francois explains that it was Katy's vision. Gal loves the design, but it only fixes one of their problems. Guy is still missing and he has to walk Casey down the carpet.
Amanda is exhausted from a stressful week preparing for the Meta Gala. Katy agrees to do the rest of the work moving forward. She then gets a call from Jorge revealing that Guy was just brought into the precinct for day drinking. Before leaving, Amanda gives Katy a dress to wear for the Meta Gala.
Katy finds Guy at the police precinct drunk and with a black eye. He refuses to go to the Meta Gala, especially after he didn't make Casey's dress. Katy reveals that she made alterations to his design. However, Guy insists that he doesn't need her to save him nor does he need a lecture from his apprentice. "This apprentice saved your ass", Katy replies. She would do anything to have what he has. She's dreamed since a young age of showing her work at the Meta Gala, but now, she'll never make it there because she couldn't even get into Parsons. She envies him and his position and can't believe that he can so willingly throw it away.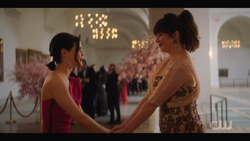 Katy arrives at the Meta Gala. Casey is thrilled with her dress, much to Katy and Gal's pleasure. Casey asks about Guy, who has still not shown up, wondering if he's upset with her for some reason. Casey can stall no longer. Guy hasn't arrive, and she must walk the carpet. Gal assures her that her brother would want this, with or without him. Katy is tasked with helping Casey with her train as she walks the carpet. Katy is certain they'll love the dress and see the real Casey. Guy arrives just in time to walk Casey down the carpet. KO shows up in the tuxedo Katy fitted him for. He apologizes for punching Guy. Katy forgives KO and warns him against ever doing that again. He looks to Casey's dress and can instantly tell that it's Katy's work. Xandra joins them, and she and KO walk down the carpet.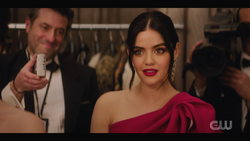 Guy's dress is a standout for the Mets Gala. He reveals to an interviewer that making Casey's dress takes weeks of intense labor, which he couldn't do without his sister, Gal or his team of seamstresses. Most importantly, he singles out Katy and refers to her as the unsung hero who will be a household name one day.
Amanda compliments Katy on a job well done with Casey Wilson's dress. Katy wonders why they've always been so competitive when they want different things. Amanda is destined to be the next Gloria while Katy has other aspirations. Katy wonders if they could ever be friends, and Amanda tells Katy not to get carried away. She asks Katy to join her at the after party, but Katy chooses to stay behind and clean up.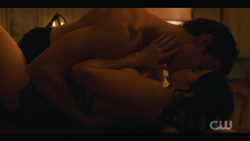 Guy finds Katy cleaning up in the office and offers to help. He realized that Katy is the only person he wants to celebrate with. He apologizes for putting her in the position that he did. She tells Guy that the next time he breaks, she can't be the one to pull him back. Guy reveals that much like Katy, he didn't get into Parsons either. He questions what it'll take for her to stop doubting herself. She's smart, passionate and fearless. She has a way of looking at a person and bringing out the best of them. Guy is certain that she has an amazing career ahead of her, and he only hopes he'll be there to see it. He and Katy proceed to have sex in Gloria's old office.[14]
Confronting Guy for Plagiarism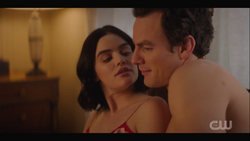 Katy spends the night with Guy at the atelier. He awakens to find Katy working on a new design. They start kissing, but she has to prepare for work, and Guy has to get ready for Fashion Week. Thanks to Katy, he met the deadline with time to spare. With that being said, she invites him to opening night at the Pepper Plant.
Josie returns to the apartment, where Katy and Jorge wait for her so that they can have their "roommate meeting". Jorge reveals that his parents have been under charging them for years. Subsequently, they're behind on their mortgage payments and the bank is threatening to foreclose. Jorge refuses to be the reason for them losing the building. He also doesn't want to make them feel like he owes them anything. Jorge needs more money fast, but he can't even take on more gigs as Ginger because Molly's Crisis is now doing go-go boys nights. Pepper claims that she would offer to help but her money is tied up in the Pepper Plant. Katy offers to get him a job at Lacy's.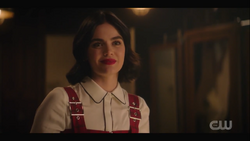 Katy returns to the atelier in search of her sketchbook. She tries to open Guy's closet, but it's locked. Ika tells Katy that the closet is off limits to everyone but Guy. Ika jokes that it's where he hides the body of his critics. Guy enters and asks Katy to stick around as he wants her opinion on who he should seat next to Mrs. Lacy at his show. Guy finds Katy's sketchbook under a stack of drawings and hands it to her, nearly exposing his relationship with Katy to Ika in the process.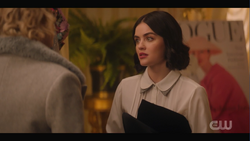 Following the Meta Gala, Katy and Amanda must assure that every dress, purse, and piece of jewelry is returned to its rightful owner, especially the 1001 Sunset diamond purse. Amanda warns one of the girls against touching the diamond purse after watching her scarf down pizza for lunch. Each item requires glove handling. Pepper arrives and Katy helps her find a dress for the grand opening of the Pepper Plant. Amanda wonders if she'll actually pay for the dress this time, informing Katy that this is the third time in one month Pepper has been though. Katy presents Pepper with a bright yellow dress. She then gets a message from Guy, asking for her help. So, Katy leaves Pepper to try the dress on. Pepper then gets a text from Alex, demanding his money. Looking to reimburse him, Pepper steals the 1001 diamond purse sitting on the table.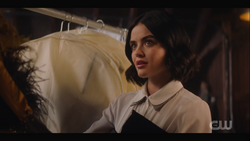 Gal comments that this is the calmest she's ever seen Guy during Fashion Week and it's all because of Katy. Gal is completely aware that Katy and Guy are hooking up. Katy assures her that she'd never allow her relationship with Guy to get in the way of her work. Katy then notices that the dress she was sketching the day before is now a part of Guy's collection. He designed it without her permission.
Amanda reveals to Katy and the girls that the 1001 Sunset diamond purse is missing. She demands to know where it is.
Katy finds Francois in hopes that he took the diamond purse, but he didn't. He asks Katy to stay, but she's not in the mood. Katy explains that she was working on a new design in her sketchbook, which she knows that Guy saw, and she's saw his latest dress and discovered that he stole her design. Francois recommends talking to Guy, but Katy fears that she'll lose her apprenticeship for accusing Guy of stealing.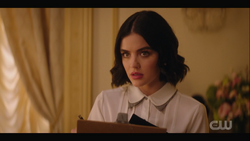 Amanda demands a detailed list of everyone who's entered the store in the last 24 hours. She suddenly recalls Pepper stopping by and accuses her of stealing it. Katy insists that Pepper isn't a thief and has shopped at Lacy's for years. Amanda claims to be able to spot a fake a mile away, recalling the time that Pepper made a return of clothes worth $20,000 in cash from a card not belonging to her. Amanda questions where Pepper's money comes from. Katy replies that she has family in Hong Kong who supports her. Amanda then questions where Pepper lives. She's listed as staying at the Palace Hotel, however, not only is she not staying there, she's no longer welcome. Katy is certain that Pepper didn't take the purse and then calls her, but Pepper doesn't answer.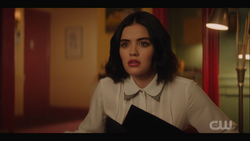 Katy calls Pepper, but she doesn't answer. Katy fears that Pepper has been lying to them about everything. Josie worries that Pepper might be in trouble. She reveals that not only is Pepper married but that Alex discovered that Pepper was skimming from Jorge's Kiss of the Spider Woman production, approximately 90% of the investment. Katy wonders why they're just now learning of this. Josie explains that the last time she came for Pepper, they all ganged up on her, so she didn't say anything because Pepper asked her not to. Josie goes on to say that during the polar vortex, she discovered that Pepper got kicked out of the Palace Hotel. Josie learned from Raj that Pepper has been living at the Plant. Jorge recalls Pepper telling him that there wasn't enough money in the production to pay them. Katy comes to Pepper's defense, assuring them that she's not a thief, however, Jorge does a google search of Pepper only to turn up a mugshot of her, using the alias Rosemary Woodhouse.
Pepper arrives at the apartment, where she is confronted by Katy, Josie, and Jorge. He shows her the mugshot he found online. Pepper claims that was merely the result of a drunk and disorderly at a bar. Rosemary is simply a fake ID she used in London. Jorge then confronts her on embezzling the money from Kiss of the Spider Woman into the Pepper Plant. Pepper looks to Josie and accuses her of lying. Katy then proceeds to confront Pepper, demanding that she be honest with them. Pepper simply claims that she's an entrepreneur and everything she's done was to benefit them as well as the Pepper Plant. Katy asks if she stole the diamond purse. Pepper admits that she did, however, she no longer has it in her possession. Katy worries that she'll lose her job, but Pepper reassures her that Lacy's has insurance. Katy reminds Pepper that unlike her, she has a real job and people to answer to. Pepper questions why Josie is doing this to her. Josie explains that she's simply trying to help, but Pepper feels as though she's being attacked. She promises Katy to get her purse back and tells Josie to tell Alex that she'll get him his money.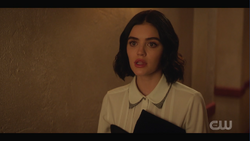 Katy follows Pepper into the hallway and demands the truth. The truth is, Pepper doesn't know who her parents are. She was adopted. Her adoptive father works as a doorman at the Georgia Hotel, where he's worked his entire life. Pepper explains that the only way for a person like her to make it in the world is for her to become somebody. So, she became someone important, who could get them into parties and introduce them to important people. Katy surmises that Pepper stole the purse to pay off Alex. Pepper promises to get the purse back nevertheless. While Katy is sorry to hear about Pepper's story, they all come from hard walks of life. Josie's working two jobs, 80-hours a week, Jorge is go-go dancing to help out his family, and Katy has worked overtime every single day since her mom died just trying to survive in the city, all the while Pepper is stealing from them. Pepper tells Katy that she plans to pay them all back and that she loves them, but her actions say otherwise.
Katy retreats into the apartment, where Jorge and Josie comfort her. She suddenly grabs her jacket. It appears this confrontation with Pepper has made her realize that she's done allowing people to take advantage of her. She intends to confront Guy for stealing her design.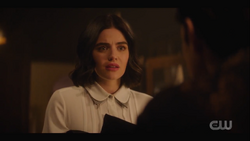 Katy confronts Guy at Lacy's. Guy explains that this is how fashion works. Their relationship aside, Katy needs to know that she can trust Guy with her ideas. Guy explains that long before he could even call himself a designer, many of his ideas became Karloff's. He was flattered that someone that high up would use his design and would thank him for making the ideas better. Katy reminds Guy that she made more than one of his dresses better, but she also made some worst. Guy recalls once being in Katy's spot and how he thought every idea was precious, but nothing is precious, and Katy will have a million more ideas. He tells Katy that using her designs and being inspired only confirms that she's a part of his team. He tells Katy that he was simply inspired by her design and asks her to trust him. He then makes a run to the deli.
Katy tries to unlock Guy's closet. She eventually manages to gain access after finding the master set of keys Gloria keeps in her desk. Inside Guy's closet, Katy finds the sketchbooks of Guy's former apprentices. She realizes that Guy stole their ideas and used it for his collection as well.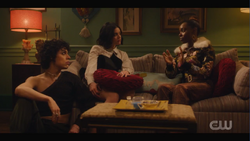 Jorge reveals to Katy and Josie that they've got three months to find a new place to live. Jorge then tells them that it was Pepper who paid off his family's overdue mortgage payments. Josie presumes that instead of paying Alex the money back, she gave it to Jorge. She chose friendship over the Plant. Katy still doesn't forgive Pepper as she's yet to return the purse, and she's been lying to them. Admittedly, Pepper lied, but Josie reminds them that Pepper is always there for them when they need her. It's going to take some time before they can forgive her, but Josie at least wants to be there for the opening of the Pepper Plant.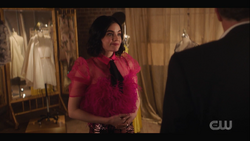 Katy, Jorge, and Josie arrive. Pepper takes them on a tour of the Pepper Plant, starting with the stage, which as promised, belongs to the Pussycats, who have been guaranteed a spot as house band. Then, Pepper takes Jorge to the area where his performance as the Spider Woman is projected onto the wall for all those in attendance to see. Lastly, Pepper has a fashion designer portion sectioned off specifically for Katy; an area filled with her own designs. She asks if Katy can ever forgive her. Katy doesn't know if she can ever trust Pepper again. Understandably, it's going to take some time, so Pepper intends to be honest with them moving forward. She introduces Katy to her father, Gary. He's there supporting Pepper even though she's hid him away for years, which she's ashamed of. Gary gives Katy a big hug after hearing so much about her. Pepper then goes to take her father to meet Josie and Jorge.
KO arrives at the Plant and tells Katy how proud of her he is. He notices her tearing up and asks what's wrong. He tells Katy to cheer up as everything in her life is seemingly going her away. However, Katy tells KO that Guy stole one of her designs for his collection, and as it turns out, he's done it with his other apprentices as well. People keep telling Katy that's how fashion works, but while standing there, looking at all her designs around her, she no longer thinks that she can allow Guy to take her designs. KO gives Katy a hug and advises her to confront Guy.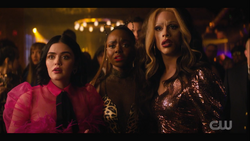 Amanda arrives just as Josie and the Pussycats perform. Katy tries to explain to her the situation with the diamond purse, but Amanda tells her not to worry about it. Amanda spoke to HR and its all been handled. Besides, with Lacy's being sold off, it won't matter anyways. Amanda reveals that whoever bought Lacy's is shuttering the store. Guy arrives and tries to hug Katy, but she pushes him away. Katy confronts him for stealing from all his last apprentices. Before he can explain himself, three officers enter the Pepper Plant and place Pepper in handcuffs. Katy, Jorge, Josie, the Pussycats, Raj, Alex, and Gary watch helplessly as Pepper is taken away.[15]
The Closing of Lacy's
Katy, Amanda, and the girls are called in for a meeting. Mrs. Lacy explains that Lacy's will be closing at the end of the month, as they are being bought out by Caboture. Mr. Cabot informs the girls that Caboture will offer personal shopping positions through their web portal.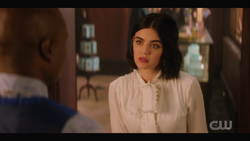 Katy assures Francois that he'll find another job, however, he isn't so sure. He's designed Lacy's windows for 30 years and fears that no one will want him. He then informs Katy that he's waiting on three fashion pieces from Guy, but Katy hasn't spoken to him since last night when she accused him of stealing her design as well as the designs of his former apprentices. Francois suggests that Katy at least give Guy a chance to explain himself.
Guy brings Katy three designs for the front window. He admits to stealing from Katy and the apprentices before her. He willfully risked the only things that mattered to him; his name and Katy. He asks Katy to be his lead designer at the House of LaMontagne. It'll undoubtedly launch her as a designer. He assures Katy that he can be a better designer and a better man if she's at his side. He asks that she at least consider it.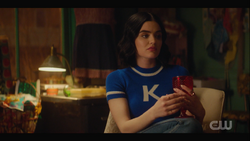 Katy reveals to Jorge and Josie that Guy offered her the role of lead designer at House of LaMontagne. As someone who had her art stolen, Josie advises Katy against it. However, Katy is still unsure given that Lacy's is closing. Josie then tells Jorge and Katy that Alex is relapsing. It's moments like this that sometimes she wonders where she would be if she never met Alex. She'd likely be at the bottom, but at least her voice would belong to her. Katy sympathizes, explaining that she often wonders what her life would be like if she accepted KO's proposal. On the same note, Josie reveals that Xandra and KO broke up. Katy asks about Pepper. She isn't quite ready to forgive her.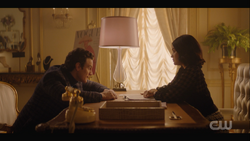 Katy accepts Guy's offer to be lead designer at the House of LaMontagne under the condition that she gets full benefits, an annual bonus, and her own line in three years. Guy agrees to her demands, reasoning that he can't put a price tag on her talent. Unbeknownst to Katy and Guy, KO watches from the doorway. Admittedly, he has a long way to go, but Guy will do whatever it takes to earn Katy's trust back. He claims that he loves her, however, Katy doesn't say it back. Instead, she tells him that he has to apologize to his past apprentices and make it right, but he refuses. Before leaving, he asks Katy not to wear any dresses with big, read hearts.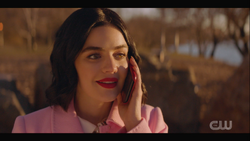 Katy reveals to Amanda that this will be her last week at Lacy's after receiving a job opportunity as lead designer at the House of LaMontagne. However, Katy still worries that Guy is a bad guy. His past apprentices quit fashion because of him. Amanda tells Katy to get over her morals and to clear out her stuff before she leaves. Katy realizes that Amanda is sad and tells her it's okay to be upset. Lacy's has taken good care of them. Katy then starts to sing, as she packs her belongings and leaves Lacy's. She takes the elevator down to the lobby, where she remembers the times spent with her mother, Katherine. Katy then returns to her apartment, only to then go on a stroll around town, passing by the lighthouse. She calls Gloria to schedule a meeting.
Katy and Gloria meet at a diner, where Katy explains that Jorge is fighting to save his building, and she's hoping that they can do the same with Lacy's. Katy having second thoughts about accepting Guy's offer because she's doesn't want to make the same mistakes as her mom, who sacrificed her dreams because a man got in the way. Also, Katy couldn't live with herself knowing that Guy stole so many of his designs from past apprentices, so she called him and turned down his offer. Gloria is pleased to hear that history isn't repeating itself and agrees to help Katy save Lacy's. Katy has a buyer in mind, someone with even more money than Mr. Cabot.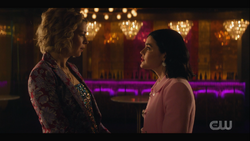 Katy arrives at the Plant and tells her Pepper not to worry about getting the diamond purse back. Mrs. Lacy is too concerned with selling the store to Mr. Cabot to even notice that it's missing. Pepper apologizes for everything and promises that she'll be doing things differently moving forward. While Katy can forgive Pepper for the lies, the fact that she's been hiding her father is what troubles Katy the most. Katy tells Pepper that everything she thinks that she needs to hide from them are what truly makes her special. Katy then tells Pepper about her plan to save Lacy's and how Guy offered her a job as his lead designer, which she turned down. She wants to get out from under Guy and needs Pepper's help, reminding her that it is after all fashion week.
Katy calls Guy's old apprentices and offers them the opportunity to finally receive the recognition they deserve.
The city gathers for the Miss Subway coronation at Riverside Park. Katy, Pepper, Josie, Xandra, Bernardo, Buzz, Francois, Luis, and Luisa attend. Deveraux crowns Ginger as the next Miss Subway. Washington Heights is the last place where they can afford to live. Ginger asks that they all sign the petition to stop the developers. Ginger, Luisa, VeeVee Humble, and Deveraux proceed to dance and sing.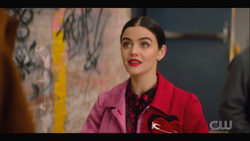 Katy hosts a fashion show at the Pepper Plant for all of Guy's former apprentices. Pepper informs her that Guy's downstairs. Katy meets Guy outside and tells him how she's sponsoring a fashion show for the designers that Guy stole from and blacklisted from the industry. Katy assures Guy that his name won't be mentioned. She knows that going up against him could mean she'll never work again in fashion but it's a risk she's willing to take.
Gloria introduces Katy to Francesca, the dean of Parsons. Out on that runway, Francesca not only saw Katy's talent, she saw a designer who lifts up other designers. So, she offers Katy a spot in this year's incoming class at Parsons. Pepper, Jorge, and Josie congratulate Katy. While this is the best news she's received all year, all she wants to do is share it with KO. Katy now realizes that she wants him back. Raj interjects and informs Katy that she'll have to be quick because he's moving to Philly after accepting the offer to train at Joe Frazier's gym.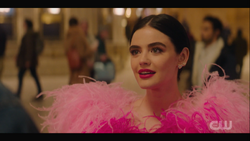 Katy rushes to the Grand Central train station and finds KO in the lobby. She wonders why he didn't tell her that he was leaving. KO explains that Katy was the first person he wanted to know. He came to Lacy's to tell her, but she was with Guy. Katy assures KO that she's not with Guy. She then informs KO that she got into Parsons. He congratulates her. Just as it seems she is about to tell him how she really feels, Katy tells KO to chase his dreams in Philly. He gives Katy a hug, and they part ways.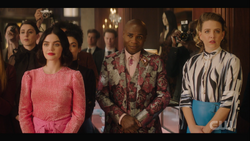 Mrs. Lacy holds a press conference to announce that Lacy's is closing down at the end of the month. Katy, Francois, and Amanda are in attendance. Prince Errol arrives with Gloria and reveals that he's the new owner of Lacy's and that it'll remain open. As of yesterday, he's stepped down from the royal family. He's financially independent, and he beat out Mr. Cabot's offer. Effective immediately, Gloria is reinstated as head of personal shopping. Mrs. Lacy argues that Lacy's is nothing without a Lacy. Errol agrees, which is why he contacted her son, Leo Lacy, who has agreed to replace Mrs. Lacy. She storms off in a fit of rage.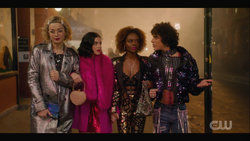 Pepper, Katy, Josie, and Jorge walk down the street of New York as Katy explains how she couldn't tell KO how she truly felt because she didn't want him to give up her dream because of her. Josie proposes that they all vow to stay single for at least a year so that they can pursue their dreams.
Katy returns to Lacy's the following day. Errol joins her on the elevator up. Katy enters Gloria's office and meets Leo Lacy. She introduces herself. He reacts to learning her name. Katy then tells him that she thinks he might be her father.[16]
Physical Appearance
Katy has a pale ivory complexion complimented her with round hazel eyes and plump lips. She has a petite frame and stands approximately at 5'2 ft. She often wears pink and red clothing, sometimes covered in hearts.
Personality
Katy is kind and sweet, often willing to help those even if it means stretching herself too thin. Though, she often puts too much pressure on her self, carrying the weight of the world to ensure her friends are safe. She's also protective of her loved ones and accepting of their flaws.
Relationships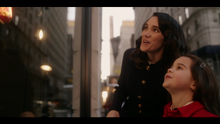 Katherine is Katy's mother, who died several years ago. She was loving and nurturing, forced to raise Katy on her own. Katy often refers to her mother as having been her best friend. Every weekend, they would go to Lacy's Department Store and stare at the front window for hours as they couldn't afford anything inside. They would get inspired by their favorite designers and make their own clothing. As Katy got older, their shared love for fashion grew. Kathrine and Katy even designed the dress for Veronica's Quinceañera.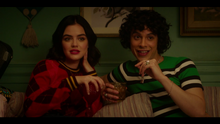 Jorge is one of Katy's closest friends from her childhood. They met during the 3rd grade and have been best friends ever since. For a period of time, he even stayed with her after being thrown out by his parents after he revealed to them that he was gay. They got older and their friendship continued. As they reached adulthood, they moved into an apartment together in Jorge's parents' building. Katy has been very supportive of Jorge's lifestyle and often designs his dresses for his drag shows.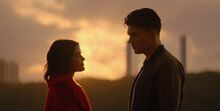 Katy and KO are childhood lovers. They met at 16 and dated well into adulthood. She described him as her knight in shining armor, often coming to her rescue. Ever since they started dating, KO had always been there for Katy, such as when he installed an AC unit in her bedroom on the hottest day of the summer and when he carried her for 50 blocks. He also comforted Katy when her mom was sick, and after Katy's mom passed away, KO's family became her family. She can't imagine her life without him. After 10 years together, KO proposed to Katy. She initially accepted but had doubts about marrying KO. She felt as if they were rushing into marriage and suggested that they simply move in together first. Eventually, this put a strain on their relationship and they broke up, though they remained friends.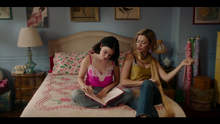 Unlike with Jorge and KO, Katy met Pepper not too long ago, though they became close friends during that time. However, Katy didn't know much about Pepper, and what she did know of Pepper, most of it was a lie in order for Pepper to maintain her high profile socialite image. Upon learning the truth about Pepper, that she wasn't wealthy or well traveled, and that she lied about everything, Katy began to questions their friendship. More so after she learned that Pepper's dad was alive and that she hid him away when Katy would do anything to know her own father. However, Katy eventually came to forgive Pepper.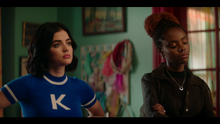 Katy met Josie through her friendship with Veronica. She was very welcoming to Josie, and they became fast friends upon her moving in with Katy and Jorge. Katy even posed as Josie's manager upon her getting approached by Alex, who worked for Cabot Entertainment and wanted to meet with Josie to talk about her career. Even in just becoming acquainted with Josie, Katy had become protective of her. And though, they've had disagreements, their bond has only continued to grow.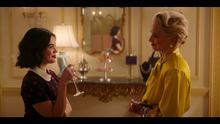 Gloria is Katy's mentor, who she looks up to and has aspirations to become one day. Gloria sees Katy's potential and wishes to see her thrive. Their relationship has evolved since Katy first began working at Lacy's, where Gloria initially saw Katy as nothing more than another girl. Since then, Katy has proven her value and talent, resulting in her earning a certain level of respect from Gloria. Katy even helped Gloria gets reinstated as head of personal shopping at Lacy's after she was let go.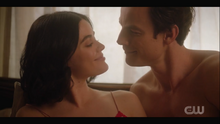 Katy's first encounter with Guy ended with her mistaking him for another designer, which was all he needed to make his final decision to not sell from Lacy's. Looking to secure her job, Katy continued to pursue Guy in hopes that he would settle with Lacy's. Katy was persistent, though he remained unconvinced. Until finally, Katy was truthful with him. Katy told him that his work was overrated. Guy was impressed with her honesty and asked what else she really thought about him. After a bit of persuasion, Katy managed to get Guy to agree to come to Lacy's. This resulted in her coming to work for him as his assistant in his department, which led to a brief romantic relationship, which ended after Katy learned that he had stole all of his former assistants' work.
Appearances
Riverdale
Katy Keene
Season 1
Trivia
Katy Keene character was created by Bill Woggon and published by Archie Comics in 1945.

She was introduced in Wilbur Comics #5 that summer.

Katy is the second character from Katy Keene to be mentioned in Riverdale.
 Gallery
See also: Category:Images of Katy Keene
| | |
| --- | --- |
| | Katy Keene's Gallery Can Be Found Here. The Gallery May Consist of Promotional Images, Screencaps, and Video Clips Released By Network Officials |
References
Community content is available under
CC-BY-SA
unless otherwise noted.