Jorge Lopez is a main character on The CW's Katy Keene. He is portrayed by Jonny Beauchamp.
Character Description
By day, Jorge works at his family's bodega. By night, his drag alter ego Ginger bartends and performs at a local club. Jorge always has aspired to be a Broadway performer, but he's now looking to take his drag career to the next level.[1]
Early Life
Jorge Lopez came out at as a teenager about his sexuality.
Throughout Katy Keene
Jorge meets his new roommate, Josie McCoy as he is rushing out of his apartment late for an audition. Later that night, as Ginger, she performs Material Girls at the nightclub.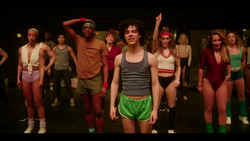 The next morning, he and Katy are rushing to get ready as they are both running late for different things. At the audition, he is performing a group dance routine for Mannequin the musical. Jorge is disappointed when the director tells him that he didn't make the cut. That night, he briefly tells his friends how he thinks he's too gay for Broadway. Along with Katy and Pepper, he is shocked when Josie reveals that she has a meeting with Alexander Cabot.
The next night, he is listening to Katy talking about not getting the personal shopper position and Gloria. He tells her that he thinks she should quit, but she disagrees. He adds to the bad news by saying he wants to give up Broadway. Katy encourages him to audition as Ginger to show the director a side of him he hasn't seen before. Taking her advice, Ginger auditions again for the musical. However, the director tells him that remembers from the other day and hasn't changed his minds. Jorge tells him off and vows that he will come to know the name Ginger Lopez.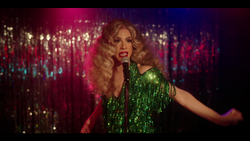 Later on at night, Ginger and the others sneak into Lacy's. They try on clothes and jewelry until they hear someone coming. She, Pepper, and Josie run away as Katy stays. In the morning, he is there to watch the reveal of the display window that Katy helped create. When he overhears Katy being offered a job, he is excited and encourages her to take it. That night, as Ginger, she introduces Josie up on stage. She dances with Katy and Pepper as Josie sings.[2]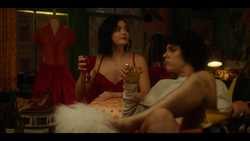 Katy reveals to Josie, Pepper, and Jorge how KO's proposal was interrupted by who some are calling the Alphabet City Bandit. Pepper asks to write about it in her weekly column at the Daily Hail. Jorge wonders if Katy was going to say yes to KO's proposal. Katy isn't sure what her answer would've been. She couldn't bring herself to say yes. Josie asks if Katy loves KO, which she replies that she and KO have been together since high school, neglecting to answer the question asked. Jorge advises Katy to lock KO down while she has the chance, but Josie sees the ring getting stolen as fate. It buys Katy some time to do some soul searching to determine if KO is the one.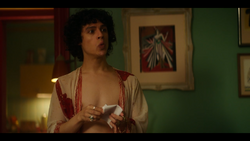 Josie gives Jorge her share of the rent. However, she's short. Jorge explains that they each pay $1000, though Josie was under the impression that it was to be split three ways between herself, Jorge, and Katie. Josie has her first shift at Plunkin' Donuts today and plans to ask for more hours so that she may acquire the rest. Jorge reminds Josie she has to hustle to stay afloat. It's why he works at the bar and bodega between auditions.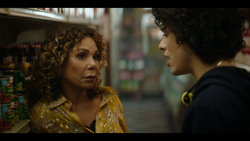 At Lopez Bodega, Luisa Lopez, Jorge's mother, brings him an open call for Cats, the musical. However, Jorge plans to take a break from Broadway. He's tired of being told no. However, Luisa explains that being told no is part of the job. She was told no numerous times when she auditioned to be a Rockette. She believes that he's wasting time at the bar, when instead he should be taking classes at the Broadway Dance Center. Jorge concedes and agrees to go to the audition.
Jorge auditions for Cats. However, his performance is cut short after the casting directors discover his violent outburst during his Mannequin audition with the director, who happens to be a friend of the director for Cats. And so, he dismisses Jorge. Jorge returns home to discover from his agent that he's been blacklisted. Blowing off a director has consequences. His agent is considering dropping him, but he gives Jorge one last chance with an audition for the historical rap musical, Jefferson. His agent offers to submit him so long as he promises no more antics and to tone it down.
Jorge auditions for the Jefferson musical, having completely changed the look and even lowering the base in his voice.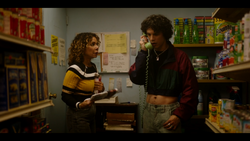 While working at the bodega, Jorge gets a call from the director of the Jefferson musical. He got the part. However, they don't want him for the Broadway. They want Jorge for the tour, it's non-equity. Luisa assures him that he'll make it through. She was on the road with Starlight Express before Jorge was born for over a year. It was in fact the best year of her life. She insists that this is worth celebrating and hugs her son.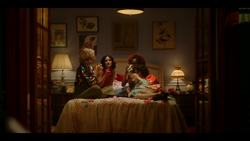 Pepper celebrates with Katy, Josie, and Jorge after finally finding a space for The Pepper Plant. A place where creatives like themselves can congregate to make magic. Josie then tells them how Chubby's Record Shop is closing next week. What it need is someone who can save it, Pepper comments. Josie does know Alexander but that would mean getting entangled with the Cabots. She remarks those siblings are more drama that Cheryl and Jason Blossom. If it all goes to hell, at least Josie has them to comfort her. Jorge then reveals that he's leaving New York. He booked the role for Jefferson. Perhaps after a year or two, it could lead to a role in the Broadway production. And the bus leaves tomorrow. Pepper takes this opportunity to ask if she can sublet his room while he's gone, claiming that a pipe burst in her room at The Palace. Jorge gives her the room and invites them to attend Ginger's farewell performance at Molly's Crisis.
While getting prepared for his final show as Ginger Lopez at Molly's Crisis, Damsel Washington questions why he's leaving. Jorge reveals that he booked a gig with Jefferson. And he leaves tomorrow. Hedda Lettuce asks if she can have his Beyoncé "Crazy in Love" wig, but Jorge/Ginger tells them that he's taking all the wigs with him. Damsel warns Jorge that Ginger won't be welcome in the Midwest, meaning Ginger is going back into the closet, as Hedda puts it.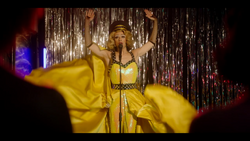 Pepper, Katy, Josie, and Alexander watch as Jorge/Ginger performs on the stage. Jorge/Ginger becomes overwhelmed with emotion and runs backstage. Katy, Josie, and Pepper follow him into the dressing room. He explains that while performing, he looked out into the crowd at Katy and became undone. Josie surmises this is about Broadway. Jorge/Ginger explains that he's wanted to be on Broadway since he was a kid. If he's going to give up his life in New York, it has to be worth it. He feels as if he's running away and taking the easy way out, which isn't him nor Ginger. So, Jorge decides to stay. He recalls giving Pepper his room, but she tells him not to worry about it. She'll simply check into her room at the Waldorf. KO arrives and tells Katy that they caught the Alphabet City Bandit. He plans to go to the station to see if they found the ring. However, KO will have to go alone as Katy promised Francois she would work the overnight shift and help him finish the window.
Outside the bodega, Jorge tells his mother that he's not leaving, causing Luisa to question what's holding him in New York. Jorge explains everything he wants to accomplish is in New York. His heart is telling him that he has to stay. He asks his mother to trust him. "Of course I trust you," Luisa replies.[3]
Jorge is waking up in his bed next to Buzz. He mentions how his friends think he is a myth, but his boyfriend promises that they will all have breakfast together some day. Later, Jorge tells Katy that KO is in the bathroom, and goes to take a shower once KO comes out.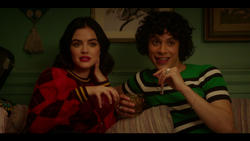 That night, he is hanging out with Josie, Katy, and Pepper. He is happy to hear about Alexander possibly buying Josie a gift. Katy talks about how she knows Buzz was in their apartment this morning. She goes on how they've been together for long time with just a sexual relationship. Pepper tells him that needs to end things with Buzz. However, Jorge says that although Buzz isn't his boyfriend yet, he's waiting until Buzz can come out at his job. Josie says that she sees smoke from the kitchen. He runs to the kitchen to get his wigs out of the over, which burns his hand in the process.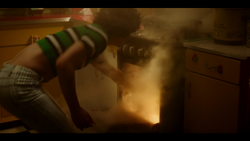 As his hands is getting bandaged, he flirts with the firefighter. Luisa and Luis come in wondering what is happening in their apartment. He explains how the fire wasn't a big deal. He mentions to his father about how KO has moved in now, but is interrupted by his father asking how many people live there. Luis then says pretty soon Pepper will live there as well. After his parents leave, he talks to Katy about KO living with them. He tells her how she didn't even ask them, but she tells him that it is only temporary. This causes Katy to have KO sit with them and chat. Jorge gets bored once KO starts talking about one of the firefighters conversation with him.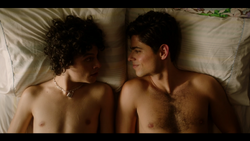 On Valentine's day, he is in bed with Buzz after having sex. He mentions what today is and Buzz asks him to be his Valentine. Jorge tells him that he's performing tonight as Ginger, which Buzz has no problems with. He asks if Buzz would come, but he says no. Jorge tells him that he knows what its like to be in the closet as his parents still do not know about Ginger. He once again for Buzz to come at 11pm to see him perform, which Buzz agrees to.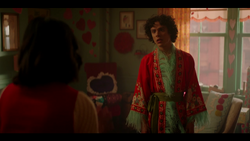 Katy and Jorge both scurry throughout the apartment in search of missing items. Katy says that KO cleaned up before leaving for his match. Jorge explains that he has disturbed a fragile ecosystem. Katy reminds him that KO staying with them is only temporary, just until she figures out what's next for them. Unfortunately, the apartment is too small for all of them and Katy's relationship problems. Katy promises to make it up to Jorge, starting with an outfit she made for Jorge.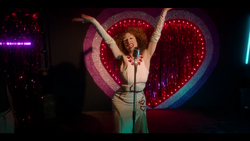 Ginger, Katy, Josie, and Pepper meet at Molly's Crisis, where Ginger is upset that Buzz has not shown up yet.  She performs Unkbreak my Heart as her friends enjoy her performance. That night, he opens the door to Buzz trying to give him chocolate. He tells Buzz how upset he is at him not attending his performance. He tells Buzz to go home. Jorge tells Katy, Pepper, and Josie that he is back single.
The next night, as Ginger, she and the others go to the firefighter's station to give them all deli sandwiches. She sees Bernando from the other night and tells him how this is a "thank you" for putting out the fire the other night. She asks him if he wants to get drinks sometimes which he agrees to. She smiles at Katy as she is getting his number.[4]
Physical Appearance
Personality
Relationships
Appearances
Riverdale
Season 4
Katy Keene
Season 1
Trivia
His parents own the apartment building he, Josie, and Katy live in. They also own the Bodega restaurant downstairs.
He came out at the age of 14. 
Gallery
See also: Category:Images of Jorge Lopez


Jorge Lopez's Gallery Can Be Found Here. The Gallery May Consist of Promotional Images, Screencaps, and Video Clips Released By Network Officials
References
Community content is available under
CC-BY-SA
unless otherwise noted.