She-Hulk Trailer Dropped - The Loop
Play Sound
"
I don't know what kind of a ship Waldo Weatherbee was running around here, but things are going to be different around here. We'll have order. Discipline. Consequences.
"
Holden Honey is a recurring character on The CW's Riverdale. He is portrayed by Kerr Smith.
Mr. Honey was hired as principal of Riverdale High School in Waldo Weatherbee's absence.
Character Description
A bit of a hard-ass who takes a harder line with the students this year, especially with the seniors. [1]
Early Life
Throughout Riverdale
Nothing sweet about Mr. Honey
Mr. Honey replaces Waldo Weatherbee as principal of Riverdale High School in time for Archie and the Gang's senior year. The first day of school Archie, Veronica, Betty and Jughead arrive late and Mr. Honey reprimends them. He has no idea how Weatherbee ran the school, but Mr. Honey takes care to warn the students that there will be a lot of discipline with him.
Later, Mr. Honey called Jughead to his office. Mr. Chipping, a teacher from the prestigious Stonewall Prep was impressed by a short story written by Jughead for a writing contest and offered him a place at the school. Mr. Honey says it's a great opportunity, but the boy declines the offer.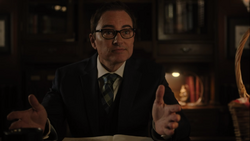 Cheryl Blossom and Toni Topaz welcome Mr. Honey by bringing a basket with groceries. The Principal thanks them and takes the opportunity to inform the two girls that the Back to School Ball is canceled. Cheryl is very outraged by this, but Mr. Honey is firm in his decision given the past murders committed in previous student dances and doesn't want to hear any replies. Not even when Cheryl justifies partying as a way to heal from traumatic events as happened to her with her brother Jason's death.
Mr. Honey is concerned by recent articles appeared on Rumordale about Veronica Lodge's alleged criminal activities. An inside source that worked at the speakeasy is claiming that Veronica is responsible for her father's crimes. Veronica denies any involvement. Mr. Honey advises that Veronica take a sabbatical from school until her personal matters are sorted, but she plans to do no such thing.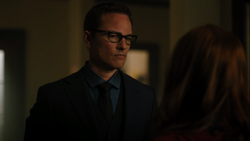 In the school corridor, Cheryl and her River Vixens are giving flyers to her party, moved now at Thistlehouse. Mr. Honey comes face to face with Cheryl. Cheryl states that even though he is Mr. Honey, she is the Queen Bee and he has no power over her.
Later that night, Mr. Honey calls the police and complains about the noise, ending the party at Cheryl's House.
Next day at school, Mr. Honey finds a huge honeycomb beehive with buzzing bees on his office desk. A declaration of war by Cheryl Blossom.[2]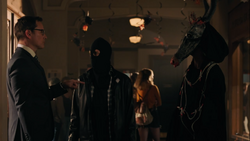 The day before Halloween, Mr. Honey reprimends two masked students in the hallway. He was clear about the policy of not wearing costumes on school property. After they hand over the masks, he sends them both to class.
On Halloween night, Mr. Honey catch Reggie and Kevin trashing his office. After telling Reggie to stay there, he takes Kevin to an empty classroom.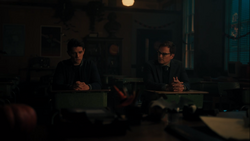 Principal Honey claims he reviewed Kevin's records and understands that after the latest rough years, he must feel friendless and alone. According to Mr. Honey, Reginald must have exploited this vulnerability. Ms. Burble told him that Kevin's first choice for college is NYU. A good college with a great theater program. But Mr. Honey does not believe that Kevin will ever be accepted  after trashing his office, and Kevin's participation in the plays he directed both plays "Carrie" and "Heathers" at Riverdale Highschool. (See "Chapter Thirty-One: A Night to Remember") (See "Chapter Fifty-One: Big Fun"). Kevin replies that it was all ​​Reggie's idea and Mr. Honey dismisses him, saying it was all he wanted to hear.
It's Reggie's turn. Mr. Honey is immediately very harsh saying that this prankster persona, this class clown that Reggie has created for himself makes it very difficult for his peers to take him seriously. In fact, unlike what he believes, they do not laugh with him. But of him. Mr. Honey guesses that Reggie hopes that if his friends laugh at his jokes, they won't notice the bruises left by his father's beatings. Reggie's punishment will be to clean the office and take the opportunity to reflect on what has been said.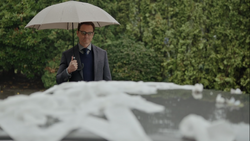 The next morning, Mr. Honey escorts Reggie out of the school and into the parking lot, Reggie finds his car trashed in much the same way as he did the principal's office. Mr. Honey says it's a real shame when people disrespect your property. If he were to guess the culprit, he would say that they were hooligans having some Halloween fun. Principal Honey offers to give Reggie a ride home, but he declines.[3]
Mr. Honey asks Mrs. Burble to extend her office hours so that she can hold sessions with senior students who need guidance for college once a first wave of admissions envelopes begins to arrive.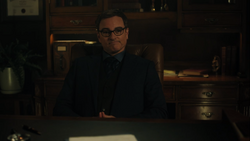 Later, Mr. Honey calls Cheryl to his office to discuss her recent poor academic performance. Since the beginning of the school year, Cheryl has already missed 26 days. The principal is aware of her tragic family situation and tries to sympathize. From the death of her brother, Cheryl endured a long series of emotional and physical suffering , including her dad's suicide, a brief internment for conversion therapy and her mother's disappearance. She also ended up being the only caregiver of her grandmother Rose and the two toddlers twins, Juniper and Dagwood. For this reason, Mr. Honey considers it appropriate to support a certified adult in charge of the River Vixens. In addition, Cheryl will have to attend a session with the school counselor, Mrs. Burble. Later, if Mrs. Burble deems Cheryl unfit for the role, she will be removed as captain of the cheerleaders.[4]
In his office, Principal Honey commissions Betty Cooper to write an article about the upcoming big game between Riverdale Bulldogs and undisputed Stonewall Stallions at the state finals.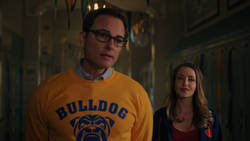 Next day, in the school corridors, Mr. Honey introduces Cheryl and Toni to Ms. Appleyard, the new coach for the River Vixens. Cheryl insists that they don't need a coach, but Ms. Appleyard is in no rush to leave. In fact, she informs the squad that moving forward, they'll be focusing solely on cheer routines rather than pop songs and dance. She led her last team to nationals three years in a row.
In his office, Principal Honey is informed by Cheryl, Toni and the Vixens that they're going on strike until Ms. Appleyard is removed from her position. Honey doesn't tend to respond well to threats, but offers to consider Cheryl's proposal.
Principal Honey is displeased with the article Betty chose to write regarding the underhand tactics by the Stonewall Stallions. Betty replies that this piece is better; an expose about a culture of violence. However, Honey advises her to write the article that she agreed to deliver. A story that celebrates Betty's classmates and her school. Regardless, if Betty chooses to write the story, there's no way Honey will publish her expose.
Betty turns in her article to Mr. Honey, which he is very pleased with. It's great press for their school despite losing the game. However, Betty admits that her investigation into Stonewall Prep hasn't ended. She discovered they have a world-class quiz team. And Bret Weston Wallis is the captain of that team. While that championship is a few weeks away, Betty recommends putting together a team. Mr. Honey admits that he would love to get his hands on at least one trophy this year. Betty reveals that there's nothing she'd enjoy more than to give Stonewall Prep a royal ass-kicking, to which Mr. Honey, who refers to Betty as captain of the quiz team, gives his full support.[5]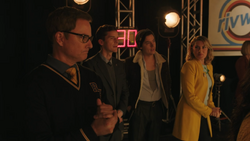 The Quiz Show final has arrived. Riverdale High School vs Stonewall Prep. Mr. Honey watches from the side with Ms. Smith, Mr. Brooks, and Jughead Jones as the two teams take on each other. Riverdale and Stonewall answer questions back and forth, with Betty answering nearly all of the questions, almost as if she already knows the questions before they're asked. The score is tied at 520. It is time for their final question. Betty goes head up against Bret Weston Wallis. Betty answers the question correctly and wins the Quiz Show for Riverdale!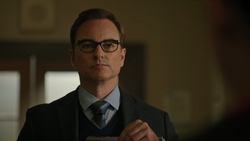 Next day, Betty is welcomed to school with cheers and applause for winning the Quiz Show from all except Mr. Honey. He accuses Betty of cheating after finding the tore up Quiz Show answer sheet in the trash can of Betty's greenroom. Riverdale's win has been tainted by a cloud of scandal. The victory was overturned, and Stonewall Prep are the remaining champions. As a fair punishment, Betty's been suspended pending further investigation as he explained over the phone to Ms. Smith, who was trying to convince him it was all her fault and that Betty had no involvement in the cheating.[6]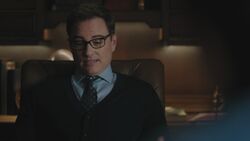 At Riverdale High, Mr. Honey summons Archie to his office to discuss the college application, even though the application period has expired a month ago. Mr. Honey is quite disappointed by Archie's academic performance. His grades in the past two years are very poor and he doesn't believe Archie will graduate later this year. Archie asks if he can still attend the graduation ceremony, but Honey denies him permission.
In the student lounge, Mr. Honey questions Veronica about the flask found in her locker during a routine search. Again, Principal Honey is disappointed by a senior student and wonders what Bernard would think of this. Veronica retorts that they have already seen her drinking alcohol at the speakeasy and insult the Principal, saying that "They're not a bunch of prissy, power-tripping asshats!" Veronica's friends are surprised, and Archie tries to fix the situation by taking the blame. Mr. Honey, then, puts him in detention.[7]
Although somewhat reluctant, Mr. Honey welcomed Jughead Jones back to Riverdale High after all the problems he faced at Stonewall Prep, including faking his own death.[8]
Mr. Honey and the Angry, Ticklish Students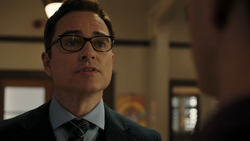 Kevin delivers another list of sign-ups for the Variety Show to Principal Honey, who has reviewed and approved every act thus far with the exception of Kevin's. He bans Kevin from performing a number from the highly controversial Hedwig and the Angry Inch musical. He recommends that Kevin does a number from a more appropriate musical. However, Kevin refuses to back down and asks Honey to at least listen to him. Kevin proceeds to sing and dance. He enters a classroom, where Archie, Cheryl, Toni, Veronica, Betty, Sweet Pea, Fangs, and Reggie join him in song and dance. Despite his performance, Mr. Honey is unmoved, instructing Kevin to pick a different song or recuse himself from the Variety Show.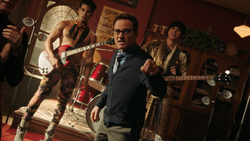 Dressed in a blonde wig and an extravagantly flamboyant one piece jean jumpsuit, Kevin gets on the intercom and orders everyone to the music room. Kevin sings as he makes his way down the hall. Once there, he joins Sweet Pea, Fangs, and Toni on stage. Archie, Betty, Veronica, Jughead, Cheryl, and Reggie cheer him on. Kevin jumps into the crowd, kisses Archie and jumps back on stage, much to Mr. Honey's dismay. He kicks Kevin off the Variety Show and pulls the plug on his performance.
Cheryl and Toni, accompanied by several other students, corner Mr. Honey at Pop's. They come on the behalf of Kevin and the entire student body to plead their case for Hedwig. Driving their point home, Cheryl and Toni sing and dance. However, Mr. Honey is unimpressed, explaining Hedwig is highly sexualized. Toni questions what would Honey do if every student at Riverdale changed their Variety Show act to a number from Hedwig. Mr. Honey explains that he would ban each and every student from Senior Prom.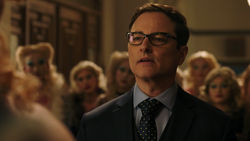 Next day, at school, Mrs. Bell alerts Mr. Honey of the students protesting in the hallway. Mr. Honey exits his office to find nearly the entire student body, Reggie, Sweet Pea, Fangs, Cheryl, and Toni included, in blonde wigs and flamboyant outfits, being led by Kevin. Clearly, they're passionate about Hedwig. However, rather than conceding, Mr. Honey cancels the Variety Show entirely.
The Variety Show is, then, relocated to La Bonne Nuit with a huge crowd gathered in front of Pop's to watch "The Archies" perform for the very first time. Archie, Betty, Veronica, Jughead, and Kevin take their performance outside and perform on top of Pop's diner as the crowd below sway back and forth. Among the crowd is Principal Honey.[9]
Principal Honey summons Betty in his office. Once she enters the room, he hands Betty a photo of himself for the yearbook. He recalls that she volunteered to be editor and chief. However, that was before she was attacked by the Black Hood at Junior prom and hunted by the Gargoyle King.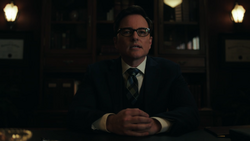 Principal Honey calls Fangs Fogarty, Toni, Reggie, and Kevin into his office after getting a call alerting him of a clandestine online tickling ring being operated by the four of them. Reggie suspects Terry sold them out. Kevin admits they produced the videos and because it's only tickling, they didn't break any laws. Reggie adds that they were also clothed. This is admittedly true, however, as Mr. Honey points out, some of them were wearing Bulldog jerseys and Vixen practice uniforms, putting them in violation of at least a dozen copyright laws as well as under his direct jurisdiction. Honey orders their site to be taken down before it tarnishes the reputation of the school.
Some time later, David, the clerk at the Blue Velvet Video store, informs Honey that the Scarlet Suite is closed after the FBI raided him, and his contraband has been confiscated.[10]
Killing Mr. Honey
Betty presents Mr. Honey with the yearbook, however, he declines it and tells her that she missed the deadline by two days. Despite her effort, he refuses to change his mind.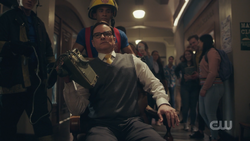 Principal Honey takes a seat in his office and is glued to his chair. He tries to get up but the phone rings. He answers only for the phone to be covered in glue as well. He shouts for Ms. Bell to assist him. Mr. Honey is wheeled out his office by firemen as Archie, Betty, Jughead, and Veronica look on.
Jughead is writing a new story for Iowa University, titled Killing Mr. Honey. He credits Betty with the idea. He printed some pages out for her to read. The story depicts Archie, Jughead, and Reggie in bunny masks and Stonewall jackets as they restrain Mr. Honey to a chair in the Lodge cabin. They notice that his glasses are missing and begin to panic. Mr. Honey calls the three of them out by name, surmising that they've also partnered up with Betty, Veronica, and Cheryl. Reggie rips off his mask out of anger, blowing their cover. Mr. Honey proceeds to laugh. Reggie grows angry and punches Mr. Honey, who then asks Reggie if that's what his father does to him. Archie, Jughead, and Reggie then leave.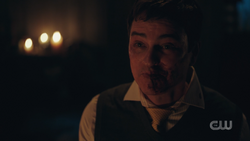 Once Mr. Honey is secured at the cabin, they take turns on watch. Cheryl is first. Mr. Honey asks if anyone has found his glasses. He then tells Cheryl that it's not too late to make things right and let him go. She believes they are making it right, stating that Betty and Jughead have a plan. Mr. Honey has given them something they've never had before, that being a common enemy. He banned her and the Vixens from the prom. Honey reminds Cheryl that she locked Ms. Appleyard in her office. She had a panic attack and quit. Cheryl agrees to let Mr. Honey go only if he promises to make a video allowing them to go to prom and that he won't punish them for kidnapping him. He counters her offer. He tells her to release him and call the police, explaining that it was a school prank gone awry. Cheryl declines his offer.
Jughead continues to write his story. Next, it is Archie and Veronica's turn to check on their captive to see if he had a change of heart. They enter the cabin to find him unconscious on the floor. Veronica checks his pulse and discovers that he's dead.
Back at Riverdale High, Mr. Honey heads towards his office. Mr. Honey gets on the intercom to announce that Senior Prom is canceled until the person responsible comes forward for the prank.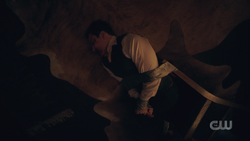 Jughead's story resumes. Archie, Betty, Veronica, Jughead, Cheryl, and Reggie stand over Mr. Honey's body, panicked and frightened. Cheryl was the first on watch but insists that he was alive and well when she left. Betty refuses to allow this accident to ruin their lives and future. They all have plans of moving forward. Cheryl's going to Highsmith College. Veronica to Barnard. Betty to Yale. Archie to the Naval Academy. Jughead to Iowa University. And Reggie possibly to Riverdale Community College. Veronica asks who has experience with getting rid of a dead body. All of them raise their hand save for Reggie.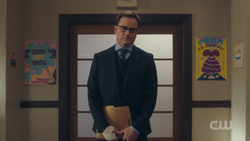 The following day, Mr. Honey is confronted in the school corridors by an angry group of parents and students lead by Ms. Smith, Mrs. Andrews and Mrs. Lodge. Veronica, Betty, Archie, Jughead, Cheryl, Cheryl's grandma, Mr. Lodge, Sheriff Jones, Kevin and his dad follow closely behind. They demand that he reinstate prom and re-invite the students he barred from attending. Mr. Honey refuses, explaining that it's his job to prepare the students to be upstanding students of the world and their behavior needs to reflect that. Mrs. Andrews informs Mr. Honey of a case that took place against the Greendale school district. A principal canceled prom and the parents sued him and won for psychological damage. Hiram Lodge reminds Honey that as Mayor of Riverdale, he has a direct line to Governor Dooley, who could revoke his credentials. Alice Smith adds that the news station has been looking for a gripping new story that would make nationwide headlines. Sheriff Jones and Tom Keller add that they're just the muscle. As President of the PTA, Alice demands a vote on the matter.
Jughead picks back up with his story. Honey is dead and buried. They have gotten away with it and are free to go back to talking about prom.
At school, Betty and Jughead enter Mr. Honey's office to find him standing with Charles. Supposedly, a videotape was delivered to the school. Honey called Charles, who revealed that Betty and Jughead are helping him on the case. The tape goes on for hours. It covers every inch of the school. Mr. Honey worries that it could be a threat. He feels that he has no other choice but to put the school on high alert and cancel prom. He asks Betty and Jughead to let their friends know while he alerts their parents.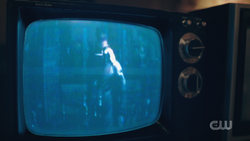 Upon investigation, Betty, Jughead, and Charles confront Mr. Honey with a screenshot of him making the video that he claims was sent by the Voyeur, but in actuality, was sent by himself in order to have a reason to cancel prom. Mr. Honey denies having any type of feud or vendetta against them, claiming that he was only trying to prepare them for a life outside of Riverdale. However, Betty and Jughead are unconvinced and they have already reported Honey to the school board.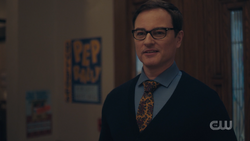 Mr. Honey gets fired. Honey exits what was once his office with a box of his belongings. He passes Ms. Bell, who takes his portrait down off the wall. He is approached in the hallway by Archie, Betty, Veronica, Jughead, Cheryl, Kevin, and Reggie. He stands by everything he's done, including the videotape. He insists that it was all to assure the school's safety because the murder, mayhem, and depravity of Riverdale is not normal. Betty retorts that it's normal to them, which is why they had to stop him. Mr. Honey scoffs, revealing that he saw this coming days ago and so he lined up his next position. He is now Stonewall Prep's new headmaster. They were in need of new leadership. Furthermore, his salary is triple of what he makes at Riverdale High.
After Jughead discovers that Mr. Honey wrote a recommendation letter to the University of Iowa and all the good he accomplished for the school during his role as principal, he rewrites the story he was working on. Now, Honey is just unconscious and the kids call an ambulance after giving him CPR and prefer to face jail time rather than getting away with murder.[11]
Physical Appearance
Mr. Honey is a well-dressed man with dark brown hair and glasses.
Personality
Mr. Honey is a strict man who wants to maintain discipline in the corridors of his school. He does not like to repeat himself, nor to be contradicted or challenged, especially by students. This is shown in the way he handles Cheryl's Back-to-School party. Mr. Honey is a keen observer and uses academic performance and personal information to pressure his students.
Albeit disciplinarian and stubborn in his beliefs, Mr. Honey acted in the best interest of his students. He personally arranged for six low income students to go to college on full scholarships. Also, the school's GPA is higher than it's been in decades and more seniors will be going away to college than they have since 1956. Also, no students have died under his watch.
Appearances
Trivia
Gallery
See also: Category:Images of Holden Honey
References
↑ Grassi, Michael & Ewing, Will (writers) & Romanowsky, Pamela (director) (October 16, 2019). "Chapter Fifty-Nine: Fast Times at Riverdale High". Riverdale. Season 4. Episode 2. The CW.
↑ Salinas Schoenberg, Janine (writer) & Feeley, Erin (director) (October 30, 2019). "Chapter Sixty-One: Halloween". Riverdale. Season 4. Episode 4. The CW.
↑ Leigh Williams, Tessa (writer) & Goi, Michael (director) (November 27, 2019). "Chapter Sixty-Five: In Treatment". Riverdale. Season 4. Episode 8. The CW.
↑ Allen, Aaron (writer) & Benjamin, Roxanne (director) (January 22, 2020). "Chapter Sixty-Seven: Varsity Blues". Riverdale. Season 4. Episode 10. The CW.
↑ Sullivan, Ted (writer) & Stephen, Chell (director) (January 29, 2020). "Chapter Sixty-Eight: Quiz Show". Riverdale. Season 4. Episode 11. The CW.
↑ Maroon, Chrissy & Kyle, Evan (writers) & Yarmy, Claudia (director) (February 12, 2020). "Chapter Seventy: The Ides of March". Riverdale. Season 4. Episode 13. The CW.
↑ Allen, Aaron (writer) & Blake, Tessa (director) (March 11, 2020). "Chapter Seventy-Three: The Locked Room". Riverdale. Season 4. Episode 16. The CW.
↑ Williams, Tessa Leigh (writer) & Negret, Antonio (director) (April 15, 2020). "Chapter Seventy-Four: Wicked Little Town". Riverdale. Season 4. Episode 17. The CW.
↑ Jackson, Ariana & Paterson, Brian E. (writers) & Adelson, Steve A. (director) (April 29, 2020). "Chapter Seventy-Five: Lynchian". Riverdale. Season 4. Episode 18. The CW.
↑ DeWille, James & Sullivan, Ted (writers) & Amick, Mädchen (director) (May 6, 2020). "Chapter Seventy-Six: Killing Mr. Honey". Riverdale. Season 4. Episode 19. The CW.