'The Chilling Adventures of Sabrina' Profile: Hilda Spellman
"
So, folks tend to get the wrong impression of me. They always think I'm meek and mild, always the bridesmaid, never the bride. Story of my life. Ah, oh, for sure, I mean, here I am, you know, playing Zelda's maid of dishonor. But I'm gonna, I'm gonna tell you a little tiny secret about me: I love my sister. But, yes, she slays me. What are you gonna do? That's just family, you know? But as Satan as my witness, if you hurt my family, there will be heaven to pay.
"
— Hilda to Shirley Jackson[src]
Hildegard "Hilda" Antoinette Spellman is a main character on Netflix's Chilling Adventures of Sabrina. She is portrayed by Lucy Davis.
She is a witch that resides in the town of Greendale, located on the opposite side of the Sweetwater River from Riverdale.
Character Description
Hilda is the kinder of the Spellman sisters who are raising Sabrina, though her nurturing nature belies a more ruthless side. She is a healer, a potion-maker, sweet-as-pie until you cross her or anyone she loves. Operating the local funeral home, the sisters hide their witchery from the world while teaching Sabrina spells and incantations at home.[1]
Hilda Spellman, one of Sabrina's two witch aunts. More nurturing than Zelda, Hilda's motherly nature and warm sense of humor belie a wicked, ghoulish streak. She is as adept at brewing spite jars against her family's enemies as she is at concocting love potions for the students at Baxter High.[2]
Early Life
When Hilda turned sixteen, she signed her name in the Book of the Beast, and joined the Academy of Unseen Arts. However, her academic years at the Academy were unpleasant, for her older sister, Zelda, caused her to undergo a series of hazing rituals called the Harrowing.
At some point, Hilda moved to England to take care of her nephew, Ambrose, and it was during that time that she acquired her British accent. After her niece's birth, she accompanied her sister-in-law, Diana Spellman, to Sabrina's baptism at the Holy Mother Church of Greendale, keeping the secret from her brother and sister. While living with her sister, she was sometimes killed by Zelda for various reasons, and Zelda would put her body in the Cain Pit in their family plot, where she would be resurrected. Her nephew Ambrose was arrested for conspiring to blow up the Vatican and placed under house arrest in Hilda and Zelda's residence. After Edward and Diana died, Hilda and Zelda became Sabrina's guardians and raised her.
Throughout Chilling Adventures of Sabrina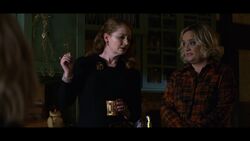 On the morning of Tuesday, October 28th, Sabrina walks into the kitchen carrying a box containing the bat she killed the night before. She greets Hilda, Zelda, and Ambrose. Hilda asks Sabrina how she slept, to which Zelda responds by saying "tempestuously". Sabrina remarks that she was restless the entire night as a result of her upcoming dark baptism. Hilda presents Sabrina with rabbit's feet to help her sleep at night. This prompts Sabrina to tell her aunts and cousin about the bat that flew into her room. Hilda informs Sabrina that she can bury the bat in the pet cemetery by the sundial in the garden. She also presents her niece with a concoction meant to cleanse her body of toxins in preparation for the dark baptism. Zelda tells Sabrina that she has to choose her familiar before her dark baptism, and shows her options from a registry sent by the Witches' Council. Believing the practice to be dehumanizing, Sabrina offers up an alternative: she is instead going to summon a familiar through a spell she found in the Demonomicon. Zelda then asks Sabrina what her baptismal name will be. Sabrina has decided that it will be "Edwina Diana", in honor of both her parents as she is about to walk the Path of Night. Hilda wishes that Sabrina's parents would have been present to see the young woman their daughter has become. Zelda corrects her sister by saying that Edward and Diana would have been proud to see the young witch Sabrina is becoming.
After getting a call at the mortuary, Hilda informs Zelda that a young man has been stabbed and that his parents are coming to see them. "Praise Satan", Zelda responds, asking if they want a closed or open casket. Even if they can't use his flesh, they need blood for Sabrina's baptism, and human blood is always preferable, so, the timing is perfect.
Zelda and Hilda meet with the Kempers to discuss funeral arrangements. They Kempers couldn't have children, so they had to adopt Connor. Mrs. Kemper hands Hilda a photo of Connor and asks if they can make him look as he does in the photo.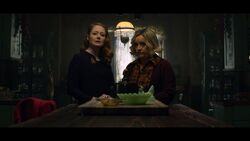 Sabrina shares with Hilda her disdain for the students at the academy, especially the Weird Sisters, who cursed her, though Sabrina claims to have washed it off. However, Hilda isn't so sure. Zelda explains they cursed Sabrina because they're jealous as Sabrina's the daughter of a High Priest. These sort of attacks are precisely why Sabrina needs a familiar. Hilda then makes Sabrina break an egg to test if she truly washed the curse away. As it turns out, she didn't. The egg is bloody red. A blood curse is what Sabrina is inflicted with. Untreated, it will slowly eat away at Sabrina's health, will, and sanity. Hilda recommends a regimen of salt water baths and reversing candles for a couple weeks. Sabrina recalls what the Weird Sisters said about her mother and father. So, she asks if her parents' accident was truly an accident. Hilda and Zelda explains that it was. Sabrina's parents were flying to Italy. Edward was giving a lecture at the Vatican when their plane went down.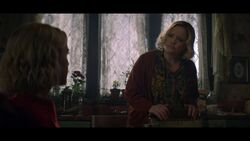 The following morning, Wednesday, October 29th, Zelda questions why Sabrina would prefer a feral familiar over one bred for service. Sabrina explains that Salem doesn't serve her. They're in a partnership, in which they'll both protect each other. Hilda on the other hand is just happy that Sabrina has a familiar and that she's purifying herself for the baptism. Sabrina then informs them of the club she's starting at school for the girls to protect themselves and she's hoping they could postpone her baptism, but Zelda will have no talk of such. Sabrina has reservations about saving herself for the Dark Lord. Zelda explains that he gets to decide what Sabrina does with her body because it's witch law. Still, Sabrina questions why this is. And if Zelda won't answer, she's like to talk with someone who can help her understand so that she can make an educated choice. However, as far as Zelda is concerned, the choice has already been decided. It's their right and duty to serve the Dark Lord. Hilda then asks if Sabrina doesn't want to be a full member of the Church of Night. Sabrina thinks that she does, but she can't seem to reason why she has to give up her mortal life to do it. Zelda states that it's witch law. The Path of Night or the Path of Light. But not both. However, Sabrina points out how her warlock father married her mortal mother, which nearly got Edward excommunicated, Zelda informs Sabrina. Zelda then reminds Sabrina that signing the Dark Lord's book is what her parents wanted for her. Hilda backs this up.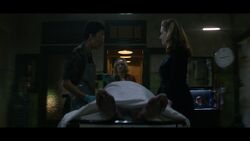 Ambrose performs an autopsy on Connor Kemper. While doing so, he notices a witch's mark on Connor's right arm and decides to alert Hilda and Zelda of his discovery. When Ambrose pokes the mark, it doesn't bleed, however, Zelda is skeptical. Nonetheless, if Connor was murdered by a witch hunter, then they'll need to bring this to the Council's attention. Another reason for Sabrina to walk Path of Night. Witches without covens are easy pickings. While on the subject, Hilda agrees that Sabrina should be able to speak to someone should she want to. Someone as close to the Dark Lord as reasonably possible. Zelda doesn't respond, only looking to Ambrose to complete the embalming process so that they can get every single drop of blood out of Connor's body for Sabrina's anointment during the baptism.
Hilda, Zelda, and Ambrose await Sabrina's return home along with Faustus Blackwood. The High Priest of the Church or Night. Dark Lord Satan's representative on earth. He informs her of just how special she is and how she's been chosen. Having learned that Sabrina is having doubts about her baptism and that she may in fact not be signing her name into the Book of the Beast, he's come to convince her otherwise.[3]
Father Blackwood asks Sabrina about her doubts surrounding her dark baptism. Sabrina says she is not really sure, and so Blackwood goes on to explain the ceremony. The Dark Baptism is the most sacred, unholy sacrament the witches practiced for centuries. The oldest of their rights. Sabrina is worried that once she signs the Book of the Beast, she will give the Dark Lord dominion over her soul. Blackwood reassures her, saying that this is only one of several possible interpretations. Blackwood explains that all religions have symbolic gestures and demand sacrifices. Signing the Book of the Beast is more like a pledge to abide by the devil's commandments. Sabrina then claims that she is not an evil person, making both the priest and her aunts laugh because none of them is evil. Sabrina is still firm in her disbelief, stating that the Dark Lord is the embodiment of evil. Blackwood corrects her immediately, saying that He is the embodiment of free will and that he goes beyond the mere concepts of good and evil and the infernal punishment of the "False God".
Sabrina questions the concept of Hell. Father Blackwood explains that if she accepts the Dark Lord's gifts, then she won't die for a long time and that Hell is for mortals. Blackwood suggests to Hilda and Zelda that Sabrina needs an immediate shift in thinking since she has been tainted by mortal ideology. Sabrina adds that she is worried about her boyfriend, who Blackwood deduces is a mortal. Blackwood tells Sabrina that they are intrinsically incompatible as mortals grow old and die faster than witches. Sabrina replies that her father married a mortal woman and Blackwood specifies that he was High Priest and had obtained a special dispensation from the Dark Lord himself. Despite this, it was still considered a controversial union and Blackwood also denies Sabrina's concerning assumptions about the death of her parents. According to Blackwood, it was an unfortunate accident.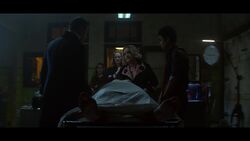 Sabrina has another question about a terrible vision she had after biting the Malum Malus to the horrot of Zelda who replies "You did what?!" Blackwood replies that its use is wildly inaccurate. Father Blackwood extends the invitation to be baptized and joins the Academy of Unseen Arts where Sabrina can find answers to her many questions. And if she decides to leave, she will be free to choose. Before leaving, the priest makes sure that Sabrina will be in the forest the night of Samhain for her baptism. On his way out, Ambrose asks him to stay a little longer and shows him the corpse of Connor Kemper in the embalming room. The dead man has a witch's mark on his right arm. Blackwood immediately inquires about his parents and discovers that the boy had been adopted by mortal parents. Blackwood takes the opportunity to point out how a witch without coven ended up on a table at the mortuary. Ambrose is worried that there may be witch-hunters, but for Blackwood this is highly unlikely.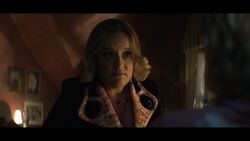 Later that night, Hilda tells Sabrina that Father Blackwood was Edward's mentor, before he surpassed him and became High Priest. She also tells Sabrina that her father was very good looking and charismatic. He could have become a movie star but he received his call very early, he was only six years old. Sabrina then asks Hilda if she ever had doubts about her dark baptism. Hilda signed her name in the Book of the Beast when she turned sixteen, because girls didn't have any options back then. She adds that she sometimes dreams about burning down the Greendale WoodS. She then wishes Sabrina a lovely sleep and leaves the room. Unbeknownst to Hilda and Sabrina, Zelda is eavesdropping on their conversation. Zelda calls Hilda a fool and says that she will be her death of her and that she herself will be Hilda's death.
Thursday, October 30th, Sabrina comes downstairs to find Harvey sitting in the kitchen with Hilda, Zelda, and Ambrose. Ambrose admires Harvey's drawings, to which Harvey replies that he's fond of graphic comics and novels. Since Sabrina couldn't celebrate with him on her actual birthday, he came by to ask her aunts if they could celebrate the following day, him, Sabrina, Rosalind and Susie. Harvey then walks Sabrina to school.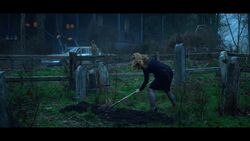 While Hilda gardens, Zelda approaches her from behind and strikes her with a hammer, killing her almost instantly. She then buries Hilda in the Cain Pit, a grave on the grounds of the Spellman Mortuary which has the ability to bring witches back from the dead. As she covers Hilda's grave, the Kempers arrives, the mortal parents of the dead witch. After the meeting with the Kempers, Ambrose informs Zelda that Connor was a witch and he even suspects he had an iguana. When asked about Hilda, Zelda tells Ambrose that she killed her and buried her in the yard.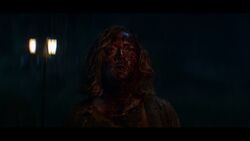 Zelda sits on the front porch as Hilda rises from her grave. With each slaying, it takes Hilda longer to resurrect. Hilda is upset that her own sister keeps killing her, however, Zelda believes it was well deserved after Hilda decided to encourage Sabrina to do anything other than join the Church of Night. If Sabrina doesn't sign her name, then they would've failed Edward and the Dark Lord. Zelda advises Hilda to keep her regrets or doubts to herself as Sabrina has no real choice in the matter. Unbeknownst to Hilda and Zelda, Sabrina has been listening in from the other side of the porch.
Friday, October 31st, Halloween. Sabrina's birthday has finally arrived. Hilda is preparing Sabrina's ceremonial dress, which is actually her mother's wedding dress. Initially, witches were only allowed to wear black to their baptism, but that hasn't been the rule for years. Hilda assures Sabrina that there's nothing to fear.
Zelda has taken the liberty to call Sabrina's school and excuse her. The day before her baptism should be spent in contemplation, reading her satanic verses. However, Sabrina hasn't even had the time to say goodbye, not that Zelda is concerned.
Hilda and Zelda visit Farmer Putnam, from whom they purchase a black goat named Black narcissus that they then take into the woods.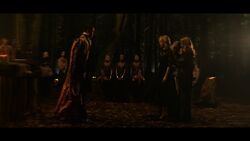 Sabrina sprints through the woods in her mother's white wedding dress. As she passes under the threshold, her once white dress magically turns black. Sabrina passes through the blue flames and arrives at her baptism, where Hilda, Zelda, Father Blackwood, Prudence, Dorcas, Agatha, and many others are in attendance. Hilda and Zelda present Sabrina for her unholy baptism. They disrobe her as part of the ceremony. Madam Satan watches from the shadows as Sabrina kneels. Father Blackwood smears blood over Sabrina forehead and read Sabrina her rights and demands her loyalty. However, when it comes time to sign the Dark Lord's Book of the Beast with her blood, Sabrina backs out after realizing that she would have to give up her free will. She takes off running after seeing her parents, Edward and Diana, in the shadows, telling her to run. Father Blackwood orders the coven to get her.
Sabrina attempts to escape but she becomes entangled in magical possessed vines, though she manages to narrowly escape. Ambrose and Salem are sitting on the porch as Sabrina comes screaming for help, with the coven not far behind her. Father Blackwood demands Sabrina's signature, but she refuses. She believes that there's another path for her, similar to that of her mother and father's. When Father Blackwood orders Prudence, Dorcas, and Agatha to take Sabrina, Ambrose informs them that a circle of protection rings the house, and no witch save for a Spellman may cross it. Any unwelcome witch that tries shall burn. With that, the coven retreats. Little did they know, Ambrose was bluffing. Zelda and Hilda brush right pass Sabrina and head inside.
Monday, November 3rd. Sabrina enters the kitchen. She is greeted by everyone except her aunt Zelda, who is disappointed in Sabrina as she humiliated them in front of the entire coven and dishonored the Spellman name. However, Sabrina reasons that all bets were off after Blackwood lied to her face. Sabrina also informs Hilda, Zelda, and Ambrose how she possibly saw the ghost of her parents during the ceremony, who told her to run.[4]
Sabrina returns home from school to learn from Hilda, Zelda, and Ambrose that she's received an Infernal Summons. Sabrina's been charged with an offense, a Breach of Promise. She made a promise to sign the Dark Lord's Book of the Beast and then broke it when she ran away. Now she will be judged and tried in front of their coven. Sabrina reveals that she saw the Dark Lord after he took possession of Hawthorne and threatened her. Still, Sabrina refuses to pledge her loyalty to him. Zelda informs Sabrina that not only has she been summoned, but Hilda and Zelda have been as well. All three are on trial as it was their duty to see Sabrina down the right path. Guilty until proven innocent is witch law. They had been stripped of their powers, meaning they will age and rot rapidly until a verdict is reached. It had already started as one of Hilda's teeth have fallen out. Sabrina's trial is at midnight, and she is expected to attend.
Sabrina asks Ambrose if there was any way for her to fight the trial as she never promised the Dark Lord that she would sign the Book of the Beast. Ambrose informs Sabrina of lawyer and occultist Daniel Webster. He's mortal, but is rumored to have beaten the Devil himself.
Just outside the church where the trial is being held, Zelda instructs Hilda and Sabrina to admit their wrongs and accept their punishment before the court. Sabrina stands accused before the Infernal Three for Breach of Promise. When the accused is confirmed guilty, she will abandon her mortal life immediately and upon her death, she will burn for 333 years in the Pit. Daniel Webster enters the church as Sabrina's counsel, stating that she pleads not guilty.
The court takes a recess, during which time Zelda scolds Sabrina for hiring Webster. She remembers how he used to sniff around Edward many years ago. Edward was the reason Webster came to Greendale. He taught Webster witch law and offered him comfort when there wasn't any. Webster is hoping to return the favor.
Court is back in session and Father Blackwood interrogates Sabrina, ultimately accusing her of breaking her promise to the Dark Lord. Webster counters that there were no contracts, thus no case. Father Blackwood submits the Book of the Beast as evidence. In it is Sabrina's name, though it was submitted only a few days after she was born. Additionally, Blackwood calls Zelda to the stand. On the day Sabrina's name was written into the book, Zelda accompanied Edward into the woods, with baby Sabrina in his arms. When they reached a clearing, he placed her on an altar and signed her name into the Book of the Beast, promising her name to the Dark Lord.
Court adjourns and the Spellmans return home. Sabrina now realizes that her aunt Zelda's strong-arming her to sign the book was her attempt to cover up the fact that Sabrina had already been pawned off to the Dark Lord. Ambrose tends to a rapidly aging Hilda as Zelda explains that Sabrina was never supposed to find out. Edward needed a witness. He had struck a bargain with the Dark Lord. With permission to marry Sabrina's mother Diana, Edward would sign Sabrina's name in the Book of the Beast.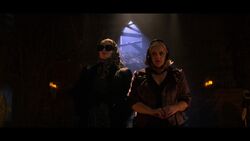 Court is in session and Webster calls Zelda and Hilda to the stand. Both are certified midwives. They've delivered many babies in the witch community, including Sabrina. Given Sabrina's dual nature, he argues that she's only half subject to the rules of the court. He demands a jury of mortals and a change or venue.
If Sabrina's dominant nature, witch or mortal, is to be determined, Father Blackwood wishes to test her with human laws, such as subjecting her to trial by water to see if she floats or sinks and stripping and examining her in front of the coven for a witch's mark.
Sabrina, Zelda, Hilda, and Webster return home where they discuss their next course of action. Webster questions if Sabrina has a mark. Before she can answer, Father Blackwood interrupts and reveals that he pleaded to the Dark Lord on Sabrina's behalf. He has offered a path. He will wave Sabrina's punishment in the Pit and allow her yearly visitations with her mortal friends so long as she ratify her signature in the Book of the Beast and withdraw from Baxter High to begin her studies at the Academy of Unseen Arts. They'll await her answer the following night in court. Zelda encourages Sabrina to take the deal, but Webster insists that it's a trick.
Sabrina comes home with a decision. She informs Zelda, Hilda, Ambrose, and Webster that she's decided not to take Blackwood's deal. Instead, she'll submit to his exam as she doesn't have a witch's mark. When they find out that she doesn't have it, Webster will demand a retrial in human court, and she'll demand that Zelda and Hilda's powers and youth are restored. Once Sabrina and Webster are gone, Hilda jumps to her feet in anger. She heads upstairs, telling Zelda not to wait for her and to ensure Sabrina makes it to court. As it turns out, Hilda has a secret of her own. Inside a chest, Hilda has a baby record book.
Court is in session. Sabrina, Zelda, Blackwood, Webster, Prudence, Dorcas, and Agatha are in attendance. Just as Father Blackwood is about to begin Sabrina's examination for a witch's mark, Hilda interrupts with new evidence which Webster submits to the court. Sabrina's name is printed onto a baptismal certificate from the Holy Mother Church of Greendale, witnessed by Diana and Hilda, meaning there is competing claims upon Sabrina's soul. However, Webster argues they have a binding contract notarized and dated one day before Edward inscribed Sabrina's name to the Book of the Beast, therefore rendering Sabrina's name in the Book of the Beast null and void. Father Blackwood and Webster are summoned to the courts' private chambers.
Just outside, Zelda questions how Hilda could witness Sabrina being signed over to a Christian church. Hilda explains that Edward had no idea that Sabrina was baptized and Diana had asked her to keep it a secret. With that, Sabrina denounced any and all secrecy within the family and asked that her aunts do the same.
Back in the church, Father Blackwood announces that due to conflicting contracts, baptism, and breeding, the Hellbound Court of Greendale decrees that Sabrina shall retain her mortal life on the condition that she also attend the Academy of Unseen Arts, as well as weekly Black Mass. Sabrina accepts the court's decision. With a ruling in effect, the court restores full power to the Spellman family.
After the final ruling, Sabrina invites Webster over to celebrate, but he declines. She thanks him nonetheless for helping her win and gives him a hug. Before parting ways, he advises Sabrina to take advantage of her qualified victory to learn everything she can about her adversary and fight for what's hers.
Later that night, Zelda informs Hilda that she's been excommunicated from the Church of Night for her part in Sabrina's Catholic baptism. She's casted doubt on their faith in the Dark Lord, for which he was vengeful.[3]
Physical Appearance
Hilda is short and rounder-figured, with blond hair and green eyes. Unlike the glamorous Zelda, she often wore necklaces and bracelets, her makeup is always kept simple and modest, and her sense of fashion is eccentric with a constant earthy hint (due to her often tending to her garden), and more colorful compared to her sister's.
Personality
Hilda is a sweet, kind and motherly witch, more emphatic to the clients of the Spellman Mortuary. Unlike Zelda, she doesn't completely agree with the ways of the Church of Night and is much more benevolent. She often peppers her daily conversation with others with sweet and affectionate nicknames, such as "love", "darling" or "lamb" as just a few examples. However, despite her sweet exterior, Hilda can be very vengeful when she wants to be, and one of her greatest desires is revenge for the abuse Zelda inflicted on her during their childhood. She is much more affectionate to her niece Sabrina than Zelda. Hilda enjoys making Potions and Balms for her family members and has extensive knowledge of herbs and other medicinal plants, knowing cures for curses, etc. She deeply desires to be more independent from Zelda and find true love. Hilda is also very intuitive, as she was able to predict that Shirley Jackson protected herself against all sorts of magical attacks, as well as the fact that the Weird Sisters would use the bones from the chicken that she cooked to torture Ambrose.
Powers and Abilities
Spell Casting: The power to change and control events through the use of incantations, commands, or even gestures.

Containment: The power to contain a being in a given area.
Demonic Exorcism: Hilda is able to perform an exorcism, with the help of other witches.
Astral Projection: The power to project their astral form from their body, essentially becoming a ghost.
Atmokinesis: The power to control the weather. An example is when she and the other Spellmans created a tornado in order to lure every resident on Greendale to go on the Baxter High's basement.
Warding: The power to place protection spells and wards on places and people, shielding them from harm.
Glamour: The power to disguise a physical appearance.

Potion Making: The ability to brew and concoct potions, remedies, and elixirs that have supernatural properties. Hilda is very skilled at making all kinds of potions from Love Potions to Spite Jars.
Mediumship: The ability to see and communicate with the spirits of the dead.
Divination: The ability to gain knowledge about an object, person, location or physical event through means other than the user's physical senses. She used this when she defends Susie from the boys that were bullying her by telling their darkest secrets.
Longevity: As a full witch, Hilda ages at an especially slow rate.
Relationships
Hilda and her elder sister Zelda have a quite turbulent relationship, with Zelda frequently killing Hilda when she is annoyed by her. Despite this, Hilda and Zelda genuinely love each other. Zelda apologized to Hilda for all the suffering she put her through at the Academy of Unseen Arts, and she comforted her after she was rejected by Dr. Cerberus. Hilda showed that she loves her sister when she poisoned Shirley Jackson because the latter mistreated Zelda out of pettiness.
Appearances
Trivia
Hilda mentioned that she attended Queen Victoria's Coronation where she got drunk.[5]
Hilda once attended a dinner party hosted by,Virginia Woolf. [6]
Hilda hates Fawlty Towers. [7]
Hilda has a British accent because she lived in England for a while, to take care of Ambrose.[8]
Hilda is 500 years old[9]
Hilda is a virgin.
Hilda likes baking and romance novels.
Notes
In Archie Comics, Hilda is the most strict and mean of the two aunts.

In the 1971 comic series, she was a scrawny redhead dressed like a stereotypical witch with a purple dress and pointed hat, and always cooking up some nasty potion against mortals.
In the 2014 comic series, Roberto Aguirre-Sacasa reinvented her as a plump brunette wearing glasses. Between the two, she is the kindest towards her niece Sabrina.

She is the blonde, spirited and fun aunt in the 90s sitcom, Sabrina the Teenage Witch, although in the 1996 made-for-TV movie that launched the sitcom, she was the strict redhead aunt.
According to Zelda, the eclipsing of a blood moon is stated to only occur once every 66 years. Furthermore, all the Spellmans before Sabrina have been baptized under a blood moon. This means Hilda must be no younger than eighty two years old, having been sixteen at her own dark baptism.[10]
Gallery
See also: Category:Images of Hilda Spellman


Hilda Spellman's Gallery Can Be Found Here. The Gallery May Consist of Promotional Images, Screencaps, and Video Clips Released By Network Officials
References
Community content is available under
CC-BY-SA
unless otherwise noted.