'The Chilling Adventures of Sabrina' Profile: Hilda Spellman
"
So, folks tend to get the wrong impression of me. They always think I'm meek and mild, always the bridesmaid never the bride. And here I am as Zeldas maid of dishonor.But I am gonna tell you a little tiny secret about me: I love my sister and yes she slays me what you gonna do, it's just Family you know. But as Satan as my witness, if you hurt my family, there will be heaven to pay.
"
— Hilda to Shirley Jackson[src]
Hildegard "Hilda" Antoinette Spellman is a main character on Netflix's Chilling Adventures of Sabrina. She is portrayed by Lucy Davis.
She is a witch that resides in the town of Greendale, located on the opposite side of the Sweetwater River from Riverdale.
Character Description
Hilda is the kinder of the Spellman sisters who are raising Sabrina, though her nurturing nature belies a more ruthless side. She is a healer, a potion-maker, sweet-as-pie until you cross her or anyone she loves. Operating the local funeral home, the sisters hide their witchery from the world while teaching Sabrina spells and incantations at home.[1]
Hilda Spellman, one of Sabrina's two witch aunts. More nurturing than Zelda, Hilda's motherly nature and warm sense of humor belie a wicked, ghoulish streak. She is as adept at brewing spite jars against her family's enemies as she is at concocting love potions for the students at Baxter High.[2]
Early Life
When Hilda turned sixteen, she signed her name to the Book of the Beast,and joined the Academy of Unseen Arts. During her time, she underwent a series of hazing rituals call the Harrowing, committed by her sister, Zelda, making her academic years unpleasant. At some point, Hilda moved to England to take care of her nephew, Ambrose. It was in that time that she acquired her British accent. After her niece's birth, she accompanied her sister-in-law, Diana Spellman, to Sabrina's baptism at the Catholic Church, Holy Mother Church of Greendale, keeping the secret from her brother and sister. While living with her sister, she was sometimes killed by Zelda for various reasons, and Zelda would put her body the Cain Pit in their family plot, where she would be resurrected. Her nephew Ambrose was arrested for conspiring to blow up the Vatican and placed under house arrest in Hilda and Zelda's residence. After Edward and Diana died, Hilda and Zelda became Sabrina's guardians and raised her.
Throughout Chilling Adventures of Sabrina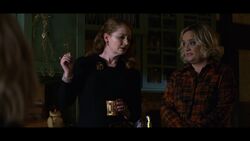 On the morning of Tuesday, October 28th, Sabrina walks into the kitchen carrying a box containing the bat she killed the night before. She greets Hilda, Zelda, and Ambrose. Hilda asks Sabrina how she slept, to which Zelda responds by saying "tempestuously". Sabrina remarks that she was restless the entire night as a result of her upcoming dark baptism. Hilda presents Sabrina with rabbit's feet to help her sleep at night. This prompts Sabrina to tell her aunts and cousin about the bat that flew into her room. Hilda informs Sabrina that she can bury the bat in the pet cemetery by the sundial in the garden. She also presents her niece with a concoction meant to cleanse her body of toxins in preparation for the dark baptism. Zelda tells Sabrina that she has to choose her familiar before her dark baptism, and shows her options from a registry sent by the Witches' Council. Believing the practice to be dehumanizing, Sabrina offers up an alternative: she is instead going to summon a familiar through a spell she found in the Demonomicon. Zelda then asks Sabrina what her baptismal name will be. Sabrina has decided that it will be "Edwina Diana", in honor of both her parents as she is about to walk the Path of Night. Hilda wishes that Sabrina's parents would have been present to see the young woman their daughter has become. Zelda corrects her sister by saying that Edward and Diana would have been proud to see the young witch Sabrina is becoming.
After getting a call at the mortuary, Hilda informs Zelda that a young man has been stabbed and that his parents are coming to see them. "Praise Satan", Zelda responds, asking if they want a closed or open casket. Even if they can't use his flesh, they need blood for Sabrina's baptism, and human blood is always preferable, so, the timing is perfect.
Zelda and Hilda meet with the Kempers to discuss funeral arrangements. They Kempers couldn't have children, so they had to adopt Connor. Mrs. Kemper hands Hilda a photo of Connor and asks if they can make him look as he does in the photo.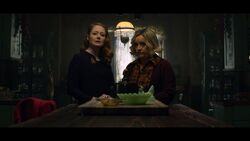 Sabrina shares with Hilda her disdain for the students at the academy, especially the Weird Sisters, who cursed her, though Sabrina claims to have washed it off. However, Hilda isn't so sure. Zelda explains they cursed Sabrina because they're jealous as Sabrina's the daughter of a High Priest. These sort of attacks are precisely why Sabrina needs a familiar. Hilda then makes Sabrina break an egg to test if she truly washed the curse away. As it turns out, she didn't. The egg is bloody red. A blood curse is what Sabrina is inflicted with. Untreated, it will slowly eat away at Sabrina's health, will, and sanity. Hilda recommends a regimen of salt water baths and reversing candles for a couple weeks. Sabrina recalls what the Weird Sisters said about her mother and father. So, she asks if her parents' accident was truly an accident. Hilda and Zelda explains that it was. Sabrina's parents were flying to Italy. Edward was giving a lecture at the Vatican when their plane went down.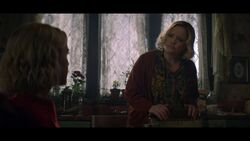 The following morning, Wednesday, October 29th, Zelda questions why Sabrina would prefer a feral familiar over one bred for service. Sabrina explains that Salem doesn't serve her. They're in a partnership, in which they'll both protect each other. Hilda on the other hand is just happy that Sabrina has a familiar and that she's purifying herself for the baptism. Sabrina then informs them of the club she's starting at school for the girls to protect themselves and she's hoping they could postpone her baptism, but Zelda will have no talk of such. Sabrina has reservations about saving herself for the Dark Lord. Zelda explains that he gets to decide what Sabrina does with her body because it's witch law. Still, Sabrina questions why this is. And if Zelda won't answer, she's like to talk with someone who can help her understand so that she can make an educated choice. However, as far as Zelda is concerned, the choice has already been decided. It's their right and duty to serve the Dark Lord. Hilda then asks if Sabrina doesn't want to be a full member of the Church of Night. Sabrina thinks that she does, but she can't seem to reason why she has to give up her mortal life to do it. Zelda states that it's witch law. The Path of Night or the Path of Light. But not both. However, Sabrina points out how her warlock father married her mortal mother, which nearly got Edward excommunicated, Zelda informs Sabrina. Zelda then reminds Sabrina that signing the Dark Lord's book is what her parents wanted for her. Hilda backs this up.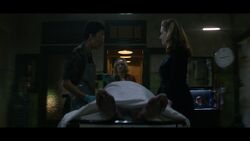 Ambrose performs an autopsy on Connor Kemper. While doing so, he notices a witch's mark on Connor's right arm and decides to alert Hilda and Zelda of his discovery. When Ambrose pokes the mark, it doesn't bleed, however, Zelda is skeptical. Nonetheless, if Connor was murdered by a witch hunter, then they'll need to bring this to the Council's attention. Another reason for Sabrina to walk Path of Night. Witches without covens are easy pickings. While on the subject, Hilda agrees that Sabrina should be able to speak to someone should she want to. Someone as close to the Dark Lord as reasonably possible. Zelda doesn't respond, only looking to Ambrose to complete the embalming process so that they can get every single drop of blood out of Connor's body for Sabrina's anointment during the baptism.
Hilda, Zelda, and Ambrose await Sabrina's return home along with Father Blackwood. The High Priest of the Church or Night. Dark Lord Satan's representative on earth. He informs her of just how special she is and how she's been chosen. Having learned that Sabrina is having doubts about her baptism and that she may in fact not be signing her name into the Book of the Beast, he's come to convince her otherwise.[3]
Physical Appearance
Hilda is short and rounder-figured, with blond hair and green eyes. Unlike the glamorous Zelda, she often wore necklaces and bracelets, her makeup is always kept simple and modest, and her sense of fashion is eccentric with a constant earthy hint (due to her often tending to her garden), and more colorful compared to her sister's.
Personality
Hilda is a sweet, kind and motherly witch, more emphatic to the clients of the Spellman Mortuary. Unlike Zelda, she doesn't completely agree with the ways of the Church of Night and is much more benevolent. She often peppers her daily conversation with others with sweet and affectionate nicknames, such as "love", "darling" or "lamb" as just a few examples. However, despite her sweet exterior, Hilda can be very vengeful when she wants to be, and one of her greatest desires is revenge for the abuse Zelda inflicted on her during their childhood. She is much more affectionate to her niece Sabrina than Zelda. Hilda enjoys making Potions and Balms for her family members and has extensive knowledge of herbs and other medicinal plants, knowing cures for curses, etc. She deeply desires to be more independent from Zelda and find true love. Hilda is also very intuitive, as she was able to predict that Shirley Jackson protected herself against all sorts of magical attacks, as well as the fact that the Weird Sisters would use the bones from the chicken that she cooked to torture Ambrose.
Powers and Abilities
Spell Casting: The power to change and control events through the use of incantations, commands, or even gestures.

Containment: The power to contain a being in a given area.
Demonic Exorcism: Hilda is able to perform an exorcism, with the help of other witches.
Astral Projection: The power to project their astral form from their body, essentially becoming a ghost.
Atmokinesis: The power to control the weather. An example is when she and the other Spellmans created a tornado in order to lure every resident on Greendale to go on the Baxter High's basement.
Warding: The power to place protection spells and wards on places and people, shielding them from harm.
Glamour: The power to disguise a physical appearance.

Potion Making: The ability to brew and concoct potions, remedies, and elixirs that have supernatural properties. Hilda is very skilled at making all kinds of potions from Love Potions to Spite Jars.
Mediumship: The ability to see and communicate with the spirits of the dead.
Divination: The ability to gain knowledge about an object, person, location or physical event through means other than the user's physical senses. She used this when she defends Susie from the boys that were bullying her by telling their darkest secrets.
Longevity: As a full witch, Hilda ages at an especially slow rate.
Relationships
Hilda and her elder sister Zelda have a quite turbulent relationship, with Zelda frequently killing Hilda when she is annoyed by her. Despite this, Hilda and Zelda genuinely love each other. Zelda apologized to Hilda for all the suffering she put her through at the Academy of Unseen Arts, and she comforted her after she was rejected by Dr. Cerberus. Hilda showed that she loves her sister when she poisoned Shirley Jackson because the latter mistreated Zelda out of pettiness.
Appearances
Trivia
Hilda mentioned that she attended Queen Victoria's Coronation where she got drunk.[4]
Hilda once attended a dinner party hosted by,Virginia Woolf. [5]
Hilda hates Fawlty Towers. [6]
Hilda has a British accent because she lived in England for a while, to take care of Ambrose.[7]
Hilda is 500 years old[8]
Hilda is a virgin.
Hilda likes baking and romance novels.
Notes
In Archie Comics, Hilda is the most strict and mean of the two aunts.

In the 1971 comic series, she was a scrawny redhead dressed like a stereotypical witch with a purple dress and pointed hat, and always cooking up some nasty potion against mortals.
In the 2014 comic series, Roberto Aguirre-Sacasa reinvented her as a plump brunette wearing glasses. Between the two, she is the kindest towards her niece Sabrina.

She is the blonde, spirited and fun aunt in the 90s sitcom, Sabrina the Teenage Witch, although in the 1996 made-for-TV movie that launched the sitcom, she was the strict redhead aunt.
According to Zelda, the eclipsing of a blood moon is stated to only occur once every 66 years. Furthermore, all the Spellmans before Sabrina have been baptized under a blood moon. This means Hilda must be no younger than eighty two years old, having been sixteen at her own dark baptism.[9]
Gallery
See also: Category:Images of Hilda Spellman


Hilda Spellman's Gallery Can Be Found Here. The Gallery May Consist of Promotional Images, Screencaps, and Video Clips Released By Network Officials
References
Community content is available under
CC-BY-SA
unless otherwise noted.