"
This is a town of sinners, Betty. And Sinners have to die. Your speech at the Jubilee. Riverdale must do better. We must do better. Reminded me of a promise that I'd made to my mother. That this town will do better. We must do better. So I picked up my father's sword, and I continued the work that he and my grandfather started. The purging of sin.
"
— Hal to Betty[src]
Harold "Hal" Cooper was a recurring character and the hidden, secondary antagonist of the second season of The CW's Riverdale. He is portrayed by Lochlyn Munro.
Hal is the former editor and co-owner of the local newspaper, which he ran with his ex-wife Alice Cooper, and the father of Betty and Polly Cooper. He holds a fanatical hatred for the Blossom Family, due to a feud that occurred a few generations back. He is also the grandfather of Jason and Polly's twin babies, Juniper and Dagwood but doesn't have a relationship due to his abhor of them leaving to a strained relationship with the rest of his immediate family among other reasons.
In "Chapter Thirty-Four: Judgment Night", Hal revealed to Betty and Alice that he is the Black Hood. Betty's speech at the 75th Anniversary Jubilee reminded him of a promise he made to his mother that Riverdale will do better.
In "Chapter Fifty-Four: Fear The Reaper", Hal fakes his death and escapes a prison bus in route for Hiram Lodge's prison. After escaping the fiery crash, he takes back up the mantle of the Black Hood and resumes killing, starting at the Prom, where he murdered three students. It's later revealed that Hal has been in cahoots with the Red Dahlia, Penelope Blossom and the Gargoyle King, Chic. After Hal fails to stop Betty and her friends, he is shot in the head and killed by Penelope.
Early Life
Prior to the start of the series, Harold Cooper was born to Louis Cooper and an unnamed mother. He grew up being taught that sinners should be gotten rid of. When he was a child, his father killed the Conway family because Mr. Conway had blackmailed him about Louis' father's secret. Hal was then told to convince Joseph Conway; the only survivor to name someone else as the murderer of his family. He eventually married his high school sweetheart, Alice and later had two daughters, named Betty and Polly. Hal and Betty would often spend time together by working on vehicles.
During his high school years, Alice, who was simply his girlfriend at the time became pregnant with FP Jones's baby. Hal tried to pressure her to have an abortion, as he didn't want to take responsibility for the unborn child, which he believed was his. Alice refused an abortion and instead gave the baby up for adoption once he was born.
Hal also owned the local newspaper, The Register, alongside his wife. Due to his family's history with the Blossom family, he harbors a deep hatred for members of the Blossom family.
Throughout Riverdale
Physical Appearance
Hal is a middle-aged man of average height, around 5' 11", with a muscular build. He has tan skin, blue eyes and blonde hair. Like his wife, Alice, Hal is typically dressed in professional clothing, suits or collared shirts and vests.
Relationships
Other Relationships
"
They stole our livelihood, Betty. And I'd die before I let them steal my daughter, too. She is sick! And Jason made her sick. And she's not coming home until she isn't sick anymore.
"
— Hal to Betty about Polly[src]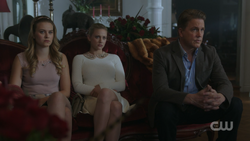 Hal's relationship with his daughter, Polly, became estranged after she got pregnant with Jason Blossom's babies. Jason being of the Blossom family, who Hal openly despised, only made matters worse between them as Polly never understood the root of his hatred for them. Hal's desire for Polly to abort the babies only left them further estranged as Polly chose to keep them. Shortly after she got pregnant, Hal disowned Polly as he refused to have as he puts it "Blossom blood in his household". However, after revealing that the real reason he was upset about Polly's pregnancy was because she and Jason were blood relatives, the relationship became less hostile. They even attended Clifford Blossom's Will-Reading together, along with Betty.
Appearances
| | | | |
| --- | --- | --- | --- |
| | Season 1 | Season 2 | Season 3 |
Season 4
Trivia
Gallery
See also: Category:Images of Hal Cooper
References
Community content is available under
CC-BY-SA
unless otherwise noted.