Gloria Grandbilt is a main character on The CW's Katy Keene. She is portrayed by Katherine LaNasa.
Character Description
A legendary personal shopper at the luxury department store Lacy's, which caters to the rich and famous. Always impeccably dressed and the queen of her domain, she demands a level of excellence from her "girls," young assistants that few can provide.[1]
Early Life
Throughout Katy Keene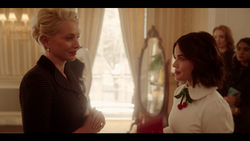 Gloria Grandbilt calls her assistant Katy Keene to work for a fashion emergency. At Lacy's, Gloria arrives to explain that Alexandra Cabot, heiress to the Cabot Entertainment empire is moments from arriving, and she'd like one of them to assist her. Katy steps forward and takes the initiative, offering to get started on high fashion pieces in the store. She also offers to chill the Dom Perignon and get three Earl Grey macaron plated, as well as lots of shoes. Gloria then tells Amanda to stay out of her and Katy's way.
Alexandra arrives and greets Gloria, who just met with her mother a week prior. Katy rushes in with dresses and shoes. By the looks of it, Alexandra has dropped a dress size. Katy offers to pull out the bathing suits, as Alexandra vacations twice a month. Alexandra asks if Gloria has the palazzo pumps, to which Gloria replies of course.
Gloria fits Alexandra for a red dress that she says was made for. Stella McCartney, the dress designer said that she had Alexandra's figure in mind when she designed it. Katy arrives just in time to bring Alexandra her palazzo pumps.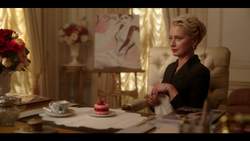 Later, Katy asks Gloria about the personal shopper position. Katy's been assisting Gloria for three years and feels as if she's ready to be Lacy's new personal shopper. Katy has the highest sales record, and she knows every single item in the store. Gloria's learned from some of the girls that Katy wants to be a designer. That she actually makes clothes. Gloria tells Katy that being a personal shopper at Lacy's isn't a side hustle or stepping stone, it's a career. She's not interested in promoting someone whose focus is split. Back in the day, Lacy's would only employ single girls. Husbands and children were seen as distractions. Gloria needs a worker like herself, committed and without distractions. When she dies, she wants them to scatter her ashes in Lacy's. Katy admits that she makes clothes, but that it's just for her. Given Katy's commitment and knowledge, Gloria is tasking her with a special assignment. Prince Errol Swoon is coming to the store tomorrow to shop for the Met Gala. It's a crucial opportunity for them to make their numbers this year. If Katy proves that she's the creme de la creme of Gloria's girls, then the personal shopper position is hers.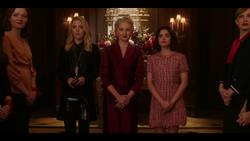 The following day, Katy, Gloria, and Amanda welcome Prince Errol Swoon as he arrives at Lacy's. Much to Katy and Gloria's surprise, Prince Errol brought a date. A woman named Patricia Kline. Amanda reveals that she's a commoner with under a thousand followers on Instagram. Amanda offers to run interference. Gloria blames Katy for not knowing about Patricia. Katy offers to fix this, but she's already let Gloria down.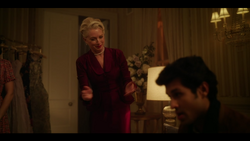 In the world of fashion, Gloria Grandbilt is legendary. An icon and a gatekeeper. In all her years at Lacy's, no one has ever seen Gloria sweat until right this very moment, after Prince Errol's girlfriend Patricia had turned down all seven dresses provided to her. Gloria is confident she's going to adore the latest dress. And while they wait, she offers to show Errol some of the Cartier tie clips.
Mrs. Lacy thanks Gloria and her team for their exemplary performance in hosting their royal guest. Gloria admits that she couldn't have done it without her team, which is why she makes an announcement to appoint, albeit shockingly, Amanda, as the newest personal shopper, as opposed to Katy.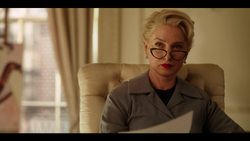 Katy confronts Gloria after not being appointed as Lacy's newest personal shopper. It was Gloria's understanding that Patricia, Prince Errol's girlfriend, tried on a dress they don't sell at the store. One of Katy's designs. Katy reasons that Errol was about to walk out of the store, so she improvised. However, in doing so, she violated store policy as well as one of Gloria's golden rules. Gloria accuses Katy of making it about herself, though Katy accuses her of doing the same. Which is why effective immediately, Gloria tells Katy that she no longer reports to her department.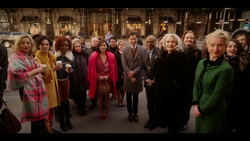 The following morning, Katy, Josie, Jorge, Pepper, Francois, Gloria, and Mrs. Lacy convene outside Lacy's, where a crowd has gathered for the annual unveiling of their new store windows. They pull up the curtain and reveal the window, filled with Katy's designs. The crowd applauds, and Mrs. Lacy is speechless. Francois informs everyone that it was Katy's idea, and for her hard work, he'd like to offer her a job in his department. It's low pay and long hours, but she'll be rewarded for her talents. The job comes with one condition. He's not letting her work for him forever. She has nine months with him before he wants her out in the world designing.
Afterward, a bouquet of flowers arrives from Prince Errol Swoon for Katy, thanking her for all her work. However, it is Amanda and Gloria who receive it.[2]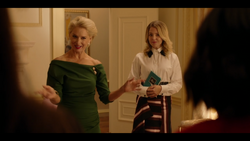 Gloria calls Katy and requests that she return to Lacy's despite firing her. Gloria welcomes Katy back, much to Amanda's dismay. She questions why Katy has returned. Gloria explains that Prince Errol Swoon is returning to Lacy's and has personally requested Katy. However, Katy has a morning meeting with Francois to attend, not that Gloria is concerned. Despite Amanda wishing to send Katy on her way, Gloria demands that she stay to tend to the prince. Gloria informs Katy that Prince Errol is coming back to buy an engagement ring for Patricia. This is Lacy's chance to take part in a royal engagement.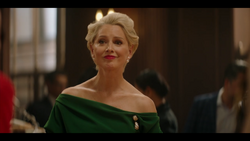 Katy and Gloria show Prince Errol Swoon engagement rings, though he's having trouble deciding on one. Katy mistakenly asks what if Patricia says no, immediately apologizing for her outburst. The prince is hoping the perfect ring will seal the deal. He then picks a ring out the bunch and asks Katy to try it on. He places the ring on Katy's hand to see how it looks, however, he's not convinced it's the right one. He asks about their custom rings and insists that Katy design it. Gloria agrees to make arrangements with the goldsmith.
The following morning, Katy reconvenes with Gloria and Prince Errol Swoon to discuss his custom ring. Katy explains her design, pulling from both Errol and Patricia's family for inspiration. He loves it and asks it to be made, kissing Katy's hand as he thanks her.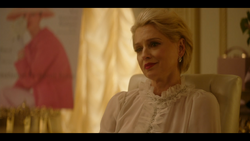 In watching Katy work with the prince, Gloria admits that Katy has a certain quality that can't be taught, which is why Gloria welcomes Katy back to her department as one of her girls. While Katy is flattered, she works for Francois now and refuses to just leave him. Gloria offers to talk to Francois and work out an arrangement, so that Katy can split her time between the two departments. Katy sighs. Not in response to Gloria, but more so with KO. While her expertise is fashion, Gloria offers to hear our Katy's dilemma. Katy reveals that she's yet to answer his proposal. And she's been searching her soul for the answer, and last night, she finally found it. While she loves KO, she doesn't want to marry him or lose him. Gloria advises Katy to tells KO the truth regardless of the outcome. She then hands Katy a napkin and tells her to clean herself up.[3]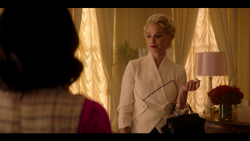 Gloria informs Katy, Amanda, and the girls that with Friday being Valentine's Day, it is Lacy's most lucrative time of the year, outside of Christmas. She encourages the girls to sell as much as they can. Also, Lacy's Night of a Hundred Hearts is Friday. They'll be hosting VIPs for shopping, cocktails, and caviar. Katy asks Gloria if she can skip the party for KO's big match. However, Gloria refuses to excuse her of her duties at the event. After she leaves, Amanda tells Katy how the last time she tried to take the morning off because she was hung over, Gloria showed up at her apartment. Katy exclaims that just because Gloria has no one to go home to, doesn't mean she should take it out on her. Unbeknownst to Katy, Gloria is standing right behind her. Gloria explains that she's already home, surrounded by the loves of her life, such as designer handbags. Katy tries to apologize for her crude remark, but Gloria simply excuses her from the event. However, she inform Katy that she'll be missing out on the opportunity to meet the list of Vanity Flair's designers to watch.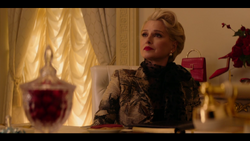 Katy tells Gloria that she can work the event at Lacy's, however, Gloria claims to have already filled her position. Katy asks if Gloria wants her to beg, to which Gloria replies that she enjoys a good grovel, and Katy does just that. Gloria cuts Katy off and agrees to allow her to attend the event.
Gloria and Amanda witness as KO gets his blood on an expensive white blouse. Gloria brings KO a cup and tells him to spit on it. She needs the saliva of the person whose blood it is to pull a stain from silk. Gloria then gives the cup to Katy and tells her how to get rid of the stain. With Katy heading to the back and Gloria introducing Sumi to a client, Amanda reveals to KO that Gloria gave Katy the night off.[4]
Physical Appearance
Personality
Gloria is rude and disrespectful to people she considers beneath her.
Relationships
Appearances
Season 1
Trivia
Gallery
See also: Category:Images of Gloria Grandbilt


Gloria Grandbilt's Gallery Can Be Found Here. The Gallery May Consist of Promotional Images, Screencaps, and Video Clips Released By Network Officials
References
Community content is available under
CC-BY-SA
unless otherwise noted.