"
Being a personal shopper at Lacy's isn't some side hustle or stepping stone, it's a career. I'm not interested in promoting someone whose focus is split. Back in the day, Lacy's would only employ single girls. Husbands and children were seen as distractions. Of course, we can't say that now-a-days, but I do need people like myself. Committed. 100%. When I die, I want them to scatter my ashes here, at Lacy's.
"
Gloria Grandbilt is a main character on The CW's Katy Keene. She is portrayed by Katherine LaNasa.
She is Katy's boss and mentor. Gloria was a well known personal shopper at Lacy's until being fired for a public scandal. However, with Katy's help, she was reinstated and appointed as head of the department.
Character Description
A legendary personal shopper at the luxury department store Lacy's, which caters to the rich and famous. Always impeccably dressed and the queen of her domain, she demands a level of excellence from her "girls," young assistants that few can provide.[1]
Throughout Katy Keene
Welcoming Prince Errol Swoon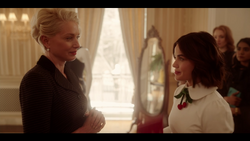 Gloria Grandbilt calls her assistant Katy Keene to work for a fashion emergency. At Lacy's, Gloria arrives to explain that Alexandra Cabot, heiress to the Cabot Entertainment empire is moments from arriving, and she'd like one of them to assist her. Katy steps forward and takes the initiative, offering to get started on high fashion pieces in the store. She also offers to chill the Dom Perignon and get three Earl Grey macaron plated, as well as lots of shoes. Gloria then tells Amanda to stay out of her and Katy's way.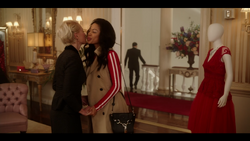 Alexandra arrives and greets Gloria, who just met with her mother a week prior. Katy rushes in with dresses and shoes. By the looks of it, Alexandra has dropped a dress size. Katy offers to pull out the bathing suits, as Alexandra vacations twice a month. Alexandra asks if Gloria has the palazzo pumps, to which Gloria replies of course.
Gloria fits Alexandra for a red dress that she says was made for. Stella McCartney, the dress designer said that she had Alexandra's figure in mind when she designed it. Katy arrives just in time to bring Alexandra her palazzo pumps.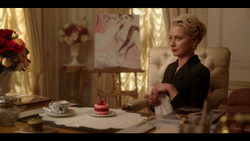 Later, Katy asks Gloria about the personal shopper position. Katy's been assisting Gloria for three years and feels as if she's ready to be Lacy's new personal shopper. Katy has the highest sales record, and she knows every single item in the store. Gloria's learned from some of the girls that Katy wants to be a designer. That she actually makes clothes. Gloria tells Katy that being a personal shopper at Lacy's isn't a side hustle or stepping stone, it's a career. She's not interested in promoting someone whose focus is split. Back in the day, Lacy's would only employ single girls. Husbands and children were seen as distractions. Gloria needs a worker like herself, committed, and without distractions. When she dies, she wants them to scatter her ashes in Lacy's. Katy admits that she makes clothes, but that it's just for her. Given Katy's commitment and knowledge, Gloria is tasking her with a special assignment. Prince Errol Swoon is coming to the store tomorrow to shop for the Met Gala. It's a crucial opportunity for them to make their numbers this year. If Katy proves that she's the creme de la creme of Gloria's girls, then the personal shopper position is hers.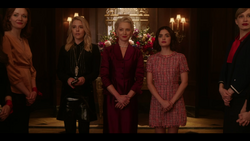 The following day, Katy, Gloria, and Amanda welcome Prince Errol Swoon as he arrives at Lacy's. Much to Katy and Gloria's surprise, Prince Errol brought a date. A woman named Patricia Kline. Amanda reveals that she's a commoner with under a thousand followers on Instagram. Amanda offers to run interference. Gloria blames Katy for not knowing about Patricia. Katy offers to fix this, but she's already let Gloria down.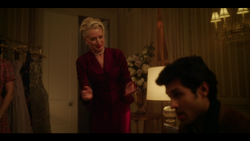 In the world of fashion, Gloria Grandbilt is legendary. An icon and a gatekeeper. In all her years at Lacy's, no one has ever seen Gloria sweat until right this very moment, after Prince Errol's girlfriend Patricia had turned down all seven dresses provided to her. Gloria is confident she's going to adore the latest dress. And while they wait, she offers to show Errol some of the Cartier tie clips.
Mrs. Lacy thanks Gloria and her team for their exemplary performance in hosting their royal guest. Gloria admits that she couldn't have done it without her team, which is why she announces to appoint, albeit shockingly, Amanda, as the newest personal shopper, as opposed to Katy.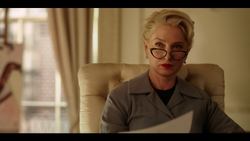 Katy confronts Gloria after not being appointed as Lacy's newest personal shopper. It was Gloria's understanding that Patricia, Prince Errol's girlfriend, tried on a dress they don't sell at the store. One of Katy's designs. Katy reasons that Errol was about to walk out of the store, so she improvised. However, in doing so, she violated store policy as well as one of Gloria's golden rules. Gloria accuses Katy of making it about herself, though Katy accuses her of doing the same. This is why effective immediately, Gloria tells Katy that she no longer reports to her department.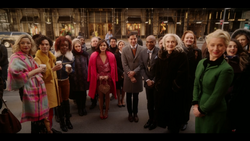 The following morning, Katy, Josie, Jorge, Pepper, Francois, Gloria, and Mrs. Lacy convene outside Lacy's, where a crowd has gathered for the annual unveiling of their new store windows. They pull up the curtain and reveal the window, filled with Katy's designs. The crowd applauds, and Mrs. Lacy is speechless. Francois informs everyone that it was Katy's idea, and for her hard work, he'd like to offer her a job in his department. It's low pay and long hours, but she'll be rewarded for her talents. The job comes with one condition. He's not letting her work for him forever. She has nine months with him before he wants her out in the world designing.
Afterward, a bouquet arrives from Prince Errol Swoon for Katy, thanking her for all her work. However, it is Amanda and Gloria who receive it.[2]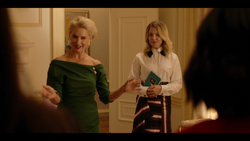 Gloria calls Katy and requests that she return to Lacy's despite firing her. Gloria welcomes Katy back, much to Amanda's dismay. She questions why Katy has returned. Gloria explains that Prince Errol Swoon is returning to Lacy's and has personally requested Katy. However, Katy has a morning meeting with Francois to attend, not that Gloria is concerned. Despite Amanda wishing to send Katy on her way, Gloria demands that she stay to tend to the prince. Gloria informs Katy that Prince Errol is coming back to buy an engagement ring for Patricia. This is Lacy's chance to take part in a royal engagement.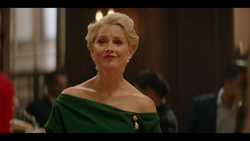 Katy and Gloria show Prince Errol Swoon engagement rings, though he's having trouble deciding on one. Katy mistakenly asks what if Patricia says no, immediately apologizing for her outburst. The prince is hoping the perfect ring will seal the deal. He then picks a ring out the bunch and asks Katy to try it on. He places the ring on Katy's hand to see how it looks, however, he's not convinced it's the right one. He asks about their custom rings and insists that Katy design it. Gloria agrees to make arrangements with the goldsmith.
The following morning, Katy reconvenes with Gloria and Prince Errol Swoon to discuss his custom ring. Katy explains her design, pulling from both Errol and Patricia's family for inspiration. He loves it and asks it to be made, kissing Katy's hand as he thanks her.
In watching Katy work with the prince, Gloria admits that Katy has a certain quality that can't be taught, which is why Gloria welcomes Katy back to her department as one of her girls. While Katy is flattered, she works for Francois now and refuses to just leave him. Gloria offers to talk to Francois and work out an arrangement so that Katy can split her time between the two departments. Katy sighs. Not in response to Gloria, but more so with KO. While her expertise is fashion, Gloria offers to hear Katy's dilemma. Katy reveals that she's yet to answer his proposal. And she's been searching her soul for the answer, and last night, she finally found it. While she loves KO, she doesn't want to marry him or lose him. Gloria advises Katy to tells KO the truth regardless of the outcome. She then hands Katy a napkin and tells her to clean herself up.[3]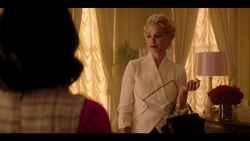 Gloria informs Katy, Amanda, and the girls that with Friday being Valentine's Day, it is Lacy's most lucrative time of the year, outside of Christmas. She encourages the girls to sell as much as they can. Also, Lacy's Night of a Hundred Hearts is Friday. They'll be hosting VIPs for shopping, cocktails, and caviar. Katy asks Gloria if she can skip the party for KO's big match. However, Gloria refuses to excuse her of her duties at the event. After she leaves, Amanda tells Katy how the last time she tried to take the morning off because she was hungover, Gloria showed up at her apartment. Katy exclaims that just because Gloria has no one to go home to, doesn't mean she should take it out on her. Unbeknownst to Katy, Gloria is standing right behind her. Gloria explains that she's already home, surrounded by the loves of her life, such as designer handbags. Katy tries to apologize for her crude remark, but Gloria simply excuses her from the event. However, she informs Katy that she'll be missing out on the opportunity to meet the list of Vanity Flair's designers to watch.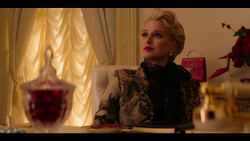 Katy tells Gloria that she can work the event at Lacy's, however, Gloria claims to have already filled her position. Katy asks if Gloria wants her to beg, to which Gloria replies that she enjoys a good grovel, and Katy does just that. Gloria cuts Katy off and agrees to allow her to attend the event.
Gloria and Amanda witness as KO gets his blood on an expensive white blouse. Gloria brings KO a cup and tells him to spit on it. She needs the saliva of the person whose blood it is to pull a stain from silk. Gloria then gives the cup to Katy and tells her how to get rid of the stain. With Katy heading to the back and Gloria introducing Sumi to a client, Amanda reveals to KO that Gloria gave Katy the night off.[4]
Courting Guy LaMontagne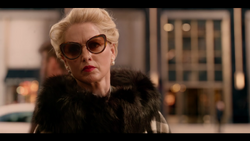 Gloria arrives at Lacy's to find Katy sleeping in the front window. She knocks on the glass, waking Katy, who's wearing only a jacket and her underwear, from her sleep. Gloria demands an answer to Katy's inexcusable behavior.
Gloria informs Katy that they're preparing for the arrival of Guy LaMontagne, creative director in Paris. Rumor has it that he's moved back to New York City indefinitely. Mrs. Lacy asked Gloria to convince him to sell at Lacy's exclusively. To begin, Gloria tells Katy to purge herself of her relationship problems, as they need to show Guy that they're the only team worthy of selling his line.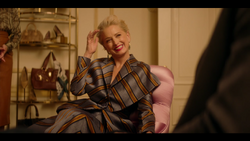 Gloria takes a seat across from Guy, who doesn't care for Lacy's nor does he wish to sell from them exclusively, referring to the store as a thing of the past. While he respects the legacy, Lacy's feels old fashioned. Guy questions if Gloria truly understands his work, and Katy assures him that no one knows his designs better than Gloria. Unfortunately, Katy mistakenly confuses Guy with another designer, which is all he needed to make his final decision to not sell from Lacy's. Katy apologizes for her mistake, not that Gloria accepts it. When Katy asks if they really need Guy's partnership, Mrs. Lacy informs her that they do. Lacy's is struggling. They'll shutter if they have another bad year. Katy promises to fix it. Mrs. Lacy is doubtful, but if Katy manages o do as she promises, Mrs. Lacy won't fire her.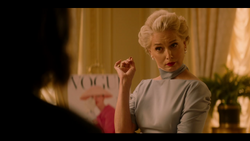 Katy is then awakened by Gloria the following morning, informing her that Mrs. Lacy has summoned her. Mrs. Lacy explains that never once in the history of Lacy's has a shopgirl behaved in such an atrocious manner. And then, Mrs. Lacy got a call from Guy, who has picked Lacy's as his exclusive retailer as long as they give him the entire 8th floor. Gloria suggests that they move their overstock storage to the basement. Having Guy set up shop could keep Lacy's relevant for years to come. Mrs. Lacy agrees to consider it.[5]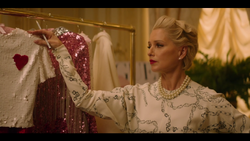 Katy approaches Gloria with her outfit submissions for Parsons in hopes that she'll agree to write a letter of recommendation. However, Gloria is unimpressed with Katy's designs. There's no cohesion or focus. With the Young Fellows Ball approaching, she tells Katy to make her a dress within 24 hours and if she likes it, she'll write the letter. Gloria writes down her body measurements and tells Katy to keep them to herself, otherwise, she'll be burned along with last season's unsold collection.
The following day, Katy brings the dress she designed. Gloria is impressed. She sees focus and inspiration in it. However, she won't be wearing it to the gala as she initially planned because she just received an exquisite custom gown. She commends Katy on a job well down though and writes the letter of recommendation.[6]
Royal Photoshoot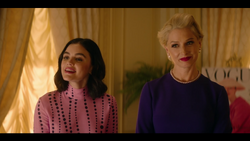 Lacy's hosts a royal engagement announcement photoshoot for Prince Errol and Patricia, who informs Gloria and Katy that Errol's grandmother is concerned that the photographer, Will Buckingham is "too green." However, Prince Errol disagrees. Katy adds that Will Buckingham was also just promised the September issue cover from Vogue, so if anyone is going to make Patrica look like a princess, it's him. While Patricia May trust Katy, she worries that Errol's family may not approve, though his family's approval is no concern of his. Patricia storms off with Prince Errol chasing after her. Gloria tasks Katy with ensuring that the photoshoot goes off without a hitch. Katy then asks Gloria if she could look into Lacy's employment history to see if her mother was ever an employee.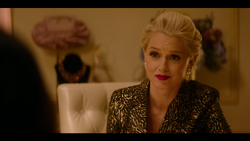 Gloria congratulates Katy on a job well down with the photoshoot. Gloria retrieved Katy's mother's file from Human Resources. Her file says that she was fired. From what Gloria could gather, the management doubted her commitment to the store. She was terminated around the same time Katy was born. Katy wonders why her mom went to such lengths to keep this from her. Gloria presumes that if Katy's mother was keeping something from her, then it was probably to protect her. She then tells Katy to go on to the listening party and have fun. As Katy leaves, Gloria puts a letter back into Katherine's file, signed "LL."
Gloria calls Katy and demands her presence at Lacy's. Katy arrives at Lacy's to find Gloria standing across from Prince Errol and Patrica. Patrica approaches Katy, as it was Katy who dressed her the first time she shopped at Lacy's. It was also Katy who designed her engagement ring and planned their photoshoot. She trusts Katy, which is why she's hoping Katy will agree to design her wedding dress.[7]
At Lacy's, Katy has yet to confirm nor deny to design Patricia's royal wedding dress. She ultimately turns Patricia down, much to Gloria's dismay. Katy claims that she's inexperienced and suggests a more household name. Patricia refuses to accept no as an answer and gives Katy a day to think about it. Errol and Patrica then leave.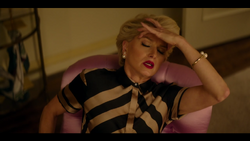 Gloria is suffering from a migraine after witnessing Katy turn down the opportunity of a lifetime by refusing to design Patricia's dress. Gloria demands that Katy explain herself. Before Katy can answer, Patrica appears as a manifestation of Katy's guilty conscience. Her very own personal Spider-Woman. Katy lies and says that she's already committed to making costumes for Jorge's musical, claiming that it's a large production with 55 changes, and she can't do both. Gloria is in disbelief that Katy is choosing to do costumes for an off-off-Broadway show rather than a royal dress. Amanda arrives with Gloria's tea to hopefully cure her of her migraine.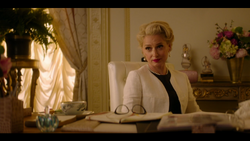 Gloria calls Katy into her office to further discuss her turning down the opportunity to design Patricia's dress. Gloria suspects that Katy's reluctance is related to how Prince Errol looks at her and clearly has feelings for her. Katy reveals that she slept with Errol but only because she thought he ended it with Patricia. Katy couldn't live with herself if her entire career was built around Patricia's dress. Gloria retorts that she wouldn't be able to live with herself if she turned down the biggest opportunity of her life because of a man. She insists that Katy design the dress.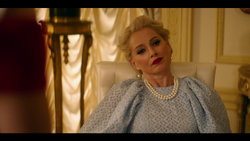 The following day, Katy tells Gloria about how she's seeing Patrica everywhere she looks, a clear manifestation of her guilt. When Errol and Katy got together, she wasn't betraying anyone because she thought that he had ended his relationship with Patricia, but they're back together now, and Katy can't help but feel that making Patrica's dress is a betrayal. Gloria, however, couldn't care less and demands that Katy design the dress.
Katy presents Patrica with her wedding dress. Patrica adores it, however, Katy reveals that she didn't design it. It's a Guy LaMontagne original. One day, Katy will be ready. Until then, Patricia deserves someone who will do her justice. Patrica thanks Katy as she and Gloria proceed to help her out the dress.[8]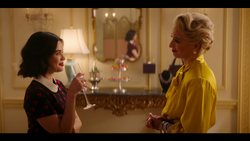 Gloria celebrates Katy's accomplishment and raises a glass in her honor. Katy tells Amanda that her internship with Guy is unpaid, so she'll still be working with her and Gloria part-time. Before leaving, Gloria reminds Katy that she won't be there to clean up Katy's messes and that Guy is notorious for firing his apprentices. And the people he fires tend to disappear from the fashion world. Katy promises Gloria that this won't happen to her.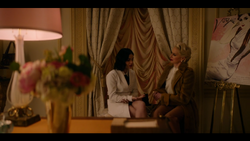 Katy retreats to Gloria's office after letting Guy down and cries. Before long, Gloria arrives and cleans the wound on her finger. Gloria reminds Katy what happened to Sleeping Beauty when she pricked her finger on the spindle; she forgot herself and slept for twenty years. Katy insists that she isn't losing herself. Katy is simply struggling with the pressure. Whatever she chooses to do, Gloria advises her to never let Guy see her weak. He wants to know he can break her. She then tells Katy to wipe her eyes and go back upstairs.
Katy, Guy, and Gal present Gloria with all five dresses. She is amazed by each dress except for the one crafted by Katy. Amanda agrees, adding that it lacks sophistication. Guy takes the blame for the dress and agrees to do away with it. Gloria still needs to see one more garment before Mrs. Lacy can give him the green light, but Gloria can tell that he's on the right track.[9]
Fired from Lacy's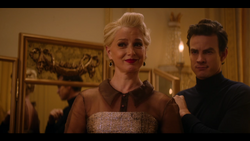 At Lacy's, Katy and Guy help Gloria prepare for her book launch. She's wearing one of Guy's designs before it even hits the runway. As she assists Gloria, Katy has flashes of her dream. Guy notices Katy's off behavior and pulls her to the side to address it, but Katy insists that she's fine. Gloria has always wanted to publish her own memoir and is all smiles now that the time has come. She expects that Katy will wear something nice, as she'll be representing her.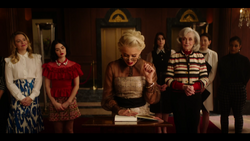 Katy attends Gloria's book launch at Lacy's. She stands next to Amanda as Mrs. Lacy welcomes Gloria to the podium to read an excerpt from her book "Gloria's Golden Rules of Fashion." Guy is among those in the crowd. As she reads from the first chapter, the members of the audience suddenly receive notifications simultaneously; a piece from the Daily Hail that claims Gloria offers sexual favors to her A-list clients, using her sales girls as bait, including a worker who slept with a member for the royal family to secure Lacy's involvement in the royal wedding.
Katy and Gloria retreat to her office, where they question who could be responsible for leaking this information to the tabloids. She's worried that she'll never recover from this. Mrs. Lacy enters and asks to speak with Gloria privately.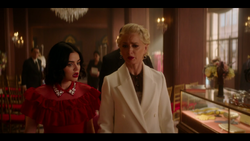 As Gloria is escorted out, she reveals that it'll only be for a few days. Katy tries to stop her from leaving, but Gloria pleads with her to not make a scene. Gloria puts on her sunglasses and exits Lacy's, where she is bombarded by paparazzi.
Gloria surprises Katy by showing up at her door and asks that Katy write a letter explaining how Gloria has never coerced her girls into using sex as a tool in the workplace. Gloria has a close friend at the Times who has agreed to publish it. She'd do it herself but Lacy's lawyers have put a gag order on her. In the meantime, Katy assures Gloria that she'll suss out the leak.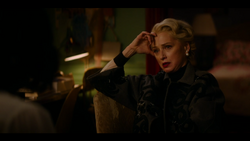 Katy calls Gloria over and tells her that she couldn't write the letter. And instead, confronts Gloria as some of the claims in the article were true. She's not only pitted them against each other but has also criticized how they look. Some days, working for Gloria is beyond rewarding while other days, Katy feels disposable and unworthy. Katy reveals that not only does she feel this way but that it's the general consensus among the girls. Gloria loves Lacy's, and she loves the girls. She thinks of them as her daughters, and it's for that reason that she refuses to coddle them. She only wishes to see them succeed in a cutthroat business. She's far from the biggest wolf they'll encounter on their path to becoming a designer. Katy explains that if Gloria wasn't so hard on people, they would have her back. Furthermore, she thinks Gloria is a good person.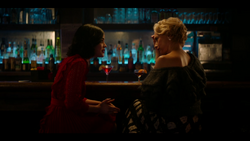 Gloria meets with Katy at Molly's Crisis and reports her suspicion of Mrs. Lacy. Katy suspects that she's the leak. She recalls how Guy told her that the board is looking to make an internal change so that the store could appeal to a new generation of customers. Mrs. Lacy is threatened by Gloria and wanted to remove her as a potential heir to her throne. It all adds up, except for the fact that Mrs. Lacy didn't know about Katy and Errol. Gloria admits that she told Mrs. Lacy in order to protect them all. She then reveals that she's already released a statement to the press; an apology as well as an official resignation. Katy wonders why Mrs. Lacy is so determined to see Gloria's downfall. Gloria shares with Katy what she describes as being a cautionary tale. Many years ago, she had an affair with one of her superiors. At the time, she thought she was in complete control. She had the man of her dreams as well as the job of her dream. However, Mrs. Lacy found out and it changed their relationship for the worse. With that, Gloria's affair came to an end. Even worse, every so often, she lies awake at night wondering if she's only so successful because of a man. And Gloria doesn't want the same for Katy, who assures Gloria that her relationship with Guy is strictly professional. When the time is right, Gloria promises Katy that she'll rise again. Until then, she asks Katy to collect her belongings from Lacy's.[10]
Reinstated at Lacy's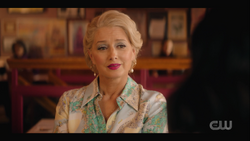 Gloria and Katy meet at a diner, where Katy explains that Jorge is fighting to save his building, and she's hoping that they can do the same with Lacy's. Katy having second thoughts about accepting Guy's offer because she's doesn't want to make the same mistakes as her mom, who sacrificed her dreams because a man got in the way. Also, Katy couldn't live with herself knowing that Guy stole so many of his designs from past apprentices, so she called him and turned down his offer. Gloria is pleased to hear that history isn't repeating itself and agrees to help Katy save Lacy's. Katy has a buyer in mind, someone with even more money than Mr. Cabot.
Josie and the Pussycats perform at the fashion show set up at the Pepper Plant by Katy. Gloria sits in the crowd with Francesca Arnault. Katy takes the runway in her original design. Afterward, Gloria introduces Katy to Francesca, the dean of Parsons. Out on that runway, Francesca not only saw Katy's talent, she saw a designer who lifts other designers. So, she offers Katy a spot in this year's incoming class at Parsons.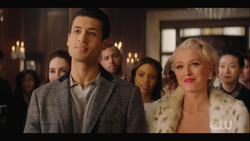 Mrs. Lacy holds a press conference to announce that Lacy's is closing down at the end of the month. Katy, Francois, and Amanda are in attendance. Prince Errol arrives with Gloria and reveals that he's the new owner of Lacy's and that it'll remain open. As of yesterday, he's stepped down from the royal family. He's financially independent, and he beat out Mr. Cabot's offer. Effective immediately, Gloria is reinstated as head of personal shopping. Mrs. Lacy argues that Lacy's is nothing without a Lacy. Errol agrees, which is why he contacted her son, Leo Lacy, who has agreed to replace Mrs. Lacy. She storms off in a fit of rage.[11]
Physical Appearance
Gloria is a middle-aged woman with pale skin, blonde hair, and brown eyes. She has a fancy and luxurious wardrobe, consisting of everything from stylish dresses to expensive heels.
Personality
Gloria is rude and blunt. She often talks down to people she considers beneath her and holds herself up high on a pedestal.
Relationships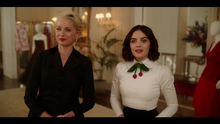 Gloria is Katy's boss and mentor, who Katy looks up to and is greatly inspired by. Their relationship has developed since Katy first began working at Lacy's, where Gloria initially saw Katy as nothing more than another one of her girls, who were replaceable. Since then, Katy has proven her worth and skill, resulting in her gaining a certain level of respect from Gloria. Katy even helped Gloria gets reinstated as head of personal shopping at Lacy's after she was fired. Gloria sees Katy's potential and wishes to see her prosper.
Appearances
Season 1
Trivia
Gloria first appeared in the Archie Comics Katy Keene #30 issue.

In some of the more recent comics, her last name was changed to Gold.

Gloria serves up '40s- and '50s-inspired styles, some of which are direct copies of ensembles in the comic mixed with contemporary designs.[12]
In the Archie Comics, Gloria was a rival to Katy Keene in her modeling career. Unlike the TV series, they're about the same age.
Gallery
See also: Category:Images of Gloria Grandbilt
| | |
| --- | --- |
| | Gloria Grandbilt's Gallery Can Be Found Here. The Gallery May Consist of Promotional Images, Screencaps, and Video Clips Released By Network Officials |
References
Community content is available under
CC-BY-SA
unless otherwise noted.