Fangs Fogarty was initially a recurring character on The CW's Riverdale. He has since been promoted to series regular for the fifth season onward.[1] He is portrayed by Drew Ray Tanner.
He was a student at Southside High until it was shut down by Mayor McCoy, who deemed that Southside High was a public health hazard, claiming toxic fumes were coming from the "methamphetamine lab" in the basement. Fangs, along with his close friends, Toni Topaz, Jughead Jones, and Sweet Pea, transferred to Riverdale High. He is also a member of the Southside Serpents.
During his first interaction with Kevin Keller in the student lounge of Riverdale High, Fangs revealed that he and Joaquin DeSantos were good friends, before he left town. While Joaquin was taking up residence in Riverdale, he used to talk about Kevin with Fangs.
After his hook-up with Midge Klump was exposed to the town following her murder, many of the Northsiders were quick to place blame on Fangs, deciding then and there that he was her killer. It was because of these unsubstantiated accusations that Fangs was shot by Midge's mother as he exited the Sheriff Station. FP Jones would later share news of Fangs' "death" to the Serpents, only for it to be revealed as a hoax, set in play by Hiram Lodge in order to goad the Serpents into a fight with the Ghoulies that they could not win.
Fangs has since graduated from the University of Pittsburgh, where he was in an open relationship with Kevin. After returning to Riverdale, he and Kevin moved in with Toni, where they were engaged and discussed having a kid with Toni, who offered to be their surrogate mother. However, Fangs and Kevin have since broken up due to Kevin's inability to commit.
Early Life
It appears that Fangs is a recently new member of the Southside Serpents, as Sweet Pea informed Jughead that Fogarty wanted to earn his Serpents stripes. Suggesting that Fogarty bring them the head of the "Northsider", Archie, in order for him to be in the gang. Which Fangs was more than happy to oblige upon his request. Like all other Serpents, Fangs had to complete the Serpents Initiation in order to join the Southside Serpents.
Throughout Riverdale
Physical Appearance
Fangs appears to have short jet black hair, faded on the sides with the top of his hair longer, styled neatly and combed well. He also has dark brown eyes and wears a number of pieces of jewelry, rings both hands, and wears a dog tag around his neck. He has a tattoo with the gang's symbol of a double-headed serpent tattooed on the right-hand side of his arm above his shoulder.
Personality
Fangs initially appeared to be a very cool and calm Serpent unlike the rest of them. However, upon confrontation, he is easily frightened, as he did not hesitate to run for his life when Archie pulled out a gun on Sweet Pea. Despite this, he is very noble and loyal to those he cares about, such as when Jughead assigned him to go undercover with the Gargoyle Gang. However, upon joining the Farm, Fangs' personality changed for the worst, he became more bitter and resentful, and even became more physically aggressive, dragging Betty across the floor. After he is freed of the Farm's compulsion, he regains his sense of self.
Relationships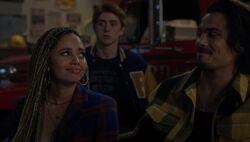 Fangs and Toni's friendship dates back to their adolescence, when they both joined the Southside Serpents along with Sweet Pea. The three of them were a part of Jughead's smaller clique within the Serpents. After graduating from high school, they all went their separate ways, with Toni going to Highsmith College and Fangs head off to the University of Pittsburgh, where he and Kevin continued their relationship. After college, Fangs, Kevin, and Toni all moved back to Riverdale, where they got an apartment together, and Toni agreed to be Fangs and Kevin's surrogate mother. However, by the time the baby arrived, Kevin and Fangs were no longer together, leaving Toni and Fangs to raise Baby Anthony together as a couple.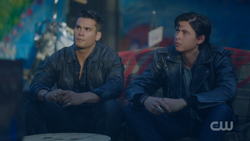 Both in and out of school, Fangs and Sweet Pea, who are often seen together, appear to be close friends, though it remains unclear how long the two have known each other or whether or not this friendship extends beyond the Serpents. Due to their mutual ties to this Southside gang, Fangs and Sweet Pea are expected to be willing to die for each other, as the gang presents a fairly strong bond of loyalty and family. Fangs and Sweet Pea are similar in many ways, including their equally reckless and impulsive behavior, take their willingness to blow up the Register following Alice Cooper's article on the rumble with the Riverdale Bulldogs, which depicted them as town menaces for example.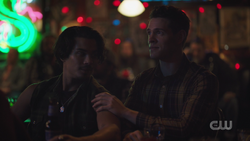 After a brief interaction in the student lounge, and Fangs being an assistant director to Kevin in Carrie: The Musical, in "Chapter Thirty-One: A Night to Remember", Fangs and Kevin kiss each other in "Chapter Fifty-One: Big Fun" during a Farm ceremony led by Evelyn Evernever and begin a relationship. Their relationship later became heavily strained after the two managed to escape the farm until they became business partners in making "tickle videos" for buyers. This eventually brought them closer and they started dating once again by the end of senior year. After graduating, despite Kevin attending Carnegie Mellon University and Fangs attending the University of Pittsburgh, the two remained boyfriends for seven years and moved in together after returning to Riverdale. However, Fangs and Kevin have since broken up due to Kevin's inability to commit.
Appearances
Season 6
TBA
Trivia
In the Little Archie comic series, which focused on the characters as young children, Fangs Fogarty was often the main antagonist, and boyfriend to Penny Peabody.
Fangs' look in Little Archie is very similar to Moose's in the comics: tall, blond and overweight. In the 2000 Archie comics, however, he has lost weight.
In the comics, his first name is Edward but when he returns for the main series in Archie's Double Digest #117, his first name is given as Fred.

The nickname "Fangs" is due to his crooked teeth. After getting an orthodontic work, he's nicknamed "Smiley".

Fangs was originally meant to appear in just two episodes.[2]
Gallery
See also: Category:Images of Fangs Fogarty
| | |
| --- | --- |
| | Fangs Fogarty's Gallery Can Be Found Here. The Gallery May Consist of Promotional Images, Screencaps, and Video Clips Released By Network Officials |
References