She-Hulk Trailer Dropped - The Loop
Play Sound
This page is a candidate for merging.

Remember to check what links here and the page history before merging. This page has been nominated for merging likely due to lack of efficient information.
"

Oh, Pollykins, it's much more fun being friends than mortal enemies.

"

The relationship between Cheryl Blossom and Polly Cooper, started out as a rivalry between the two due to Cheryl blaming Polly for being the cause of Jason's death. However, in "Chapter Seven: In a Lonely Place", Cheryl found out that Polly was pregnant, and was willing to help her because that is what Jason would have wanted. Polly has since given birth to the twins, naming them Juniper and Dagwood. Currently the twins are living with Cheryl as Polly is being "de-programmed", according to Charles, in a facility at the Shady Grove Treatment Center.
History
Cheryl and Polly were both part of the River Vixens. Polly started dating Cheryl's brother, Jason. When they broke up, Cheryl thought Polly was the crazy one.
Throughout Riverdale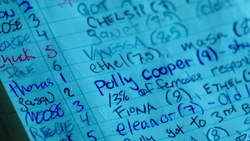 Cheryl tagged along with Betty and the rest of the group in the mission to find the playbook Chuck and his football teammates would rate their "conquests". When they did find the playbook, to Cheryl's surprise, Polly's name was written down in the book and was listed next to Jason's name, her worth being a total of nine points. Later she understood that she was wrong about Jason and Polly, and Polly was clearly a victim. She apologized to Betty if Jason did hurt Polly.[1]
Cheryl got a text from Ginger with information regarding Polly's escape from the group home. The same night, Jason's car, that they'd run away with together, was torched. She used this opportunity to give her mother and the sheriff this information in exchange for her rightful position back in the River Vixens. With Polly escaping the group home on the same night that Jason's car was set on fire, Cheryl surmised that Polly lit the flame in order to cover her tracks, as she was Jason's killer. 
In an effort to find Polly, the Blossom family organized a witch hunt throughout Eversgreen Forest, where they ran into the Coopers, whom Cheryl confronted with her theory of Polly being the murderer. That same evening, the Coopers held a press conference, much to Cheryl's surprise, they revealed to the entire town that Polly was pregnant with Jason's child. After hearing the news, Cheryl changed sides after she learning of the baby that Polly was carrying.
The next day, Betty and Veronica were talking in the student lounge about Polly's situation, when they were interrupted by Cheryl. She expressed to Betty that all she wanted to do was help Polly and the baby, it's what Jason would have wanted. Betty reluctantly told her that Polly needed money and medical supplies, to which Cheryl responded that her parents would be more than willing to help. Betty met up with Cheryl and her parents, where they assured Betty that they could assist Polly with emotional and financial support, all Betty had to do was trust them enough to tell them where Polly was. When Polly was set to meet them, Cheryl warned her of her parent's ill intentions; they didn't care about Polly, they just wanted the baby. They left before Cheryl's parents arrived, to go to Veronica's place.[2]
Cheryl attended Polly's Baby Shower, in hopes of becoming closer with Polly. She bought her a stroller for the baby along with other various gifts from her mother and her nana Rose. She only asked that in return she'd be her baby's godmother, in which Polly nervously laughed and Betty cleared her throat. When Polly was opening presents, Cheryl offered that she came to stay at Thornhill with her and her family. Penelope explained that the invitation is genuine and that they'd always welcome her. Alice and Penelope got into a heated fight. Cheryl got up and defended her mother as Betty said that it was not helping the situation. Polly got up and stopped the argument, explaining that their hostility towards each other is what cost Jason his life. The next morning, despite Betty's effort, Polly took the Blossoms up on their offer to stay with them at Thornhill, which left Betty and Alice in tears.[3]
Polly assists Cheryl and the entire Blossom family as their relatives and members of the company's board arrive in town. Cheryl later tells Archie that the fact that Polly is single and pregnant is detrimental to their family image. After Archie rejects her, Cheryl furiously erases Archie and Polly's faces with a red marker on a photograph.[4]
Cheryl decides to go to prom with Polly and wants the two of them to run for co-queens. Since Cheryl said the title would have been won by Jason and Polly for sure, this is the best alternative.
[5]
Cheryl informs Betty, asking her and her friends to vote for her and Polly.
[6]
Although they did not interact, Polly and Cheryl both attended the
will-reading
of Cheryl's father,
Clifford Blossom
. Cheryl was given a large sum of her father's fortune while anyone else in town with Blossom blood, such as Polly, was entitled to the other half of Clifford's assets.
[7]
Quotes
"

All I ask in return is that you make me your baby's godmother... Kidding. So not kidding.

"
"

Polly, you are carrying precious cargo, but if you think for one second that those babies guarantee your safety, you're in for a rude awakening.

"
Gallery
Images
References