"
I wanted to let you know that after three amazing months I had with Toni, riding motorcycles cross-country, we're celebrating with an epic end-of-summer party at Thornhill.
"
— Cheryl Blossom inviting Archie and the Gang to her party.[src]
Cheryl's End-of-Summer Pool Party is a party hosted by Cheryl Blossom at Thornhill to commemorate the end of summer.
Summary
Giving Invitations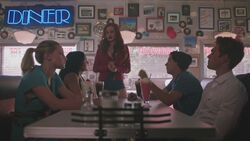 Cheryl enters Pop's Chock'lit Shoppe in her short denim shorts and red Serpent jacket. She's back from riding cross-country on motorcycles with Toni for the summer. They're celebrating with an epic End-of-Summer pool party at Thornhill. She invites Archie, Betty, Veronica and Jughead to the party. However, Cheryl warns them that while they're welcome to invite whomever they please, she's in the mood for some hellraising.
The Pool Party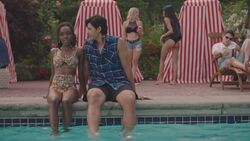 Just as planned, Cheryl hosts an End-of-Summer pool party at Thornhill. Sweet Pea sits poolside with Josie, whom he seems to have struck a romantic relationship with over the summer. He's excited for school to start back up, mostly because he'll get to see Josie in the hall every day. However, Josie has other plans in mind. She told him when they started this that their summer fling was going be just that. A fling. With a three-month expiration date. Sweet Pea is very much aware, but he doesn't want the good times to end, caressing Josie's upper thigh as he hopes that she'll reconsider. Josie admits that she has enjoyed their time spent together. Nevertheless, not even he is going to distract her from her music. They then proceed to kiss.
Just behind Josie and Sweet Pea sit Kevin and Moose. Kevin stops his reading to make a pact with Moose, which requires them to lose their virginity before Halloween. Moose seems uncomfortable and unsure but shakes his head in agreement anyway.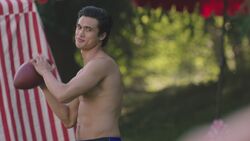 While tossing the football around with Reggie, Archie tells him that he'll need to step up and lead the Bulldogs should he be convicted of murder. Reggie replies that he's already the captain, but this isn't what Archie meant. He'll need Reggie to work with Jughead in order to maintain peace between the Bulldogs and the Serpents. There will be no more Circles, red, dark or otherwise. Reggie agrees, adding that bloody chapter is over. He then compliments Archie on his new Serpent tattoo.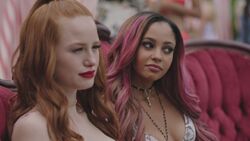 Cheryl sighs heavily as she and Toni overlook the pool party, leaving Toni to wonder what's on her mind. Cheryl replies that it's Archie. He saved her life at Sweetwater River, where she tried to kill herself. Cheryl had never talked about it with Toni before. Cheryl explains that she lost hope and she did something really stupid, and Archie was there to save her, but now there's nothing that she can do to save him, which bothers her greatly.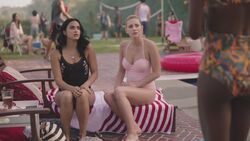 Betty approaches Veronica as she sits alone at the party. Veronica went to see Archie's mom and Attorney McCoy, to ask them to put her on that stand. She wanted to get in front of that jury, to tell them the truth about her father, to see if that might make a difference, but they said it's too late. Josie interrupts to inform Veronica that she may not be too late after all. The jury is being sequestered at the Five Seasons. Third floor, room 301. The security's tight, but Josie thinks she can get Veronica in. Veronica's thinking that she only needs to get to one Jury member. To convince them that her dad's the villain here, not Archie, for there to be a hung jury. Which would give them more time to prove Archie is innocent.
Hot Dog Gone Missing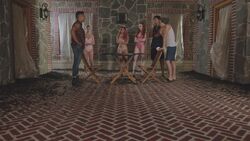 Jughead briefly makes awkward eye contact with Dilton at the pool party before being rushed by Fangs, who claims that the Ghoulies have Hot Dog. In light of this, they rally the other young Serpents (Sweet Pea, Toni, Cheryl, and Betty). Fangs is positive that it was Hot Dog. He suspects that the Ghoulies snatched him on riot night. He looked very skinny. Fangs doubts they're feeding him enough. Given the savage nature of Ghoulies, Sweet Pea believes that they're lucky the Ghoulies aren't eating Hot Dog. Toni looks to Jughead for their next move. They'd be going behind enemy lines, outnumbered, open to attack from all directions and risking another gang war. However, no Serpent left behind. That includes their spirit animal. They're going to deploy after dark. It's going to be a quick stealth mission. Betty reminds Jughead that the last time he went into Ghoulie territory, he was beaten to within an inch of his life. However, he'll have backup this time. With that being said, Betty wants to come along. The Serpent Queen is a warrior queen. So if Jughead's on the frontlines, then so is she.[1]
Attendees
Appearances
Gallery
References
↑ Aguirre-Sacasa, Roberto (writer) & Sullivan, Kevin (director) (October 10, 2018). "Chapter Thirty-Six: Labor Day". Riverdale. Season 3. Episode 1. The CW.
Community content is available under
CC-BY-SA
unless otherwise noted.