"
My mom was single my whole life, so, every Valentine's Day, I was her date. We'd make heart-shaped cookies with pink frosting. It's why I heart hearts and for as long as I've been with KO, we have never spent it apart. [...] KO moved in a week after I said no to his proposal, and we're closer than ever literally, we have no space but he's never felt so far away. Friday is Valentine's Day and I'm determined to make it our best one yet. Then we'll be just like we used to be perfect.
"

"Chapter Three: What Becomes of the Broken Hearted" is the third episode of the first season of Katy Keene, and the third episode of the series overall.[1] It premiered on February 20, 2020.
Synopsis
BROKEN HEARTS – With everything a little off between Katy and KO, Katy tries to make everything perfect for Valentine's Day, so she can avoid what she is truly feeling including lying to him about Gloria making her work. KO tries to do something nice for the roommates, but only seems to make things worse. Josie and Alexander have been growing closer, but after she meets another aspiring songwriter, Josie realizes it's time to change up their dynamic. Jorge has been in a secret romantic relationship, but after he doesn't show for his performance at Molly's Crisis, Jorge realizes what he needs to do. Meanwhile, Pepper turns to an old friend, Ms. Freesia, to help her get some quick cash but isn't proud of how she is doing it.[1]
Plot
SPOILERS AHEAD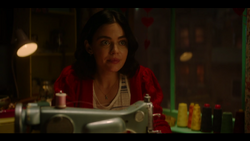 Katy stays up the entire night sewing. Valentine's Day is approaching, and for as long as Katy and KO have been together, they've never spent it apart. KO awakens from his sleep at 5:00 AM to find Katy working on a costume for Ginger's big Valentine's Day show. Instead of going back to sleep, he goes for a run, kissing Katy goodbye. Friday is Valentine's Day, and Katy is determined to make it their best one yet.
Jorge awakens to find his lover Buzz Brown, getting ready to leave. He asks Buzz to stay, but he has to leave for work. He kisses Jorge and promises that one day, he'll meet his roommates.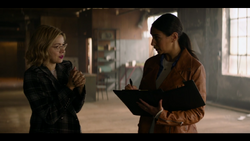 Pepper is woken up from her sleep at the sound of the buzzer in her rented space. It's Willcat Builders, a construction company who Pepper has hired to renovate the space. She wants a stage, as well as a dance floor. But first, she asks them to install a heating system. For $20,000, they'll start on Monday, provided that they're paid upfront, which Pepper remarks won't be a problem.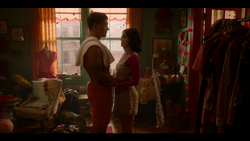 Jorge is forced to shave his legs in the kitchen sink after KO beat him to the bathroom and proceeded to take a shower. Josie then asks if anyone has seen her Punkin's visor. Katy finds it under KO's gym bag and hands it to her. Josie then leaves. KO finishes his shower and he and Katy discuss his upcoming fight, which happens to land on Valentine's Day. Katy insists that she'll be there, as she's never missed one of his matches. However, she'll have to run this by Gloria and Francois.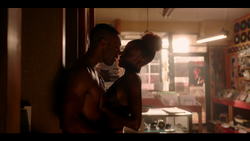 Alexander and Josie hook up in Chubby's. She asks when they are going to record more songs. Alexander tells her to play him something new. He wants to hear what New York City has inspired in her, and then, they'll record. He invites her over to his place for Valentine's Day, which she agrees to attend without realizing what day it is.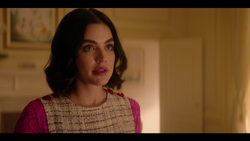 Gloria informs Katy, Amanda, and the girls that with Friday being Valentine's Day, it is Lacy's most lucrative time of the year, outside of Christmas. She encourages the girls to sell as much as they can. Also, Lacy's Night of a Hundred Hearts is Friday. They'll be hosting VIPs for shopping, cocktails, and caviar. Katy asks Gloria if she can skip the party for KO's big match. However, Gloria refuses to excuse her of her duties at the event. After she leaves, Amanda tells Katy how the last time she tried to take the morning off because she was hung over, Gloria showed up at her apartment. Katy exclaims that just because Gloria has no one to go home to, doesn't mean she should take it out on her. Unbeknownst to Katy, Gloria is standing right behind her. Gloria explains that she's already home, surrounded by the loves of her life, such as designer handbags. Katy tries to apologize for her crude remark, but Gloria simply excuses her from the event. However, she informs Katy that she'll be missing out on the opportunity to meet the list of Vanity Flair's designers to watch.
While selling items to a customer, Katy is approached by Alexander, who compliments Katy on her ability to sell as well as being a talent manager, or so she claimed when she introduced herself to Alexander initially. Katy explains that she was merely looking out for Josie, which Alexander respects. Moving on, the reason he's at Lacy's is to buy a gift for someone special, possibly a robe.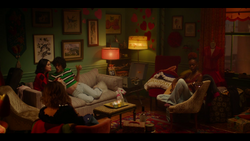 Katy returns home, where she informs Jorge, Josie, and Pepper that Alexander came by Lacy's and purchased a sexy robe for someone special. Josie insists that the gift isn't for her, as she and Alex are keeping it casual. Unbeknownst to Josie, Friday is Valentines Day, the same day that Alexander proposed that she come over. Jorge surmises that Alexander wants to get serious with Josie, which she is not looking for. Josie fears that Alexander may distract her from the reason she came to New York, to write the next great American song. Josie explains that she wants to play something fresh for Alex on Friday night, but she's screwed.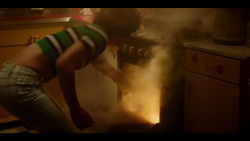 Jorge asks Pepper what she has planned for Valentine's Day, to which she replies that "I don't do romance." But, she did have sex on Saturday. Speaking of which, Katy questions Jorge about Buzz Brown, who they still haven't met. He's been seeing Buzz for the past year. What started out as a Grind'em hookup, has turned into a long term relationship, that Katy remarks has never left the bedroom. Pepper adds that he should be showing Jorge off, not hiding him. Josie proposes that Jorge invite Buzz to see him perform at Molly's Crisis. However, as Jorge explains, they can't be out in public until he's out at his job. KO interrupts with a yellow top, asking who it belongs to. Josie claims the shirt and takes it. Katy then offers to help KO with the laundry. Katy tells him that he doesn't have to hide away in the room, but he doesn't want to be in the way, however, Katy insists that it's fine. Josie, Pepper, and Jorge then notice that the kitchen is full of smoke. KO is preheating the oven to make them lasagnas. Unfortunately, Jorge's clothes are in the oven. He tries to pull them out and burns his hand in the process.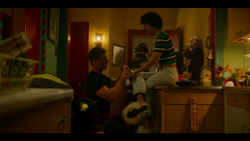 The fire department is called, and Jorge is treated by a fireman named Bernardo. Jorge jokes that this'll be the end of his hand modeling career, but Bernardo assures him that he'll be fine. Jorge's parents, Luisa and Luis arrive and asks what happened. Jorge explains that he's fine and that it was just an accident. KO recently moved in, and he didn't know they used the oven for storage. Luis questions just how many people are living in the apartment.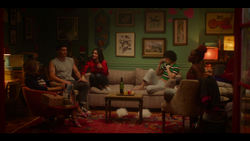 Afterward, Katy, Josie, Jorge, and Pepper reconvene in the living room, where they discuss the fireman that Jorge was flirting with. This incident made Jorge realize that life is short, and so, he's decided to ask Buzz out on a real date. As KO attempts to fix the mess he's made in the kitchen, Katy catches a glimpse of Josie and Jorge rolling their eyes. Jorge explains that while he loves KO, Katy didn't even bother asking if he could move in. And now Jorge's parents, also their landlords, are on his back about it. Katy then tells KO to join them, as they continue their conversation about the fireman. KO tells them how one of the firemen tells his daughter how much he loves her everyday in case he never sees her again.
The following morning, Alexandra and Alexander go for a morning run and discuss the dinner with their parents. However, Alexander tells his sister that something came up and he won't be able to attend the annual Cabot family Valentine's Day dinner. He has a meeting with a business associate, which Alexandra presumes to be Josie.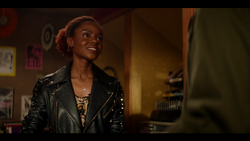 While playing the guitar at Chubby's, Josie is approached by a customer named Jimmy Dodger, who's searching for a Bob Dylan record. Josie moved that to staff favorites, explaining that she is staff. He likes her tastes and introduces himself. Josie tells Jimmy how Bob Dylan suffered from depression during his writing. Jimmy's well aware, telling Josie that he's a song writer, clutching to the fantasy of living at the Chelsea Hotel. Josie needs help with the song she was just playing and asks Jimmy if he would be willing to help her write it. Jimmy agrees to help her with her song tomorrow so long as she helps him with his Bob Dylan rip-off. Josie has plans with Alexander but cancels them to make room for Jimmy, agreeing to meet him tomorrow at closing.
Katy tells Gloria that she can work the event at Lacy's, however, Gloria claims to have already filled her position. Katy asks if Gloria wants her to beg, to which Gloria replies that she enjoys a good grovel, and Katy does just that. Gloria cuts Katy off and agrees to allow her to attend the event.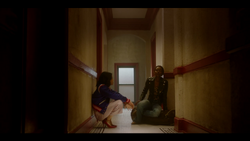 Katy and Josie drag a punching bag for KO up four flights of steps to their apartment. Katy asks Josie if this gift would make up for her missing his fight. Despite initially planning to ask for the night off, Katy can't pass up the chance to possibly meet her favorite designer at the Lacy's event. Josie proposes that Katy tell KO the truth. However, Katy would feel bad given everything that's occurred between her turning down his proposal and him setting the kitchen on fire. She doesn't want to add ditching him on Valentine's Day to the list. She fears that she'll be disappointing him. Josie points out that Katy's working so hard to make KO happy that she's denying herself any pleasures. While Josie doesn't know Katy and KO's history, she does advise Katy to have an honest conversation with him.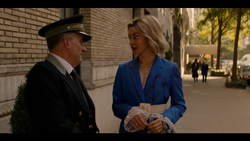 Pepper arrives outside an apartment building, where she is greeted by the doorman. Pepper notices that the Jackmans are back together. The doorman informs her how Mrs. Jackman found out about her husband's lover, and then he found out about hers, and they called it even. A proper cheat truce. The doorman invites Pepper to grab a bite to eat with him, but she'll have to take a rain-check as she has a date with Ms. Freesia.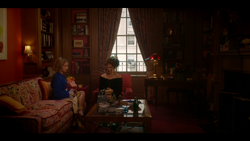 Ms. Freesia greets Pepper at the door. She tells Pepper that the board wants to ban Peterbald cats, the specific breed that she owns. Also, the IRS is looking into a house that she flipped in Yonkers. Ms. Freesia inquires about the space Pepper purchased. Unfortunately, Pepper can't bring in any artists until she's had the heat installed. And to make matters worse, her primary investor has disappeared to San Tropez. Pepper is hoping that Freesia will break out her black book. She presumes it's the same rate as before, five hundred a meal and no funny business. Ms. Freesia is always willing to help Pepper, but she's disappointed that she hasn't been able to move beyond these hand to mouth payouts. She wanted Pepper to be playing with the big boys by now.
Katy surprises KO with the punching bag that she had installed in their room. He loves it. Katy lies to KO and tells him that some really big designers are going to be at the Lacy's event, and Gloria won't allow for her to take the night off. KO understands and continues to punch the bag.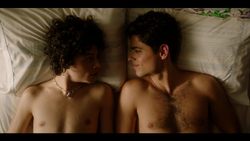 Friday morning, Valentine's Day. Jorge and Buzz have sex. Afterward, Buzz asks Jorge to be his valentine. Jorge then asks Buzz if he has plans. Jorge reveals that he's performing in drag at Molly's Crisis and hopes that Buzz will come. However, Buzz makes no promises to attend, as he has to keep his personal life secret from his job. Jorge understands what it feels like to keep something a secret as his parents don't know about Ginger, but he insists that Buzz won't run into any of his lawyer buddies at Molly's Crisis.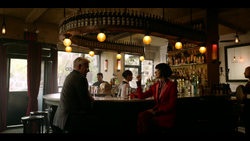 Thanks to Ms. Freesia, Pepper, disguised in a black wig, escorts multiple men out on lunch dates. During which time, she meets a man named Richard. She removes the wig and reveals to Richard how she's a grad student at Columbia, who was cut off by her parents. She has to graduate, otherwise they'll cancel her visa, and she'll be sent back to Heathrow. She claims to need $20,000 to cover her last semester. He agrees to give Pepper the money but only if she does something in return.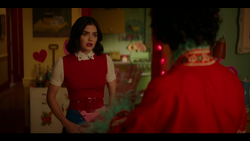 Katy and Jorge both scurry throughout the apartment in search of missing items. Katy says that KO cleaned up before leaving for his match. Jorge explains that he has disturbed a fragile ecosystem. Katy reminds him that KO staying with them is only temporary, just until she figures out what's next for them. Unfortunately, the apartment is too small for all of them and Katy's relationship problems. Katy promises to make it up to Jorge, starting with an outfit she made for Jorge.
Pepper calls Richard and tells him that she's game. But she won't just meet him at a hotel. She'll text him where to go. Pepper then calls Katy, and asks her to get her inside the Lacy's event.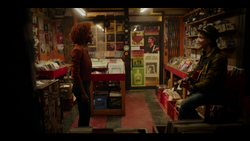 Josie and Jimmy meet up at Chubby's as planned to work on her song. He plays the guitar as she sings. Alexander arrives with dinner. Much to his surprise, Jimmy is with Josie. Josie tells Alexander that showing up at her job, unannounced, with food he cooked and being mean to Jimmy makes him seem like a jealous boyfriend when in actuality they're supposed to be making a record together. But instead, he's buying expensive robes from Lacy's, which Josie calls him out on. Alexander claims the robe is for his sister. They always buy each other gifts on Valentine's Day. Josie simply wants to focus on her music, and she thinks Jimmy could be key. As proof, she gives Alexander his demo and asks for his professional opinion.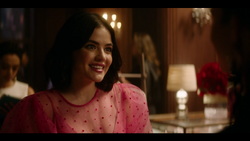 Katy attends the Lacy's event and introduces herself to her favorite designer, Sumi Yamato. Katy compliments her designs. Sumi then asks if Katy's a designer as well. Katy explains that she hopes to be, but in the meantime she works at Lacy's. However, she's up all night sewing her own designs. In hearing Katy's answer to her question, Sumi concludes that Katy is in fact a designer and tells her to start by saying yes when asked the question.
Pepper attends the Lacy's event with Richard. She picks out a $6,000 suit and tells him that it's perfect for him. She then encourages him to buy a watch as well.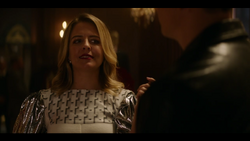 Katy tells Sumi how she sketches all day and dresses herself and her friends. However, she doesn't know how to take that next step. Sumi's time at Parsons was invaluable. Katy always dreamed of going there. She started to apply a long time ago, but she couldn't afford it. KO arrives at the event after winning the fight in three rounds. Katy introduces KO to Sumi. He extends his hand, but she doesn't shake it, informing KO that he is bleeding. KO then pulls his hand away, unintentionally wiping his blood on an expensive white blouse. Gloria and Amanda watch as the incident unfolds. Gloria brings KO a cup and tells him to spit on it. She needs the saliva of the person whose blood it is to pull a stain from silk. Gloria then gives the cup to Katy and tells her how to get rid of the stain. With Katy heading to the back and Gloria introducing Sumi to a client, Amanda reveals to KO that Gloria gave Katy the night off.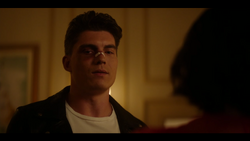 KO confronts Katy about lying to him about having to work and thus missing his fight. Having learned the truth from Amanda, Katy has no choice but to admit that she lied as she wanted to meet the designers. KO questions why Katy didn't just tell him the truth. He would never force her to do anything she didn't want to. Katy didn't want to hurt KO. However, if she didn't want to be with him tonight, KO wishes she would've just told him that. The same goes for her not wanting to marry him. He didn't realize that moving in with her was just a consolation prize. Katy insists that it's not. She's just trying to make them work. KO reminds Katy that he gave up Philly for her, but she reminds him that she never asked him to do that.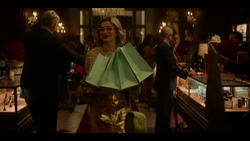 Richard purchases Pepper a very expensive pair of earrings. He says that he can make it up to him later in the Empire Suit he booked for them at the Carlyle. They can watch the sunrise from Central Park while in bed. Richard then spots his wife, Alisha, as she enters the store. Pepper called her at her publishing company. She told Alisha that she was Richard's new second assistant and that he had epic Valentine's Day plans for her. Pepper tells Richard just how fantastic his wife is and how she deserves to watch the sunrise over Central Park. And Pepper deserves the $20,000 without selling herself off. So, she takes the items that Richard paid for a leaves just as his wife approaches.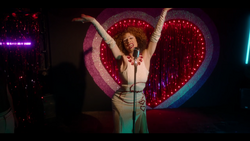 Katy, Josie, Jorge/Ginger, and Pepper meet at Molly's Crisis. Katy reveals that she and KO got into a huge fight and he isn't answering his phone. Jorge/Ginger tells Katy to be grateful that KO showed up at all for her, as Buzz didn't come for him. The girls each take a shot, and Josie reveals that Alex got the robe for his sister. Josie tells them how she hasn't hand chemistry with someone like this since Archie Andrews. Katy asks which would Josie rather have: a boyfriend or a music career. Josie admits that having both would be messy, so she'll have to draw some boundaries. The girls take another drink. Katy then tells Jorge/Ginger how she's sure that Buzz will be there at any minute. As Jorge/Ginger performs on stage, Katy, Josie, and Pepper watch from the crowd. Katy and Pepper are going to kill Buzz for missing Jorge/Ginger's performance. Josie adds that she'll bury the body in Riverdale, where no one will find it. Katy then starts to cry as she recalls all the joyous moments spent with KO.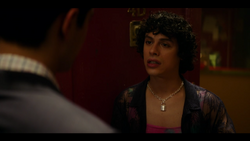 Later that evening, Jorge answers the door to find Buzz standing outside with a box of chocolates. He apologizes for missing the show and offers to make it up to Jorge. After spending a year together, Jorge realizes that it's time to end their relationship. He sends Buzz home, but not before taking the chocolate. Jorge joins Katy, Josie, and Pepper and informs them how he's single. They assure him that one day he'll find the guy right for him. Pepper encourages him to pursue the fireman from before. Josie then asks about KO, who Katy still hasn't heard from. This is the first time that Katy has ever felt like she might lose him. If she wants to keep him, Josie tells Katy to do something big and make room for each other.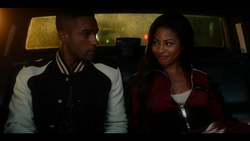 Alexander gifts Alexandra a red robe. It's just what she needs to take the edge off the horrific dinner with their parents. She notices that something is bothering Alexander and asks if he is okay. He tells Xandra how Josie met a song writer, and after listening to his demo, Alex admits that it's truly good. And he's jealous. All his life, he's been a screw up. This was his chance to prove himself to their dad, with Josie, but once again, he's screwing it up. Alexandra points out that sleeping with the talent is never a good idea. Alex kisses Xandra on the cheek, wishes her a happy Valentine's Day, and exits the vehicle.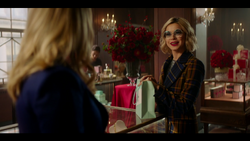 Pepper arrives at Lacy's to return the purchase she made with Richard the night before. All except the watch, which she decided to keep. She asks for cash return. Amanda approaches and asks if Pepper wasn't pleased with her purchases. Pepper claims that she's been rather ambivalent lately. Pepper is given her refund of $20,897 and leaves. Amanda tells the clerk to call her next time he sees Pepper.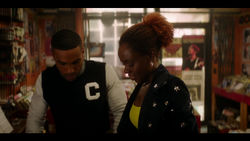 Alexander arrives at Chubby's to find Josie working on her songs. She moved to New York to be a real musician, but the more time they spend together, the harder it is for her to focus and for him to compartmentalize. As much as she'll miss it, Josie doesn't need to sleep with Alex as much as she needs a manager. Alexander admits that she's right. His feelings for her are growing. But if a manager is what she needs, he agrees to keep it professional. He then admits to loving Jimmy's demo. The two of them proceed to discuss her songs.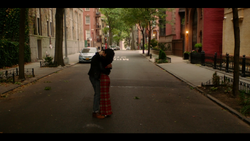 Katy meets up with KO for the first time since the event. He spent the night at his old place, with Raj, as he needed some space. Katy called KO because she wanted to show him something. A Lacy's girl is subletting an apartment, and after talking to Jorge and Josie, Katy has decided to move out. If they're going to go the distance, Katy explains that they're going to need to make big changes, which is why she found a bigger space for them, where he has room for his gear, and she can sew. They can keep following their separate dreams together. Katy is trying to make this work to the best of her ability. KO questions if this truly what Katy wants, and she insists that it is. She thought that if she could keep them the same as they were, that they'd be okay, but they're not. Katy fears that they're growing apart. KO takes Katy's hands and tells her that he's still there. But he asks if he should be. Katy initially says yes, but then says no. KO professes his love for Katy, and Katy tells KO that he'll always be her first love. They kiss and hold each other close before partying ways, ending their Valentine's Day with a kiss, for the very last time.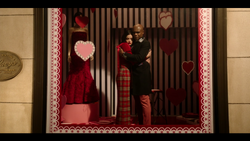 While tearing down the Valentine's Day decorations, Katy reveals to Francois that she and KO broke up. She's seen him almost everyday since she was 16. And other than her friends, he's all the family that she has. And she's not sure she's ready for him to be gone. Francois is proud of Katy, and he gives her a hug. She tried, and that's the best thing she could've done.
Jimmy arrives at Chubby's, where Josie gives him a "free-day-old" doughnut from her other job. Unfortunately, Jimmy has come to tell Josie that they can no longer write songs together. He got offered a contract to compose music for TV and radio with Cabot Entertainment. He was offered the deal by Alexandra.
Pepper gifts the doorman outside of Ms. Freesia's building with the expensive watch that Richard purchased. She then heads off to Washington Heights in search of the fireman that she saw Jorge flirting with.
Katy, Josie, Jorge/Ginger, and Pepper arrive at Engine 141. They've brought sandwiches for the firemen to show their appreciation for saving their apartment. Bernardo arrives Jorge/Ginger personally thanks him and asks him out for drinks.
Katy returns home, where she finds the present that KO left behind for her. It's a red book with her initial on the cover and a card that reads "To the best designer of all time. Love you forever, K.O." Katy sobs, as she presses the book against her chest.
Cast
Starring

Guest Starring

Co-Starring

Troy Iwata as Returns Clerk
Charles V. Marti as Deaf Gramps
Larry Peterson as Horse Man
Robert Arcaro as Morty
Soundtrack
Trivia
The line "I did sex Saturday" said by Pepper was made up by Julia Chan in the writing room.[3]
Pepper wearing a short-cropped black wig is probably a nod to her comic counterpart's hairstyle.
Gallery
Promotional Images
Screencaps
Videos
Episode Guide
References