Cobra Kai Season 4 - The Loop
Play Sound
"
Welcome to the Sisters of Quiet Mercy, Home for Troubled Youth where a certain Cheryl Blossom finds herself more troubled than usual... with nary a thing to look forward to except for movie nights, during which time, Cheryl would imagine what her friends might be doing. {...} As Cheryl Blossom withered, her friends were squaring off on stage on the most public of stages.
"
"Chapter Thirty: The Noose Tightens" is the seventeenth episode of the second season of Riverdale, and the thirtieth episode of the series overall.[2] It premiered on March 28, 2018.
Synopsis
UNWELCOMED GUESTS — Just as the town's mayoral race gets underway, Riverdale High's own student council election heats up. Archie steps up to help after learning that Hiram's mobster associates have come to Riverdale to stir up some trouble. Meanwhile, things take a dangerous turn for Alice, Betty and Chic when an unexpected guest shows up at the Cooper residence. Finally, Toni, Veronica and Josie team up to solve a strange mystery involving Cheryl.[3]
Plot
SPOILERS AHEAD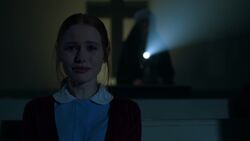 At the Sisters of Quiet Mercy, Cheryl sits in her room, where she finds herself more troubled than usual with nary a thing to look forward to except for movie nights, which she is escorted to by Sister Woodhouse. Cheryl tearfully watches the film, during which time she imagines what her friends might be doing. The longer Cheryl spends at the group-home, the more she begins to wither away.

During movie night at the Sisters of Quiet Mercy, the patients are forced to watch a film about homosexual deviance that outwardly stars Kevin and Moose. These two seemingly all-American boys choose to abstain from going to the diner with their friends, and instead head down to the river, where they undress and go for a swim without clothes.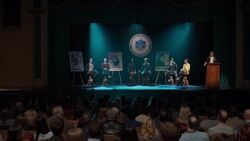 All with their own reasons for becoming student body president, Archie, Veronica, Jughead, Betty, Reggie and Josie square off at the school hall meeting. The first question of the night comes from Sweet Pea and Fogarty who are concerned about the Southsiders and their treatment since being transferred to Riverdale High. Jughead and Betty assure them that they will be looked after though Sweet Pea and Fogarty are far from convinced. Midge then asks a question pertaining to Veronica and Archie's parents being on opposite sides of the Mayoral election. She wonders this will cause problems for their election campaign. However, Veronica and Archie adhere to the old maxim that politics are never discussed at the dinner table. They are on the same page about everything, even her parents building a prison. In the meantime, they are committed to improving the quality of life at Riverdale High. As are Reggie and Josie, who actually plan on following through with their promises. Afterward, Jughead and Betty hastily leave the school hoping to avoid an encounter with Alice, who is upset over Betty moving out.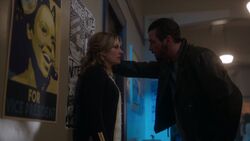 Meanwhile, Alice and FP discuss Betty and her new living arrangement at the trailer. Much like Alice, FP is displeased with Betty moving in as it has forced him to sleep on the pull out couch with Jughead while Betty slept in the back. Alice is taken back. She is surprised to hear that he would do that for Betty. FP then offers a word of advice. He suggests that Alice talk to Betty and make things right with her. This coming from someone whose son chose being homeless over living with him.
Elsewhere, Fred, Mary, Hiram and Hermione exchange words in the hallway as Archie and Veronica attempt to play peacemakers. All of Riverdale is buzzing about Fred's decision to run against Hermione for Mayor. When Mary points out that they are still waiting for Hiram to sign the papers to release Fred from his contract to Lodge Industries. Hermione address the fact that they are still waiting for Fred and Mary to sign the NDA that they had sent over.
Hiram, Hermione, Veronica and Archie arrived at the Pembrooke where they are greeted by Andre and Adams. In the lobby as well is Lenny Kowalski and Carl Martin. Two mob bosses who have requested to speak with Hiram privately. After telling Adams to take Veronica and Hermione upstairs, Hiram assured Archie that everything will be fine and he agrees to give Lenny and Carl a few moments of his time.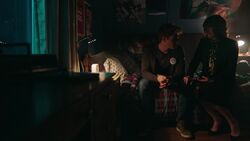 Once home, Mary reminds Archie that Fred is announcing his Mayoral campaign and that he needed to be there in support of him. Fred's campaign is based on promoting a wholesome view of Riverdale, the town where he grew up and raised a family. Archie agrees to attend, and then Mary assures him that it would mean a lot to everyone.
Alice and Chic are horrified by the discovery that Dwayne's car, the man who Chic had murdered, is discovered in Swedlow Swamp where Betty and Jughead had dumped it, thus leading to an investigation being opened. Meanwhile, at the trailer, Jughead, Betty and FP make a the very same startling discovery while watching the news.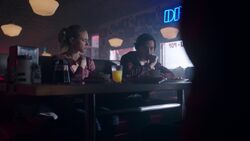 Jughead, Betty, FP and Alice gather in a booth at Pop's the following morning to discuss their next course of action. Jughead blames himself for the discovery of the vehicle, claiming he should've known better, but there is no way he could've known that Junkyard Steve drained the swamp for people's cast offs. It was Jones luck, Jughead notes. Luckily, they wiped the car clean of prints before dumping it. As Sheriff Keller enters the diner, FP tells Jughead and Betty to keep their mouths shut and act normal. In the unlikely event that something happened, they were to batten down the hatches. Until then, life is to go on and they are to stay away from the car.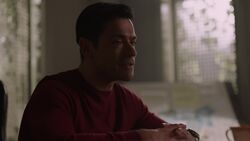 In the study, Archie and Hiram discuss his associates from the night before, Lenny Kowalski and Carl Martin. Hermione's Mayoral campaign made them anxious due to the unwanted attention it will bring from law enforcement. Hiram is having dinner with them in hopes of smoothing it over, but in the meantime, he needs Archie to watch over Veronica. Archie agrees to keep an eye out for her, but in addition to that, he wants to join Hiram for his dinner with Lenny and Carl. While Andre and Adams will be there, Archie always proves resourceful. And with Hiram's crew in Montreal going silent on him, he needs all the help he can get. So he allows Archie in.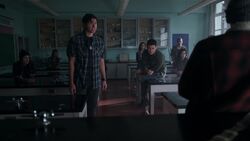 Jughead calls a meeting of the Swords of Serpents only to be criticized by Sweet Pea for going back on his promise of going to war with the Lodges, and instead running for student body president. Jughead explains that they need those votes because it is the only way to affect change. Whoever is elected gets a seat on the school board, gaining them access to the inside which meant they couldn't be silenced. However, Fogarty and Sweet Pea are still untrusting of Jughead's running mate, Betty, who they predict will bail on them just as her mother did. Betty and Alice share the same legacy as far as they are concerned, making her an enemy of the Serpents. Sweet Pea and Fogarty are tired of the shots being fired by Alice for years from the Register. She even blamed them for crimes they did not commit. Jughead running alongside the daughter of a traitor to the Southside is a slap in the face. For that reason alone, Jughead will not be getting the Serpent vote.
Archie and Reggie decided to settle their presidential differences once and for all in an arm-wrestling contest. They are both Bulldogs, who like wolves, support the Alpha. At the moment, they risked splitting the teams' votes which Reggie had already told Josie that he could deliver, hence the contest. Winner receives the Bulldogs' votes. Initially, the contest appears to be at a standstill, but Archie overpowers Reggie for the win and threatens to break his arm should he ever mention his dad again.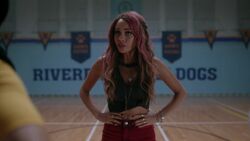 Toni approaches Veronica and Josie during River Vixens practice to inform them that Cheryl is missing. Toni is certain that Cheryl's mother is somehow involved as she recalls Cheryl mentioning to them how she was worried that her mother and uncle Claudius were out to get her. Penelope claimed that they sent her off to an all-girls boarding school in Switzerland, but Toni wasn't convinced considering that Cheryl would have been posting selfies every hour if this was true. But she hasn't. In fact, her social media has been dead for days. Hearing this, Veronica and Josie are certain that this is a sure sign of foul-play. So they agree to help Toni find Cheryl even if it meant storming Thistlehouse.
At the Sisters, Sister Livingston deduces what has caused the imbalance within Cheryl. She had spoken to her Penelope about Cheryl's brother, Jason, and how close they were. So close, in fact, that Nana Rose would sometimes mix them up. She would dress Cheryl in Jason's clothes and Jason in Cheryl's. Cheryl explains that this is simply due to Nana Rose's blindness i.e. Cataracts. But if there was anything that had affected her psyche, it was the fire hose of abuse directed at her by her mother and father. While Cheryl has suffered many traumas, Sister Livingston believes that this does not excuse her willful behavior. So Cheryl is to report to the undercroft to undergo physical therapy until she is ready to listen.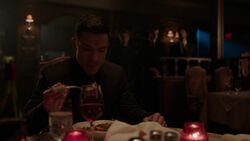 That night, Hiram has dinner with Kowalski and Martin as planned. Archie, Adams and Andre stand behind them as Hiram, Lenny and Carl begin negotiating. They want 25% of the profit that Hiram will receive for his private prison in order for Hermione to continue with her campaign which is putting the families in the public eye. However, Hiram can not agree to such high numbers as he would be operating at a lost. So he respectfully declines their offer. Lenny and Carl grow angry, explaining that Hiram has nothing and that his men in Montreal and New York now worked for them. Hoping to convince them otherwise, Archie steps forward and tells them that he is not to be underestimated as he has beaten up Nick St. Clair, taken out Poppa Poutine and did the same to a hillbilly that threatened Veronica while they were up at the safe house. Despite Archie's stern approach, Lenny and Carl are not convinced. They even laugh at him. They then tell Hiram to consider their offer.
Afterward, in the parking lot, Hiram tells Archie that he was like a mad dog. Archie explains that he refused to allow Lenny and Carl to disrespect them in their own town. Nonetheless, firing a warning shot like that meant that he will have to back it up. All-in-all, Hiram is impressed.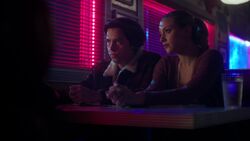 At the trailer, Betty and Jughead discuss what it will take for her to gain Sweet Pea and Fangs' trust. She question if she should start wearing plaid and leather jackets, along with getting a snake tattoo. To be fair, Alice is Serpent enemy #1, Jughead points out. Meanwhile, the shady man's car has been discovered and they have no idea what is going on with it. Jughead had been thinking about that. He asks Betty what is their normal. She replies that it is investigating something when the entire world is telling them they shouldn't. With that in mind, Betty and Jughead meet up with Kevin at Pop's to gain intel of the shady man's car. They claim that they are writing an article on how people use Swedlow Swamp as a dumping ground. According to the Sheriff, the car was claimed by its owner earlier that morning and the police are trying to figure out who stole it in the first place.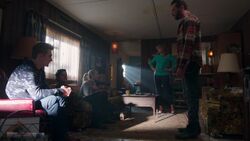 The next day, they are scolded by their parents for questioning Kevin despite being told to lay low. However, Betty and Jughead explain that they had to in order to figure out what was going on with the car. Also, Kevin didn't suspect a thing. They had learned that Chic's drug dealer, Dwayne, stole someone's car before stopping by the house. Considering that Dwayne didn't have a car of his own, Chic concludes that he must've taken his girlfriend Darla's car. Unfortunately, Chic can't tell them much about her. Regardless, as FP points out, there is nothing connecting them to the car. With that out the way, Alice then orders Betty to return home though with Betty refusing to return so long as Chic is there, he says that he will move out.
The next day, Cheryl is forced to endure manual labor as she drags heavy sacks from one end of the room to the other. However, Sister Woodhouse enters the room to find that Cheryl has stacked the bags in the north-east corner instead of the north-west corner as specifically instructed. Cheryl is told to start over and listen or else she will never get better.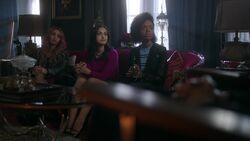 Toni, Josie and Veronica barge into Thistlehouse and demand that Penelope tell them of Cheryl's whereabouts. When Penelope refuses to answer, Josie threatens to have her mom tell the Sheriff. Looking to avoid any unwanted attention, Penelope complies. She reveals that Cheryl had begun to exhibit strange, deviant behavior. So, she was sent abroad to a private wellness institute where they were trying to help her. In case they don't believe her, Penelope gives them a drawing of Cheryl's that depicts her and Josie together, which strongly resembles the drawing that Chuck had supposedly drawn of Josie. This means that it wasn't Chuck who threatened Josie and sent her a pig's heart. It was actually Cheryl, who had grown obsessed with Josie. Penelope claims to have feared that Cheryl would either hurt Josie, herself or both of them. So she was sent away to prevent such action. The girls then leave Thistlehouse to regroup though in light of recent events, Josie want no parts of Cheryl's search and rescue mission.
That night, Fred asks Jughead to come over to the house and help him with his announcement address. It seems as if they are settling on "I'm all about investing in all the citizens of Riverdale, not just profiting from them." Archie joins them in the kitchen, allowing Fred to express how much he appreciates that Archie will be attending his announcement.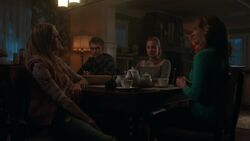 At the Cooper residence, Betty asks Alice to sign a consent form to allow her to get a Serpent tattoo as she is practically a member already. However, Alice refuses to sign the form or even acknowledge Betty's adjacent membership to the Serpents. As the two continue to discuss the matter, Chic returns home with Darla. He was supposedly trying to help but made things so much worse. Darla isn't surprise that Dwayne took her car though it ending up in a swamp in Riverdale did strike her as odd. Just as she was getting ready to head back to Centerville, Chic called her to see how much she knew, but she saw right through him. Dwayne was a terrible person by Darla's account. So she doesn't care what happened to him and doesn't see any reason to ask questions so long as she gets the $10,000 that he owed her. If not, Darla threatens to go to Sheriff Keller. With no other choice, Alice agrees to pay off Darla. However, the bank is closed and they will have to wait until the morning.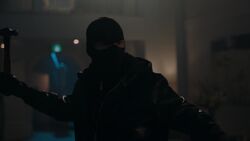 While escorting Veronica home, Archie tells her that he is beginning to feel distant from his father but she assures him that they will work it out. They then enter the Pembrooke to find Andre being attacked by a hooded assailant. As Andre lays bleeding on the floor, Archie chases after his attacker. He tackles him to the ground only to discover that it is Adams. He has apparently double-crossed the Lodges. Adams then punches Archie in the face and tells him to tell Hiram to take the deal from Lenny and Carl. Archie relays this message to the Lodges who aren't pleased. They conclude that Lenny and Carl either offered Adams money or he sensed that they were weak and vulnerable. The message that is being sent is clear, either cut Lenny and Carl in or suffer the consequences. The Lodges are essentially unprotected. So Archie offers to keep watch on the lobby. However, that is only a short-term solution to a long-term problem which Hiram has no answer for. As for the time being, they will circle the wagon. Any campaigning that Hermione needs to do will be done from the Pembrooke and Veronica is only ever to be at home or school, and Archie is to see her to and fro.
First thing the next morning, Betty prepares to leave for the bank, but not before Darla warns her to go directly to the bank and come straight back.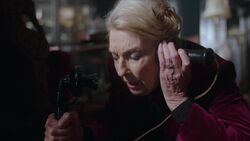 as Penelope is heading out for the evening, she tells Rose to behave herself. She has been fed and taken to the water closet. If Rose has to go to the bathroom while Penelope is gone, she is to hold it. In the meantime, Rose is to watch her programs. As Penelope leaves Thistlehouse, Rose pulls herself up from her chair and crawls on the floor until she reaches the phone. She then called Riverdale High and askes for Toni. Rose tells Toni that Cheryl wasn't far away. In fact, she is with the Sisters. However, that's all Toni can get out of her before the line is disconnected as Claudius cuts the phone cord.
After withdrawing the money, Betty gets a call from her mother telling her that Marcel, the manager that attacked Chic at the hostel is also at the house. Whatever she does next, Alice tells her not to come home.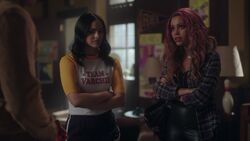 Having learned from Nana Rose that Cheryl is at "the Sisters", Toni and Veronica continue their investigation. The only Sisters Veronica knows of is the Sisters of Quiet Mercy. But they are more so an orphanage than a gay conversion center. However, Veronica checks with Kevin just to be certain. Kevin tells them that the Sisters of Quiet Mercy is one of the few places in the country that still did conversion therapy off the books. During prohibition, the Sisters ran a distillery in the basement. They used to smuggle alcohol out to Sweetwater River via a tunnel that still exists today. Gay boys in the program used to use the tunnels to hookup in Fox Forest. A tunnel that they can potentially use to get to Cheryl. Kevin agrees to lead them to the tunnel but suggests that they go after dark.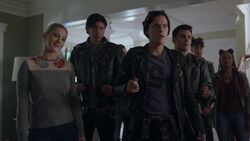 Betty returns home with the $10,000 despite her mother advising her not to, but not before telling Jughead about her predicament. Unfortunately, Marcel and Darla aren't quite ready to leave as previously agreed upon. When Chic confronts them for going against the deal, Marcel pulls out a box cutter and threatens to cut out Betty's eye. Luckily, Jughead had rallied the younger Serpents and together, they kick in the front door and threaten Darla and Marcel with knives. They demand that the two leave or else the situation will get a lot worse than it already is. Heading their warning, Darla and Marcel take the money and leave. Once they are gone, Jughead apologizes about the front door but Alice isn't concerned. She only wants to thank Jughead and the Serpents for their help. She then admits that Betty was right all along abut Chic and kicks him out the house.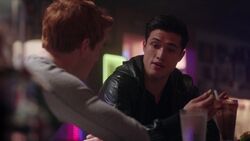 Archie continues to fulfill his duty in escorting Veronica home to ensure her safety. He then meets with Hiram in the study only to learn that Hiram has decided to cut Lenny and Carl in on his profit from the prison. Otherwise, they will destroy it as they don't share Hiram's ambition to go legitimate. He'd pay them a cut for protection, thus preventing a war and ensuring all of their safety. However, Archie doesn't like the sound of that. So he devises a plan that will hopefully take care of the matter. Unfortunately, this means missing his father's speech. Archie heads down to Pop's to convince Reggie to stand alongside him in stopping Kowalski and Martin. While Reggie is against the Southside and for the prison, he can't see himself working with Archie. However, when Archie offeres him the Bulldogs' vote should he help, Reggie reluctantly agrees.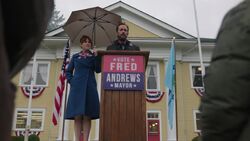 Concurrently, Fred gives his announcement address. He is upset that Archie did not make it but glad that Mary is by his side. And so he goes on to make the official announcement. "Good afternoon. My name is Fred Andrews. And I stand before you today, a humble resident of this town - to announce my candidacy for Mayor."
Cheryl's manual labor continues. Fortunately, she finishes just in time for movie night. Little does Cheryl know that Toni, Veronica and Kevin are orchestrating a rescue mission at that very moment to save her.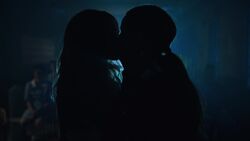 Toni, Veronica and Kevin convene in Fox Forest. According to Kevin's intel, the tunnel that led from the main residence came out right where they are standing. Veronica tells Kevin to wait for them on the outside while she and Toni go in to save Cheryl. If they aren't back in 15 minutes, Kevin is to call his dad. Toni and Veronica make their way through the tunnels and into the main building. They search every room. Toni eventually finds Cheryl in a room watching movies with the other patients. The two of them share a passionate kiss before regrouping with Veronica. Together, the three of them go back down through the tunnels where they reconvene with Kevin on the other side and make their escape.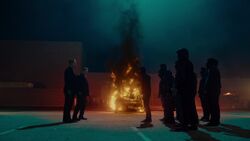 Archie, Reggie and the Bulldogs, disguised in black masks and bearing the name "The Dark Circle", send a message to Kowalski and Martin by blowing up their car. Archie informs them that Hiram Lodge doesn't stand alone and that Riverdale is protected. Just as the rivaling sides are about to collide, they scatter at the sound of police sirens.
The next day, before leaving for Chicago, Mary questions what could've been so important that Archie couldn't be there for his dad. She recalls that he used to worship his father and play music. Not to mention, that he, Jughead and Betty were inseparable. But who he is now is someone that not even she recognizes.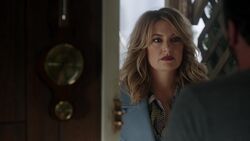 Alice joins the young Serpents during a Swords and Serpents meeting to personally thank them for intervening the day before when she and Betty were in trouble. More than that, she is also done attacking and disavowing the Southside. It is her home and moving forward, she will be proud of it. Additionally, like Betty, she will fight tooth and nail for the Southside. Alice then heads down to Sunnyside in dark make up and snake print clothing, where she joins FP in the trailer.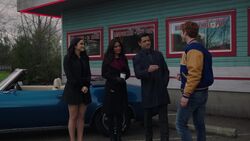 Archie later meets up with the Lodges at Pop's to the sight of a brand new car that they had bought for him. Archie is in shock and can't except such a great gift but they insist that he take it, especially since he will have to continue his duty of escorting Veronica. While Veronica starts up the car, Hiram pulls Archie to the side to explain that blowing up Kowalski and Martin's car was the very definition of a short-term solution which Archie is very much aware of. Their enemies will be back to take everything though Archie is sure they will be ready for them when they do. He then hops in the car with Veronica, and the two head off to school.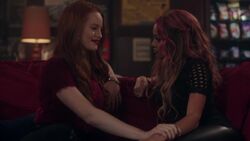 With Cheryl back at school, Toni asks what her next move is going to be. Cheryl explains that if revenge is a dish best served cold, then her mother and uncle better brace themselves for a polar vortex. But more importantly, Cheryl is back just in time for "Carrie: The Musical". Which Kevin is directing. She approaches him in the student lounge and tells him to cancel auditions for the lead role because she is so clearly Riverdale High's Carrie White "And this school's gonna burn", she adds.
Cast
Starring

Guest Starring

Co-Starring

Eli Gabay as Lenny Kowalski
Mark Gibbon as Carl
Paul Lazenby as Marcel
Michele Povill as Sister Livingstone
Andrea Rosolia as Waiter
Barclay Stiff as The Criminologist Vo
Aliza Vellani as Mrs. Haggly
Soundtrack
Trivia
Unlike episodes before it, Chapter Thirty does not appear to be named after any specific film.
Sweet Pea references Buddy Holly, the American musician and singer-songwriter.
 Gallery
Promotional Images
Screencaps
Videos
References
Episode Guide