Cobra Kai Season 4 - The Loop
Play Sound
"
Do you know whose blood this is, Mummy? This is Jason's blood... This is Daddy's blood... And the next blood to be spilt will be yours. You've been in cahoots with Daddy's twin, you tried to kill Nana Rose, and then you shipped me off to a ghoulish nunnery. But your depraved gambits are finished. If you so much as pluck one hair from Nana Rose's little head, I'll end you. I burned one house down, I'll happily burn another {...} I want to be emancipated. I want Thistlehouse all to my self and my Nana... Start packing, Mummy. You and Uncle Claudius are pig-people. And should live amongst the pigs.
"
"Chapter Thirty-One: A Night to Remember" is the eighteenth episode of the second season of Riverdale, and the thirty-first episode of the series overall.[2] It premiered on April 18, 2018.
Synopsis
RIVERDALE HIGH PRESENTS "CARRIE THE MUSICAL" — As Riverdale High begins rehearsals for its upcoming production of "Carrie the Musical," the arrival of an ominous letter forces director Kevin to make a difficult decision about the show. Jughead uses his cover as the musical's documentarian to solve the mystery behind the letter. Meanwhile, tensions between Betty and Veronica continue to escalate just as Alice announces she is joining the musical to spend more time with Betty. Elsewhere, Hiram enacts a devious plan to further drive a wedge between Fred and Archie, while Cheryl channels Carrie White during a showdown with her mother.[3]
Press Release
THE RIVERDALE HIGH DRAMA DEPARTMENT PROUDLY PRESENTS ITS SPRING PRODUCTION CARRIE: THE MUSICAL TO BE DIRECTED BY KEVIN KELLER AND PRODUCED BY THE LODGE FAMILY — RIVERDALE, NY (January 24, 2018) — The Riverdale High Drama Department (RHDD), in conjunction with the Lodge Family, is pleased to present as its Spring Production, "Carrie: The Musical," a dark-yet-catchy cautionary tale exploring the gritty realities of small-town high school life. Future Tony Winner Kevin Keller helms as director, combining iconic elements from the novel, 1976 movie, 1988 Broadway production, 2012 Off-Broadway revival, and 2013 remake to create a retro-yet-timeless interpretation of Stephen King's horror classic. Additionally, a behind-the-scenes documentary following the making of "Carrie: The Musical" will be filmed by student videographer and journalist Jughead Jones.
The book of "Carrie: The Musical" was written by Lawrence D. Cohen, with lyrics by Dean Pitchford, and music by Michael Gore. The show debuted on Broadway in 1988 and ran for only 16 previews and 5 performances. But "Carrie" was given award-winning new life when it was reworked and revived Off-Broadway in 2012. It includes the unforgettable songs "The World According to Chris," "A Night We'll Never Forget" and "Unsuspecting Hearts."
Riverdale High's tragic heroine Cheryl Blossom leads the cast as Carrie White in this avant-garde production, where she is antagonized by mean-girl Chris Hargensen (recent transplant Veronica Lodge) and supported by golden-couple Sue Snell and Tommy Ross (Riverdale High's brightest, Betty Cooper and Archie Andrews). Special appearances by budding star Josie McCoy (playing sympathetic gym teacher Miss Gardner) and Riverdale High alum Alice Cooper (as Carrie White's mother, Margaret).
Adapted from Stephen King's Carrie and produced by RHDD (Newsies, Kinky Boots, Little Shop of Horrors, Our Town) in association with the Lodge Family (SoDale, Pickens Day 2018), "Carrie: The Musical" tells the story of a painfully shy, outcast teenage girl with telekinetic abilities who is oppressed by her peers and religious-zealot mother—until she's pushed to her breaking point and unleashes a terrible revenge. The production stars Cheryl Blossom, Betty Cooper, Veronica Lodge, Archie Andrews, Reggie Mantle, Josie McCoy, Alice Cooper, Toni Topaz, Ethel Muggs, Midge Klump, and Moose Mason. Kevin Keller directs, with Assistant Director Fangs Fogarty. Special thanks to Fred Andrews of Andrews Construction for sets and lumber.
Mr. Jones's documentary, entitled "A Night to Remember," airs Wednesday April 18, 2018 (8:00 p.m. ET/PT) on the CW.[4]
Plot
SPOILERS AHEAD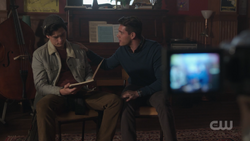 Kevin requested that Jughead meet him before school so that he can ask him to be the videographer for the behind the scenes documentary that will follow their production of "Carrie: The Musical".
At the Andrews house, Archie starts his day off with his morning workout and study session, doing push-ups as he flips through the pages of his script for the musical. Concurrently at the Pembrooke, Veronica lays in bed, studying her script as well. Meanwhile, at the Cooper residence, Betty brushes her hair back and sings "In" before heading off for school. Veronica starts singing as well as she gets out of bed, gets dressed and leaves for school as well.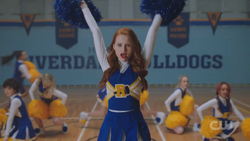 In the school gymnasium, the River Vixens rehearse one of their routines while singing "In" as well. Cheryl, Toni and Midge lead the squad.
Back at the Andrews', Fred tells Archie that Andrews Construction will be building the set for the musical. Fred is thrilled that Archie is getting back into music, even if it's not rock and roll, as he would prefer. It will also allow them to spend some time together. Fred then offers to give Archie a ride to school, but Archie insists that he'll be fine taking his bike. However, that is a lie. He walks down the street, out of eye view of his house, where he parked the car that Hiram Lodge had given him. And that he drives to school.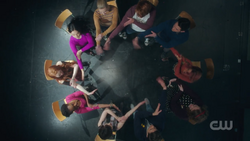 At Riverdale High, Ethel and Kevin pick up where the others left off and sings throughout the halls before running into the auditorium with Cheryl, Josie, Veronica, Betty, Midge, Moose, Archie and Toni. They get on stage, where they continue to sing and dance before being joined by Fangs Fogarty, the assistant director. The cast then begins introductions, starting with Archie who will portray "Tommy Ross", the boy next door. Betty plays "Sue Snell", the good girl. Veronica portrays "Chris Hargensen", the mean girl. And Cheryl will be playing the iconic role of "Carrie White". As for who will be portraying, "Margaret White", Carrie's mom, that role goes to Alice Cooper, which comes as a surprise to almost everyone. Kevin explains that while her casting is untraditional, to him, there's nothing more amateur than age-inappropriate casting. Alice is both looking forward to playing Margaret and spending more time with Betty. Chuck Clayton joins them late after mistaking that rehearsal was in the music room.
As videographer, Jughead begins his behind the scenes interview of the cast and crew, starting with Chuck. Jughead wonders why he chose to join the school musical. Chuck is trying to reform his image. It may be counter-intuitive to be playing the villain, but someone has to do it and Chuck wants to do it right by showing up, putting in the work, and being a member of the team. He hopes by the end of it, people will start to change their minds about him.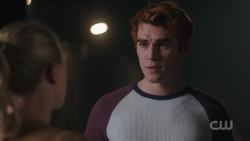 Archie remarks that it is weird for him and Betty to be playing boyfriend and girlfriend. Hearing this, Jughead advises him to take it easy as Big Brother is watching. Archie recognizes that their relationship (Archie, Betty, Jughead and Veronica) is strained at the moment. But they are there for Kevin and to do the play. So, Archie hopes that they can do it as painless as possible. However, it's not that easy for Betty considering that Veronica lied to all of them by conspiring with her parents against the entire school. Betty adds that it's fine that Archie is doing exactly what Tommy Ross would do by standing by Veronica's side. However, where Betty's standing, Veronica is just as much of a privileged, selfish, spiteful mean girl as the part she's playing.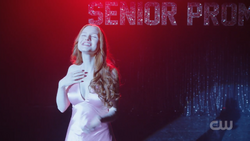 Cheryl interrupts as rehearsal gets underway as she has heard whisperings that some of them, mainly Ethel and Josie, don't think she's fit to play the role of Carrie White. So to settle the matter, she begins to sing "Carrie" to prove them wrong. Kevin initially doesn't believe that this is necessary, but after hearing Cheryl's performance, all doubts surrounding her casting are no more. Ethel Josie, Veronica, Betty, Alice, Toni, Midge, Moose, Archie, Jughead, Kevin, Fangs, Chuck give Cheryl a round of applause. As Cheryl heads back to her seat, a heavy sand bag falls from above and nearly crushes her.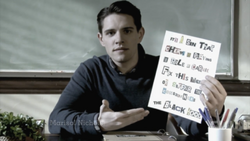 Kevin makes a dark confession with Jughead for the behind the scenes documentary. After Cheryl's brush with death that morning, he found a letter in his locker from someone claiming to be the Black Hood. Kevin writes it off as a prank. He can't fathom why the Black Hood, who was shot dead by his dad, would be demanding that the role of Carrie be recasted. Jughead agrees that it seems pretty small in comparison to the Black Hood's past priorities and demands. Still, Kevin tells Jughead that he can't tell anyone about the letter. As the official documentarian, he's sworn to secrecy. Also, the show, as they say, must go on.
Back in the auditorium, Jughead records as Betty and Veronica sing "Do Me A Favor" and dance with Archie and Chuck.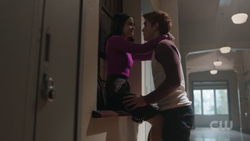 While making out with Veronica in the hallway after rehearsal, Archie stops to ask if he can keep the "Firebird", the car that Hiram bought him, at the Pembrooke for a few days, at least until he tells his father. Given that their fathers are at odds, Archie worries that his father finding out about the car will lead to a massive fallout.
At the Pembrooke, Hermione asks Hiram if Fred has a shot at winning the election. In their favor, he's essentially running on a platform of family values with none of his family by his side. Luckily for them, Mary returned to Chicago. As for Archie, he and Fred have never been more distant, and Hiram plans to keep it that way.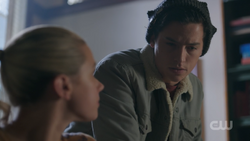 Despite being told not to, Jughead shares the letter with Betty in the Blue and Gold offices. Much like Jughead and Kevin, Betty believes the letter to be a hoax. It's a legit threat, but it's not from the real Black Hood, Jughead states. Classic Phantom of the Opera tactic. Mystery man sends menacing note demanding a certain diva soprano gets recast or else. "Who's to say this letter came from a mystery man at all?" Betty asks. Jughead admits that this is a good point as the letter may have come from a woman.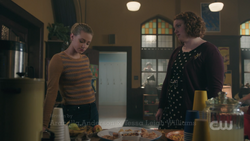 Suspect #1 is Ethel. Betty finds her in the student lounge and tries to get a feel of her. Betty accuses Cheryl of always taking things she shouldn't, like the role of Carrie, to see if Ethel would agree. Jughead films from just outside the lounge as this unfolds. However, Ethel does not bash Cheryl, instead, she thanks Betty for the compliment of considering her to be a better fit for the lead role. Betty continues to bait Ethel. For Kevin to cast Cheryl as Carrie without even letting Ethel audition, Betty wonders if that made Ethel angry. Ethel replies that she was born to play Carrie White. So to not be given a shot at it makes her angry. Ethel then notices Jughead by the window and realizes that she being filmed and interrogated. She tells them that she's not a violent person and that she would never harm anyone for her own benefit.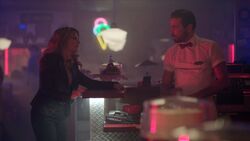 Alice visits FP at Pop's that night to tell him that she was cast in the school's musical and to ask if he would be stopping by to see her. When FP blows her off, Alice becomes upset as this appears to have been a recurring theme throughout their youth. Alice was afraid that their kids were going to make the same mistakes that they did, but as it turns out, it's her and FP making the same mistakes.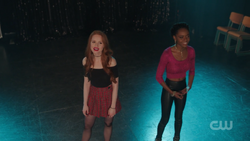 In the auditorium, Kevin explains to Josie and Cheryl that this scene Mrs. Gardner is being a friend when Carrie has none, out of kindness. Josie remarks that she'll fake it as best as she can as she's still upset at Cheryl for threatening her and sending her a pig's heart. Josie begins to sing though Cheryl yells stop during the middle of the scene as she can't go on with Josie hating her, especially when they are singing a song about friendship. Cheryl knows what she did to Josie was wrong, but she was wrestling with some dark, Carrie White-like demons. So she apologizes to Josie and asks for her forgiveness. Josie accepts Cheryl's apology, and together, the two of them sing "Unsuspecting Hearts".
Hiram notices Firebird parked in the Pembrooke garage and asks Veronica what it is doing there rather than at the Andrews' with Archie. Veronica reveals that Archie's only parking it there until he tells his dad that Hiram gave it to him as he didn't want to upset Fred. From this, Hiram comes up with a wicked idea to further distance Archie from Fred.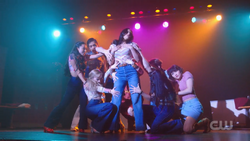 Veronica, Toni, Ethel, Betty and Chuck continue rehearsal in the auditorium, where they sing and perform "The World According to Chris". Although, Betty seems almost disgusted with Veronica's performance. Nonetheless, Archie, Fangs, Kevin, Moose, Midge and Jughead are highly impressed as they applaud the routine from the crowd. Kevin in fact is obsessed with Veronica's performance, which Betty credits to Veronica being the literal embodiment of Chris, the character she's portraying. Never has a role been so perfectly type-cast, Betty remarks. Betty goes onto point out the similarities between Veronica and Chris. Spoiled rich girl. Major daddy issues. Bad to the bone, trying to control everyone around her, including her boyfriend and best friend.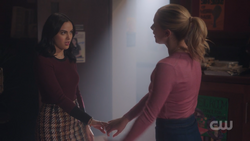 Afterward, Archie confronts Betty for being so rude to Veronica. Betty has no idea what's going on with Veronica. There's a lot that Betty doesn't know about Veronica, her family the intense pressure that she's under. Betty asks that Archie tell her as she wants to let it go, but it's not Archie's place to share it. Archie does however remind Betty how quickly Veronica forgave her when the Black Hood made her say terrible things to Veronica at Nick St. Clair's party (see: Chapter Eighteen: When a Stranger Calls). Kevin then calls them on stage to run Tommy and Sue's ballad. Jughead records as Archie takes Betty's hand while singing "You Shine". Taking in what Archie had said to her, Betty finds Veronica in the music room to apologize. But Veronica assumed that Betty was there to continue her assault. If there is anything that playing Chris has illuminated it's that she has been a terrible friend to Betty. Betty replies that she couldn't disagree more as she and Veronica proceed to sing "You Shine".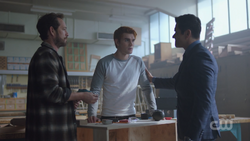 Archie and Fred work on set pieces for the play in woodshop. Hiram stops by, during which time he asks Fred if Archie has taken him for a spin in the Firebird despite knowing that Archie has been keeping this a secret from Fred. Hiram claims it was a gift for all the help Archie has provided for him and his family over the past few months. Fred claims it was a pretty smooth ride, choosing not to cause a scene despite being disappointed in Archie. Just outside, Archie tries to convince his father that it is just a car, but for Fred it's more than that. He was planning on them going to the junkyard and picking out a beat up car to fix up together, like he and his father did with his first car.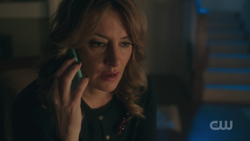 That night, Alice calls Chic. She is worried about him and hasn't heard from him recently, but when he doesn't answer, she leaves a message saying that she loves him. Betty comes downstairs to find her mother blaming herself for kicking Chic out.
Kevin approaches Jughead after receiving another letter. While the sand bag falling and the initial letter may have seemed like an accident and a prank, this second letter tells a different story. This letter acts as a final warning to replace Cheryl. The Black Hood claims that the sand bag won't miss next time.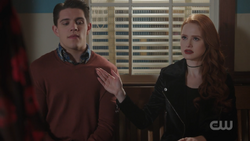 The next day, with it now being a matter of her safety, Kevin tells Cheryl that he has to recast her role. However, Cheryl refuses to succumb to thespian terrorism and allow herself to be ousted from the production. After the fires she's walked through, the world needs to see her up on stage. A Dark Phoenix reborn in the spotlight, so to speak. Unfortunately for Cheryl, that won't happen, not if her mother has anything to say about it. Penelope informs Cheryl that students require parental approval to participate in extracurricular activities, as she reminded Mr. Weatherbee when she told him that Cheryl didn't have her permission to do the musical. When Kevin tries to leave as he wants no part of the argument, Cheryl sits him back down. She then confronts her mother, who Cheryl surmises feasts on broken dreams. Penelope concludes that Cheryl's desire to play Carrie, a murderous telekinetic teen who kills her mother, is nothing more than a matricidal revenge fantasy.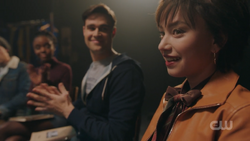 Due to some unforeseen circumstances, Kevin informs Fangs, Toni, Ethel, Alice, Moose, Midge, Betty, Chuck, Veronica, Archie, Jughead and Josie that Cheryl will no longer be playing Carrie. When they ask why, Kevin simply replies that Penelope Blossom isn't much of a stage mom, which comes as no surprise to Alice. He then informs Toni that Cheryl can be found by the bleachers. In the meantime, Cheryl's understudy will assume the role, that being Midge, who Kevin appointed after the sand bag incident.
In the bleachers, Cheryl tells Toni that she just wanted to prove to everyone that she is still herself, but maybe she's not. Toni advises Cheryl to show her mother who's in charge, but Cheryl doesn't know if she can anymore. She's not the same girl who burned down Thornhill and cut off her mother's oxygen though Toni disagrees.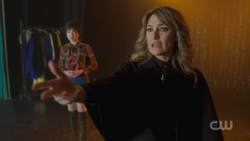 On stage, Alice, portraying Margaret White, and Midge portraying Carrie White, sing "Stay Here Instead". However, Alice's performance starts to seem a bit too real and more so directed at Betty than Midge. Alice then looks to Betty in the crowd and tells her not to leave her like everyone else, before running off the stage in tears. Betty follows her mother into the hallway to inform her that she isn't going anywhere. Everything is crumbling, Alice says. She's driven everyone away. She gave Chic away when he was born and she just did it again. Making matters worse, she and Hal aren't living together because of something unspoken that happened years ago. And she and Betty have never been so frayed. Betty holds Alice close as she continues to cry.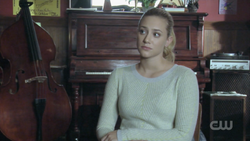 As part of the behind the scenes documentary, Betty tells Jughead that while her mother has always been a woman on the verge, this is something else. Betty wants to do something that'll make her feel less alone and abandoned.
Kevin returns with the programs, telling them all to be sure to get them signed on opening night. On the back of the playbill is Hermione Lodge's campaign. Archie then notices his dad on set and approaches him as he assumed that he would've quit after their disagreement. Fred tells Archie that he's no quitter and that he'll continue to help with set work.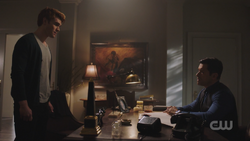 Archie confesses on camera to Jughead that when Kevin came to him about Carrie, The Musical, he said Archie was the literal embodiment of Tommy Ross. Loyal, selfless, a hero, a force for good. But Archie believes that he's none of those things. He's not the hero of any story. Lately, he's been going down this dark path, ignoring how much it hurt his dad. After his confession with Jughead, Archie heads down to the Pembrooke to confront Hiram over trying to get in between him and his dad. While Hiram may be his boss, Archie assures Hiram that getting between them is a battle he will lose every time. Archie then returns the keys to Firebird to Hiram.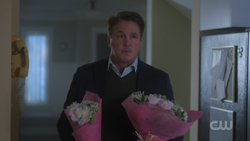 Opening night has arrived. Betty and Alice are too nervous to even eat. Betty does however come through on her promise to do something to make her mom feel less abandoned. She called her dad and arranged that he bring her mother flowers. Hal arrives with flowers for Betty and Alice. However, Alice is allergic to peonies. Hal tells Alice that he'd really like to come back home. If they do this, there can't be anymore secrets, which means Alice has something to tell Hal in regards to Chic. She reveals that Chic isn't his son. Which Hal always suspected though he doesn't care. He only wants to come home. Their secrets can't hurt them anymore and they can be together again. Betty listens from the hallway as her parents reunite.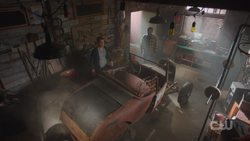 After returning Firebird, Archie sold some of his music equipment and went down to the junkyard to buy a beat up car off junkyard Steve. It needs a lot of work, but Archie is hoping that he and Fred can fix it up together. Fred is touched. So much so that he sends Archie off to school as he doesn't want his son to see him emotional.
Sheriff Keller enters the dressing room and Jughead records as Archie, Betty, Veronica, Kevin, Midge, Moose, Kevin, Alice, Chuck, Toni and Ethel sing "A Night We'll Never Forget".
Cheryl picks up where they left off, in her Carrie White dress while carrying a bucket of blood as she approaches Thistlehouse. Back in the auditorium, the gang continues to sing, but they've now moved to the stage. Meanwhile, Cheryl enters Thistlehouse holding lit candles while drenched in blood. She approaches her mother and tells her that she's covered in Jason and Clifford's blood. The next blood to be spilled is Penelope's. Cheryl confronts her mother for being in cahoots with Claudius, trying to kill Nana Rose and shipping her off to the Sisters of Quiet Mercy. Penelope's depraved gambits end here. If she ever tries to harm Nana Rose again, Cheryl threatens to end her. She burned one house down, she'll gladly do it again. Cheryl wants Thistlehouse to herself and Nana Rose. So she tells Penelope to start packing as she and Claudius are no longer welcome.
Hermione arrives at the play, greeting those in attendance as she passes out buttons for her campaign. FP arrives shortly after her only to find that Alice and Hal have made up. Seeing this, he leaves the play.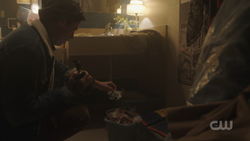 Kevin looks backstage for Fangs. He finds him in the dressing room with Midge. Fangs claims that he was giving her last minute notes. Jughead then goes looking for Ethel to do his finale interviews, but she's not in her dressing room. What Jughead does find in her dressing room is cut-out magazines, with letters missing, which he surmises was used for the Black Hood's letters. Jughead concludes that Ethel is behind the threats as initially suspected, but Ethel returns to her dressing room and ensures him that he's got it all wrong. She cut the letters out the magazines for her vision board so she claims. After kicking him out, Jughead runs into Moose, who seems to be in a bad mood, pushing Jughead out of his way.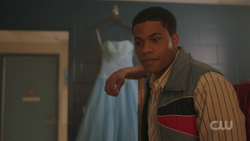 After a little bit of singing in the dressing room with Archie, Betty and Chuck, Veronica speaks for the entire gang when she tells Chuck that his behavior throughout rehearsals has been nothing short of that of a proper Victorian gentleman, meaning his pariahship is over. Chic enters the dressing room, much to Betty's surprise. He claims that he wouldn't miss it for the world. Betty tells him that he should get back to his seat as the play is about to begin and he isn't supposed to be backstage.
The play begins and crowd is packed. Jughead records from the crowd, sitting alongside Kevin and Cheryl as Alice sings "Evening Prayers". Betty, Veronica, Moose, Toni and Archie watch from backstage. When Alice cues Midge, the curtains raise only to reveal that Midge has been murdered by the Black Hood. She has been stabbed with knives and scissors and pinned to the wall. On the wall, written in blood is a message. "I Am Back From The Dead. All Those Who Escaped Me Before Will Die... B.H" When Alice screams in fear, the crowd realizes that this is not part of the play and the auditorium erupts in panic and chaos. While all this takes place, Chic sits in the crowd, perfectly calm as if nothing has happened.
Cast
Starring

Guest Starring

Co-Starring
Soundtrack
Trivia
 Gallery
Promotional Images
Screencaps
Videos
References
Episode Guide