She-Hulk Trailer Dropped - The Loop
Play Sound
"
After years of dreaming, I had finally finished my Parsons application. I could've dropped it off at any mailbox in Washington Heights, but instead, I went all the way downtown, on the same block as my childhood apartment. I guess you could say I was clutching to the past, but the thing is, Parsons wasn't just my dream -- it was my mom's, too. She may have had secrets, but all I wanted was to share this moment with her -- and K.O. -- but I couldn't. As hard as it was going to be, it was time for me to move on, to move forward.
"

"Chapter Six: Mama Said" is the sixth episode of the first season of Katy Keene, and the sixth episode of the series overall.[2] It premiered on March 12, 2020.
Synopsis
ROYAL TREATMENT – With Katy trying to move on from KO, she once again throws herself into her work, which turns out to be a sticky situation with her clients. Pepper is confronted about what she is up to but is surprised about the proposal she receives instead. Jorge learns he might be losing his coveted performance spot at Molly's Crisis to the winner of a drag queen pageant, so Jorge decides to enter Ginger and is surprised by his mother's reaction. Meanwhile, Josie is nervous about her mother coming to town to hear her EP release and of course meeting Alexander.[2]
Plot
SPOILERS AHEAD
Katy has finished her application for Parsons and drops it off at the mailbox on the same block as her childhood apartment. It was always Katy's mom's dream to see her at Parsons.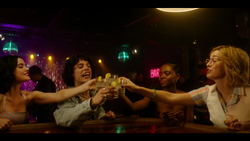 Katy celebrates her submission to Parsons at Molly's Crisis with Josie, Pepper, and Jorge. Katy always pictured sharing this milestone with her mom. She even imagined she was there at the mailbox with her. Katy also wanted to share this moment with KO, but she can't. Josie, Pepper, and Jorge encourage Katy to pursue other men. However, KO is the only man Katy has ever been with. Katy then asks about Josie's EP. There's a listening party that Alex planned at Chubby's, but Josie still hasn't told him that her contract stipulates that she babysit him. Rival drag queen Deveraux enters Molly's Crisis and alerts Jorge that the Miss Washington Heights Pageant has been moved to Molly's. Winner gets prime time. The most lucrative time at the bar.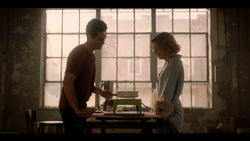 After having casual sex, Raj makes breakfast for Pepper. His Nanima's secret recipe. He hasn't seen his grandmother for a few years. They had a falling out. After his parents split, Nanima wanted him to come back to India with her and his mom, but Raj wanted to stay and become the next Spike Lee. She even tried to bribe him with an early inheritance. Didi stops by unexpectedly considering that Pepper has been avoiding her calls. She was fired from the Palace after they found out that she was helping Pepper. Pepper claims that she recently came into a new business relationship and is expecting a big pay day. She promises Didi that she will pay her back.
Jorge informs his mother, Luisa, that he lost his slot at Molly's Crisis and the only way to win it back is to win the Washington Heights Pageant. Luisa offers to help Jorge reclaim his spot, reminding him that she was Miss Puerto Rico.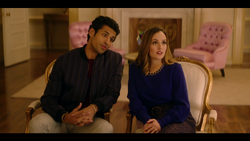 Lacy's hosts a royal engagement announcement photo shoot for Prince Errol and Patricia, who informs Gloria and Katy that Errol's grandmother is concerned that the photographer, Will Buckingham is "too green." However, Prince Errol disagrees. Katy adds that Will Buckingham was also just promised the September issue cover from Vogue, so if anyone is going to make Patrica look like a princess, it's him. While Patricia May trust Katy, she worries that Errol's family may not approve, though his family's approval is no concern of his. Patricia storms off with Prince Errol chasing after her. Gloria tasks Katy with ensuring that the photoshoot goes off without a hitch. Katy then asks Gloria if she could look into Lacy's employment history to see if her mother was ever an employee.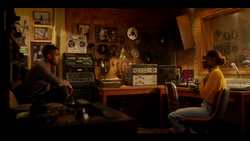 Alexander mixes Josie's EP, and she is amazed with the end result. He reminds Josie of just how amazing she is and tells her that tomorrow, at the listening party, some of the top executives will see that, including his father, who'll have no choice but to approve funding for a full album. Josie tells Alex that her mom is flying into town for the listening party. She needs everything to be perfect because if it was up to her mother, Josie would be in law school. Once upon a time, her mother supported her musical pursuit, but she no longer does, so Josie has to impress her.
Jorge registers for the Washington Heights Pageant and rehearses alongside Deveraux and the other queens. Jorge claims Molly's as his own, but Deveraux insists that it's deserving of a real queen, such as himself. He then informs Jorge that the legendary VeeVee Humble will be the special guest judge.
As Katy struggles to figure out how to amend Errol and Patricia's royal relationship, she notices KO with Alexandra Cabot right outside of Stella Tower. She presumes that the two are dating.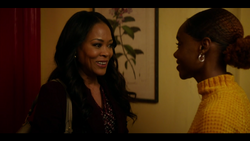 Katy shares her discovery with Pepper and Jorge. Pepper questions exactly where Xandra touched KO, and Jorge concludes that they must've met at Studio 34, as KO works there now. Katy can't believe that he's moved on so fast. Pepper points out that this is a sign that it's time for Katy to move on. Pepper proposes that Katy ask out Will Buckingham, the photographer for the royal photoshoot. Josie arrives and reminds them that her mom is on the way. Moments later, Sierra arrives and greets Josie with a hug. Josie then introduces her to Katy, Pepper, and Jorge. Sierra asks them to fill her in on everything that's going on.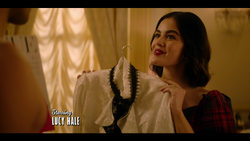 The following day, Katy prepares Prince Errol and Patricia for the photoshoot, though they seem to have different ideas in mind on what to wear. Errol wants to go causal, but Patrica prefers something more Victorian, as it would please his family. However, Errol has no desire to please his family, only Patricia. Katy comes up with an idea and asks Will for his help.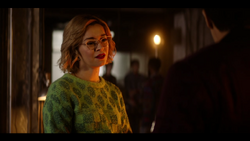 Raj films another scene at Pepper's place. She proposes that Raj reach out to his Nanima, but he is reluctant. Pepper never had the best relationship with her family and sometimes it pains her how much she misses them. She'd hate for Raj to feel the same way, adding that life's too short to hold grudges.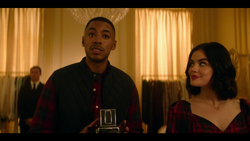 Will takes several photos of Prince Errol and Patricia together. He starts to take photos of only Patricia. He tells Katy that her idea to have them dress down will result in great photos. Prince Errol thanks Katy for all her help. He inquires about Katy's relationship, as the last time he saw her she was to be engaged. However, Katy informs him that it didn't work out. Prince Errol remarks that he must be a puddle after losing her.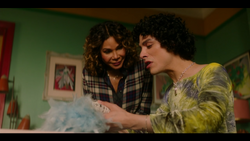 Luisa gifts Jorge with her Miss Puerto Rico costume. Until she met Ginger, Luisa thought she would have to be buried in the outfit. Luisa has the perfect showstopper costume, but Jorge tells her that Katy's already handling it. As for his Q&A, Jorge simply plans on being himself and speaking his truth, but Luisa tells him that pageants are about fitting into the mold, not breaking them. So, she helps him prepare.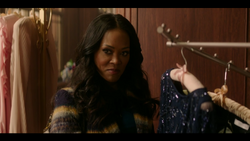 Josie and Sierra go shopping at Lacy's, where Josie informs her mother that she was only funded for an EP as opposed to a full album. And she's not signed to a label. Mr. Cabot funded it personally. Josie lastly reveals that she's dating Alexander and has signed a contract without allowing her mother to read it first. Sierra worries that Josie will become a pawn in their family dynamic. Josie assures her that she won't. However, Sierra finds it hard to believe that Mr. Cabot simply cut her a check after hearing her sing. Sierra used to believe in her, Josie questions when did that stop.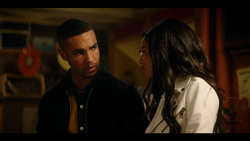 Alexandra takes full responsibility for leaking the Kissing Cabots story, as she was sick and tired of Alex's dad trying to control them. And now that this information is public knowledge, they're free to do as they will. She's done with secrets, which is why she swiped Josie's contract to show to Alex the final clause, which essentially states that Alex's father is paying Josie to babysit him.
As the photoshoot wraps, Will tells Katy that he enjoyed working with her and that he'll think of her next time he's in need of a Switzerland. Katy gives Will her number and asks him to accompany her to Josie's listening party. Unbeknownst to Katy, Gloria watches from the doorway.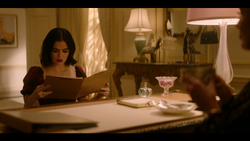 Gloria congratulates Katy on a job well down with the photoshoot. Gloria retrieved Katy's mother's file from Human Resources. Her file says that she was fired. From what Gloria could gather, the management doubted her commitment to the store. She was terminated around the same time Katy was born. Katy wonders why her mom went to such lengths to keep this from her. Gloria presumes that if Katy's mother was keeping something from her, then it was probably to protect her. She then tells Katy to go on to the listening party and have fun. As Katy leaves, Gloria puts a letter back into Katherine's file, signed "LL."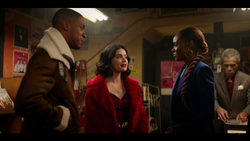 Josie grows anxious as she awaits the arrival of Alex. Chubby assures her that everything will go as planned. Katy arrives, and she introduces Josie to Will as a future Grammy winner. Being out with Katy reminds Will of his early days in the city, running around with a camera on his shoulder, not knowing if he was going to make it. As much as Katy likes her day job, she would rather be getting paid to design. Will retorts that Katy's job can't be that bad if she has a prince pinning after her. Katy insists that Prince Errol wasn't looking at her though.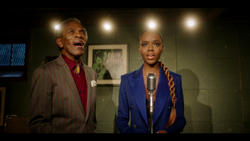 Sierra arrives at the listening party just in time to meet a drunk Alexander. Josie asks to talk to him in private, but Alex gets unruly and confronts Josie about dating him just because his dad paid her to. Katy, Pepper, Jorge, Chubby, and Mr. Cabot watch as this unfolds. Katy stops Josie from chasing after Alex and reminds her that this is her night and not to let anyone ruin it. Chubby welcomes Josie to the stage. Josie and Chubby then proceed to sing in front of the entire party. As they perform, Sierra approaches Mr. Cabot and threatens to have his business investigated should he hurt Josie in any way. "No empire's been built without at least one rusty nail, Mr. Cabot. Just ask Hiram Lodge.", Sierra says.
Will invites Katy back to his studio, but she turns him down. He agrees to call her and gives her a kiss goodbye.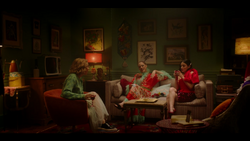 Katy returns home and tells Pepper and Jorge how her kiss with Will was the worst she'd ever had. Pepper recalls her date with Jared Leto, who only gives butterfly kisses. Jorge then inquires about Raj, who Pepper insists that she's not dating. Their relationship is strictly casual. Pepper then gets a call from Raj. Katy worries that she might not be cut out for the single life, but Jorge reminds her that she hasn't been single for long and that she'll have to kiss a few frogs if she wishes to find her prince. There's a knock at the door. Katy assumes it's Pepper, but it's Prince Errol.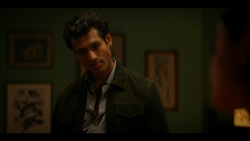 Errol informs Katy that he called off his engagement to Patricia. On their first date, he made plans to take Patrica to a Michelin-star restaurant in Macau, but she insisted that they stay in and order Chinese. Now, she's throwing temper tantrums because her tiara doesn't have enough canary yellow diamonds. Katy reminds Prince Errol that this is all new to Patrica, and he'll have to give her some time, but Errol is starting to think he's better off single. Katy thought the same when she broke up with KO. Errol then notices the photo of Katy with her mom sitting on the table. Katy tells him that she died a few years ago, but she's starting to think there's a lot of things she doesn't know about her mother. Errol's mother died too, and he's starting to find that the older he gets, the more he wishes she was there. She would know what to do about Patrica. She would probably say that Errol needs to learn how to be alone and that he was foolish to get engaged to his rebound. Errol admits that he may have rushed into the relationship to numb the pain he was feeling. Katy can relate. Sometimes, she thinks she stayed with KO because he was there for her when her mom died. And she knew that if they broke up, there would be residual pain to sort through. Jorge/Ginger interrupts to inform Katy that he's leaving. Katy invites Errol to the drag pageant. However, he's worried that he might cause a commotion. Jorge/Ginger hands Prince Errol a hat and tells him that "no one will be looking for a prince amongst all those queens."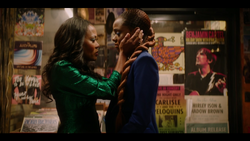 Josie helps Chubby clean up the shop. He tells her to go talk to her mother as she's the only one that Josie's going to get. Josie presumes that her mother is going to say that the entire listening party was a disaster. However, Sierra is overjoyed and proud of Josie. She knows that Josie can handle her business, but she doesn't like what she saw from Alex. He had no right to walk in like that. He reminded Sierra of Josie's father, Myles McCoy. She warns Josie that when you end up with someone like that, the worrying never goes away. Sierra doesn't want that for Josie. However, she has to make her own choices and mistakes. Nevertheless, Sierra promises Josie that she'll always be there.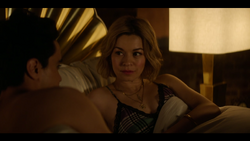 After another casual hook up, Raj tells Pepper that he's been thinking about his Nanima and what Pepper said to him. He's considering reaching out to her, but he doesn't know what he'll do if she rejects him again. Pepper admits that she had an ulterior motive when she suggested he make up with his family. When she heard about his inheritance, she thought that he might invest in her Pepper Plant. However, it would be unconscionable of her to betray his trust. Raj likes that Pepper is relentlessly passionate. Admittedly, he's done some shady things to get films made and made some shady films. All he asks of Pepper is that she not lie to him.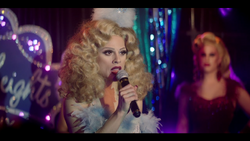 The Washington Heights Pageant commences. Ginger, Deveraux, and the other drag queens take the stage. The special guest judge VeeVee Humble, turns out to be Francois, and he joins them as Katy, Prince Errol, Pepper, Josie, Sierra, and Luisa watch from the crowd. Sierra tells Josie how she was in the East Village every weekend in her twenties. She's plenty familiar with drag. VeeVee Humble asks Deveraux the first question. She then asks Ginger the same question, but Jorge/Ginger rushes off the stage.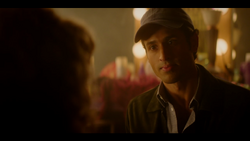 Katy and Prince Errol follow Ginger into the dressing room, where Deveraux has sabotaged the dress that Katy designed for her. She wishes to quit the pageant, but Katy refuses to allow her to give up and immediately begins fixing the dress while Errol gives Ginger a pep talk. His entire life, he's been expected to be a perfect prince. But the more he tried, the more miserable he was. The problem was that he didn't know how to be himself. He encourages Ginger to be herself.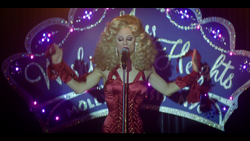 For the talent portion of the pageant, Francois/VeeVee Humble welcomes Ginger back to the stage. Katy, Prince Errol, Pepper, Josie, Sierra, and Luisa cheer her on as she sings before the crowd. Deveraux tries to mess up her set, but Ginger continues her performance, much to the crowd's amazement. However, despite her best effort, VeeVee Humble announces Deveraux as this year's Miss Washington Heights.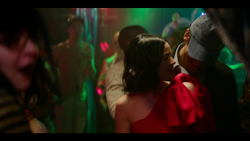 At the bar, Katy tells Prince Errol that it was very sweet how he talked Ginger off the ledge. He jokes that he's used to giving queen's advice. He asks if every night in the life of Katy Keene is this exciting. He can't remember the last time he's had this much fun. It's difficult to cut loose when you're in the public eye, he explains. Katy and Prince Errol then take to the dance floor with Pepper, Josie, Sierra, Ginger, and Luisa.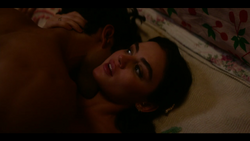 Katy and Prince Errol go back to her place where they proceed to have sex. Katy wakes up the following morning to find that Prince Errol is gone and that Josie and Jorge are waiting outside her room. They ask what happened to her prince and how was the "royal treatment." Katy admits that it was a mistake and that she got caught up in the moment. KO shows up unannounced at the apartment. He was in the area and figured he'd come by to pick up some of his stuff. Katy invites him in for some cereal.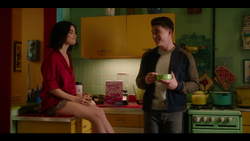 Katy reveals that she saw KO and Xandra together and that she's perfectly fine with them dating. KO explains that he met Xandra at Studio 34. She needed a bodyguard. He took the job, and so now he drives her around and teaches her how to box. He accuses Katy of being jealous and tells her that he can't imagine dating someone new right now. Katy then gets a call from Gloria, demanding her presence at Lacy's.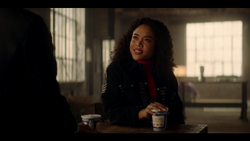 Pepper calls Didi over to inform her that while she doesn't have her money, she is willing to offer her a job at the Pepper Plant. She even offers a week's salary in advance. She values Didi's friendship and doesn't want to lose her. Didi remarks that people like Pepper came in and out of the Palace all the time. She accuses Pepper of being a con artist, but she accepts the job under one condition; Pepper has to teach her everything she knows.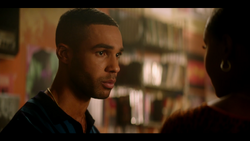 Josie apologizes to Alexander for signing the contract without first talking to him. All his life, Alex has watched his dad persuade people to do things they don't want to do. He tells Josie that she doesn't have to apologize. Alex admits that he's an addict. But he's working on it. He meets with his sponsor often. Josie wishes that he would've told her, as she cares about him, and with or without the contract, she wants to be with him.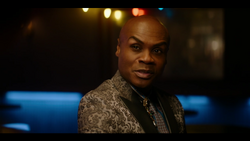 Francois finds Jorge at the bar and asks for a drink. He says that Jorge was a breath of fresh air at the pageant. However, he didn't win and is now stuck with a terrible slot. While he may not have won the crown, Francois tells Jorge he was the only real queen on the stage. He was authentic. Once upon a time, Francois was where Jorge is now. New to the drag scene and lost. He offers to be Jorge's "fairy dragmother." By the time he's done with Jorge, his dreaded slot will he the best show in NYC. He asks Jorge what he wants his show to be. Jorge wants to do "Kiss of the Spiderwoman." A one queen musical.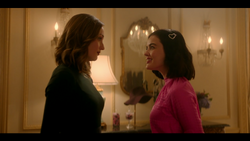 Katy arrives at Lacy's to find Gloria standing across from Prince Errol and Patrica. Patrica approaches Katy, as it was Katy who dressed her the first time she shopped at Lacy's. It was also Katy who designed her engagement ring and planned their photoshoot. She trusts Katy, which is why she's hoping Katy will agree to design her wedding dress. It would seem as though the wedding is back on.
Cast
Starring

Guest Starring

Co-Starring

Elliot Halperin as Booty Harland
Cesar Anthony Villavicencio as Pageant Queen #1
Edwin Sutton as Team Deveraux #1
Corey Carpenter as Team Deveraux #2
Soundtrack
Trivia
Gallery
Promotional Images
Screencaps
Videos
Episode Guide
References