"
It was over, the evils of Stonewall Prep had been vanquished, and life in Riverdale more or less picked up where it had left off. But at its heart, Riverdale was and is, "A wicked little town." So no one was surprised when a third round of sinister video tapes was delivered to our doorsteps.
"
— Jughead

"Chapter Seventy-Four: Wicked Little Town" is the seventeenth episode of the fourth season of Riverdale, and the seventy-fourth episode of the series overall.[2] It premiered on April 15, 2020.
Synopsis
THE RIVERDALE HIGH VARIETY SHOW — After the previous debacles of "Carrie: The Musical" and "Heathers: The Musical," Kevin decides to revive Riverdale High's tradition of hosting a variety show. But when Mr. Honey forbids him from performing a number from "Hedwig and the Angry Inch," Kevin and the gang rally against their principal — each by performing a number from "Hedwig," turning the variety show into a full-fledged musical that reflects the students' inner lives and struggles. And amidst all the drama, one forbidden "showmance" begins to blossom.[3]
Plot
SPOILERS AHEAD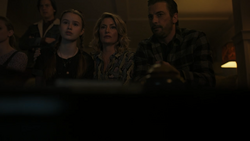 After spending some time at Pop's, where he concluded the Stonewall Prep chapter to his novel, Jughead returns home, where he finds a videotape on his doorstep. This is the third round of videotapes to surface throughout town. Betty opens the front door, as he looks around for the man or woman responsible. They head inside and proceed to watch the tape along with Alice, FP, and Jellybean. Afterward, Jughead and Betty sing and stare out the window.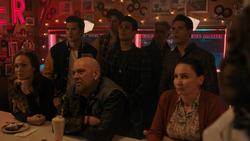 Meanwhile, all across Riverdale, the townsfolk, much like Jughead, recover the videotapes placed at their doorsteps, including Archie at his house, Veronica, Hermione, and Hiram at the Pembrooke, Cheryl, Toni, and Nana Rose at Thistlehouse, and even Pop's diner, where Pop Tate, Kevin, Tom, Sweet Pea, Fangs, and Reggie watch the recording.
The following morning, Veronica reminds Hiram of his doctor's appointment, which he promises her he will make.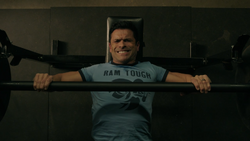 Despite assuring Veronica that he was going to the doctors, Hiram instead goes to the community center, where he is nearly suffocated under the weights as he bench press a bar, though Archie intervenes. He then suggests that Hiram slow down considering that he's sick. However, Hiram insists that he's fine and tells Archie to mind his business.
Betty and Jughead meet up at the Blue and Gold, where with help from his teachers, Betty has organized all of Jughead's assignments that he missed while at Stonewall. Having fallen so far behind, Jughead questions if the work is even worth the effort. Betty reminds Jughead that he's doing this so that he can graduate with her.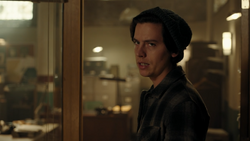 Jughead stops by the FBI field office where he asks for Charles' help. He's hoping that he can help Charles review the latest rounds of tapes so not too feel so overwhelmed by his school work. Charles informs Jughead that the mysterious voyeur is stepping up their game and recording more and more houses. He fears what will happen should this person find their way inside someone's house. Before leaving, Jughead asks Charles not to tell Betty about this.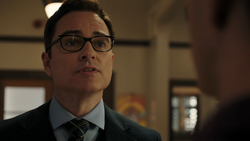 Kevin delivers another list of sign-ups for the Variety Show to Principal Honey, who has reviewed and approved every act thus far with the exception of Kevin's. He bans Kevin from performing a number from the highly controversial Hedwig and the Angry Inch musical. He recommends that Kevin does a number from a more appropriate musical. However, Kevin refuses to back down and asks Honey to at least listen to him. Kevin proceeds to sing and dance. He enters a classroom, where Archie, Cheryl, Toni, Veronica, Betty, Sweet Pea, Fangs, and Reggie join him in song and dance. Despite his performance, Mr. Honey is unmoved, instructing Kevin to pick a different song or recuse himself from the Variety Show.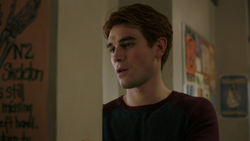 While walking down the paper littered hallway of Riverdale High, Archie signs himself, along with his friends, up for the Variety Show. Archie returns home and practices in his room with his guitar until breaking one of the strings. He goes into the garbage, where he finds his dad's old electric guitar from his days playing as the "Fred Heads."
Kevin informs Fangs that he will no longer be performing a number from Hedwig after it was banned by Honey. However, Fangs encourages Kevin to do it nonetheless. As opposed to waiting for the Variety Show, Fangs advises Kevin to go rogue.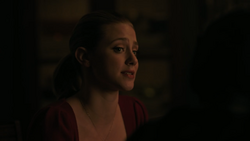 At the Cooper-Jones house, Betty critiques Jughead's essay. Jughead plans to go offline and hold up in the bunker so that he can focus on his assignments. Instead, he takes up home in the bunker to review the videotapes.
Archie tells Jughead, Veronica, and Betty that he signed them all up for the Variety Show. The four of them will perform as a band named "The Archies". Jughead mocks the name, but Veronica is in favor of it.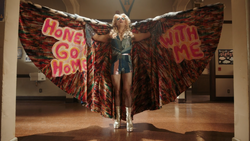 Dressed in a blonde wig and an extravagantly flamboyant one piece jean jumpsuit, Kevin gets on the intercom and orders everyone to the music room. Kevin sings as he makes his way down the hall. Once there, he joins Sweet Pea, Fangs, and Toni on stage. Archie, Betty, Veronica, Jughead, Cheryl, and Reggie cheer him on. Kevin jumps into the crowd, kisses Archie and jumps back on stage, much to Mr. Honey's dismay. He kicks Kevin off the Variety Show and pulls the plug on his performance.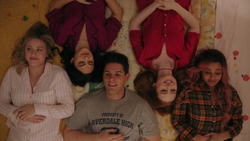 Betty hosts a sleepover with Veronica, Cheryl, Toni, and Kevin, who isn't in the happiest of moods after being kicked off the Variety Show. Working on it made him feel like he was reconnecting with himself prior to getting caught up in the Farm. Mr. Honey not only took that away but made him feel like he didn't matter. In an attempt to cheer Kevin up, Betty, Veronica, Cheryl, and Toni sing to him. Throughout this number, they make their way from Betty's house, to Cheryl's, then to Veronica's, and back to Betty's. Betty suggests that as a sign of solidarity, they each perform a song from Hedwig at the Variety Show. Also, Cheryl promises to sit down with Mr. Honey and get Kevin back on board.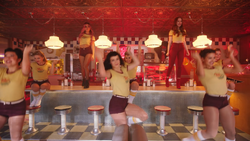 Cheryl and Toni, accompanied by several other students, corner Mr. Honey at Pop's. They come on the behalf of Kevin and the entire student body to plead their case for Hedwig. Driving their point home, Cheryl and Toni sing and dance. However, Mr. Honey is unimpressed, explaining Hedwig is highly sexualized. Toni questions what would Honey do if every student at Riverdale changed their Variety Show act to a number from Hedwig. Mr. Honey explains that he would ban each and every student from Senior Prom.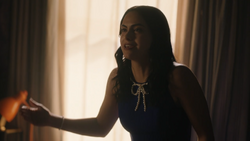 While exercising at the community center, Archie gets several text messages from Veronica, alerting him that her dad collapsed. Archie convenes with Veronica at his place, where she continues to express her concern for her father despite him claiming that he's been getting better. Archie informs Veronica that her father has been working out at his gym, and while he was bench pressing, the bar slipped. Luckily, Archie was there to catch it, but he doesn't think that Hiram has been going to the doctor's as often as he claims. Veronica gets upset and blames Archie for not telling her.
Betty catches Jughead in the bunker watching the videotapes instead of doing his homework. Jughead claims he was doing both. Betty explains how difficult it was to convince Honey and the teachers to give him a chance to make up his missed assignments. She's trying to make sure that they have a future together, as Betty is going to New Haven in a few months. She worries where Jughead will be in that time if he continues to shirk his responsibilities. Jughead reminds Betty that he almost died and that he's changed. He proceeds to get upset and throw things around the bunker. And Betty does the same thing in response and leaves.
Archie continues to fight with Veronica over his choice to not tell her about her father. Archie was simply trying to do the right thing, reminding Veronica that it's been a rough year. Still, Veronica is upset that he neglected to tell her that he suspected her father wasn't going to the doctors.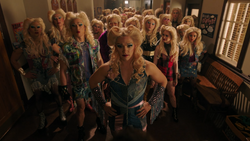 Mrs. Bell alerts Mr. Honey of the students protesting in the hallway. Mr. Honey exits his office to find nearly the entire student body, Reggie, Sweet Pea, Fangs, Cheryl, and Toni included, in blonde wigs and flamboyant outfits, being led by Kevin. Clearly, they're passionate about Hedwig. However, rather than conceding, Mr. Honey cancels the Variety Show entirely.
Betty shows up at Archie's garage for rehearsal. However, it's been canceled. Archie explains that he got into a fight with Veronica, much like with Betty and Jughead. Archie's upset, as he wanted this week to be about the four of them having fun. Betty recalls that one time in the first grade when they ordered sea monkeys from the back of a comic book and how much fun they had. When Archie saw that signup sheet, he flashed back to sophomore year when he performed at the Variety Show. He remembers freezing up from stage fright but gaining the courage from looking out to the crowd and seeing his dad. Even though Veronica and Jughead didn't come, Betty proposes that the two of them rehearse. They sing and lock eyes before sharing a kiss.
Simultaneously, Veronica sings from the Pembrooke after her fight with Archie. Elsewhere, at the bunker, Jughead turns off the videotapes and resumes his studies.
Jughead returns home and apologizes to Betty and presents her with his essay on the Salem witch trials. They share a kiss and Jughead leaves to finish his other assignments.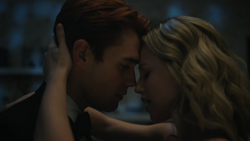 Veronica surprises Archie in his room and apologizes for exploding on him earlier. She admits that she was scared and lashing out. She's thankful that Archie said anything at all. And it's because of him that Veronica personally sought out a doctor who said it was lucky he got to Hiram when he did. Veronica then informs Archie that while Honey may have canceled the Variety Show, Kevin came up with an idea to host it at La Bonne Nuit. Veronica kisses Archie and leaves. Archie looks out his window and sings as Betty looks back at him. He places his hand on the window and she places hers. She recalls how they danced together at the Semi-formal during sophomore year, when she told him that she wanted to be more than friends.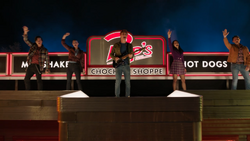 The Variety Show is relocated to La Bonne Nuit as planned. Cheryl, Toni, Reggie, Sweet Pea, Fangs, Jellybean, FP, Alice, Tom, Hiram, Hermione, and Pop Tate watch from the crowd as "The Archies" perform for the very first time. Archie, Betty, Veronica, Jughead, and Kevin take their performance outside and perform on top of Pop's diner as the crowd below sway back and forth. Among the crowd is Principal Honey.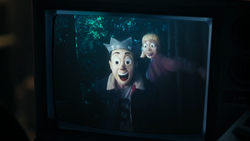 During his performance with The Archies, Jughead starts to wonder if the voyeur was among them, someone within the crowd, playing his long game. Jughead returns to the bunker and continues his investigation into the mysterious voyeur and the videotapes. One tape in particular isn't a recording of a house but rather a gruesome enactment of Jughead's alleged murder, as someone wearing a mask crafted in Betty's likeness repeatedly beats their victim, who's wearing a similarly crafted Jughead mask, over the head with a rock.
Cast
Starring

Guest Starring

Co-Starring

Brendan O'Brien as Math Teacher
Marion Eisman as Doris Bell
Soundtrack
Trivia
Gallery
Promotional Images
Screencaps
Videos
References
Episode Guide
Community content is available under
CC-BY-SA
unless otherwise noted.