She-Hulk Trailer Dropped - The Loop
Play Sound
"
For a city that never sleeps, New York has a lot of dreamers. My mom was one of them. A woman of secret ambition. She wanted the clothes she made to be sold in a fancy department store on 5th Avenue. She used the same sewing machine her mother had. Now, I use it. And I've got my own dreams and ambitions. My mom was Katherine Keene. I was named after her.
"

"Chapter One: Once Upon a Time in New York" is the first episode of the first season of Katy Keene, and the first episode of the series overall. It is also the series premiere.[2] It premiered on February 6, 2020.
Synopsis
SERIES PREMIERE – Katy Keene struggles to manage the pressures of her day job at Lacy's Department Store and her very demanding boss, Gloria, who is a legendary personal shopper. Lucky for Katy, she has the support of her longtime boyfriend, KO Kelly, who has his own dream of becoming a professional boxer and a surprise Katy wasn't expecting. Katy's roommate and close friend, Jorge auditions for a Broadway play, but it doesn't go as planned and he tries a different route to potentially get noticed. When Katy meet her new roommate Josie, she knows they will be fast friends. Josie meets record producer Alexander Cabot, but it is all seems too good to be true when Alexandra Cabot gets involved. After a long day, the group of friends, including "It" girl Pepper, all meet at their favorite hangout, Molly's Crisis, to watch Jorge perform as his alter ego, Ginger, and to see Katy's latest fashion creation.[3]
Plot
SPOILERS AHEAD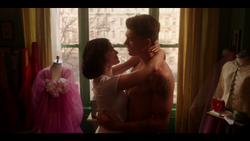 Katy Keene is a young woman born and raised in New York City by her mother, Katherine Keene. She wanted the clothes she made to be sold in a fancy department store on 5th Avenue. She used the same sewing machine her mother had. And now, many years later, Katy uses it. Her boyfriend, KO Kelly, asks if she stayed up all night sewing, which she did. He tells her to start charging for her services, but Katy sews because she loves her craft, not for financial gain. KO tells Katy to call in sick so that they can spend the day together, but she's meeting her new roommate today. Katy then gets a call from her boss Gloria Grandbilt, who calls her into work for a fashion emergency. Katy kisses KO goodbye and tells him that she loves him.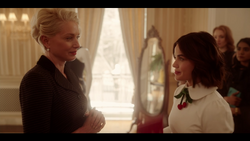 Katy arrives at her place of employment; Lacy's luxury department store. She greets Francois through the front window as he dresses the mannequin. Katy heads inside, and Gloria arrives soon thereafter to explain that Alexandra Cabot, heiress to the Cabot Entertainment empire is moments from arriving, and she'd like one of them to assist her. Katy steps forward and takes the initiative, offering to get started on the Chanel flap bag, new Zivon chigons, Alia blouses, Celine sunglasses and every Yves piece in the store. She also offers to chill the Dom Perignon and get three Earl Grey macaron plated, as well as lots of shoes. Gloria then tells Amanda to stay out of her and Katy's way.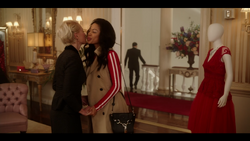 Alexandra arrives and greets Gloria, who just met with her mother a week prior. Katy rushes in with dresses and shoes. By the looks of it, Alexandra has dropped a dress size. Katy offers to pull out the bathing suits, as Alexandra vacations twice a month. Alexandra asks if Gloria has the palazzo pumps, to which Gloria replies of course. Katy rushes down into the stock room in search of the size 7 palazzo pumps but can't find them. She asks Francois if he took them for his window, which he did. Katy takes the shoes and promises to make it up to him.
Gloria fits Alexandra for a red dress that she says was made for. Stella McCartney, the dress designer said that she had Alexandra's figure in mind when she designed it. Katy arrives just in time to bring Alexandra her palazzo pumps.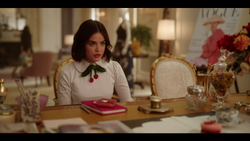 After successfully getting Alexandra Cabot fitted and out the door, Katy asks Gloria about the personal shopper position. Katy's been assisting Gloria for three years and feels as if she's ready to be Lacy's new personal shopper. Katy has the highest sales record, and she knows every single item in the store. Gloria's learned from some of the girls that Katy wants to be a designer. That she actually makes clothes. Gloria tells Katy that being a personal shopper at Lacy's isn't a side hustle or stepping stone, it's a career. She's not interested in promoting someone who's focus is split. Back in the day, Lacy's would only employ single girls. Husbands and children were seen as distractions. Gloria needs a worker like herself, committed and without distractions. When she dies, she wants them to scatter her ashes in Lacy's. Katy admits that she makes clothes, but that it's just for her. Given Katy's commitment and knowledge, Gloria is tasking her with a special assignment. Prince Errol Swoon is coming to the store tomorrow to shop for the Met Gala. It's a crucial opportunity for them to make their numbers this year. If Katy proves that she's the creme de la creme of Gloria's girls, then the personal shopper position is hers. Katy then gets a message from her new roommate.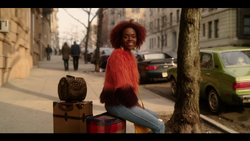 Katy meets Josie McCoy around the corner from Lopez Bodega. They hug, though they've never met in person before. However, a friend of Veronica Lodge's is a friend of Katy's. She helps Josie with her bags up their four story walk-up. Katy introduces Josie to her other roommate Jorge Lopez. He'd offer to give Josie a grand tour, but he's working at the bar tonight, and he has to get ready for his audition for a Broadway musical based on the film the Mannequin. After Jorge leaves, Katy explains the living situation. She has the bedroom to the right. Jorge has the big bedroom because his parents own the building and the bodega. And Josie's getting the main room.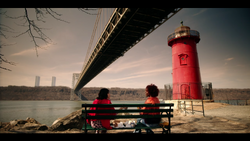 Katy and Josie grab a bite to eat and sit on a park bench, where Katy asks to know more about Josie, who Veronica describes as the next Diana Ross. Josie's been thinking about moving to New York for awhile. She finally got the nerve to pack up and just take the risk. And now she's there to record an album, get signed by a record label and make all of her "crazy wish-upon-a-star, kiss-my-Whitney-poster-goodnight dreams come true." She then asks about Katy, who reveals that she made all the clothes in the apartment on her mom's sewing machine. However, Katy denies being a legit designer, writing it off as a pipe dream. She chose a slightly more sensible career path; assisting Gloria Grandbilt, world class personal shopper to the rich, fabulous and entitled. Josie needs to start canvassing the town with her resume for a job. Which she can start on tomorrow because Katy has plans to take Josie out to meet the gang.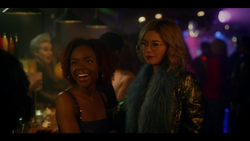 Katy and Josie party at a local nightclub, Molly's Crisis, where Katy runs into Pepper Smith. A friend of hers. Josie compliments Pepper's bag, which she reveals was made by Katy. Pepper just got back from Art Basel with Childish Gambino, lining up investors for her top secret project that she can't breathe a word of until her financing is in place. Josie asks what it is that she does. Pepper just gave a TED talk on the feminist power of Snap Chat. She wrote this week's Modern Love column in the Times. And earlier this year, she shot an Indie with Lupita Nyong'o and Kristen Stewart. In other words, Pepper is the most connected person in New York, and she will introduce Josie to everyone that's anyone, Katy adds. KO arrives, kisses Katy and is introduced to Josie. KO works as a bouncer at the club. He asks if Gloria gave her the job. Katy tells him not yet. Gloria is making her sweat for it.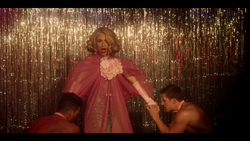 Katy, Josie, and Pepper hit the dance floor. Jorge, under the stage name of Ginger Lopez, performs on stage in the dress Katy designed for him.
Every year, Katy and KO go to Coney Island to commemorate their first date, when he told Katy that his life's ambition was to be a boxer and fight at Madison Square Garden. Katy fell in love with KO on the Wonder Wheel that day, and they've been together ever since.
Katy nearly oversleeps. She jumps out of bed and scrambles to get ready for work, as does Jorge. Josie awakens from the commotion, and Katy wishes her luck on the job search.
Katy prepares for Prince Errol's arrival at Lacy's. He loves Tom Ford, Ferragamo, and Prada. Since they will have him in the store, and they know he's often spotted riding, Katy proposes showing him their Hèrmes equestrian gear, as well as Brunello Cucinelli's fall collection. Katy recalls Gloria's golden rule: "Always introduce a customer to something new." Amanda tells Katy that it should be her helping the prince tonight, not Katy, who's never even been to Europe. Amanda then informs Katy that the Prince will be coming alone, allowing them to focus all their energy on him.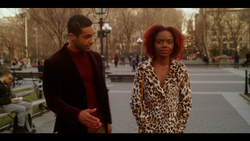 Josie begins her job search, applying to every restaurant and shop in the area. A busker, who long ago, much like Josie, was new to New York, comforts her with a song, which Josie sings along with, gaining the attention of passersby, including Alexander Cabot. He approaches Josie, claiming to be in the music business. He works for a label, and they're looking for new talent. He hands Josie his card and asks if she knows where the Electric Lady recording studio is. Josie's familiar enough with it to know that it's where Prince, Stevie Wonder, and David Bowie recorded. He asks Josie to meet him there tomorrow and to be ready to sing.
Jorge auditions for Mannequin the Musical. While he may have performed well, the casting director needs someone who appears tougher and turns Jorge away.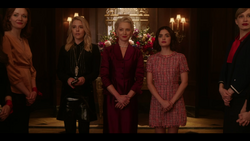 Katy, Gloria, and Amanda welcome Prince Errol Swoon as he arrives at Lacy's. Much to Katy and Gloria's surprise, Prince Errol brought a date. A woman named Patricia Kline. Amanda reveals that she's a commoner with under a thousand followers on Instagram. Amanda offers to run interference. Gloria blames Katy for not knowing about Patricia. Katy offers to fix this, but she's already let Gloria down.
In the world of fashion, Gloria Grandbilt is legendary. An icon and a gatekeeper. In all her years at Lacy's, no one has ever seen Gloria sweat until right this very moment, after Prince Errol's girlfriend Patricia had turned down all seven dresses provided to her. Gloria is confident she's going to adore the latest dress. And while they wait, she offers to show Errol some of the Cartier tie clips.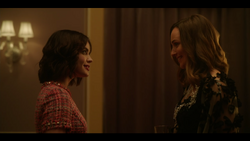 Katy greets Patricia and offers her assistance. Patricia asks for help untying her dress, which she is visibly uncomfortable in. The dress is worth $35,000, more than she makes in a year. She questions why she's even there, dating a prince no less, trapped in some princess diaries nightmare. Katy insists that this is no nightmare. She is at Lacy's department store with a nice, handsome chap, who just happens to be royalty. Patricia doesn't feel like she belongs. But Katy tells her that if a girl who grew up on the lower east side the way Katy did belongs there, then so does Patricia, who as it turns out, also grew up on the lower east side, on Delancey Street. Patricia asks where Katy shops at, as she's fond of the dress she has on. Katy reveals that she made the dress. She offers to allow Patricia to try it on as well as bring out some clothes that she might like. Clothes she would choose if a prince ever took her on a shopping spree. Katy then asks how they met.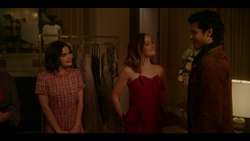 Katy and Patricia emerge from the back. Patricia is pleased with the clothes Katy provided for her, much to Amanda's dismay. As for Errol, he'll take the Dior suits and the Tom Ford, the equestrian gear, as well as a few Hermes baubles, as Katy presumed he would. Before leaving, they ask to browse the jewelry department and that Katy be the one to show them around. Katy introduces herself to the prince, who Patricia informs makes her own dresses.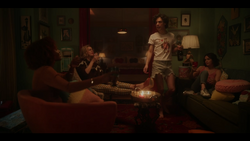 Katy, Josie, Jorge, and Pepper pour drinks and celebrate Katy's win at work with Prince Errol Swoon. Pepper spent last Easter with him on his yacht in Mykonos. They're certain she'll get the personal shopper job now, but she doesn't want to jinx it, so Katy changes the subject to Josie, asking if she found a job. No, she didn't, but she met Alexander Cabot, who works for a record label and wants to meet tomorrow after Josie sends him one of her songs. Josie met him at Washington Square Park, where he heard her singing with a busker. Pepper explains that the Cabots are in the same mentions as the Astors and Rockefellers. They own everything. Katy doesn't want Josie going alone in fear for her safety and offers to accompany her. Josie insists that she'll be fine; "I am from Riverdale. It is the murder capital of the world." Still, Katy wishes to join her as her manager if nothing else. She even makes Josie a dress.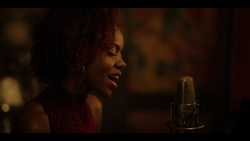 As planned, Katy and Josie meet with Alexander at the studio, and she gets in the booth and sings, much to Katy and Alexander's amazement. Alexander wants to introduce Josie to the Cabot board and play them the song. Then, once they approve, Alexander wants to sign her to record a full album and launch her career as an international pop star. Alexander then asks if anyone else is hungry. Katy excuses herself, claiming to have other clients to attend to, allowing Josie and Alexander to spend some time together.
Josie shares her past with Alexander, such as how she formed Josie and the Pussycats and performed at Veronica's speakeasy. She also went on tour with her dad, a jazz musician. And since then, she's been working on finding her sound as a solo artist. Alexander and Josie then kiss at the top of the step.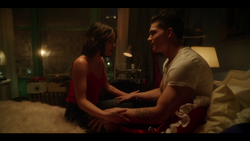 Katie tells KO how she won over the prince by charming his girlfriend, which led to Lacy's single biggest sale of the year. KO got some news today. Joe Frazier's gym in Philadelphia called him after his name had been on a wait list for some new fighters, and they're interested. KO suggests moving to Philadelphia, but Katy doesn't want to leave Lacy or New York. He tells her that they don't have to make any decisions until after they find out if she got the personal shopper promotion.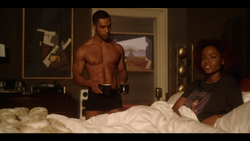 Josie wakes up in Alexander Cabot's bed. She looks out the window at the view of the city before Alexander joins her in and starts kissing her.
Mrs. Lacy thanks Gloria and her team for their exemplary performance in hosting their royal guest. Gloria admits that she couldn't have done it without her team, which is why she makes an announcement to appoint, albeit shockingly, Amanda, as the newest personal shopper, as opposed to Katy.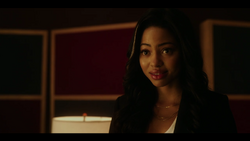 Alexander plays Josie's song for the Cabot board, which his sister, Alexandra, is apart of. They're unimpressed with Josie's performance and pass on it. Alexandra introduces herself to Josie as the Senior VP of Cabot Entertainment. While Josie has a nice voice, if they're going to re-launch the record division, spending millions of dollars by doing so, it has to be someone who's undeniable. Alexander insists that Josie's a star, but his sister isn't convinced, asking which park did he find Josie in, suggesting that she isn't the first. Josie leaves. Alexander follows her out and explains that his sister doesn't want him re-launching the record label, as she thinks it's a waste of money, but he intends to prove her wrong with Josie. However, she refuses to get pulled into his family drama.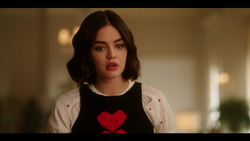 Katy confronts Gloria after not being appointed as Lacy's newest personal shopper. It was Gloria's understanding that Patricia, Prince Errol's girlfriend, tried on a dress they don't sell at the store. One of Katy's designs. Katy reasons that Errol was about to walk out of the store, so she improvised. However, in doing so, she violated store policy as well as one of Gloria's golden rules. Gloria accuses Katy of making it about herself, though Katy accuses her of doing the same. Which is why effective immediately, Gloria tells Katy that she no longer reports to her department.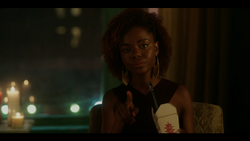 Katy returns home, where she tells Josie, Jorge, and Pepper that not only did she not get the promotion, Gloria has exiled her to the stockroom. Jorge tells her to quit, but Katy needs the job. Besides, she's wanted to work at Lacy's since she was a little girl. Her mom always dreamt of having her dresses sold there. Josie points out that there lies Katy's problem. Her real dream is to have her clothes sold at Lacy's. Jorge recalls Katy admitting that when they first met, that she wanted to be a designer. While this is true, Katy informs them about KO's offer. He wants to move to Philadelphia, so he can train at a world famous gym. Pepper can't believe she would move away in pursuit of KO's dream, at the expense of her own. Jorge announcers his decision to give up Broadway. He no longer wants to attend the second open call for Mannequin. He's tired of being rejected all because he doesn't fit into their little box. They made it abundantly clear, the powers that be don't want someone like him. And he refuses to try to act masculine. Katy suggests that he do the exact opposite, and show them a side that they have never seen before, that being Ginger Lopez. She even makes him an outfit for the second call.
Katy and Josie watch from the crowd as Jorge auditions for Mannequin. The casting director calls him out specifically. He recognizes Jorge from before and tells him that this is Broadway, not some drag contest in the village and dismisses him. Jorge has heard it all before: "too soft, too fem, too gay, too skinny." But he doesn't care because he knows that he's good enough. And, for the record, he tells the casting director that those queens in the village have more talent than most of the people in the theater. If they can't see talent when it's right in front of them, then they don't deserve to have someone like Jorge/Ginger in their chorus. Katy and Josie cheer him on as he exits.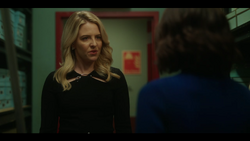 Amanda approaches Katy in the stock room and tells her to steam and organize the garments alphabetically by designer. Katy confronts Amanda for sabotaging her and boasting about her new promotion. Being from the upper east side, Amanda believes she deserves the position. While Katy might not look like it, Amanda calls her a gutter girl from the lower east side undeserving of her position at Lacy's.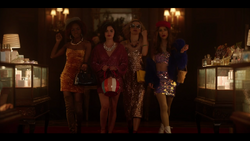 Katy, Josie, Jorge, and Pepper pre-game at the apartment. Katy had an epiphany earlier today. She no longer wants to work at Lacy's, so tomorrow she's quitting. Josie encourages Katy do what's best for her, but tells her not to move to Philly. As for tonight, they're going out, but first they stop by Lacy's, where they try on shoes and various perfumes. However, Katy is caught by Francois as she attempts to sneak away. She claims that she left her wallet behind. She notices that he's upset and asks what's wrong. Francois reveals that the client, Comme des Filles, threw out his concept for the window. Now, he has until sunrise to figure out a new way to display three evening gowns.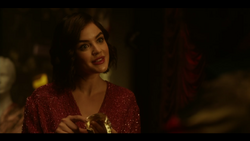 Katy lends a hand and offers her expertise, bringing Francois a box of various items that'll hopefully spark something. Inside the box are a set of bejeweled cuffs that remind Katy of her mother, who wore a pair everywhere. She often said "You don't have to be rich, to be stylish." Every weekend, they would go down to Lacy's and stair at the window for hours. While they couldn't afford anything, they would get inspired by their favorite designers, and then they would go home and make their own. Katy suddenly comes up with an idea for Francois' window.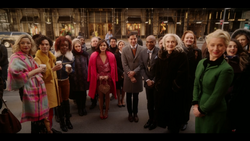 The following morning, Katy, Josie, Jorge, Pepper, Francois, Gloria, and Mrs. Lacy convene outside Lacy's, where a crowd has gathered for the annual unveiling of their new store windows. They pull up the curtain and reveal the window, filled with Katy's designs. The crowd applauds, and Mrs. Lacy is speechless. Francois informs everyone that it was Katy's idea, and for her hard work, he'd like to offer her a job in his department. It's low pay and long hours, but she'll be rewarded for her talents. The job comes with one condition. He's not letting her work for him forever. She has nine months with him before he wants her out in the world designing.
Afterward, a bouquet of flowers arrives from Prince Errol Swoon for Katy, thanking her for all her work. However, it is Amanda and Gloria who receive it.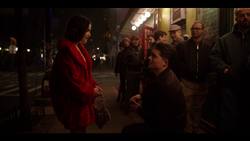 Later that night, Josie performs at Molly's Crisis, as Katy, Pepper, and Jorge/Ginger cheer her on from the crowd. KO arrives and he takes Katy to get a bite to eat, during which time he asks if they're moving to Philly. Even though she didn't get the promotion, Katy wants to stay in New York to pursue designing as a career. Meeting Josie and watching her peruse her dreams made Katy want to do the same. And she wants KO to follow their lead, suggesting that he go to Philly without her, and they try long distance, but KO has no intentions of leaving Katy behind. So, since they're staying in New York, KO figured he make it official, and he proposes to Katy.
Cast
Starring

Guest Starring

Tonya Pinkins as Busker
Marc Geller as The Director
Peter Maloney as Board Member

Co-Starring

Chuck Nice as Board Member #2
Lawrence Ballard as Board Member #3
Samantha Smart as Katherine Keene
Pacific Blain as Young Katy Keene
Bravita Threatt as Dance Captain
James Georgiades as Ray
Soundtrack
Trivia
Gallery
Promotional Images
Screencaps
Videos
Episode Guide
References