Jurassic World: Dominion Dominates Fandom Wikis - The Loop
Play Sound
"
Growing up, my mom always gave me a penny to throw in the Bethesda Fountain in Central Park to make a wish-- and it was always the same-- to be a great fashion designer. And to be a great designer, you have to work for one first. and now that's finally happening. The place was perfect: an abandoned atelier on the 8th floor of Lacy's. The designer, Guy LaMontagne, also perfect. But was I a perfect enough version of myself to live up to my lifelong dream?
"

"Chapter Nine: Wishin' & a Hopin'" is the ninth episode of the first season of Katy Keene, and the ninth episode of the series overall.[2] It premiered on April 16, 2020.
Synopsis
TO GOOD TO BE TRUE - Katy struggles with find her place with her new position and loses her confidence and turns to Gloria who gives her good advice. Alex wants to put together The Pussycats again, but what his dad envisions and what Josie envisions for the group are two different things leaving Alex to make a tough choice. Jorge is happy that he is able to bring his current boyfriend and a budding friendship with an ex together, but things become a little messy. Meanwhile, Pepper is in an online feud that could ruin everything for her, and she is stunned when she learns who it is.[3]
Plot
SPOILERS AHEAD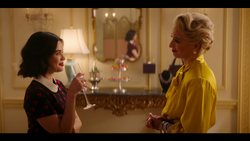 Katy prepares for her first day under her new apprenticeship with Guy LaMontagne. She arrives at Lacy's, where Amanda informs her that Gloria means to surprise her with champagne. Gloria celebrates Katy's accomplishment and raises a glass in her honor. Katy tells Amanda that her internship with Guy is unpaid, so she'll still be working with her and Gloria part-time. Before leaving, Gloria reminds Katy that she won't be there to clean up Katy's messes and that Guy is notorious for firing his apprentices. And the people he fires tend to disappear from the fashion world. Katy promises Gloria that this won't happen to her.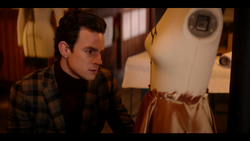 Katy arrives at her new place of work, an abandoned atelier on the eighth floor of Lacy's. Guy greets Katy and wishes her good luck. He is then approached by his sister, Gal. She informs him that they're contractually obligated to present Gloria with five executed garments. And if Guy can't deliver, then Lacy's will never believe he can deliver an entire collection. Guy notices Katy hovering over him as he attempts to work on one of the five dresses. He claims that the hearts on Katy's shirt are a distraction and tells her to go home and change.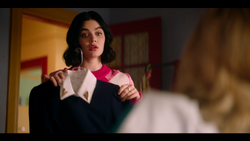 Katy tells Pepper just how terrible her first day was. She never imagined he could be such a control freak. Pepper claims that much like Guy, Katy is also a control freak. Katy sensed that he was a jerk during her first encounter with Guy but later interactions gave a different impression. Hoping for a better second day, Katy plans to tone it down, starting with her wardrobe. Pepper recalls that when she first met Guy, he had a meltdown after one of his apprentices failed to properly design a dress. Guy had a rage stroke. As for the aforementioned apprentice, Pepper last saw him working in a Jimmy Jazz in Harlem. Katy worries that she'll share a similar fate if she doesn't impress Guy. Pepper is receiving notifications on her phone. She explains that someone named Hannah Melvey started a hashtag on Twitter, badmouthing her. Katy advises Pepper to ignore it and then asks for her opinion on her outfit.
Katy arrives early at the workshop. She switches out the light bulbs, prepares tea, and sets up flowers on Guy's desk. Unfortunately, he's allergic. She also moved around his fabric, which disrupts his system. He tells her to simply wait and only do what he asks of her.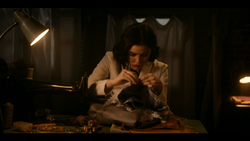 Katy introduces herself to Gal and asks if she can help her with something. While Gal doesn't need Katy's assistance, she does give her a bit of advice. She warns Katy that Guy is tough, so she'll have to be tougher. Katy then approaches Guy and offers her to help. He reluctantly provides Katy with the opportunity to prove herself. He needs someone with nimble fingers to sew on a lace applique using an overcast stitch. Katy struggles to get the stitch right, spending the entire day only to fail over and over again. She even pricks her finger with the needle in the process. Eventually, Guy grows tired of her inability to stitch and does it himself.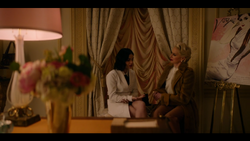 Katy retreats to Gloria's office and cries. Before long, Gloria arrives and cleans the wound on her finger. Gloria reminds Katy what happened to Sleeping Beauty when she pricked her finger on the spindle; she forgot herself and slept for twenty years. Katy insists that she isn't losing herself. Katy is simply struggling with the pressure. Whatever she chooses to do, Gloria advises her to never let Guy see her weak. He wants to know he can break her. She then tells Katy to wipe her eyes and go back upstairs.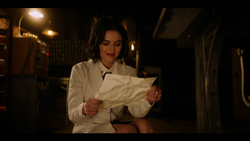 Guy tells Gal that they need to postpone the preview, but they can't. Gal explains that they need the fifth dress. Otherwise, they won't get funding for their production. Every time Guy tries to sketch the fifth dress, he becomes paralyzed. Gal reminds him of the designs that he started on but threw away. She tells him to sleep on it and finish the final look in the morning. Unbeknownst to the two of them, Katy stands quietly in the corner. She waits for them to leave before grabbing Guy's design from the trash.
Katy returns home and tells Pepper of her plan to bring Guy's trashed design to life. However, she worries that if it goes wrong, he'll blacklist her for the rest of her career. Pepper doesn't like seeing this side of Katy as she tends to be far more secure in her skills. She tells Katy to get a grip and stop doubting herself. Pepper even offers to help as a distraction from Twitter.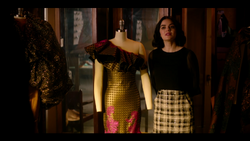 Guy arrives at the workshop to find that Katy has executed his design, but he is unimpressed and accuses Katy of stealing his design and fabric. Katy loves the dress and assures Guy that Gloria will too. Guy recalls first meeting Katy and how impressed he was with her tenacity. But now he's starting to see it as nothing more then a blatant disregard for anyone's opinion other than her own, which is a liability. Gal arrives and mistakes the dress that Katy designed as Guy's work. With very little time left before the preview, Guy has no choice but to go along with Katy's dress.
Katy, Guy, and Gal present Gloria with all five dresses. She is amazed with each dressed except for the one crafted by Katy. Amanda agrees, adding that it lacks sophistication. Guy takes the blame for the dress and agrees to do away with it. Gloria still needs to see one more garment before Mrs. Lacy can give him the green light, but Gloria can tell that he's on the right track.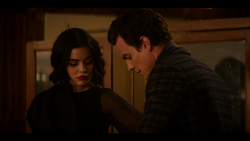 Katy returns to the workshop and begins packing her belongings under the assumption that Guy is going to fire her. She congratulates him on his collection and before leaving, she thanks him for taking her on. She also apologizes for going behind his back. Guy tells Katy to stay. He remarks that while the dress itself may have been a failure, her overcast stitch on the lace is impeccable. She's perfected a technique in her short time with him. More times than not, people will always reject what they make, but Guy agrees with Katy that it's always worth finishing. As he begins to design the fifth and final dress, he shares with Katy his knowledge of the fashion world.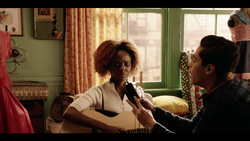 Raj is hired to document the reboot of Josie and the Pussycats. They start with the history of the Pussycats and why Josie decided to resurrect them now. She explains that it was Mr. Cabot's idea. However, Josie is having mixed feelings. Getting the band back together makes her feel like she's going backwards to who she was in high school, and during that time, having a band brought out the worst in her. She was spending more time worrying about band politics as opposed to focusing on what truly mattered; the music. Although, she's more mature now, so she's certain it will be different. She and Raj then prepare for the auditions.
Josie, Alex, and Raj arrive at Chubby's Record Shop to find that Mr. Cabot has already hired two girls to fill the spots, Priscilla and Corinne. He claims they're good singers with the help of some auto tune. They're actually models from the Caboture fashion label. Josie asks to talk Alex in private to express her displeasure with Mr. Cabot's choices in band partners. Alex claims that his father knows what he is doing and tells Josie to give him a chance. Before leaving, Mr. Cabot informs them that they'll have their first recording session on Friday. He refers to them as the Supremes for the next generation. Josie asks the Priscilla and Corinne what instruments they play, but they're both without talent.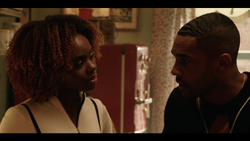 Josie, Alex, and Raj head back to the apartment, where Alex promises to get the girls lessons. Josie reminds him that the're the Pussycats and not "The Pussycat Dolls" and that she will not be dancing on top of a car in a mini-skirt. Josie demands actual musicians, not models. However, Alex argues that his father is a successful businessman who has built an empire, so they should trust his instincts. Josie suggests going through with the auditions to find actual artists to bring to the recording session on Friday. Alex advises her against it, not that this is any concern of Josie's, who plans to go through with the auditions nonetheless.
Josie holds auditions at Molly's Crisis as planned. Alex joins her. Raj films each audition. However, none of them impress Josie. Jorge even tries out, but Josie doubts he's truly invested, reminding him that he could barely share the stage with her for "Kiss of the Spider Woman." Jorge admits that he simply wants the stage time and proceeds to sing.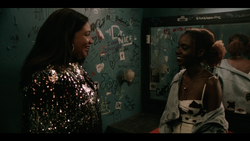 Afterward, Raj inquires about Josie's feelings towards everyone that's auditioned thus far. Josie believes that everyone is talented in their own way but just not Pussycat material. Suddenly, she hears someone singing from the bathroom. It's one of the girls that got on stage to audition but ran away before performing. Josie interrupts and asks why she didn't sing on stage. She introduces herself as Cricket and explains that it's easier for her to sing when she's at home in front of a mirror. Josie assures Cricket that she's very talented and the best singer that she's heard all day. Josie then officially welcomes Cricket to the Pussycats and gives her a hug.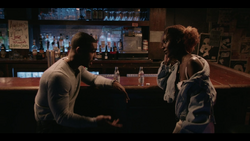 Raj films as Josie tells Alex how good of a singer Cricket is. Raj has the footage and offers to show Alex, but he isn't interested. He's worried because Cricket doesn't have the confidence to perform on stage. Josie agrees to work with her, but they don't have the time,. They have to show his dad that they've got something. Josie explains that as a woman in the industry, it's hard to walk into a room and feel like your voice matters enough to be heard. With that, Alex agrees to give Cricket a chance. However, they still need one more Pussycat.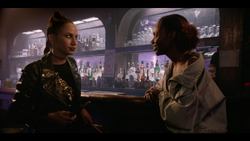 Josie calls Trula back after watching her perform on the drums. Josie saw her protest videos online. She questions what inspires her. Trula replies that the drum beat represents their collective heartbeat, and she's dedicated herself to going against big companies who have forgotten their humanity. Raj asks how Trula would feel being on a label owned by Cabot Entertainment. Trula is willing to make the compromise, though she adds that she might wear a ski mask on stage.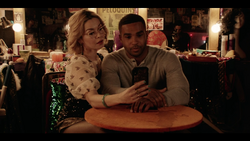 Raj interviews Pepper, a self proclaimed honorary Pussycat, claiming to have discovered Josie. However, she humbly admits that when she saw Josie's first NYC performance, she knew that it was her calling to nurture Josie's talent. Throughout the interview, Pepper's attention appears to be divided between Raj and her phone. She informs them how she's under attack on social media by someone named Hannah Melvey. She's making outrageous claims. Pepper refuses to standby as Hannah besmirches her reputation. Pepper calls Alex over and takes multiple pictures with him to post.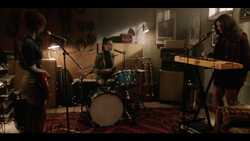 Josie, Trula, and Cricket practice for the first time as the Pussycats while Raj continues to document. Raj asks Alex about the Pussycat swap. He explains that his father always taught him that to succeed in business, you have to take risks. Mr. Cabot interrupts their rehearsal and asks what happened to Priscilla and Corinne. Josie's assures Mr. Cabot that she, Trula, and Cricket sound better together, though he's not interested in what Josie has to say. Nevertheless, Josie refuses to get rid of Trula and Cricket. When Mr. Cabot threatens to pull funding, Josie tells him to keep his money as she'd rather start over and stay true to herself than compromise the integrity of her band.
After Josie, Trula, and Cricket leave the room, Raj records through the glass as Alex attempts to explain to his father that he should trust Josie's vision. However, Mr. Cabot isn't impressed with Josie's version of the Pussycats. Alex questions why he even cares. Mr. Cabot explains that it's not Josie's he's concerned about. It's Alex. All he's ever wanted is for Alex to succeed. The last time Alex tried it on his own, he ended up in a rehab facility for 90 days. Mr. Cabot advises Alex to find a new project, but Alex refuses to leave Josie. Mr. Cabot reminds Alex that he gave him everything he has and that he can take it all away.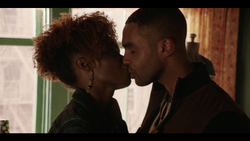 At the apartment, Raj asks Josie how she feels about going out on her own with the new Pussycats. Josie's admits that Mr. Cabot was right about one thing; a band will do her good. Raj asks if she will miss working with Alex. Josie admits that she will, but she would never make him choose between his family and her. Alex arrives and explains to Josie that he's already chosen her. He refuses to allow his dad to run his life any further. And if being cut off is the price he has to pay to continue his journey with Josie, then so be it. Alex kisses Josie and tells her that he loves her. Josie reveals that she loves him as well.
Jorge and Bernardo make out in the hallway leading up to his apartment. He thanks Bernardo for walking him home and reveals that he's hanging out with Buzz tomorrow but strictly as friends.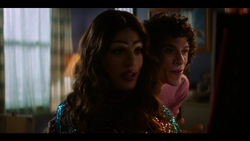 The following day, Jorge invites Buzz over. He's been looking through every assault report in the neighborhood and keeping his ear to the ground for similar cases. He wants to catch the guys that attacked Jorge. While he would like nothing more, Jorge would rather focus on the huge win they had with the rally. Buzz admires Jorge and Ginger, comparing them to super heroes. Buzz wonders what it's like. So, Jorge spends the next four hours dressing Buzz in drag. It's more than just hair and makeup. Drag is also about an internal transformation. He asks Buzz about his favorite divas. Buzz replies Kelly Clarkson and Elle Woods. With that, they settle on the drag name "Prosecutie." Jorge then takes photos of Buzz. Jorge remarks that he and Buzz spent an entire year together, and he never really got to see him until now.
Bernardo asks about Jorge's hangout with Buzz. Jorge shows Bernardo the photos he took. He's proud of how much he's grown. Bernardo starts to get a little bit jealous. However, Jorge assures him that he shouldn't be concerned.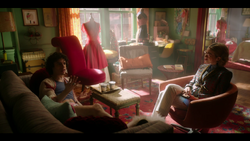 Jorge reveals to Pepper that he can't stop thinking about Buzz. Bernardo is the man he had been hoping for his entire life. He finally has him, and now he can't stop thinking about Buzz. Pepper relates her situation with Didi and Raj to Jorge. She's made them aware that she's seeing both of them, and recommends to Jorge an open relationship or maybe just a threesome. She then gets another message from Hannah Melvey, who's continuing to threaten Pepper, forcing her to arrange a meetup.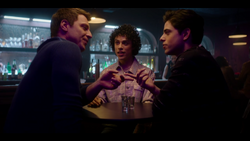 Jorge, Bernardo, and Buzz grab drinks at Molly's Crisis. Bernardo complements Buzz on his drag makeover. As he grabs another round of drink, Bernardo apologizes to Jorge for getting jealous the other night. Jorge admits that he doesn't mind it, sporadically. Bernardo not only admits that the three of them getting together was a good idea but that Buzz is attractive. Buzz returns to the table with the latest round of drinks. Jorge and Bernardo share a kiss before returning home, where the three of them have sex.
At Molly's Crisis, Pepper awaits the arrival of her social media tormentor. Hannah Melvey arrives, though it is merely an alias as Hannah, whose real name is Taylor, is actually Pepper's wife. Pepper left her with a $30,000 hotel bill and because of that, she had to spend three days in a Moroccan jail. Pepper reminds her that their cover was blown and it was Hannah's turn to take the fall, and she knew Hannah could call her mom to bail her out. However, Hannah doesn't speak to her mom, not since she showed up drunk to their wedding. Pepper claims that she left Hannah behind for her own good, though Hannah isn't convinced. She's been studying Pepper and knows all her tricks, as well as her fake names and real age. Pepper pushes for a divorce, but Hannah refuses to sign the papers, as she plans to ruin her life.
Jorge awakens the following morning after their threesome to find Bernardo snuggled up with Buzz.
Cast
Starring

Guest Starring

Co-Starring

Katy Rae as Hillbilly Eilish
Najah Johnson as 90s Pop Singer
Soundtrack
Trivia
Gallery
Promotional Images
Screencaps
Videos
Episode Guide
References