She-Hulk Trailer Dropped - The Loop
Play Sound
"
How do you sum up the life of a man like Fred Andrews? You could start with the facts. That he was born at Riverdale General Hospital. That his parents were Arthur and Virginia Andrews. That he led the Riverdale High baseball team to two consecutive state championships. Took over the family business at 18. Got married, had a son, settled down. And while others were rushing to get out of Riverdale, Fred was setting down roots. When our town saw a pariah, and closed its doors, Fred saw a lost soul, and opened his. There was always room at his table, in his home, for others. Whenever our town was under attack, Fred was on the front line, fighting for it, defending it. He was our Good Samaritan. Our George Bailey. Our knight in flannel armor. Oh, and by the way, he was a hell of a good tipper. [...] Fred left Riverdale better than when he found it. That's his legacy.
"
"Chapter Fifty-Eight: In Memoriam" is the first episode of the fourth season of Riverdale, and the fifty-eighth episode of the series overall. It premiered on October 9, 2019.[2]
Synopsis
A FAREWELL TO FRED ANDREWS — As the residence of Riverdale prepare for its upcoming Independence Day parade, Archie receives a phone call that will change the rest of his life forever.[3]
Plot
SPOILERS AHEAD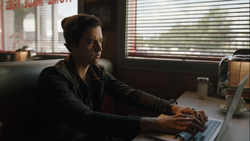 Jughead types on his laptop at Pop's. Its been a quiet few months in Riverdale. And though the terror of the Farm has not been forgotten, normal life has resumed, like Tom and Kevin going on morning runs. July 4th is approaching and it had been decided that there would be an Independence Day parade down Main Street after some debate, spearheaded by Tom and Sierra. Riverdale's first in three years. But there would be no fireworks display over Sweetwater River. The Blossoms used to sponsor them, but the town couldn't afford it without their support.
Jughead shares his writing with Betty as they both lay in bed. She's certain he'll win the contest.
Archie and Veronica lay in bed at the Pembrooke as they discuss building a float for the 4th of July parade, sponsored by Pop's.
Cheryl takes a seat in front of Jason's rotting corpse and reads the Riverdale Register, where she discovers that the town will, in fact, be having a 4th of July parade.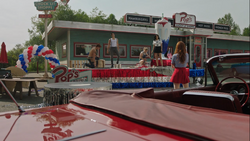 Archie, Jughead, Betty, and Veronica are approached by Cheryl outside of Pop's as they paint the float. Cheryl will forever associate the 4th of July with the tragedy of losing her brother and doesn't believe it's a day worth celebrating. Betty explains that Riverdale hasn't had a parade out of respect for Jason for three years, and it's time they move on. Jughead suggests that Cheryl just stay home. Instead, Cheryl intends to protest.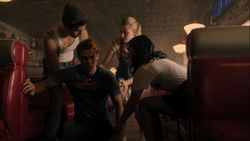 The four of them head inside for breakfast, where they discuss their weekend camping trip. Betty reminds the group that this may be their last chance to do something like this as next year they'll be preparing for college. Archie then gets a call informing him that his dad has died. He drops to the ground. Betty, Veronica, and Jughead rush to check on him.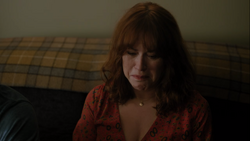 Archie returns home, where FP informs him and Mary that while Fred was driving home to Riverdale, he pulled over to help someone's car that had stalled on the side of the road. Another vehicle came at them speeding and hit Fred. Mary bursts into tears as FP fights to hold back his own. The driver of the vehicle that struck Fred didn't stop, making it a hit-and-run.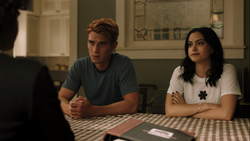 Mary, Archie, and Veronica make funeral arrangements. They'll have Fred buried in a plot next to his father Arthur "Artie" Andrews. Since the service will be transporting the body across the state, there's an additional cost of $9,000, which Veronica agrees to pay. However, because of the holiday, they won't be able to bring Fred home until July 5th.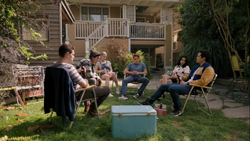 In the backyard, Archie, Veronica, Reggie, Kevin, Jughead, and Betty share their own memories of Fred. Reggie recalls how he broke his arm while playing in the treehouse that Fred had built for him, Archie, and Jughead. Betty remembers the picnic they had in Pickens Park while she and Archie were still in grade school. There was a father-daughter potato sack race. For whatever reason, Betty's dad couldn't make it, but Fred offered to do it with her. For that day, he was her dad. When things started to get bad with Jughead's dad's drinking, his mom would call up Fred for help, and he would drive to the bar, pick up FP and lay him on the couch. Fred always stayed for a while just to talk and check in on Jughead. Kevin adds that Fred always built and donated all the sets for the musical. Archie remembers going to Sears with him just to ride the tractors. Everything Archie knows is because of his dad, from sports to mechanics. However, reminiscing brings up too many memories for Archie, and so he decides to call it a day.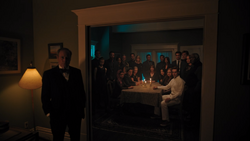 That night, Archie has a dream. He walks downstairs to find his dead Grandpa Artie standing at the front door. Arti asks for Fred, though Archie thought he was with Artie. He follows his dead grandpa into the dining room, where Jason, Cheryl, Pop Tate, Penelope, Clifford, Reggie, Hermione, Hiram, Hal, Alice, Kevin, Tom, Sierra, FP, Jellybean, Toni, Jughead, Betty, and Mary sit. Archie asks where his father is, to which Artie replies that Archie was supposed to go get him. Archie wakes from his sleep and tells Veronica that he has to go get his dad.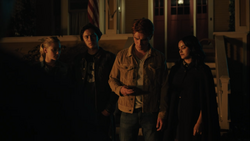 Later that night, Betty, Jughead, Archie, and Veronica meet up outside Archie's house, where Reggie arrives and hands Archie a set of keys to a hearse from his dad's lot. With the keys in hand, Archie, Betty, Veronica, and Jughead head for Cherry Creek to bring Fred home.
They arrive in Cherry Creek that morning. Archie and Veronica enter the sheriff station, where the police have a description of the car that hit Fred, but no plate number or suspects. Fred's truck is still at the accident site, on the side of the road, and so Archie asks for directions on how to get there. The keys to the truck are with the rest of Fred's belongings at the funeral home.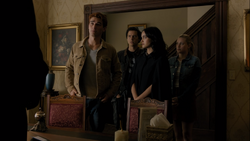 Archie, Veronica, Jughead, and Betty arrive at the funeral home. Archie requests to bring his dad home, however, the funeral home director won't allow it as Archie's underage, so he calls his mom and updates her on the last few hours. She tells Archie to put her on the phone with whoever is in charge, and within minutes, Mary arranges for Fred to be released to Archie. Archie then asks to see his father in case a mistake was made. Fred's body lays in the other room. Archie grows nervous as he reaches the door. Instead of him identifying the body, Betty and Veronica do so. Just outside, Archie asks Jughead to write his dad's obituary. Betty and Veronica return to assure Archie that it is, in fact, his dad who lays in the other room.
Cheryl and Toni give their condolences to Mary after learning of Fred's passing. Cheryl knows the loneliness associated with the death of a loved one. Her world was only darkness and despair when Jason died. She doesn't want Mary or Archie to experience the same pain. So, with Mary's blessing, Cheryl would like to do something for them when Archie returns.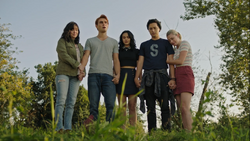 Archie finds his dad's truck on the side of the road. He hesitantly enters the truck as Veronica, Jughead, and Betty watch. Inside the glove box, he finds a photo of him and his mother. An unfamiliar woman pulls up from behind and leaves flowers at the site. She knows who Archi is and reveals herself as being the person that Fred pulled over to help. One of her tires blew and she was stranded. Fred was the only one to stop and help. He talked about Archie the entire time. He couldn't believe that a man like him was blessed with such a kind and thoughtful boy. She was with Fred when he died. They were working on the tire and then a car came out of nowhere. She froze in its path, and so Fred pushed her out the way. He saved her life. While she knows there's nothing she can do to repay him, she'd like to send him a prayer and asks Archie, Veronica, Jughead, and Betty to join her.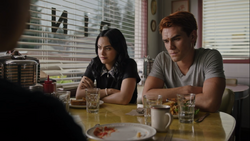 Jughead, Betty, Veronica, and Archie head to a nearby diner. Archie is having trouble dealing with his father's death. While his friends believe that Fred died a hero, Archie just wishes he hadn't stopped to help the lady on the side of the road. He heads outside for some air, during which time he gets a call from FP, who informs him that they found the hit and run driver. His name is George Augustine. He lives in Cherry Creek. No priors, and he's out on bail, which angers Archie, who will see to it himself that his father gets justice. Archie enters a phone booth and finds George Augustine's home address in a phone book.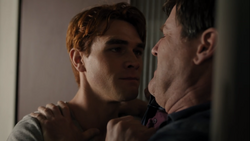 Overwhelmed with emotions, Archie knocks on George Augustine's door and barges in when he opens it. Archie slams him against the wall and explains to George how he killed his father. Archie yells and repeatedly punches the wall, asking what it was that George was doing when he hit Fred. George's son Jeffrey interrupts and reveals that he was actually driving the car. Jeffrey took the car when he wasn't supposed to. He doesn't even have his license. His father was covering for him. Jeffrey apologizes and Archie lets George go.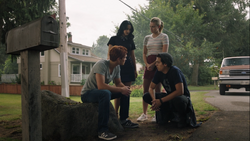 Jughead, Veronica, and Betty catch up to Archie outside the Augustine home. Archie explains that he came looking for George Augustine but found out that it was actually his son Jeffrey who was driving the car that hit Archie's dad. George was protecting him. The same way Fred would've done for Archie. Archie believes himself to be a terrible son. All he and his dad ever did was fight. And Archie lied to him constantly. Veronica reminds Archie that his dad loved him above all else and was proud of him. With that being said, they're going to finish what they started and bring Fred home. Archie and Veronica drive the hearse with Jughead and Betty following behind in Fred's truck.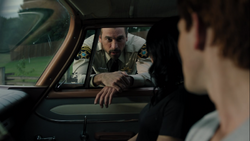 Archie, Veronica, Jughead, and Betty are met by FP at the town's border. He heard what they were up to and wanted to be apart of it, so he gives Fred a police escort the rest of the way home. As they ride through, they are met by the entire town, waving flags and holding signs in honor of Fred. Cheryl, Toni, Peaches 'N Cream, Nana Rose, Jellybean, Pop, and Reggie are amongst them.
Archie, Veronica, Jughead, Betty, and FP arrive to find Mary waiting outside the house, along with Sierra, Tom, Josie, and Kevin. Mary hugs Archie and expresses how proud of Archie she is.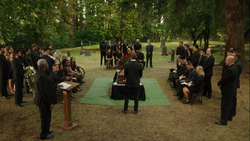 Fred's funeral is held. Archie, Betty, Veronica, Jughead, Mary, FP, Cheryl, Toni, Peaches 'N Cream, Nana Rose, Pop, Josie, Kevin, Tom, Sierra, are in attendance, along with many others. Josie sings "Amazing Grace" as Archie, Jughead, Reggie, Kevin, FP, and Tom carry the casket. After the town pays their respect, Archie says a few words. Earlier he was thinking how much of Riverdale his dad built and fixed up. From houses to office buildings. He helped build the town, and one day if Archie's lucky enough to have a child of his own, he'll be able to point to a building and say "your grandpa made that with his hands." It's the 4th of July, and so Archie recalls one fourth when it was raining and the firework show was canceled. Archie sat in the backyard crying until his dad came home with enough fireworks to burn the house down. They lit them in the backyard and it was the best of nights. Fred was there for every high and low. The greatest man Archie's ever known, and it hurts him that he never got to say goodbye, but his spirit and memory live on throughout the town and everyone he's met. Fred Andrews will always be a part of Riverdale.
After the service, Veronica approaches Mrs. Fisher to discuss payment, but she discovers that her father has already taken care of the bill.
Betty takes a moment to visit her own father's grave, but it's been vandalized. "The Black Hood Burns In Hell" written on it with black spray paint.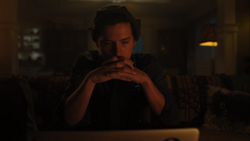 Jughead returns home, where he writes up Fred's obituary as promised. He gracefully sums up Fred's life, garnering overwhelming emotion from those who read it across town, including Hermione, FP, Hiram, Alice, and Pop Tate. Jughead began with Fred's birth at Riverdale General Hospital and his parents Virginia and Arthur Andrews. Fred led the Riverdale High baseball team to two consecutive state championships. He took over the family business at 18. Got married, had a son, and settled down. Fred saw the good in everyone and always offered a helping hand. Whenever the town was under attack, Fred was on the front line defending it. Fred left Riverdale better than when he found it and that's his legacy.
Archie finds his mother looking at old family photos and tells her that it's time for the fireworks show. Mary and Archie join Betty, Veronica, Jughead, Kevin, Josie, Reggie, Cheryl, and Toni in the backyard as the show begins. Archie imagines if everyone in the world was even half as good as his father was. Veronica says that Archie is, but he disagrees, but that's how he intends to honor his memory.
Archie heads into the garage, where he remembers the time spent with his father. How he soundproofed the garage for Archie and how they fixed the jalopy together.
Cast
Starring

Guest Starring

Special Appearance by

Co-Starring

Bruce Blain as Vic
Marci T. House as Mrs. Fisher
Luisa Jojic as Uniform Deputy
Tom Pickett as Minister
Andy Thompson as Funeral Director
Sheila Tyson as Delores
Soundtrack
Trivia
This episode is a tribute to the late Luke Perry and is a standalone episode.[2] [4]

Showrunner Roberto Aguirre-Sacasa revealed to TVLine that they also ditched the standard "previously on" recap that precedes every episode of Riverdale as he "wanted to let the episode breathe a little."[4]

Shannen Doherty's guest appearance on this episode was due to her closeness with Luke Perry, and their history together on Beverly Hills 90210, as Brenda and Dylan respectively. Shannen wanted to honor Luke, and had stated that he had previously wanted her to appear on the show.
This episode marks Ashleigh Murray's final on-screen appearance as series regular on Riverdale, as she crossed over to star on Katy Keene.
Gallery
Promotional Images
Screencaps
Videos
References
Episode Guide