She-Hulk Trailer Dropped - The Loop
Play Sound
"

Look, Josie, this back-and-forth with my family, it has to stop. Like Xandra stealing your music, my dad causing me to relapse... I-I just need a fresh start, Josie. I think we both do.

"

Alexander "Alex" Cabot III is a main character on The CW's Katy Keene. He is portrayed by Lucien Laviscount.
Alex is a recovering alcoholic and drug addict turned music executive at Cabot Entertainment. He discovers Josie performing in the park and recruits her in hopes that she'll revitalize his family's record label.
Character Description
The CEO of his father's company who dreams of rebooting its dormant record label division, which attracts him to Josie. He's cut from a different cloth than his billionaire family, as he'd rather take the subway and listen to vinyl, and he secretly DJs at a dive club.[1]
Early Life
In high school, Alexander dated Alexandra which led to his father meeting her mother. Eventually, their parents got married. and they became step-siblings. He's also had struggles in the past with substance abuse.
Throughout Katy Keene
Physical Appearance
Alexander is a young, well built, black man with dark brown eyes and a very short haircut. He is very well-dressed and groomed.
Personality
Alexander is kind-hearted and friendly person, unspoiled by his family's wealth. Although he desperately seeks his father's approval, hoping to accomplish this by revitalizing his family's record label. He is constantly competing with ex-girlfriend and step-sister, Alexandra to make Mr. Cabot proud, but also to be successful in the music industry. The need for approval pushed Alex into alcohol and drugs, which he became addicted to. When he's intoxicated, Alex can get very mean like when he mistreated Josie at the her EP Listening Party.
Relationships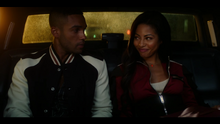 Xandra is Alex' former lover turned step-sibling. They met in high school and dated briefly before their parents got married, thus making them step-siblings. This was several years ago, and while Alex has long since moved on, Xandra continues to pursue him, which is the basis for her disdain towards any other romantic interest of Alex', most recently being Josie. Despite the fact that he no longer wishes for them to be together, Xandra continues to care for him. Even helping him during his relapses as a recovering alcoholic and drug addiction.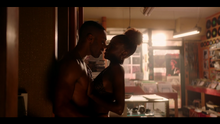 Alex met Josie while she was performing in a park. Hearing her perform live sparked an interest in her. He hoped that Josie could be to first step in relaunching the Cabot Entertainment record label. However, after Josie was turned down by the board, Alex became Josie's manager and began investing his own time and money into her in hopes of her becoming a star. This lead to a flourishing relationship that ended with Alex being checked into rehab as his substance addiction began to manifest.
Alex has a strained relationship with his father, who overall sees Alex as incompetent and a failure, incapable of making it on his own in the world. It's the need to prove his father wrong that drives Alex as he also wishes to be a successful businessman. Mr. Cabot is manipulative and uses his standing to maintain dominance. He claimed to want to help Alex, but in reality, he wanted control over him. It's his father's need for take over and attempts to control Alex that led to their disputes.
Appearances
Season 1
Trivia
 Gallery
See also: Category:Images of Alexander Cabot
| | |
| --- | --- |
| | Alexander Cabot's Gallery Can Be Found Here. The Gallery May Consist of Promotional Images, Screencaps, and Video Clips Released By Network Officials |
References
[[es:Alexander Cabot